In Celebration of Women: A New Type of Walking Tour in Paris
When Heidi Evans arrived in Paris in 2014 from London as a post-graduate student, she fell in love with the city and determined to stay. She began working as a tour guide for one of the numerous walking tour companies in Paris. After two years of showing tourists the sites associated with illustrious historical figures, Evans wondered why they were all men. If there were any women, they had been sidelined as evil queens, famous mistresses or muses, and not as women who had achieved great things in their own right.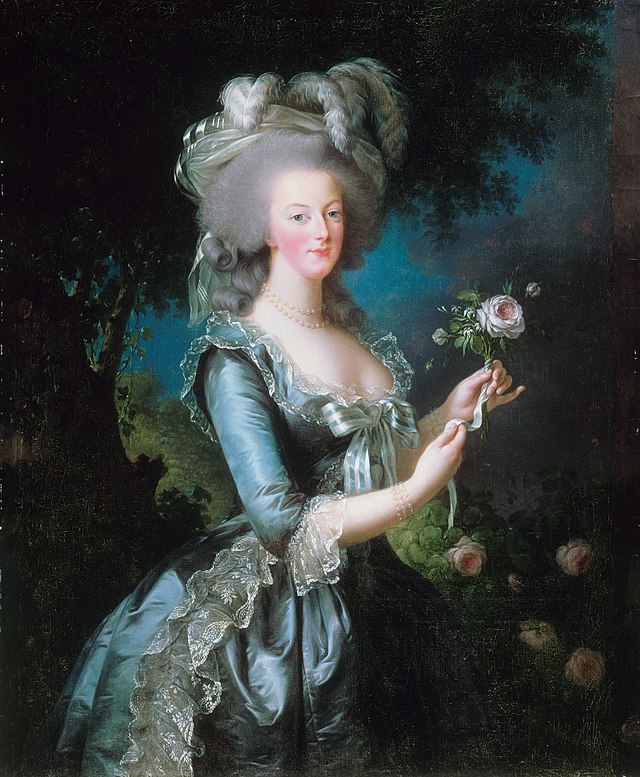 An idea formed in her head that she could not shake off: to conduct Paris walking tours of Paris celebrating women. And if there was ever a city famed for women who had excelled in every field —  from science to literature, fashion to art — then surely Paris had the richest of treasures to mine.
Evan's research threw up a plethora of women, some overshadowed by their husbands, others not given the accolades they deserved. But despite this fact, most public spaces, whether metro stations or streets, recognize men. (Case in point: Out of 6,000 city streets, 4,000 are named after men and a mere 300 after women.)
So she launched a business called "Women of Paris" tours profiling these talented women. Here we showcase some of the highlights.
Sugar & Spice
The setting for this tour is Saint-Germain-des-Prés, renowned for its literary, intellectual, and artistic roots. Stops include the former home of Colette at 28 rue Jacob; the former home of George Sand at 31 rue de Seine; the former premises of the Shakespeare and Co. bookshop and home of Sylvia Beach at 12 rue de l'Odéon; and of course the haunts of Simone de Beauvoir like the iconic Deux Magots café.
Colette is one of the most revered writers in France. She lived on rue Jacob with her first husband, Henry Gauthiers-Villars, known by the pen name Willy, who was an editor and publisher. At this time it women were unaccepted as authors, therefore encouraged to write under a male pseudonym. Willy was more than happy to put his name to Colette's first series of books which became immediate bestsellers.  As the tour guide will explain, Willy would lock Colette in her room for hours to ensure her productivity. Willy, 14 years Colette's senior, was one of the most notorious libertines in Paris, who had introduced Colette to his avant-garde intellectual friends. He encouraged Colette's Sappho tendencies, even choosing the titles of her books to be as titillating as possible.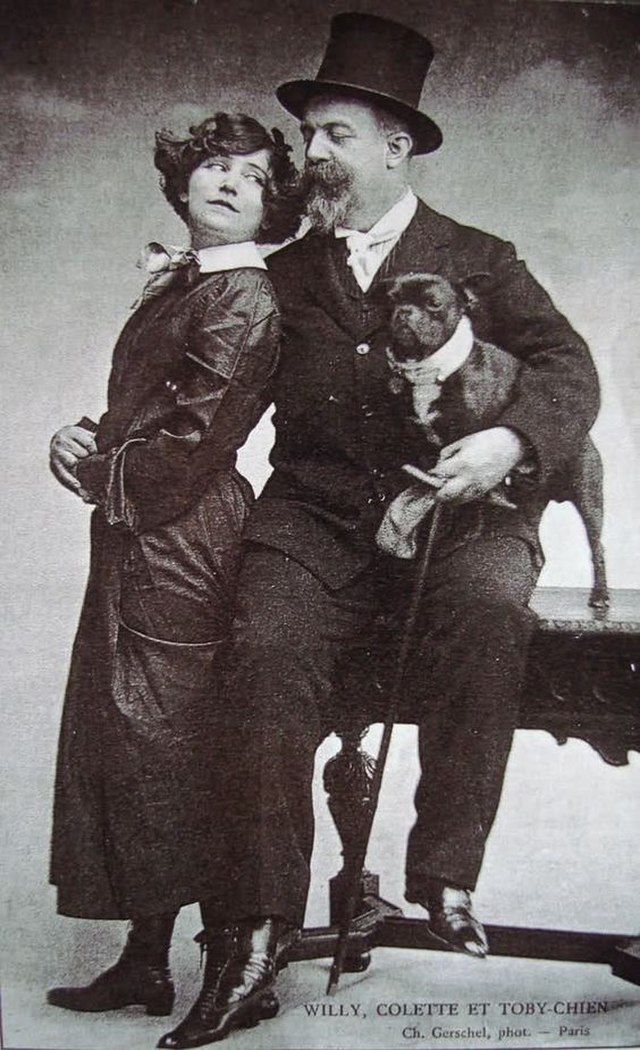 Colette and Willy divorced in 1910 but Colette had no access to her earnings as the copyright belonged to Willy. She was often hungry and ill, and turned to the stage and journalism to make ends meet. In 1912, Colette married the editor of Le Matin, Henry de Jouvenel and in 1920 published Cherie. Established finally as an author in her own right, her novel The Vagabond received three votes in the prestigious Prix Goncourt.
Then there's Simone de Beauvoir. Although inextricably linked with Jean Paul Sartre, de Beauvoir was never overshadowed by his fame. A feminist and prolific writer, she remained steadfastly true to her own beliefs and broke every bourgeois rule. She lived for many years in La Louisiana hotel in Rue de Buci in a round room above Sartre, but their chosen cafés were the Café de Flore and Les Deux Magots, a very short walk away.
Sylvia Beach was an extraordinary woman whose influence promoting American literature in the 1920s was inestimable. Her friends included Ernest Hemingway, F. Scott Fitzgerald, Samuel Becket and of course James Joyce. She was kind to all of them, none more than Joyce, promoting and publishing the first run of Ulysees. She stayed in Paris throughout the war, briefly being interred, but her bookshop in rue de L'Odéon never reopened. Shakespeare and  Co., situated opposite Notre-Dame cathedral, was named as an homage to Beach.
Born in 1804, George Sand was perhaps the most progressively shocking of all of these women. In an age where women were forbidden to dress in male clothing, requiring a police permit for exceptions such as horse riding or occupational necessity, Sand often dressed in men's clothing, circulating boldly in venues in Paris that excluded women. Smoking tobacco, as she did prodigiously, was also considered shocking. Of the many affairs she had in life, the most famous was with Chopin. By the age of 27, she had become Europe's most popular writer, eclipsing both Victor Hugo and Honoré de Balzac. She became a vocal and influential political figure championing women's rights. Sand's literary estate, including 24 volumes of her compendium, were sold by her children in 1880 for the equivalent of $1.3 million.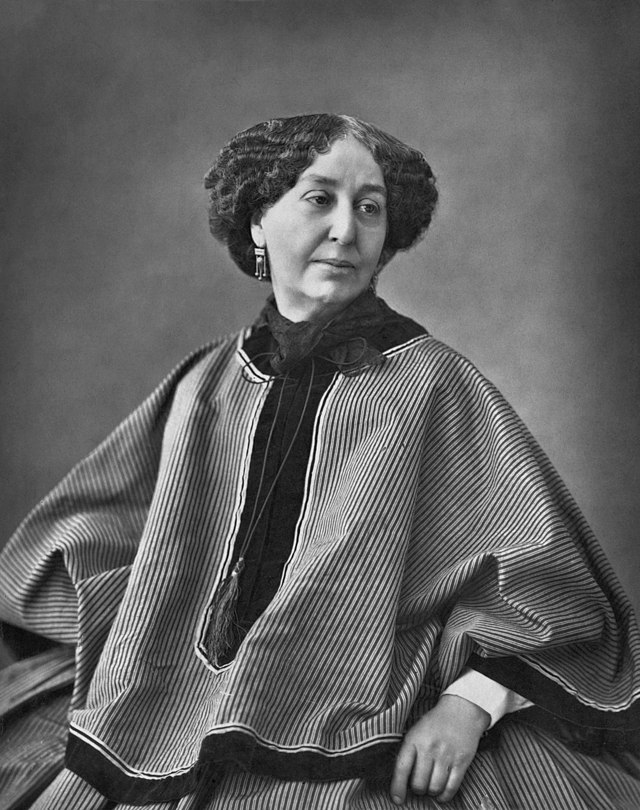 The Essential Walk
Traversing the Left Bank, this tour starts at the Panthéon in the Latin Quarter and ends at the Pont de l'Archevêché. The Panthéon, the grandiose monument where France's great personalities are interred in the crypt, is the resting place for Marie Curie, who was the the first woman to be buried there on her own merits. From humble origins she went on to win the Nobel Prize in physics with her husband for their pioneering work on the theory of radioactivity. In 1911, Marie Curie won a second Nobel Prize in chemistry for her discovering the elements polonium and radium. During the First World War, she developed mobile radiography units (soon known as "petites Curies") — it was estimated that over a million wounded soldiers were treated with her mobile X-Ray units.
Any excuse to visit the Jardin du Luxembourg is an opportunity not to be missed; to learn of the woman  behind its inception is an added bonus. Born in Florence in 1573, Marie de' Medici became the queen consort of King Henry IV of France in 1600 and later ruled as regent (for the young king Louis XIII) when Henry was assassinated in 1610. A profligate spender, she was controversial and divisive, though she commissioned the Luxembourg Gardens, enlisting the Flemish artist Peter Paul Rubens to paint the decorations in the palace.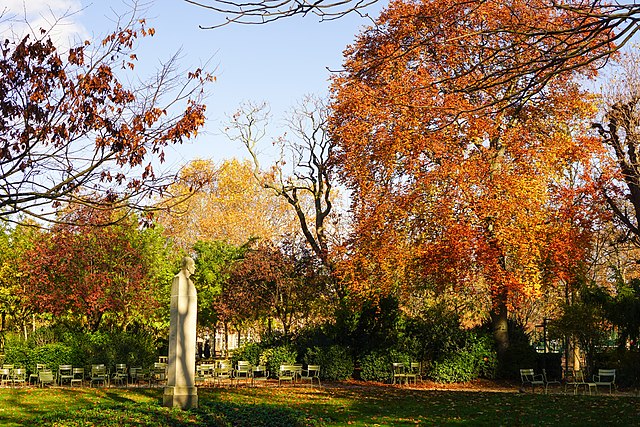 At the Conciergerie, the former palace turned prison, learn about the last days of Marie Antoinette, the most reviled queen in French history. Reports of her bravery paint a very different picture from the many frivolous depictions. Forced to change her clothes in front of her guards, her hair was shorn and her hands roped behind her back in a leash. Before her execution by guillotine, it took an hour to parade her through the streets in an open cart. She remained composed the entire time. She was guillotined at 12:15 and her head given to Madame Tussaud's to make a death mask. Her body was thrown into an unmarked grave in the Madeleine cemetery.
Other women on this Essential Walk include Olympe de Gourges and the fabulous Le Procope on rue de l'Ancienne Comédie where she used to hang out, and Simone Veil, the politician and women right's advocate who was also one of the few female members of L'Académie Française.
Drama Queens
This third tour focuses on the dramatic heroines of the Parisian stage. Beginning by the Comédie Française, the tour traverse the historical theater district and highlights Marguerite Brunet, Josephine Baker, and Mata Hari alongside lesser known figures.
Next up for Heidi Evans is the launch of a fashion walking tour featuring the likes of Coco Chanel, Schiapperelli, Jean Paquin, and Jean Lanvin.
The tours last between two and a half to three hours – with a break for coffee – the majority of them are in English and cost 35 euros each. Happy walking!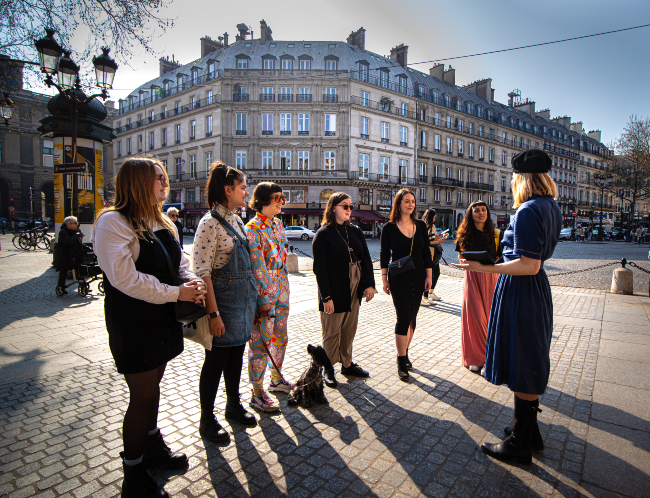 Lead photo credit : Heidi Evans leading the way
More in Colette, feminism, French feminists, french women, george sand, history, Jardin du Luxembourg, Literature, marie antoinette, Saint-Germain-des-Prés, Sylvia Beach, walking tour, Women of Paris
---
---
Comments