Where the Stars Play in Paris: Celeb Spotting in the City of Light
It's hardly surprising that so many celebrities have fallen in love with Paris. Some have bought homes here, others come for the shopping and restaurants, while others — like the rest of us— just come to experience the beauty, history, and inimitable ambiance of the City of Light.
So where do they stay? Where do they shop? Where do they eat? Where, when the sun goes down, do they let their hair down? And where do they often choose to honeymoon?
View this post on Instagram
City of Love
All over the news recently, Jennifer Lopez and Ben Affleck honeymooned in the Hotel de Crillon overlooking the Place de la Concorde, and dined at the restaurant Plenitude in the Cheval Blanc Hotel on the Quai du Louvre, La Girafe, and Le Matignon. (Some Parisians publicly questioned their choices on social media; did the stars need a little assistance with their travel planning, some local recommendations on where to eat and drink?)
View this post on Instagram
The power duo were also spotted enjoying a more affordable dessert at Berthillon ice cream shop on the Ile St Louis. They took a private boat down the Seine, visited the Picasso museum in Le Marais, and strolled around sightseeing, like regular tourists. No dark glasses, no masks, apart from their two bodyguards, the couple shopped in the crowded Hippy Market in Le Marais without expecting, or getting, any preferential treatment. The couple seemed determined to enjoy themselves like regular tourists. They just have more money to spend! (Vogue has put together a slideshow of all of JLo's honeymoon outfits you can ogle here.)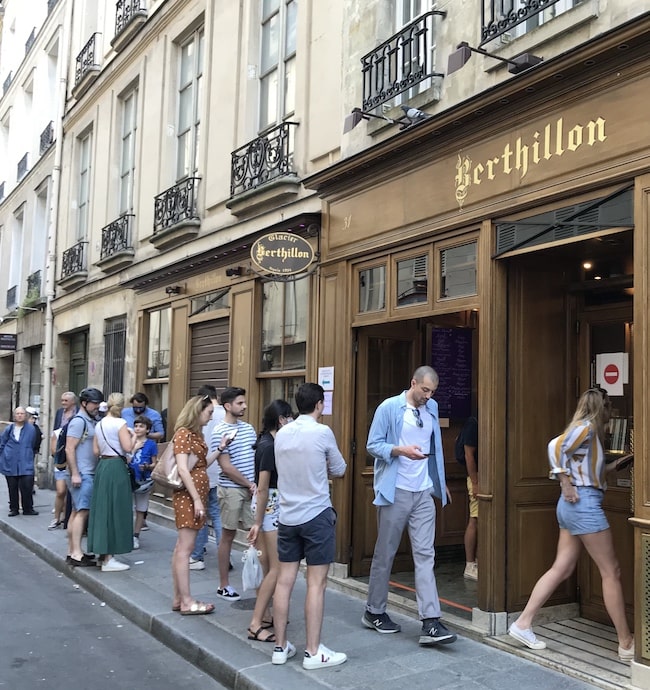 Some years ago, Gwyneth Paltrow and Brad Falchuk checked into the honeymoon suite at the Four Seasons Hotel George V, after a first honeymoon in the Maldives. (This is the same suite Elizabeth Taylor spent her honeymoon in with husband No. 2 Conrad Hilton.) Sacha Baron Cohen and Isla Fisher married in a very low-key Jewish ceremony in Paris in 2016, and in another intimate civil wedding ceremony in Paris, Salma Hayek and businessman François-Henri Pinault said, "I do." When Zoe Kravitz and Karl Glusman tied the knot at the home of the bride's father, Lenny Kravitz, in June 2019, they hosted a fete after the nuptials at Lapérouse restaurant with celebs like Reese Witherspoon and Cara Delavingue in attendance. (The couple have since split.)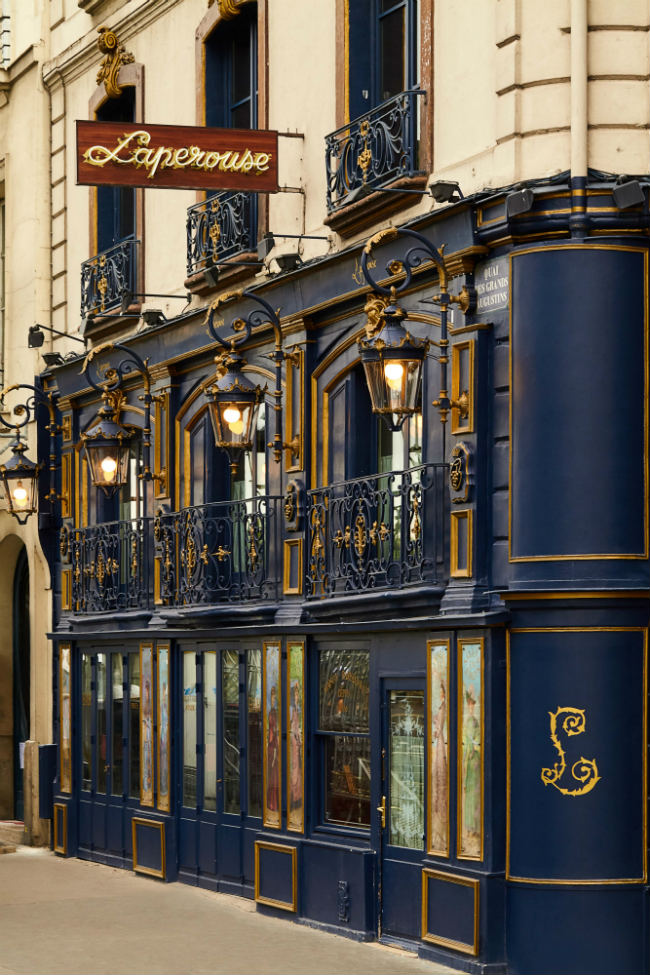 Paris Fashion Week
But if you are a serious celeb spotter (and with little likelihood to be invited to a celebratory wedding), there is nowhere better to start than Paris Fashion Week.
The bi-annual Paris Fashion Week, aka PFW or la Semaine de Mode des Createur, is held in February and July. After the recent restrictions due to Covid, the July showing was awash with the rich and famous. Held mainly in the Carousel du Louvre, the Grand Palais or the Espace Eiffel, the big boys (and girls) of fashion, Dolce and Gabbana, Valentino, Jean Paul Gaultier, Balenciaga, Schiaparelli and Fendi, strutted their stuff in front of a plethora of A-list celebrities.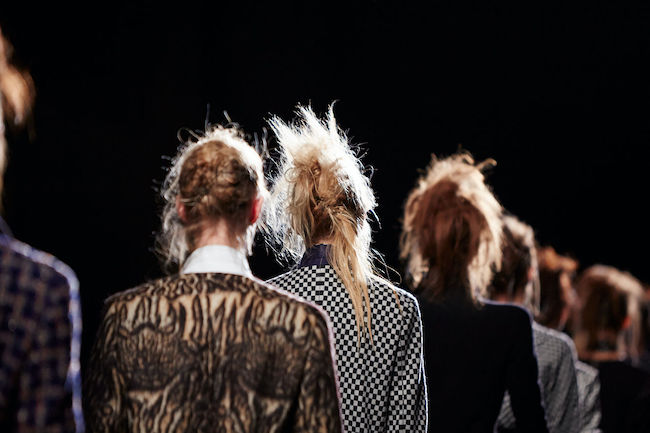 Are you ready for this list?
Helen Mirren, Mariah Carey, Kim Kardashian, Emma Watson (who was born in Paris before moving to the UK), Naomi Watts, Keira Knightley, Rhianna, Demi Moore, Victoria and David Beckham, Lewis Hamilton, Emma Stone, Venus Williams, Angelina Jolie, Jennifer Lawrence, Katy Perry, Celine Dion, Kate Moss, Lady Gaga, Donatella Versace, Justin Bieber…. Just to name a few of the fashion aficionados who flock to Paris twice a year to have front row-seats alongside the catwalks of their favorite designers.
Shop Amongst Celebrities
It would be fairly obvious that after their front-row seats at Paris Fashion Week, the celebrities would want to visit their chosen designer stores. And where better to start than the exclusive, two-kilometer street behind the Elysée Palace – the Rue Saint-Honoré? Saint Laurent, Balenciaga and Givenchy all have their flagship stores on this iconic street. Dior, Chloe and Valentino have also chosen the rue to sell their exclusive lines. The architecture of the street is just an added delight. Jewelry needed to match the latest outfit? Place Vendôme, and the nearby Rue de la Paix, boast the boutiques of Piaget, Boucheron, Chaumet, Rolex, Hublot, Chanel, Guerlain, Jaeger-LeCoultre, and Cartier, which is the brand's largest, vying for custom with Bvlgari and the ever-desirable Tiffany and Co.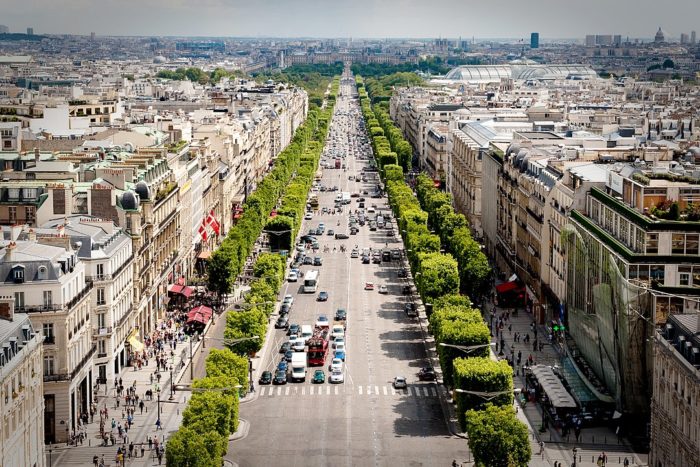 Celebrity Homes
So where do these A-list, and maybe some B-list celebs, take their purchases after a day pounding the cobblestones? Just where do they stay? Some of the really fortunate celebrities live in Paris or own homes here. Before he passed away, Karl Lagerfeld owned two side-by-side houses in the 1st arrondissement, near where Coco Chanel opened her first hat shop in the Rue Cambon. Diane Kruger, the model turned actress, has long maintained a property in the 7th arrondissement, alongside Catherine Deneuve, another long-term resident of the Left Bank. Jane Birkin lives in an apartment overlooking the Luxembourg Gardens, and the infamous film director, Roman Polanski, has never strayed far from his luxury apartment just off the Champs-Elysées, which he's owned for more than 40 years. Marion Cotillard has just left her home in Boulogne-Billancourt for the quieter life in the south of France and Gerard Depardieu caused a scandal when he put up for sale his fabulous mansion in the 6th arrondissement for the equally fabulous sum of 50 million euros in 2012. The scandal was not the hefty price tag, but Depardieu giving up his French citizenship in protest to his high taxation. (Since that time, he's retained a Paris property.)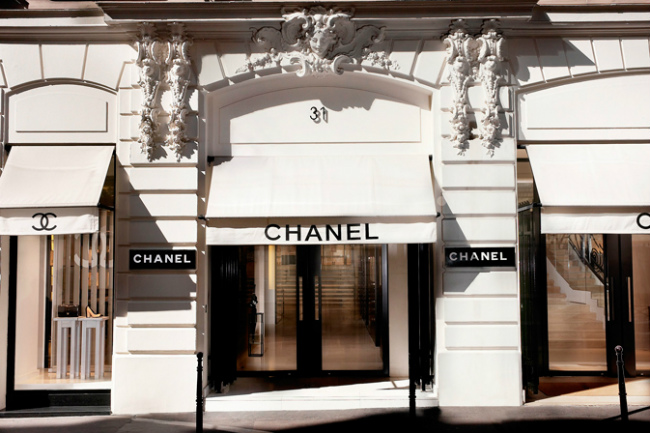 Johnny Depp owns an apartment in Le Marais, as does Scarlett Johansson, but for other transient celebs, just where do they choose to stay?
Hotel Sightings
The city's magnificent, traditional hotels have never lost their allure for the rich and famous. The Ritz was the home of Coco Chanel who lived there before and after WWII. Hemingway loved the Ritz, as did F. Scott Fitzgerald (the bar mainly…) Other celeb favorites include the Hotel Plaza Athénée which boasts one of the best views of the Eiffel Tower; Le Bristol, whose pedigree guest list includes Charlie Chaplin, Josephine Baker and Marilyn Monroe; the Hotel De Sers, just a few steps from the Champs Elysées, a favorite of Justin Bieber, Enrique Iglesias and Lady Gaga. The Hotel de Crillon's guest list includes Queen Sofia of Spain, Sophia Loren, Andy Warhol and Jackie Onassis. The renovation of the Crillon started in 2013 and took four years to finish.
Situated in the Golden Triangle of Paris, just off the Champs Elysées, the Four Seasons Hotel George V was built in 1928, and became an Art Deco landmark. Penelope Cruz was a guest, and long before her, the Beatles joined the illustrious guest list along with François Mitterand, Richard Nixon and Marlene Dietrich.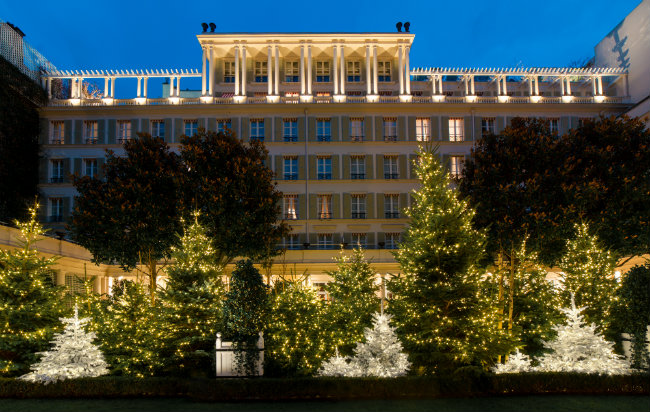 Le Fouquet is one of the few remaining luxury hotels in Paris still owned by a French family. In the 1980s, Maurice Casanova, the owner of Le Fouquet's restaurant, launched a "loyalty program" for frequent guests such as Alain Delon, Bruce Willis, Johnny Hallyday, Liza Minelli, Jack Nicholson, Charlotte Rampling and Catherine Deneuve – their own engraved silver napkin ring placed on their table, awaiting their return. The perfect marketing ploy for the diner who has everything…
Located opposite the Tuileries Gardens, the Hotel Le Meurice, with its Belle Etoile suite's roof terrace offering panoramas of Sacré-Cœur and the Eiffel Tower, is the hands-down favorite of Jay-Z. Beyonce, Kirsten Stewart, Kate Moss, Kanye West, Kim Kardashian and Anna Wintour. These were the stomping grounds of Salvador Dali and the bar is named in homage to the artist.
The Hotel Costes, a luxury boutique hotel on Rue de Castiglione, opened in 1995 making it comparatively new compared to the grand, established names, but quickly made its mark as one of the "coolest, hippest" places to be seen, its bar and restaurant still a magnet for celebrities today. L'Hotel de L'Abbaye, situated in the ever-trendy Saint-Germain-des-Prés district, offers private gardens which are a favorite hideaway for many famous French actors to conduct their interviews discreetly with the press.
Le Pershing Hall, at 49 Rue Pierre Charron, is dedicated to the General of the Armies, John J Pershing. The cornerstone of the building is the identical keystone to the old Chateau-Thierry bridge which spanned the Marne at the point the American troops turned the tide of the American advance on Paris. Now a boutique hotel designed around a patio with a vertical garden, one is more likely to see Marion Cotillard there than a soldier in uniform.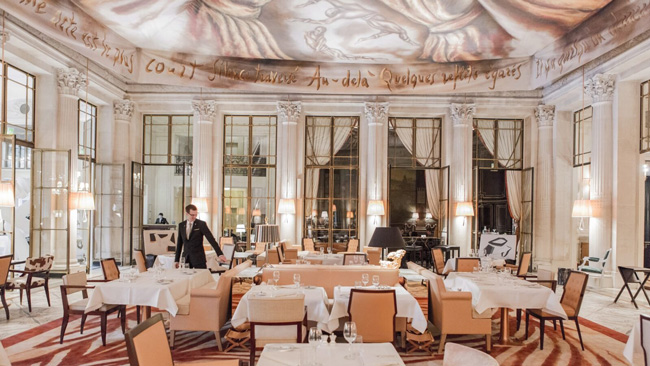 However, there remains yet another lodging for the rich and famous: the fabulous, exclusive La Pourtales. This is a "hotel particulier," or private mansion house, complete with gardens and courtyards, where aristocratic families once called home. La Pourtales remains hidden behind its huge red door on the Rue Tronchet near La Madeleine. It opened in 2010 and consists of nine lavish apartments. Each apartment ranges in size from 95 to 350 square meters and has the services of 20 staff plus a chef. Ironically, despite the privacy and lack of any signage outside, it was here that Kim Kardashian was robbed so spectacularly, invoking massive press coverage. However, undeterred, La Pourtales remains the home from home for the likes of Leonardo DiCaprio, Madonna and Jay Z.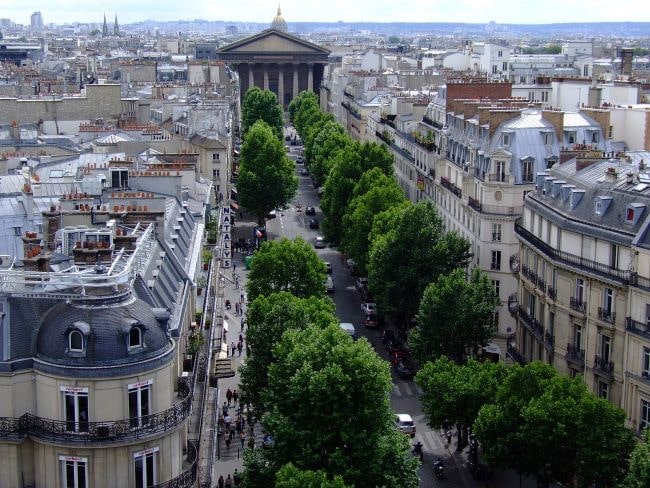 Where the Stars Eat
We all know that shopping and spending oodles of cash must work up a healthy appetite, so where are you likely to see your favorite celebs, "a table" apart from their hotel dining rooms? Some actors have even opened their own eateries over the years, including Gerard Depardieu (Le Bien Décidé has since closed) and Scarlett Johansson (her Marais popcorn shop has also closed).
Marion Cotillard, unforgettable in Piaf, owns Jaja and Glou in Le Marais but has her own table, no 24, at La Brasserie Julien in the 10th. Ralph Lauren has opened the aptly named Ralph's in his flagship shop on the Left Bank, a hugely popular spot, and not to be outdone, on the Boulevard St Germain, L'Emporia has the Armani Caffè. L'Avenue in Avenue Montaigne is a favorite of Beyonce, Jean Paul Gaultier and Jay Z while La Sourire de Saigon, at 54 Rue du Mont-Cenis in the 18th, attracts the likes of Vanessa Paradis and Leonardo DiCaprio.
Celebrity Night Outs
If all the shopping, sightseeing and eating hasn't worn out our trusty celebs, then to round off satisfying day, a drink and maybe even a bop in one of Paris's elite nightclubs might well be on the cards.
Le Montana in Saint-Germain-des-Prés is where you could bump into Kate Moss and French celebrities such as Alain Chabat and Gilles Lellouche. But the absolute go-to club at the moment is L'Arc at the top of the Champs Elysées. Designed by Lenny Kravitz, it has a marble dance floor and a garden terrace overlooking the city. Needless to say, it's a special favorite of leggy models during Fashion Week. The Matignon, another VIP club, is found in the basement of the restaurant and was inspired by the "Bal du Siècle" of Charles De Beistegui.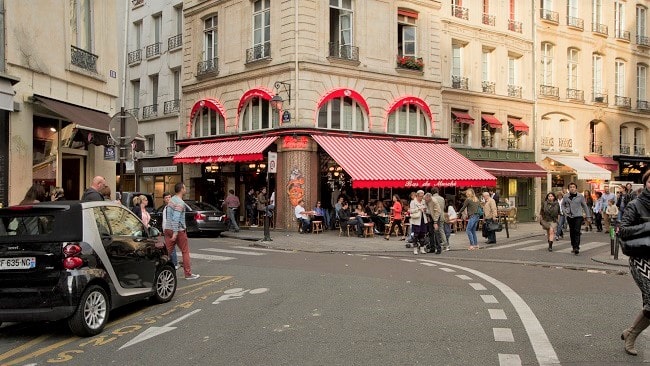 The Raspoutine, Le Queen, Le Baron – celebs can take their pick of Paris's glittering nightlife. It clearly helps if you are young and beautiful or rich and famous for easy admittance – these are after all VIP nightclubs, but fortunately for us mere mortals, Paris is awash with trendy nightclubs, affordable boutiques, and restaurants that won't break the bank. You may not see Madonna queueing beside you at the supermarket check-out, but you are in Paris. So who really cares?
But good luck celeb spotting anyway!
Lead photo credit : Images found on Wikimedia Commons and edited
More in celebrities, Celebrities in Paris, Celep Spotting, Places to go
---
---