A Day Trip to the Louvre-Lens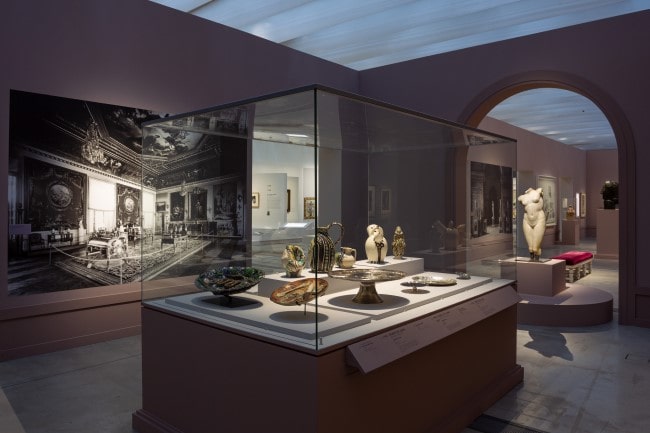 Whether you're going from Paris, Lille or – heck, let's go crazy – Kent*, a day trip to the Picasso exhibition at the Louvre-Lens or perhaps a mini break to soak up other nearby art attractions (La Piscine: swoon) is highly recommended.
The Les Louvre de Pablo Picasso exhibition is running until January 31st, 2022 and is truly a fascinating insight into the artist and his relationship with the Louvre; [spoiler alert] as in all the best love stories, it didn't always run smoothly.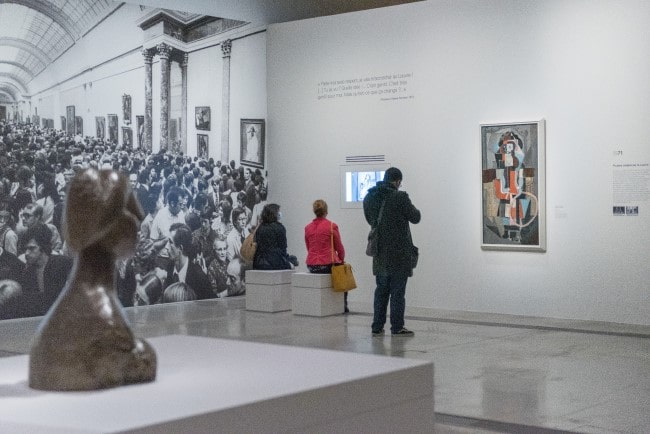 Before diving into that, a quick bit of info on the Louvre-Lens Museum's permanent exhibition because, due to the agility and compact size of this fly-half gallery compared to its scrum-half sister in Paris, it's perfectly possible to get round the whole thing in a day and still have time for a long lunch at a neighboring estaminet.
(*I did just this, crossing in the Eurotunnel at 9:30 a.m. and driving for an hour and bit to the Louvre-Lens, lunching at the Estaminet Saint Theodore Le Derby just opposite the gallery on a delicious Carbonnade and frites with salad, before crossing back at 5:30 p.m. the same evening. Chouette!)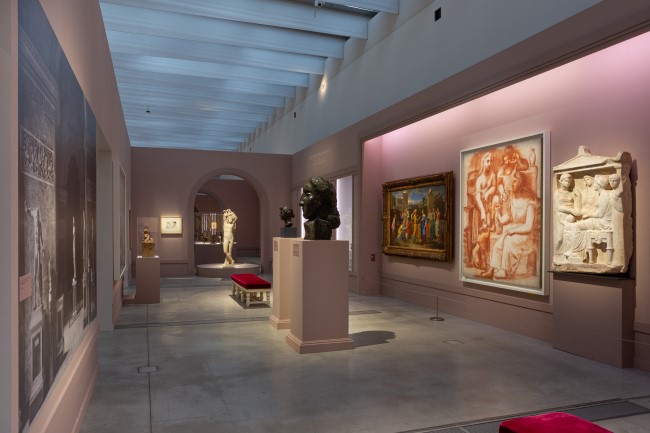 A dream-like space
La Galerie du Temps is a hangar-like, pure-white, naturally lit 3000m2 space which houses 200 works of art from the Paris Louvre. It's a bit different to other art museums – firstly, it's open plan (really open) so no linked rooms organized by discipline or era here. Next, the works are arranged chronologically from the 4th century to the mid-19th century which manages to strike the elusive balance between functionality and beauty. Also, with many works in glass cases, the experience feels more dynamic and interactive; there are more angles to view, and you can get up nice and close for the detail.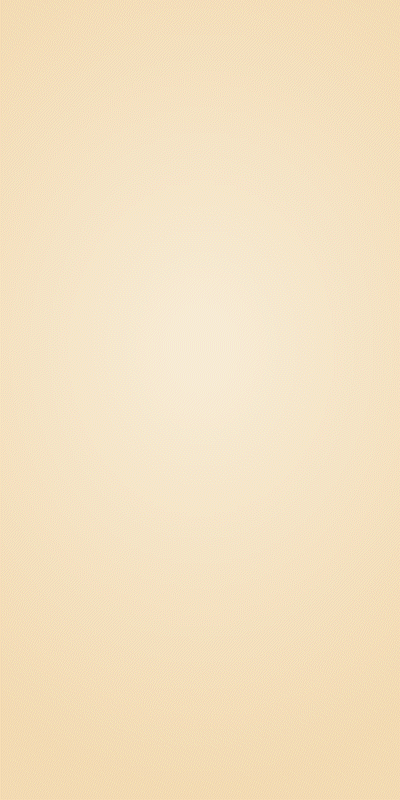 By the way, having also visited the Picasso exhibition that day and learnt about his love of visiting the Louvre in Paris, I think his mind would have been blown by this awesome space. What a shame Picasso never saw the Louvre-Lens; I can see him in mind's eye, circling the glass cases, peering at fertility masks from New Guinea, using the neat web app and his smartphone camera (oh c'mon, he'd definitely have had one!) to scan an object to find more about it, and perhaps joining the back of a snake of primary-school kids, his hands on the shoulders of the kid in front so he didn't get separated from his guide. My guide told me that the most frequently asked question from kids is "Where are all the penises?" as they note the snapped-off extremities on ancient statues.
The collection in the main gallery is kept fresh; this year, 19 pieces are new, including La Panoramique de la Falaise de Bâmiyân which spans the whole width of the room as you enter the gallery. Pascal Convert's monumental works stitches together 4,000 photos to show the famous Buddha of Bamiyan statues in Kabul – or rather the lack of them – that were blown up by the Taliban 20 years ago. The gaping black holes face a room full of jaw-dropping statues and the horror of what happened there is intensified.
Postprandial Picasso
If, like me, you take in the permanent exhibition in the morning and the Picasso after lunch, you'll have a real treat in store once you're fed and watered.
The Picasso exhibition is arranged in two parts: one section is laid out in classic Louvrian style, with different rooms for paintings, sculpture etc; and the other side is a chronological timeline which explores the relationship between the artist and the Louvre through his life.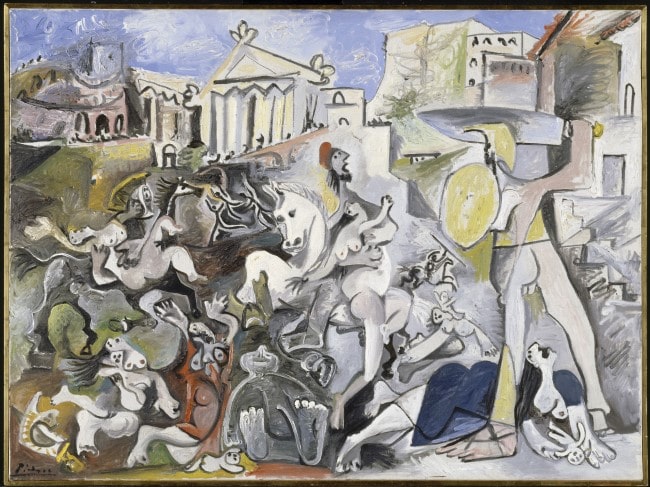 When Picasso moved to Paris at the start of the 20th century as a young man, he loved visiting the Louvre, and his relationship with it endured throughout his life. In 1947, he donated 10 of his own works to the Louvre, a donation which earned him an inscription as one of its principal donors, and on his death in 1973, he left the gallery his entire collection which included 100 works by old masters, modern and contemporary artists.
Despite this long-lasting love, it's great to read about the wrinkles in the relationship too, not least when he was questioned in connection with the theft of the Mona Lisa in 1911, having aroused suspicion by buying a stolen artwork a few years before.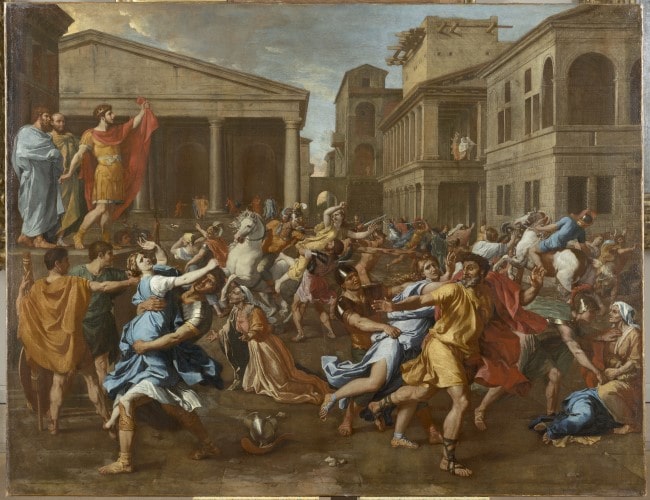 Some of Picasso's inspirations are documented while others are more supposed; one of my favorites was his painting of the famous art critic, Gustave Coquiot, which has a touch of Toulouse-Lautrec about it and was the first of Picasso's paintings to be acquired by the state and shown in the Louvre.
I also liked the way the exhibition brought couplings to life. The famous Déjeuner Sur l'Herbe sits intriguingly next to a beautiful blue Picasso – it's just one of a total of 140 drawings, 27 paintings and four lino cuts the painter did after seeing Manet's controversial masterpiece.
I also loved Picasso's bronze bull from 1942 which was inspired by finds from the Mesopatamian era, and his minimalist Porteuse de Jarre, so reminiscent in its shape of an ancient Egyptian statue from 1950BC.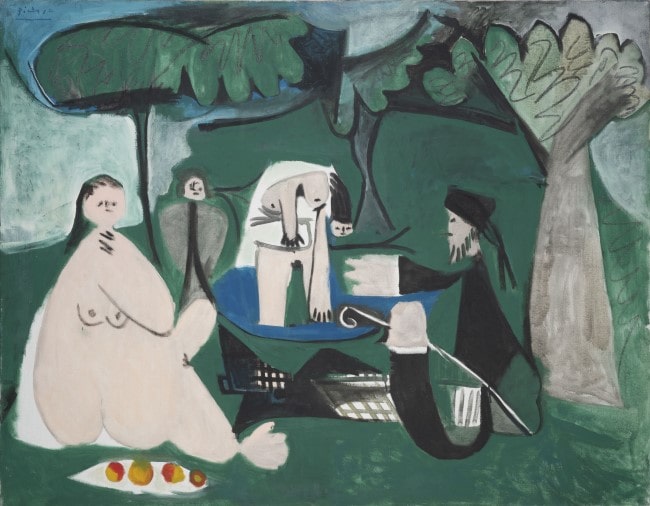 The Les Louvre de Pablo Picasso exhibition is accessible, beautiful and informative; it also really made me think about artists' inspirations, the effect of art on the artist and how elements such as movement and behavior can be evoked through art, even after many thousands of years.
Getting there
Louvre-Lens Museum, 99 Rue Paul Bert, 62300 Lens.
The museum is open every day except Tuesday, from 10am to 6pm (admission and ticket desks close at 5:15pm).
Full price ticket to the Picasso exhibition, running until January 31, 2022, is €12.
Regular trains every day from Paris, Lille and Arras to the Lens station. From the station, it's a 25-minute walk, along a landscaped footpath.
Two free car parks close to the museum: 120 rue Paul Bert in Lens, and 123 rue Mirabeau in Liévin.
Lead photo credit : Exposition Les Louvre de Pablo Picasso. © Succession Picasso 2021/ Louvre Lens, Laurent Lamacz
More in art exhibitions, exhibition, Louvre, picasso
---
---