Food for the Fetes: December Resto News in Paris
"He who doesn't take risks doesn't drink champagne." —Russian proverb
Paris restaurants are offering some exciting menus for the end-of-year fêtes. Here's a selection of recommended tables we've tried and tested recently. Bon appétit!
The handsome Villa Nobel, once home to Alfred Nobel (1873), belonged successively to several grand families, then was HQ to the Ministère de la Marine until, in 1990, it became Joel Robuchon's flagship restaurant, who then handed the keys to Alain Ducasse. It's now Maison Russe, the concept of Paris Society and Laurent de Gourcuff (behind a number of restaurants including Gigi, Girafe, Perruche, Louie, Mun, Coco, Bambini, Le Piaf, Apicius).
The four-story, Art Nouveau mansion — complete with winter garden/cigar bar, bar and boutique — has been completely redecorated with a Russian Firebird Stravinsky theme that resembles a rich Russian family datcha or luxurious boutique hotel (no rooms, sadly).
Follow the winding wooden staircase, or take the lift, to the dining rooms and ask to take a peek at the seven, plush, theatrical-style, velvet and gilt salons, which can be privatized for two to 20 people.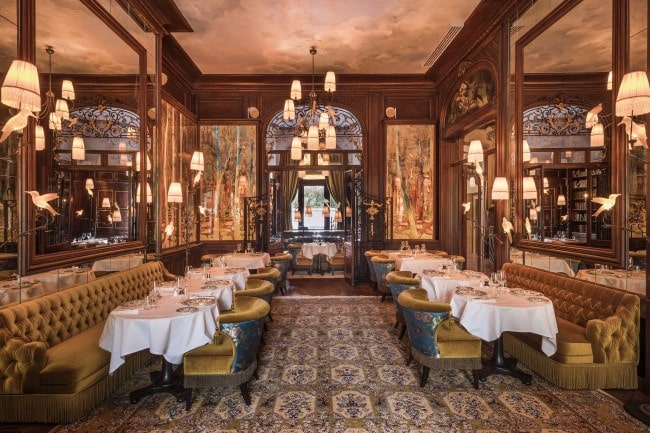 Julien Chicoisne, Paris Society Executive Chef, Elie Fischmann and the brigade create a thoughtful, Russian-influenced menu that includes various ways with scrambled eggs, herbs and caviar or crab (from €24). Other dishes include: Baked potato with caviar (from €98); Chicken Caesar Salad (€29); King Crab Avocado salad (€29); Perfect truffle or caviar pizzas (from €35); the iconic Coulibiac, multi layers of salmon, eggs, spinach, rice and beurre blanc encased in golden puff pastry (€42); Caviar linguine (€62); Chicken, truffle cream, mashed potatoes (homage to Joël Robuchon) (€36); Autumn vegetables (€26); Filet de boeuf "Café de Paris" and frites maison (€49).
Match with Champagne Veuve Cliquot rosé (glass €25). Wine, by the glass, from €12, bottles from €40.
Chef pâtissier Maxime Louis suggests chocolate soufflé; Blueberry and Chestnut Pavlova; and L'omelette norvégienne (baked Alaska) with citrus fruits.
To save you turning the plate upside down, the wishlist tableware's by Gien and can be ordered from the pretty, ground-floor boutique.
Front of house is Albert Corre, the former chef/owner of Le Petit Pergolese, taking time out from the kitchen. "Sometimes you need a change," he explains.
New Year's Eve Dinner €300-€350
59 avenue Raymond Poincaré, 16th
Metro: Victor Hugo/Trocadéro
Tel: 01 40 62 72 05
Open 7/7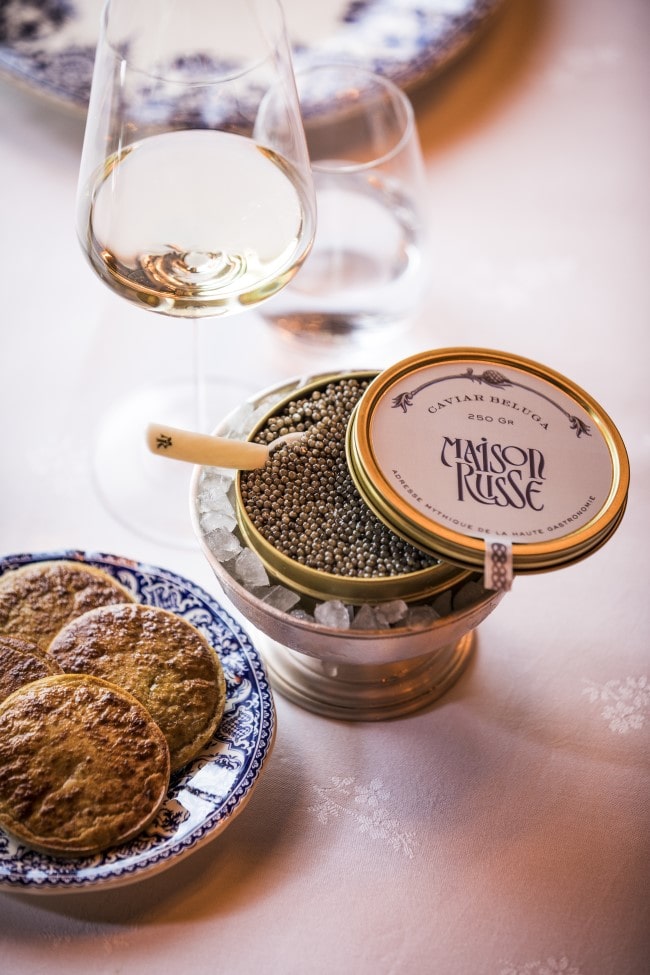 Astier (since 1956)
When Frederick Hubig reopened Astier after lockdown, he wanted "to change the space, without changing it!" So out went the red check tablecloths, replaced with white starched linen. "It's the little touches that make a difference, n'est ce pas?", he said last Tuesday when I managed to snag the last table for lunch (Tuesday-Saturday €20-€25).
Chef Stéphane Corcessin sends out seasonal starters to showcase giant Saint-Jacques, roasted in bubbling buckwheat butter with leeks, served in the shell (€17). Plump Burgundy snails (€19) sit in flaky pastry with chanterelle mushrooms and jus de viande. And there's also a Langoustine bisque with chorizo and croutons (€13). The IGP St Chinian "La Plage" Philippe Bordes 2018 slips down well.
Mains include the classic Hare à la royale Antonin Carême with ratte potato mash (€48); Wing of roast Guinea Fowl, a lick of MacVin sauce, Chanterelles (€27); and Panfried Monkfish, white Paimpol beans, creamy shrimp sauce (€29). Finish with cheese, as always and, say, the Banyuls roasted figs and cream. Here's the perfect interpretation of a bistro we love. Warm, welcoming and excellent quality for the price – superb.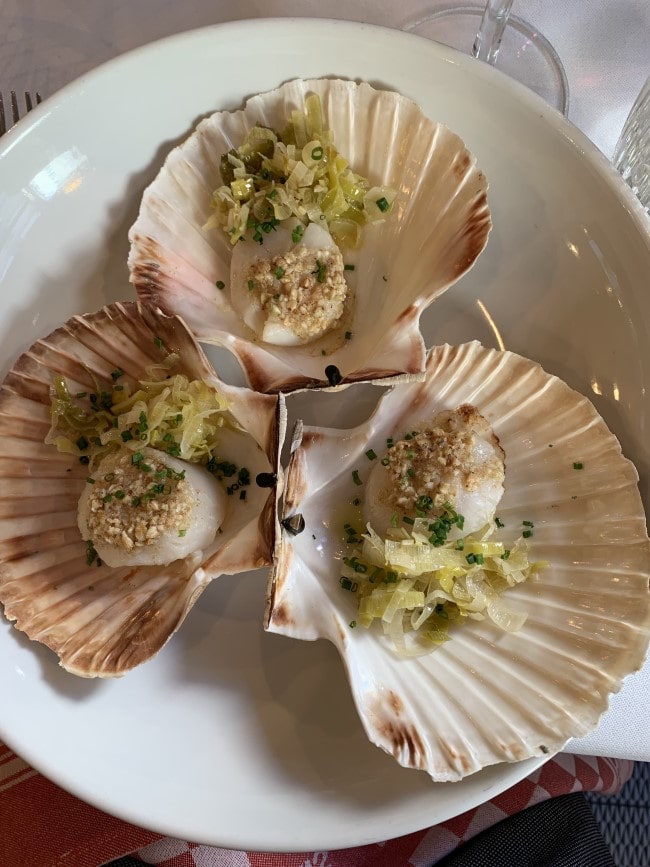 Order Yule takeaway and a daily chef's suggestion includes:
Foie gras d'Astier, €34 euros
Lobster Bisque, €12 euros
Duck pâté en croûte, foie gras and pistachios, €15
Salmis of Duck 2 à 4 personnes à 70 euros
Pintade fermière stuffed with foie gras & chestnuts for 4 to 6 €88
Herb crusted Gigot d'Agneau à la broche €80
6 fromages d'Astier (6 – 10 people) €45
And you'll say, "Of course I made it!"
44 Rue Jean-Pierre Timbaud, 11th
Tel: 01 43 57 16 35
Metro: Parmentier
Closed December 24th to December 27th, reopens the 28th – December 31st.
As you begin the climb to Montmartre and Sacré Coeur, this recently opened bistro on rue Dancourt is definitely worth your attention. It's named for the red berries (packed with vitamin C) that are gathered from Ziziphus trees.
JuJube is the concept of Togo-born Senda D. Waguena. His open kitchen is influenced by world travels in Italy, Asia and his native Africa. Waguena's culinary concept is a multicultural dialogue; he's worked every station, even spent time as a barman in Italy, so order a Jujubiscus signature cocktail (vodka, Cointreau, lemon, Perrier, hibiscus) (€13) and study the menu, which changes weekly and always features vegetarian dishes and oven-fresh, house-made focaccia and onion breads.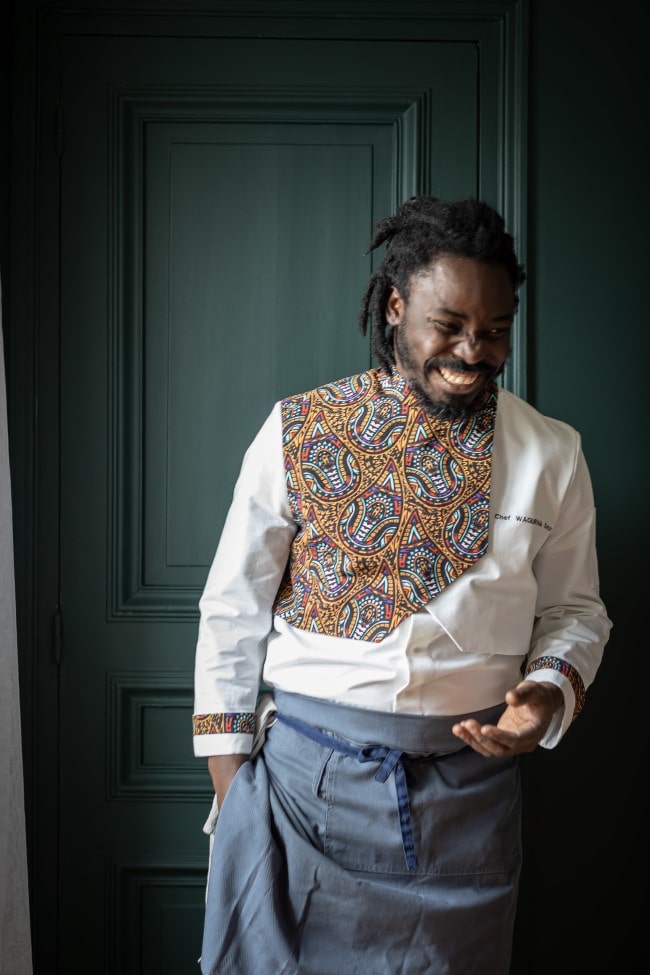 During a recent meal, the starters included the following: chunky vegetable acras, squid ink, smoked shrimp pimento and herbs (€12); Tagliata of beef, soja caramel, Red Baron onions (€14); Trout Gravlax, beets, cream of brebis, Daikon radish (€16). Mains featured Mushroom fajitas, forgotten vegetables, sauce avocado/citron (€24); Île de Groix Brittany mussels on a bed of creamy crab bisque risotto (€28); Grilled beef, 100% Arabica coffee, roast salsifis (€32).
Wine by the glass costs €7. Part of the extensive wine card is a nod and wink to Vin & Volailles, the Paris-based company founded by Fleur Godart, who selects natural wines from excellent producers and supplies bars and restaurants that share her militant feminist ideals! The volaille (poultry) comes from her Dad's Dordogne Farm. Red "Me libérez pas, je m'en charge !" from Jérome Galaup (€45). White  "Putes Feministes" (€60).
"Merci d'être la" – it says on the menu. JuJube – A belle découverte.
4 rue Dancourt, 18th
Metro: Anvers
Tel: 09 74 97 40 02
Lunch & Dinner from Tuesday-Saturday
Menu Saint Sylvestre €120
Here are two interesting addresses set in contemporary open kitchens. One's in the heart of the Marais, near Place des Vosges; the other at Oberkampf. FTLOF's a community culinary concept for wannabe chefs/cheffes and curious gourmets. The  action takes place in the kitchens and a long table d'hôtes. "We're creating a springboard for star talent of tomorrow," explain the founders, entrepreneurs, Todd Hartwell and Olivier Nizet.
View this post on Instagram
Each month selected chefs are invited to create menus respecting the ethics of For The Love of Food showcasing their country or region of origin (recently Morocco, Madagascar and Mexico).
They are mentored by Michelin * chef Stephan Pitré. Seasonality, sourcing, no-waste and fresh market products are the mission statement. "When all the boxes are ticked, we encourage the chefs to let their creativity run free: they have carte blanche," explain Todd, Olivier and Stephan.
"Whether you're a pro, kitchen commis, or just cook for friends at home, all are welcome to embark on this culinary adventure," adds Todd. To be selected, budding chefs must show originality and compose an inventive meal before a jury of four professionals. "The atmosphere's convivial, everyone learning from each other," says Olivier. A delicious experience.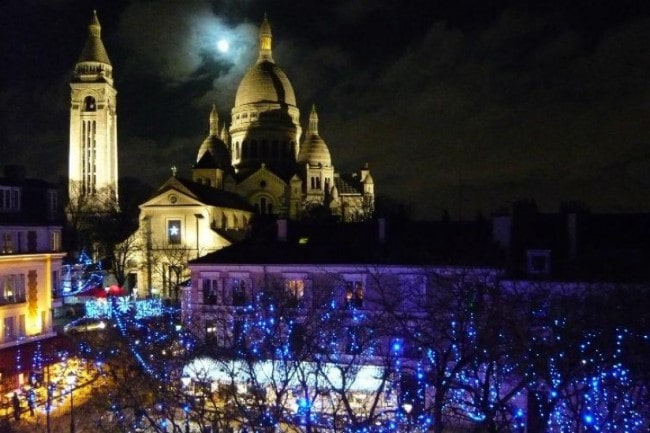 To Market to Market
The Republic of Montmartre Christmas village is set up near the Sacré Coeur, on the iconic Place des Abbesses, illuminated for the occasion until January 2, 2022. Local craftsmen showcase linens, candles, jewelry, accessories, bio olive oil cosmetics. As for tickling the taste buds, go for mouthwatering French regional specialities. Paris honey, Périgord foie gras, Alsace pretzels, Provence tapenades, cheeses from the Pyrenees, dried fruits, cookies, hot drinks, fresh roasted chestnuts etc. And there's the famous mulled wine with spices for that rosy Xmas glow!
Diary Date: January 8th, 2022  
Les Disciples d'Escoffier x La Galette du Cœur
For the 17th edition, rdv Place de l'Eglise in Saint Germain where more than 500 traditional, buttery, golden galettes are sold for a good cause.
A Giant Galette is gifted by Potel & Chabot and, to keep you warm, delicious, steaming hot garbure. Cherry on the gâteau: a golden fève bean slipped into one of the P & C galettes, the lucky winner invited to the July 1st Disciples of E gala dinner. Participating chefs and artisans include Yannick Alléno, Christian LeSquer, Potel & Chabot, Saint-Clair, Pierre Hermé, Thierry Marx, Maison Vérot, Jean-Marc Nottelet (Caïus) Maison Mulot, Maison Eric Kayser, Guy Savoy, Arnaud Larher etc. All profits are donated to medical research for the Association POIC (Chronic Pseudo Intestinal Obstructions).
A lovely way to start a frosty January day.
Happy Holidays !
Want to be inspired by more French foodie experiences and enjoy classic French food, wine and recipes? Head to our sister website, Taste of France, here.
Lead photo credit : Champagne. Credit: Deleece Cook, Unsplash
More in December, food, gastronomy, News, Reccomondations, Seasonal
---
---