Paris Pastry: Drool over these Sweets at Hôtel Plaza Athénée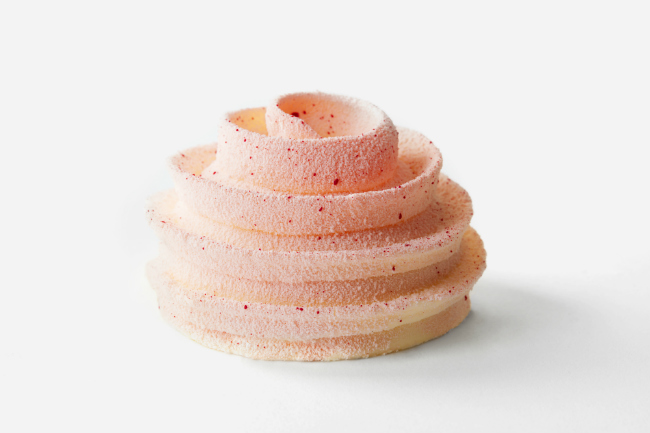 Calling all Paris pastry lovers. There's a new head Pâtissier at the at the Hôtel Plaza Athénée, and he's creating some tasty treats as beautiful as bijoux. After the departure of Christophe Michalak, the celebrity chef and TV personality, the venerable palace hotel recruited a World Pastry Champion to fill Michalak's shoes. Named Meilleur Ouvrier de France (MOF) in 2007, Angelo Musa took the reins in April 2016, overseeing the incredible team of 21 pâtissiers at 25 avenue Montaigne.
Musa has revisited the grand classics of French pastry; so, for example, the millefeuille morphs into a round tart with a healthy serving of cream encircled by a flakey crust. Highlights include éclairs made with Alain Ducasse chocolate, the 100% Vanille, gâteau moelleux orange (an orange-on-orange treat doused in Grand Marnier), and the marvelous Merveille (pictured below).
Musa is half Italian, so he also takes pleasure in reinterpreting Italian treats like Tiramisu (it's encased in a circular chocolate shell). Japanese-style roll cakes also appear on the menu, as Musa has spent a lot of time in Japan.
These luscious creations are on offer at the hotel's myriad eateries: Cour Jardin, la Galerie, the Relais Plaza, la Terrasse Montaigne, event catering, and even room service.
Photo credit : Grapefruit cheesecake. Photo: Thomas Dhellemmes / Hôtel Plaza Athénée
Leave a reply
Your email address will not be published. Required fields are marked *