Easter 2021: The Best of Paris Chocolate Shops
Easter Sunday is on April 4th and despite the new lockdown restrictions in Paris, the chocolateries are allowed to stay open- much to the relief of the chocolatiers who depend on Easter sales as a big part of their annual revenue. The special creations this year are as dazzling as ever. Here's a selection of treats from our favorite artisans all over the city. "Easter's the only time of year when it's safe to put all your eggs in one basket."
The award-winning chocolatier imagines a delightful "Pop" Easter collection of chickens, eggs and small animals, as well as exceptional limited-edition cultural creations such as the "Arne" egg – in homage to architect Arne Jacobsen's iconic armchair (€92). Also find the famous fries and filled Easter praline subjects available in sachets or boxes priced from €11.60 – Pure Hevin!
Multiple boutiques around Paris, including a shop in Lafayette Gourmet.
Tel: 01 45 51 45 99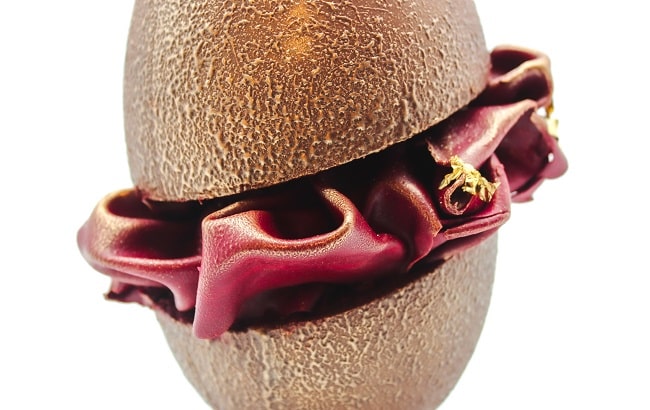 The Jeu Plissé, "Pleated game," by Angelo Musa, World Pastry Champion and Meilleur Ouvrier de France, in a sweet duet with PA pastry chef, Alexandre Dufeu, is an homage to the Plaza Athénée's haute couture heritage. The shell's cocoa reliefs reveal an Easter "special Plaza" chocolate blend of Madagascar milk chocolate plus dark Grand Cru Venezuela garnished with roasted almond-hazelnut praline. Finished in the hotel's iconic red, signed by the artist and, inside, there's caramelized dried fruit, dark and milk chocolate goodies.
Limited edition. Priced at €90.
25 Avenue Montaigne, 8th
Order by email: [email protected]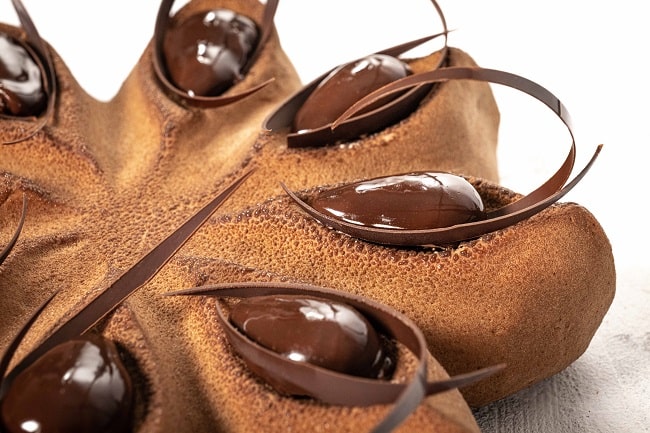 Nina Metayer
After time spent in the state-of-the-art kitchens of Le Meurice, Le Grand Restaurant and Café Pouchkine, talented pastry chef Nina Métayer launches her first Paris pastry shop. But, with a difference; this boutique is online only! For Easter, Metayer, (Gault&Millau's Pastry Chef of the Year 2017) presents a sophisticated collection.
Le Bourgeon €59
L'Eveil €11-€59
Black chocolate Lumières: 30 mini eggs, 72% cacao, €24
Order here.
Click & collect from L'Annexe Richard, 15, rue Chevert, 7th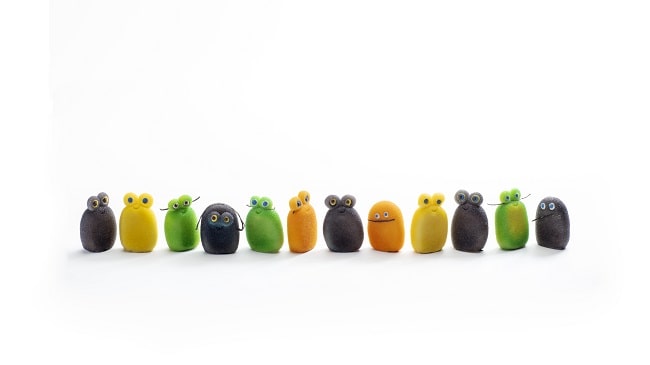 "An egg's not just for Easter," insists the quirky MOF choco artist aka "the Rodin of chocolate." So, do pass by the boutiques (or order on line) and discover the pure fantasy world of Patrick Roger and the stop-you-in-your-tracks window displays of giant chocolate sculptures, as well as the fragrant aromas.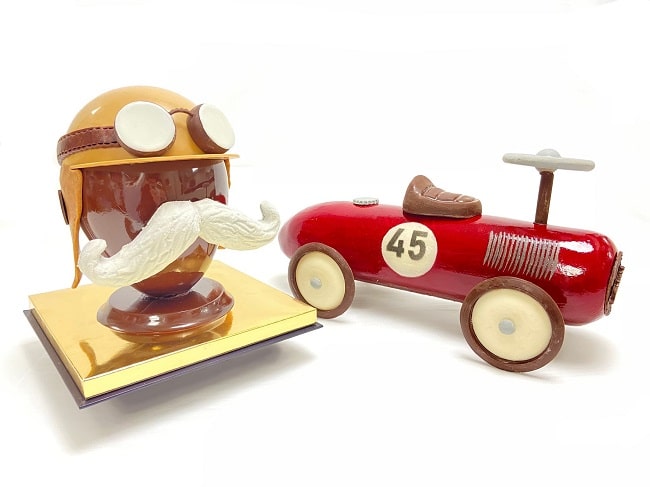 Nicolas Guercio, car enthusiast and the Lutetia's Pastry Chef, takes inspiration from super cars zooming along the streets of Saint-Germain des Prés. His cute racing car resembles a toy, "because Easter is above all a magical childhood moment."
The "45", made from black manjari, recalls the emblematic street number of La Lutetia. (€285)
Then there's "The Classic Egg." Staying with the auto theme, this time the edible pilot's behind the wheel! Note his vintage helmet/ retro glasses/moustache (€75). Made with black Madagascar Manjari chocolate, filled with hazelnut almond praline, fleur de sel and whole hazelnuts .
Tel: 01 49 54 46 46 – or email: [email protected]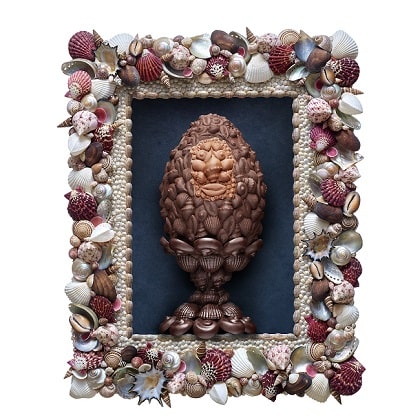 With an epic Easter collection showcasing seashells, the bromance between Maison Pierre Hermé Paris and Thomas Boog– artisan decorator and shell maven– takes us on a voyage into a dreamlike marine world. Long-time admirer of the work of the artist, and a regular visitor to the gallery on rue de Bourgogne where shells and corals are skillfully intertwined, PH gave carte blanche to Thomas Boog to create an extraordinary Easter egg based on edible shells – two years later the results are extraordinary edible works of art.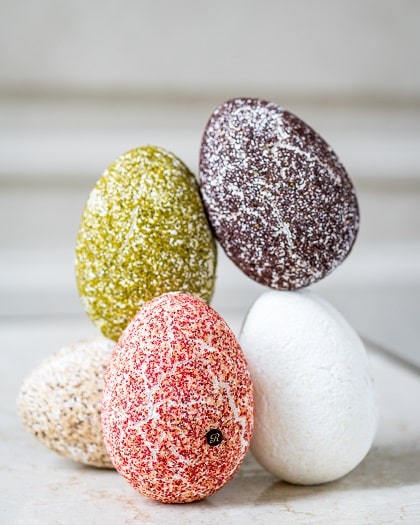 François Perret, the palace's award-winning Pastry Chef, showcases meringues with five colorful limited edition eggs. Each shell is light and crunchy at the same time; the heart's a sumptuous melange of milk, white, dark chocolate, a tasty marshmallow and roasted fruit. Choose, praline, pistachio, coconut, hazelnut, cacao (€68).
15 Place Vendôme, 1st
Tel: 01 43 16 33 74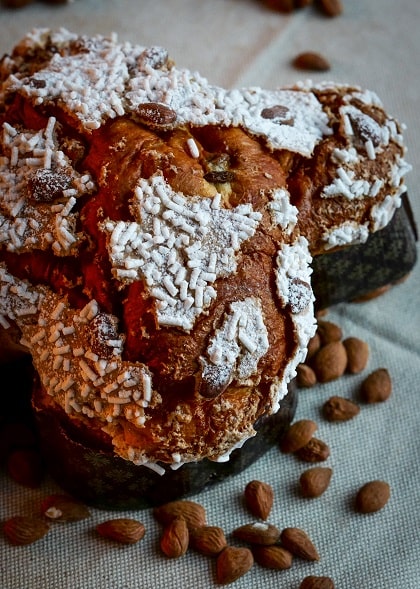 History tells us that, in the the 6th century, on Easter Day, during the invasion of Pavia, Italy, the King of Lombardy received a dessert in the shape of a dove as a sign of peace. Henceforward, the dove became the symbol of Easter.
Pastry Chef Christophe Louie's homage is a brioche made with his century-old sourdough starter. The Aristide milk chocolate Cameroon fondant mixes with the delicious aromas of L'Or des Prés; he adds extra-fine butter, and crunchy Piedmont hazelnuts. There's also passion fruit and tangy physalis, romantically dubbed "Love in a Cage" (€36).
Order online.
Postal delivery, courier delivery, Click & Collect at La Grande Epicérie de Paris (rue de Passy / rue de Sèvres)
And, do you know Les Deux Siciles? 27 rue des Abesses, 18th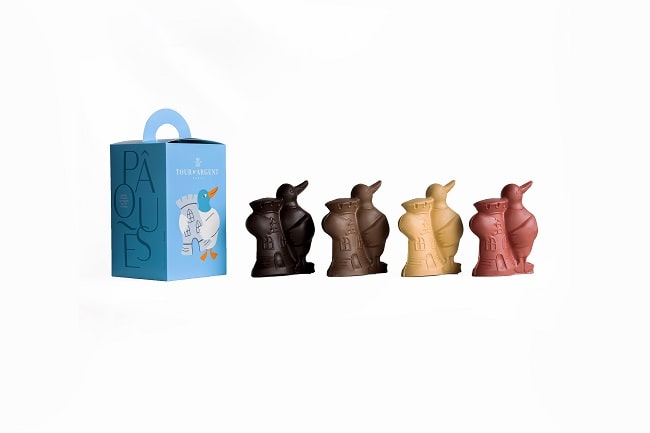 La Tour d'Argent – Le Fameux Pack de Pâques
Yannick Franques and his brigade bring the Tour d'Argent's beautifully presented specialities chez vous. The Easter Pack is for 4 people and is priced from €119. Order by Chronofresh or Click & Collect from La Petite Epicerie de la Tour.
Add The Silver Rotisserie menu (€49 per person). Summer Brunch (€49 per person). The individual "Easter Chouchou" dessert costs €7.50 and/or the irresistible figurine Easter eggs dedicated to Clovis, who lived from 465-511 and, legend has it, was the originator of the French nation. Choose Or Noir €29, Lait Jivara €29, Dulcey €34, Strawberry Inspiration €34.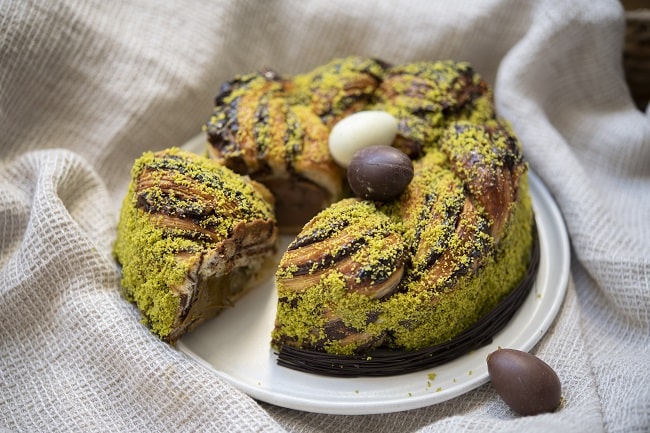 Pierre Marcolini x Babka Zana = Le Jardin de Pâques
East meets west with the culinary collaboration between Marcolini and Babka Zana's pastry chef Aaron Friedman (€32), using Marcolini's bean-to-bar chocolate (from Sao Tomé and Cuba) for the tender babka, a pistachio sprinkled, irresistible egg filled nest. Available from:
Babka Zana, 65 rue Condorcet, 9th
Pierre Marcolini, 89, rue de Seine, 6th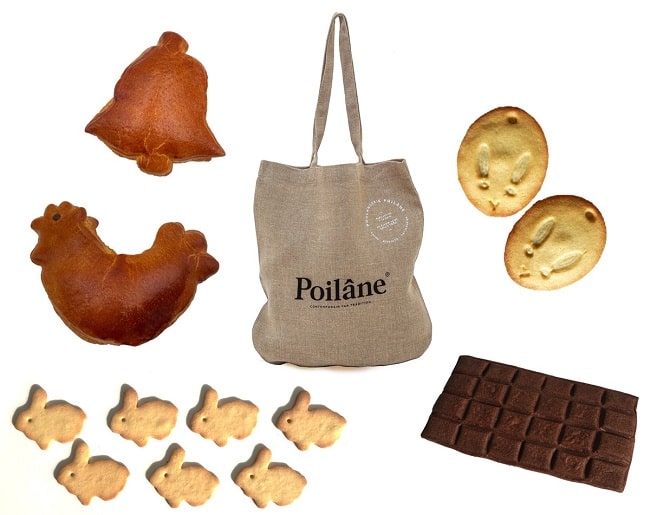 As usual there's a mouthwatering artisan collection from our favorite boulangerie. The chic, 100% linen tote bag (€57) to carry your Poilâne Easter goodies, chocolate bunnies, brioche hens with bells on, crunchy rabbit shaped biscuits, is a must. Hurry while stocks last. Click & Collect from 8 rue du Cherche Midi, 7th
Want to be inspired by more French foodie experiences and enjoy classic French food, wine and recipes? Head to our sister website, Taste of France, here.
Lead photo credit : Jean-Paul Hévin © Jean-Paul Hévin
More in Easter, Easter chocolate, food, gastronomy, Paris chocolate shops, Restaurant reviews
---
---