Escapism in Chocolate: Gorgeous Easter Creations by Paris Chocolatiers
Every year Paris chocolatiers get creative with wonderful Easter chocolates. They've been planning these beautiful treats for months, so we wanted to share a showcase despite the current lockdown. Some of these will be available to order for delivery; it's best to check the individual websites below. At this difficult time, the hospitality industry is gathering together to show solidarity. For example, the Dolfi family of À La Mere de Famille is donating the stock from their beautiful boutiques to hospitals such as the Reanimation and Maternity departments at Pitié-Salpêtrière, Reanimation Service at Lariboisière and the Pediatric Department at Robert Debré.
Sunday April 12th, 2020. We're putting all our (Easter) eggs in one basket – they rock!
Alain Ducasse & The Manufacture's bean-to-bar 2020 Easter story is animal-centric. Colin crab (€39) hides under his shell surrounded with delicious praline treats. State of the art sardines (€16 per tin/box) are geometrically arranged in cardboard tins. Chocolate praline, almond and coconut Easter rabbits (€34) await adoption. Choose from dark or light chocolate. "Take the best cocoa beans, process in the traditional way – that's how to make the best chocolate", reflects AD.
It's Jurassic Easter chez Dalloyau! Eggs, desserts and chocolate delicacies; play with shapes and different types of chocolate. Jérémy Del Val, French dessert champion and the team of house chocolate and pastry chefs, offer a fun and gourmet "dinosaur" collection/theme. Choco-duo Charlie and Mario enhance the celebrations with electric guitar and yellow or red sax, star glasses on their nose and backpacks!
Price €39.
For Easter, pastry chef Yann Menguy invites you down to his bucolic farmyard where chocolate carrots (€19) flourish and deliciously garnished hens are raised (€19). So when are we going?
Award winning duo Angelo Musa, World Pastry Champion and Best Craftsman of France, with Alexandre Dufeu create this jewel of an egg dividing into eight generous portions, alternating dark and milk chocolate. Coated in royal red, the signature color of Hôtel Plaza Athénée, each piece is hand painted with gold leaf, the interior reveals hazelnut praline sprinkled with dried fruit.
The Easter Egg – Limited edition – €90
Available at the Gallery of the Plaza Athénée Hotel from April 6.
Tel: 01 53 67 65 97
Creative director & Executive chef Guy Krenzer, chocolate maker Marc Sibold and MOF pastry chef Jean-Christophe Jeanson reinvent Easter tradition "kawaii" style. Their milk, dark chocolate farm consists of five adorable animals, chocolate eggs and a box packed with sweet surprises. Price on demand.
The flagship boutique, on the corner of rue du Faubourg Montmartre and rue de Richer (9th) with its historic listed boutique window, is alone worth a visit. These renowned chocolate makers not only make delicious treats, they also have a sense of humor. Here's their irresistible spin on Eggs Benedict for your consideration. 65% dark chocolate or 36% for the milk version (€56). Note that the brand's 14 boutiques are closed during the pandemic but you can order the collection online.
With a seashell theme, Maison Pierre Hermé Paris and artisan decorator "shell maven" Thomas Boog interpret a fantasy marine universe. The passion for working raw ingredients unite the two men. Boog selects, sculpts, polishes, whitens, cuts shells to reveal their splendor. Pierre Hermé chooses, chisels, sublimates the best ingredients. It's all about contrasts, combining caramelized blond and milk chocolate or pure dark Belize chocolate. €150 for The Face of the Egg. Nautilus Avarum fossil €29-€43-€65. Poseidon Egg €43-€65 and undulating hazelnut praline/cedar pine nut praline shell bars €10.
Chef-Pâtissier artisan Jimmy Mornet highlights his favorite wild flower la marguerite. Mornet's fab flower power egg (€90) is 70% dark chocolate, with crunchy hazelnut praline interior, the edible flowers delight eye and palate. And, lockdown permitting, taste Jimmy's signature desserts Easter Sunday when Brunch at Restaurant Sens by chef Jean-François Rouquette is €135 (children 6-12 €60). Reserve by Tel: 01 58 71 12 34
Patrick Pailler, chef pâtissier, sends out "Paska" with artistically hand carved, "cracked" 68% choco egg shell, inside, a golden truffle garnished with hazelnut almond praline, add crispy praline and creamy dark chocolate ganache covered in gold leaf (€32). Available until April 20th at Café Pouchkine Madeleine and at Café Pouchkine Printemps Haussmann.
Michael Bartocetti, Palace executive pastry chef, sculpts an elegant egg worthy of the Museum of Modern Art. Choose the dark choco version 62% (Dominican Republic) with Piedmont hazelnuts, praline and salty caramel butter (€65). Or 40% milk chocolate adding crunchy caramelized pumpkin seeds and praline (€69) making a sensational in-mouth explosion. Bartocetti's tea-time at FSGV (€95) includes flaky pastry "brioche" eggs filled with chocolate ganache. "These bring out the little boy in me, easter egg hunts with my sister," recalls Bartocetti.
Inspired by the peaceful interior garden of the Le Joy restaurant, located in the heart of the hotel, pastry chef Nicolas Paciello creates a bird in a gilded cage. 72% pure Venezuela dark chocolate, blends perfectly with Jacques Garcia's decor of Joy's iconic cocktail bar. Hazelnut praline forms the base – a tiny bird shelters in the cage.
Limited edition Easter egg from April 1, priced at €80. Order by Tel: 01 40 69 60 50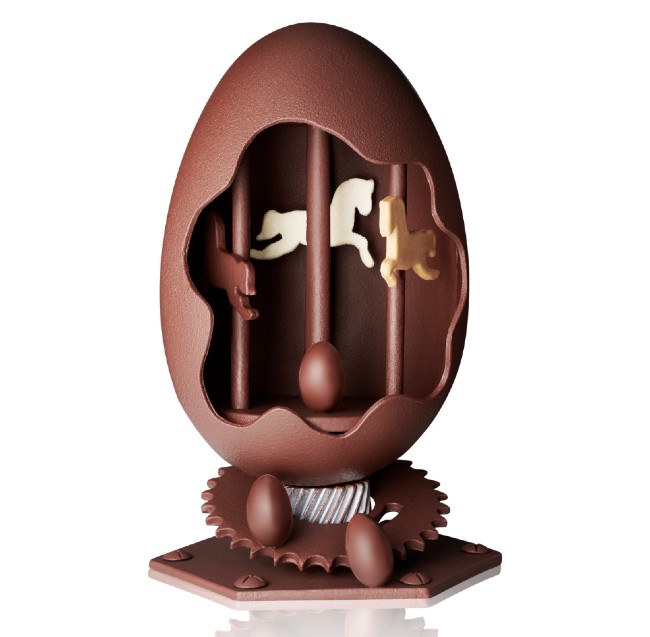 "Life is a Carrousel, old chum," for chef Dominique Costa, remembering exciting childhood roundabout rides. Chef's delicate Valrhona egg shell is 64% black manjari, red fruits. The center reveals three prancing horses, three different chocolates, riding the carrousel. Available until the 13th of April (€65).
For Easter the talented pâtissier/chocolatier/baker suggests his 70% dark chocolate or 33% milk chocolate œuf of crispy gianduja with hazelnut praline fleur de sel sandwiched between two thin layers of chocolate. Garnished with caramelized dried fruits (hazelnuts, almonds and pecans) and gourmet fritures. (€16) Note to UK readers: Find YC at Harrod's, Knightsbridge!
Yann Brys, MOF and Creative Director of Evok Hotels – including Brach, Nolinski, Sinner and Cour des Vosges – designs handsome limited edition eggs for the 4 sleek n' chic addresses. At Brach (design by Philippe Starck) he gets together with La Maison du Chocolat for an Easter Egg Hunt. Clues are hidden in the Sport's Club, the terrace, public rooms and kitchen garden. Once found gorgeous chocolate surprises will be distributed. It's free book – either Wednesday 25th March or Wednesday 1st April. And, order Brys' L'œuf Brach (€47), made with 75% dark Belize chocolate, dried fruits, caramelized almonds, hazelnuts, pistachio, pine nuts and candied orange.
And, the fabled perfume house (since 1926) designs a 0% calorie, fragrant take on Easter – aromatic soap eggs. Lavender, jasmine, orange flowers, mimosa, honeysuckle and rose. €11 for a box of 6.
Want to be inspired by more French foodie experiences and enjoy classic French food, wine and recipes? Head to our sister website, Taste of France, here.
Lead photo credit : courtesy of Ducasse
More in Easter chocolate, Easter in Paris, Paris chocolate
---
---