Hevin, I'm in Hevin, La Regalade & Taillevent Buzz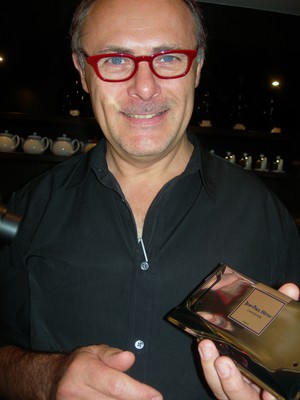 Remember being in Hevin when you first tasted JP's exquisite chox with Pont l'Evêque cheese and thyme: Roquefort and walnuts? Remember walking into his serious brown and blue boutique and thinking hey-up there's more to this guy than meets the eye – you'd just spotted the choco-stiletto, displayed with all the aplomb of a precious jewel. A guy who creates epic chocolate (and sculptures such as the Eiffel Tower) and is also a shoe fetishist – he's got my custom: eat your heart out Hermé, Génin, Roger & Co.
This week it's everyone back to Hévin to celebrate the tarting up of the T-Room. For a long time it seemed a little dull compared to the mouthwatering fare on offer. Now architect Alain Gabrielli has transformed the first floor into a more user-friendly space where you can have light lunches (as always) but pride of place goes to a handsome Choco-Bar, behind which the barista (this week it was Hévin himself) dispenses spins on velvety hot or cold chocolate in three themes.
Are you sitting down? How about choco-aperitif with oysters as a lunch time treat? "It came about during lunch chez Prunier with Ostreiculteur David Hervé", admits Hévin.  "He dared me and people either love or loathe it". Hmmm not sure about this one JP, and if you're not sure either better go for the 2pm option of chocolat dessert in a cup with coulis de framboises. At 4pm there's Green Tea Matcha, followed by gingembre-épices at 6pm. Une expérience 100% chocolat.
On the ground floor choose from exquisite pastries and macarons; buy just one if you're strong willed or melt for a Pyramide of 60. Great gift ideas, if you don't eat them first, include chocolate tubes, organic honey, golden caramelised chestnuts and JP's new chocolate tablets in re-sealable envelopes. Just back from Peru, he's mad about his le Piura, "slightly acid, with floral and spicy notes". It's pure Willy Wonka, and as for those hot choc stilettoes, wild!
Chocolatier,
231, rue Saint Honoré, 8th
Metro: Concorde
T: 01 55 35 35 96
As you know chef Bruno Doucet took over La Régalade from Yves Camderborde when big Y launched his Place Odéon eateries. Last April Doucet moved uptown (still keeping La R at Avenue Jean Moulin, 14th T: 01 45 45 68 58) and transformed a failing Saint Honoré bistro into a buzzing space in a matter of minutes – you've either got it or you aint, n'est-ce pas.
Doucet's 33€ three-course lunch and dinner is beyond excellent. Quality-price you'll find no better, generous freebie chicken liver terrine plonked on the table with cornichons and delicious bread. This is good everyday cuisine in the company of a zippy clientele; life's too short to start making Lasagne de légumes confits, mozza, jambon cru et basil at home or to spend hours preparing Poitrine de cochon fermier de chez Ospital. Let Doucet schvitz – you've got urgent retail therapy on rue Saint Honoré, better schvitz over that Goyard bag at No. 233 of the same rue n'est-ce pas? On the blackboard of daily specials take note that entrecôte rôtie is served uniquement saignante and has a 10€ supplément.
On the menu 5 starters including Feuilleté de thon rouge, oignons nouveaux confits aux olives noires – 6 mains including Paleron de veau cuit à la ficelle, ravigote et pousses d'épinard – cheese from Madame Dubois or dessert.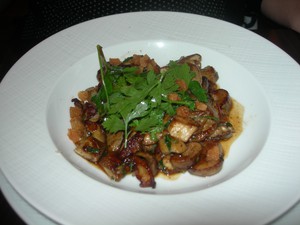 One glitch, one tip darling. Order the Soufflé chaud au Grand Marnier the minute you arrive. Otherwise you risk, "ah desolé, j'ai plus d'oeufs". And that's how it was; the warm madeleines provided a little Proustien pleasure, but not enough.
La Régalade,
123 rue Saint-Honoré, 1st
Metro: Louvre-Rivoli
T: 01 42 21 92 40
Menu 33€ Lunch & Dinner
Shut: Sat-Sun
(no site – no soufflé either)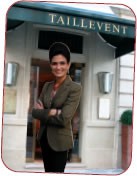 What's going on at Taillevent then? It's a bit like Dynasty, especially with owner Valerie Vrinat's Hollywood style, Chanel suits and signature beehive. Seems that since the 2008 death of papa, Jean-Claude Vrinat, it hasn't been easy. Enter la famille Gardinier. Yes, that's right, owners of Les Crayères, Reims, the Château Phélan Ségur and acres of Florida orange groves. Seems there's a pow-wow going on between the two families so watch this space. Why don't they also contact La Tour d'Argent's André Terrail, maybe the three families could then get together. I'm serious, aren't you just sick of all the Palaces having the 3-star gaffs? What's left for the privates like the Vrinats, the Gardiniers, Passard, Troisgros, Roellinger and Pacaud, except heartache? When all they're trying to do is save a bit of the gastro-patrimoine franҫaise. In the meantime there's still at 15-day wait for a table chez Taillevent.
zChocolat: "World's Finest Chocolates by World-Champion Chocolatiers." zChocolat's selection is handmade by world-champion French chocolatiers following a 400-year-old tradition of passion and zealous adherence to purity. A single bite is an instant of pure seduction and sensory bliss one has never experienced before.
Wine.com has one of the biggest selections of wine on the internet, with everything on offer at a great price!
Leave a reply
Your email address will not be published. Required fields are marked *