How Would You Spend 24 Hours in Paris? Our Experts Share Tips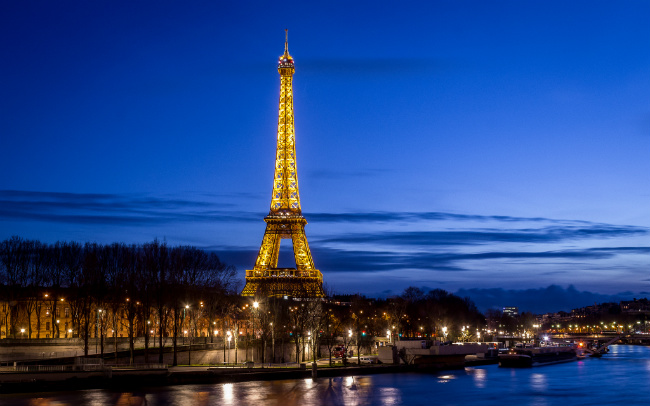 A tricky question… For those visitors who have a short stopover in Paris, how best to see the City of Light? What are the must-see experiences, restaurants, and attractions? In a city renowned around the world for its culture, cuisine and heritage, this is not an easy task! Here we present some expertly curated recommendations for 24 hours in Paris, brought to you by the in-the-know contributors of Bonjour Paris. Profitez bien! A Stroll Outdoors If I only had 24 hours in Paris, I'd spend most of my time outdoors. I'd start by strolling along the banks of the Seine now that they're closed to traffic. Any season is perfect for this delightful walk, but it's especially invigorating in the autumn, when the swirling fallen leaves, historic bridges, and rays of sun peeking from behind the clouds will take your breath away. Mid-to late morning is the perfect time to warm up with finely sourced
coffee
at La Caféothèque (52, rue de l'Hôtel de Ville). Then head north into the rue François Miron: foodies will adore Izraël spice shop (number 30), and design lovers will want to stop in at Sentou Galérie (number 29). Also nearby is the Maison Européenne de la Photographie – highly recommended! For lunch, hop onto bus 76 and get off at Ledru Rollin-Faubourg Saint Antoine and make your way to the Marché d'Aligre. After a quick spin through the flea market and surrounding food shops, which will whet your appetite, dine at La Table d'Aligre (11, place d'Aligre) or a little further afield, L'Ebauchoir (43-45 rue de Citeaux), both tasty bets. If the weather is nice, spend the afternoon getting lost in the
Père Lachaise cemetery
, or if you'd prefer being indoors, head to the west side of town to visit the 3-year-old
Fondation Louis Vuitton
. Close by, architecture buffs will want to take in any of the buildings owned by the
Fondation Le Corbusier
, especially Maison La Roche! Head back east for an aperitif anywhere in the rue de Lappe, then to dine at either A La Renaissance (87, rue de la Roquette) or the Bistrot Paul Bert (18, rue Paul Bert; don't forget to reserve your table in advance). After dinner, more bohemian travelers might want a digestif and more at La Liberté (196, rue du Faubourg Saint Antoine), a late-night haunt featuring street poets and free spirits! Wander back to "civilization" and lay your head down at the Hôtel Paris Bastille Boutet (22-24, rue Faidherbe) with its designer suites, private terraces, and swimming pool and spa. Bonne nuit, Paris! — 
Allison Zinder
 has lived in eastern Paris for 20 years, and she accompanies travelers on their discovery of the little-known parts of the city through her business, Paris on the Edge. Louvre! If I had only 24 hours to spend in Paris I would walk amongst the treasure trove of the Louvre. It's history began in 1190 as a fortress to protect the city and has been evolving steadily ever since, making it the largest museum in the world housing an estimated 380,000 objects, and 35,000 works of art in 652,300 square feet of space. Realistically, I've been told it would take over 4 months to view the collections in their entirety. I would begin in the medieval basement and go as far as my legs would carry me, absorbing each successive layer of history. If only these walls could talk, they would tell quite a melodramatic story. — 
Sue Aran
, the owner of French Country Adventures, is a freelance writer and long-time contributor to Bonjour Paris. It's All About the Seine! The river has served as the main artery of la ville since Antiquity, and today it's still pulsing with life: pedestrianized walkways line both right and left banks; péniches (converted house boats) serve as restaurants, concert halls, even swimming pools (the Josephine Baker piscine); and major museums flanking the Seine dazzle art lovers… Strolling or biking the riverbank is fabulous, as is a river cruise to take in all the city landmarks. From a boat, you can ogle Notre Dame, the Louvre, the Grand Palais, Invalides, the Eiffel Tower… Allons–y! — 
Mary Winston Nicklin
 is the Editor of Bonjour Paris. First or Last 24 Hours?  The interesting question is, is this my first-ever 24 hours in Paris, or my last 24 hours? No matter. I'd combine the culinary pleasures of Paris with its historical heritage. Breakfast time: Coffee, OJ, and croissants at Le Notre Dame café overlooking the cathedral before having a look and maybe lighting a candle inside. I might also duck into Shakespeare and Company for a look at used and rare books. Lunch at Le Fumoir, right by the
Louvre
, storing the energy to take in Flemish and Italian paintings as well as Greek and Roman sculpture. An evening stroll around Amélie-land in
Montmartre
, looking over the Parisian vista from the Sacré Coeur church; culminating in dinner at L'Afghani, a very un-Amélie but marvelously exotic restaurant. My 24 would end with late-night/early-morning drinks at Chez Georges, a wine bar in Saint-Germain-de-Près. If it was open and I had the energy I'd light another candle, in the Saint-Germain-de-Près church. — 
Dimitri Keramitas
 is a writer (film critic, fiction) and the director of the creative writing program at WICE, a Paris-based organization. Up, Up and Away If you've got 24 hours to…
SUBSCRIBE
ALREADY SUBSCRIBED?
BECOME A BONJOUR PARIS MEMBER

Gain full access to our collection of over 5,000 articles and bring the City of Light into your life. Just 60 USD per year.

Find out why you should become a member here.

Sign in

Fill in your credentials below.
A tricky question… For those visitors who have a short stopover in Paris, how best to see the City of Light? What are the must-see experiences, restaurants, and attractions? In a city renowned around the world for its culture, cuisine and heritage, this is not an easy task! Here we present some expertly curated recommendations for 24 hours in Paris, brought to you by the in-the-know contributors of Bonjour Paris. Profitez bien!
A Stroll Outdoors
If I only had 24 hours in Paris, I'd spend most of my time outdoors. I'd start by strolling along the banks of the Seine now that they're closed to traffic. Any season is perfect for this delightful walk, but it's especially invigorating in the autumn, when the swirling fallen leaves, historic bridges, and rays of sun peeking from behind the clouds will take your breath away.
Mid-to late morning is the perfect time to warm up with finely sourced coffee at La Caféothèque (52, rue de l'Hôtel de Ville). Then head north into the rue François Miron: foodies will adore Izraël spice shop (number 30), and design lovers will want to stop in at Sentou Galérie (number 29). Also nearby is the Maison Européenne de la Photographie – highly recommended!
For lunch, hop onto bus 76 and get off at Ledru Rollin-Faubourg Saint Antoine and make your way to the Marché d'Aligre. After a quick spin through the flea market and surrounding food shops, which will whet your appetite, dine at La Table d'Aligre (11, place d'Aligre) or a little further afield, L'Ebauchoir (43-45 rue de Citeaux), both tasty bets.
If the weather is nice, spend the afternoon getting lost in the Père Lachaise cemetery, or if you'd prefer being indoors, head to the west side of town to visit the 3-year-old Fondation Louis Vuitton. Close by, architecture buffs will want to take in any of the buildings owned by the Fondation Le Corbusier, especially Maison La Roche!
Head back east for an aperitif anywhere in the rue de Lappe, then to dine at either A La Renaissance (87, rue de la Roquette) or the Bistrot Paul Bert (18, rue Paul Bert; don't forget to reserve your table in advance). After dinner, more bohemian travelers might want a digestif and more at La Liberté (196, rue du Faubourg Saint Antoine), a late-night haunt featuring street poets and free spirits! Wander back to "civilization" and lay your head down at the Hôtel Paris Bastille Boutet (22-24, rue Faidherbe) with its designer suites, private terraces, and swimming pool and spa. Bonne nuit, Paris!
— Allison Zinder has lived in eastern Paris for 20 years, and she accompanies travelers on their discovery of the little-known parts of the city through her business, Paris on the Edge.
Louvre!
If I had only 24 hours to spend in Paris I would walk amongst the treasure trove of the Louvre. It's history began in 1190 as a fortress to protect the city and has been evolving steadily ever since, making it the largest museum in the world housing an estimated 380,000 objects, and 35,000 works of art in 652,300 square feet of space. Realistically, I've been told it would take over 4 months to view the collections in their entirety. I would begin in the medieval basement and go as far as my legs would carry me, absorbing each successive layer of history. If only these walls could talk, they would tell quite a melodramatic story.
— Sue Aran, the owner of French Country Adventures, is a freelance writer and long-time contributor to Bonjour Paris.
It's All About the Seine!
The river has served as the main artery of la ville since Antiquity, and today it's still pulsing with life: pedestrianized walkways line both right and left banks; péniches (converted house boats) serve as restaurants, concert halls, even swimming pools (the Josephine Baker piscine); and major museums flanking the Seine dazzle art lovers… Strolling or biking the riverbank is fabulous, as is a river cruise to take in all the city landmarks. From a boat, you can ogle Notre Dame, the Louvre, the Grand Palais, Invalides, the Eiffel Tower… Allons–y!
— Mary Winston Nicklin is the Editor of Bonjour Paris.
First or Last 24 Hours? 
The interesting question is, is this my first-ever 24 hours in Paris, or my last 24 hours? No matter. I'd combine the culinary pleasures of Paris with its historical heritage. Breakfast time: Coffee, OJ, and croissants at Le Notre Dame café overlooking the cathedral before having a look and maybe lighting a candle inside. I might also duck into Shakespeare and Company for a look at used and rare books. Lunch at Le Fumoir, right by the Louvre, storing the energy to take in Flemish and Italian paintings as well as Greek and Roman sculpture. An evening stroll around Amélie-land in Montmartre, looking over the Parisian vista from the Sacré Coeur church; culminating in dinner at L'Afghani, a very un-Amélie but marvelously exotic restaurant. My 24 would end with late-night/early-morning drinks at Chez Georges, a wine bar in Saint-Germain-de-Près. If it was open and I had the energy I'd light another candle, in the Saint-Germain-de-Près church.
— Dimitri Keramitas is a writer (film critic, fiction) and the director of the creative writing program at WICE, a Paris-based organization.
Up, Up and Away
If you've got 24 hours to spend in the City of Light during the months of November and December, I highly recommend exploring the "Vitrines de Noël" at the grand magasins. As you get all jingly with the magie magnifique in the air, don't fight the feeling! Especially after a sip of vin chaud, the gussied-up stroll will ignite your fire.
Here's the squeal. Paris not only boasts four old-school department stores (in fact, among the world's first), but it's also possible to visit all four stunners in one day. Bon Marché, Printemps, and Galeries Lafayette are conveniently located along the Métro 12 line, while Bazar de l'Hôtel de Ville (BHV) naturally holds court next to the Hôtel de Ville. Just make a connection at Concorde.
What's Popping?
Printemps: Extraordinaire Voyage des Cadeaux (Métro: Saint-Lazare)
Galeries Lafayette: Noël Spectacular Spectacular (Métro: Saint-Lazare)
Bon Marché: Rejoignez le Gang de Noël (Métro: Sèvres–Babylone)
BHV: Joyeux Noël Danois (Métro: Hôtel de Ville)
Please note: The animated vitrines will be up through the 31st of December 2017.
Not in Paris? Don't fret. Honestly, any time is a sublime time for your window-shop hopping spree. Throughout the year, the fab four coordinate art exhibitions, window displays, fitness classes, and DYI craft workshops. Yes, there's more to come!
#Hygge #Likearoomwithoutaroof
— Theadora Brack is a Paris-based writer who has a regular column, called "My Life in Paris," in France Today magazine.
Forget a Car!
If I only had 24 hours in Paris, I would forgo cabs, Ubers, and le métro, and take to the streets by foot or by bike. In my opinion, both modes of transport are the best ways to experience Paris. More than a visit to the Louvre or taking the elevator to the top of the Eiffel Tower, you will get a much more authentic experience of Paris by living it like a Parisian — close to the ground. Popping into bookshops like Shakespeare & Company, grabbing a bite or a drink on Rue de La Bucherie or Rue Mouffetard, waking among the lush trees in Luxembourg Gardens, and peering at the famous names on the headstones at Père Lachaise. It may seem unglamorous and anti-climatic, but I think the best way to spend 24 hours is without an overly detailed schedule (maybe only one or two big sites to conquer) and using the rest of your time to absorb Paris the way it is absorbed best — spontaneously, daringly, and with an open mind and heart.
— Anne McCarthy is a freelancer writer who regularly contributes to Bonjour Paris.
Art and Food and Heritage and Jazz
How best to spend 24 hours in Paris? Begin your day in the rive droite at one of the best boulangeries in the City of Light, Du Pain et des Idées. After a flaky pain au chocolat (or a decadent escargot), head to the fashionable North Marais where you'll discover some of Paris's leading independent designers among the numerous art galleries. Stop by the Picasso Museum for a look into the famed artist's life and work. Ready for more French fare? Dine on some of Paris's best crepes at local haunt Breizh Café.
For a lesson in French history, head to nearby Place des Vosges, a regal square once called Place Royale. Here you can visit Victor Hugo's home, now a museum. Take a walk towards the river to one of Paris's most picturesque spots, the island of Île Saint-Louis. From here discover medieval Notre-Dame Cathedral, from whose rooftop you can enjoy stellar views of Paris.
Continue walking until you reach Saint-Germain-des-Prés, a charming neighborhood in the rive gauche. After a stroll along the cobbled streets, enjoy a taste of French cuisine perfectly paired with a glass of wine at Freddy's. Following dinner, discover Paris by night at one of the Latin Quarter's convivial jazz clubs. Et voilà, the perfect Parisian day!
— Kasia Dietz is a handbag designer and freelance writer from New York.
Haute Views… and Cuisine
With 24 hours in Paris, I'll head to Place de L'Etoile and take the lift – or climb the 284 steps – to the top of the Arc de Triomphe (1836). Up on high there's a fascinating museum as well as a gift shop. The summit is the ideal location to study how beautifully laid out the city is – beyond the 12 avenues that make up the Place de L'Etoile – towards Saint Cloud and the new Arch de la Défense (1982) – on the other side, place de la Concorde. It's from here I plan my next move – back down to earth I'll pick up Le Figaro newspaper at Le Drugstore on the Champs Elysées and order breakfast from Eric Frechon's Drugstore brasserie. I'll continue – for some retail therapy – on the most beautiful avenue in the world – which is giving me an appetite for lunch.
Pavillon Ledoyen is where I'll taste *** chef Yannick Alléno's new dishes in a bucolic setting. Then it's a brief stop at Le Grand Palais to view their latest exhibition and onwards over the magnificent Pont Alexandre to the left bank. I'll head to Saint Germain des Prés and become a flaneur, checking out the galleries on rue de Seine, rue de Verneuil, rue du Bac and the Musée d'Orsay. I'll pause for a while for an early aperitif to "people watch" at Café de Flore or Les Deux Magots. L'Hotel on rue des Beaux Arts is where I'm taking a nap and recharging my batteries in the Hammam and Pool before dinner at Le Jules Verne on the second floor of the Eiffel Tower. To finish the day?  It has to be chez Castel on rue Princesse for this Princess!
— Margaret Kemp is a regular contributor to Bonjour Paris and Financial Times How to Spend It.
Eat Your Way Around Paris
My 24 hours in Paris would definitely be full of delicious French food, so I would start my day with a pain au chocolat (my preferred choice over a croissant) from one of my favorite bakeries, such as Pain Pain in the 18eme, Maison Landemaine which is dotted around the city, or the new Pâtisserie Nanan in the 11eme.
After filling up on that I would head over to the Eiffel Tower to try and get there before everyone else does. It's touristy I know, but as one of the most famous monuments in the world and the emblem of Paris, if you haven't seen it then a trip to the city wouldn't be complete! Plus, you'll enjoy a great view when you reach the top. Next, I would head over the Île de la Cité in the very center of Paris, but not necessarily to see the Notre-Dame cathedral… Instead, head to the nearby, lesser known Sainte-Chapelle and be impressed by the chapel's stunning stained glass.
After this it's probably lunch time, so I would grab a quick sandwich with a crusty French baguette from an artisan boulangerie and find somewhere to sit and admire the city. If I had time for it I would try and make it over to the nearby Shakespeare and Company, one of the most charming bookshops I have ever been to, and where you can pick up a beautifully bound copy of your favorite novel as a souvenir of your trip. Next door their café serves great coffee from one of the city's best coffee shops, Café Lomi, and delicious cakes from Bob's Bake Shop (I can recommend the lemon pie).
One of Paris's many museums is a must, but with just 24 hours it's difficult to know which to choose. One of my favorites is the Musée de l'Orangerie in the Jardin des Tuileries. It's small so you'll have time see it all, but it will still give you the chance to see world-famous art like Monet's Water Lilies, which are also far more beautiful than the Mona Lisa in my opinion! Downstairs in the museum there is also an eclectic art collection that includes works by Renoir, Picasso, Matisse and more, and afterwards you can follow in the footsteps of Coco Chanel and Oscar Wilde and enjoy a walk through the Tuileries.
For dinner, drinks, shopping, and strolling, the fashionable and historic Marais district is a must, so I would finish my day here. I love popping into the vintage stores to find a treasure to take home with me, at a bargain price, and simply walking around people watching and admiring the architecture. When it's time to eat, if you want to see where the Parisian hipsters hang out head to PNY – you might have to queue but it's worth it, I think their burgers are the best in Paris – or for something more traditional I love the steaks at Robert and Louise, which you can see being cooked over an open fire at the back of the restaurant. To end my night I'd enjoy a drink – or two – at Candelaria which serves the most delicious cocktails in a "secret" bar at the back of a tiny taco hangout. And as my 24 hours includes the next morning too, I'd make sure I indulged in another pain au chocolat before I go…
— Nicola Leigh Stewart is a lifestyle journalist who after living in London and Madrid has finally settled in Paris.
Walk Til You Drop
I'd just walk and walk.  Paris was made for pedestrians.
Unless there is a specific museum you just must see, or an exposition you'd give your eye teeth for, leave the museums for another time and simply marvel at their exteriors. Queuing for hours outside the Louvre or Orsay is simply not an efficient way of utilizing your time. (I will make an exception for the Petit Palais which rarely has queues, is free, small enough to spend an hour in, has fabulous paintings and the most beautiful courtyard imaginable with a cafe. As it is at the bottom of the Champs-Elysées and close to Pont Alexandre III, I make no excuses for recommending it.)
Follow the Seine and you won't go wrong. Bustling with barges, tourist boats, floating bars and restaurants, the quays lined with bouquinistes, the Seine traversed by its numerous and different bridges, the atmosphere of Paris is inescapable.
From Notre Dame on the left bank to the Champs-Elysées (personally, and probably heretically, I'd probably give up walking the length of the Champs-Elysées and just as probably never stop for a drink here unless someone else is paying…), you will pass the Orsay on your left and the Louvre on the other side of the river.
The Pont Alexandre III is worth seeing in detail so cross here to Place de la Concorde, wander down the Rue de Rivoli and back into the Tuileries before walking around the outside of the Louvre and the Pyramides. Cross back to the left bank on Le Pont des Arts and wander through the back streets of St Germain. There are hundreds of restaurants to choose from for lunch, a snack or just a drink. The Luxembourg Gardens aren't far if you want to rest your feet and catch your breath.
Despite me extolling the virtues of walking around Paris, a tour bus is not only great value but it won't take up too much of your precious time and from the top deck you will see more of Paris in two hours than a full day of walking. (It will also take you amongst other landmarks, up the Champs-Elysées to the Arc de Triomphe, the Eiffel Tower and Napoleon's tomb). However I think you should do both!
In the evening, just chill at a restaurant, a jazz club or if you are up to it, see Paris lit up in the dark. Notre Dame and the Eiffel Tower are unforgettable at night.
I wish I was coming with you…
— Marilyn Brouwer is an established freelance writer and regular contributor to Bonjour Paris.
Lead photo credit : Eiffel Tower by Gadjo_Niglo/ Flickr
---
---