Serious Cool Factor at LE BHV MARAIS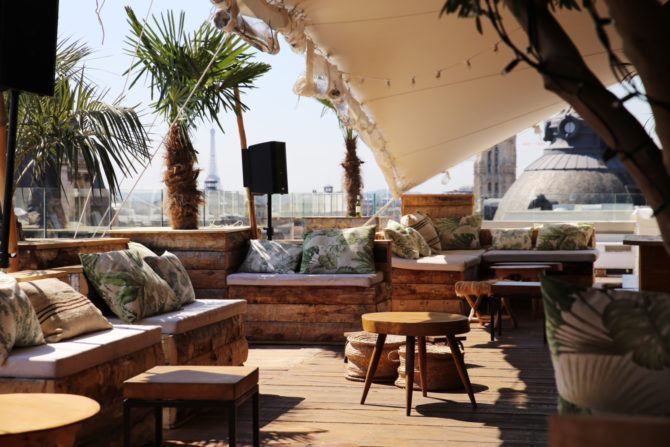 You'd be hard-pressed to find a
cooler rooftop hang-out
than Le Perchoir atop the famous BHV department store in the Marais. Le Perchoir has a number of notable bar-lounges in Paris (here's looking at you, Gare de l'Est!) but this sky-high perch affords stunning panoramas of the city skyline—you can see the Panthéon, the
Tour Saint-Jacques
, the
Eiffel Tower
– plus you can get a close-up perspective of the Hotel de Ville, ogling the statues and carved reliefs that aren't visible at street level. Beyond the views, did we mention the tasty
cocktails
and trendy vibe? The Bonjour Paris team recently gathered for champagne and cocktails on a perfect summer evening and we couldn't get enough of the scene. In recent years, the BHV department store has gone through a metamorphosis, rebranding as LE BHV MARAIS to more accurately represent its setting in one of the most sought-after shopping neighborhoods in Paris. (First founded in 1856, BHV stands for "Bazar de l'Hôtel de Ville" as it's located on rue de Rivoli right next to the Paris City Hall.) Among Americans, BHV has long been appreciated for its basement hardware store and home wares, but it's more than that. The preferred shopping address of Parisians, LE BHV MARAIS is both Maison & Mode. Fashionable finds include prêt-à-porter from Anthropologie (the only French boutique for the popular American store). Another thing we love: LE BHV MARAIS is owned by the Groupe Galeries Lafayette, which is a 100% French family-owned group. Not to mention the cool new eateries. In addition to Le Perchoir, LE BHV MARAIS is home to an outpost of Big Fernand, the wildly popular burger chain; L'Eclair de Genie, peddling chef Christophe Adam's buzzed-about eclairs; Artisan de la Truffe, for all things truffle; and the all-new Marlette, a healthy dining spot with smoothies, sandwiches and more. Last but not least: We're loving the new insider tours offered by LE BHV MARAIS and led by expert local guides. The "Insider Marais," for example, pairs shopping perks and privileges at the store with a walking tour of the Marais so that you can glean recommendations on insider addresses. BHV will even take care of your shopping bags, delivering them to your hotel, so that you can enjoy a pleasant stroll without being hindered by bags. Price tag? Just 139 euros. (If you price-compare with other guided tours in Paris, you'll see this is a real value.) Tours can be booked via Expedia
here.
For more information about LE BHV MARAIS, visit 
www.bhv.fr/en
SUBSCRIBE
ALREADY SUBSCRIBED?
BECOME A BONJOUR PARIS MEMBER

Gain full access to our collection of over 5,000 articles and bring the City of Light into your life. Just 60 USD per year.

Find out why you should become a member here.

Sign in

Fill in your credentials below.
You'd be hard-pressed to find a cooler rooftop hang-out than Le Perchoir atop the famous BHV department store in the Marais. Le Perchoir has a number of notable bar-lounges in Paris (here's looking at you, Gare de l'Est!) but this sky-high perch affords stunning panoramas of the city skyline—you can see the Panthéon, the Tour Saint-Jacques, the Eiffel Tower – plus you can get a close-up perspective of the Hotel de Ville, ogling the statues and carved reliefs that aren't visible at street level. Beyond the views, did we mention the tasty cocktails and trendy vibe?
The Bonjour Paris team recently gathered for champagne and cocktails on a perfect summer evening and we couldn't get enough of the scene. In recent years, the BHV department store has gone through a metamorphosis, rebranding as LE BHV MARAIS to more accurately represent its setting in one of the most sought-after shopping neighborhoods in Paris. (First founded in 1856, BHV stands for "Bazar de l'Hôtel de Ville" as it's located on rue de Rivoli right next to the Paris City Hall.) Among Americans, BHV has long been appreciated for its basement hardware store and home wares, but it's more than that. The preferred shopping address of Parisians, LE BHV MARAIS is both Maison & Mode. Fashionable finds include prêt-à-porter from Anthropologie (the only French boutique for the popular American store).
Another thing we love: LE BHV MARAIS is owned by the Groupe Galeries Lafayette, which is a 100% French family-owned group.
Not to mention the cool new eateries. In addition to Le Perchoir, LE BHV MARAIS is home to an outpost of Big Fernand, the wildly popular burger chain; L'Eclair de Genie, peddling chef Christophe Adam's buzzed-about eclairs; Artisan de la Truffe, for all things truffle; and the all-new Marlette, a healthy dining spot with smoothies, sandwiches and more.
Last but not least: We're loving the new insider tours offered by LE BHV MARAIS and led by expert local guides. The "Insider Marais," for example, pairs shopping perks and privileges at the store with a walking tour of the Marais so that you can glean recommendations on insider addresses. BHV will even take care of your shopping bags, delivering them to your hotel, so that you can enjoy a pleasant stroll without being hindered by bags. Price tag? Just 139 euros. (If you price-compare with other guided tours in Paris, you'll see this is a real value.) Tours can be booked via Expedia here.
For more information about LE BHV MARAIS, visit www.bhv.fr/en
Lead photo credit : Le Perchoir at Le BHV Marais. Courtesy of BHV Marais
---
---
Comments