Where to Drink a Great Cocktail in Paris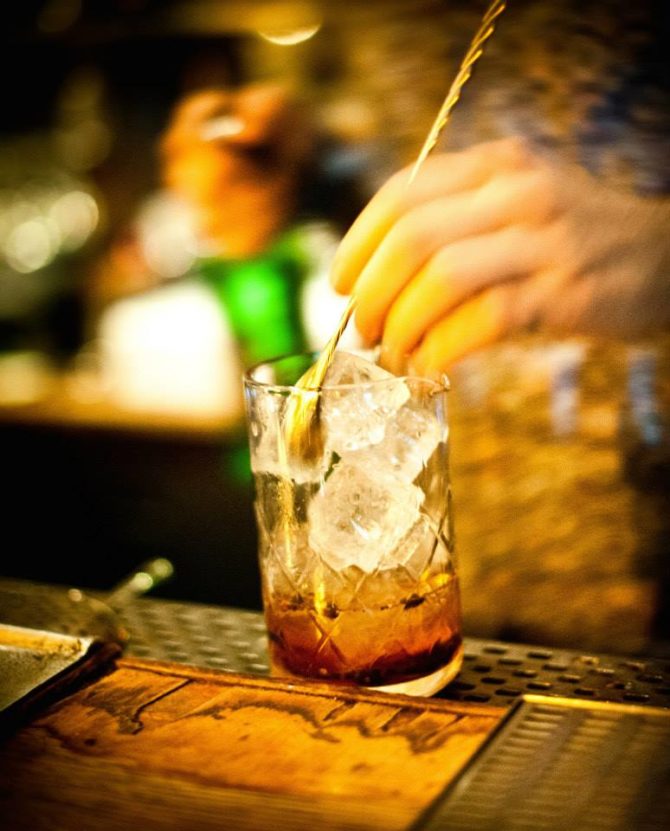 Craft cocktails have gained a thirsty following since the Experimental Cocktail Club brought the trend to Paris in 2007. Expect to pay on average 13 euros for a cocktail.
The bar that started it all: when the ECC first opened it ushered in a new generation of craft cocktail bars delivering impeccable drinks with top-notch ingredients. Sashay behind the heavy velvet curtain into a sultry den where barmen in the occasional pair of suspenders shake up a seasonal menu of libations. Quite a few ECC veterans have gone on to open their own cocktail bars in Paris.
37 Rue Saint-Sauveur, 75002. Tel: 01 45 08 88 09.
Sidle up to the counter–if there's room– at this tiny brightly-lit taqueria and dig into some of the best Mexican food in Paris–the tortillas are homemade and the carnitas are worth writing home about. Then head through the unmarked door at the back and indulge in one of the classic cocktails– La Guepe Vert with spicy chili-infused tequila– or sample the seasonal menu in the candlelit surfer boudoir. Groups (4-6) might enjoy the punch, which is a steal at 54 euros.
52 Rue de Saintonge, 75003. Tel: 01 42 74 41 28.
Studded leather couches and soaring mirrors give this chill cocktail lounge on a quiet street near Bastille retro cred. The whisky selection is as impressive as the cocktails, and anything that can be homemade is, from the fruit juices to the syrups—even the ice cubes are carved onsite. It's standing room only when DJs spin on the weekend.
20 Rue Beautreillis, 75004. Tel: 09 83 38 47 80.
Le Coq
Breaking with the speakeasy trend that rolled in with the Experimental Cocktail Club in 2007, Le Coq focuses on reviving forgotten French spirits in a British 70s-cool ambiance. The short menu of contemporary and provocative cocktails combines top-shelf spirits with homemade ingredients that include infusions and distillations concocted onsite.
12 Rue du Château d'Eau, 75010. Tel: 01 42 40 85 68
Tumble down the rabbit hole into this sumptuous den in the heart of the haute marais. The selection is tightly curated, but the talented staff is more than able to go off-menu if nothing strikes your fancy. Experimentation and creativity are encouraged and the menu changes regularly. Bar nibbles and reputedly the most comfortable chairs in Paris make it easy to while away the entire evening in this bar that still feels like a well-kept secret.
60 Rue Charlot, 75003. Tel: 01 42 71 19 32
This dive-y den just south of Pigalle is a great place to finish off the night (if you can make it in) with a whisky, a cocktail or a craft beer—and a hot-dog for a midnight snack. A good reputation and great DJs make for crowds, so show up early.
7 Rue Frochot, 75009. Tel: 09 80 72 98 83.
Located amidst the brouhaha of rue Oberkampf, Bespoke offers a top-notch menu of cocktails and whiskeys in a laid-back atmosphere of wood and leather. Sliders and other serious bar snacks make for great sharing plates at 6 euros a pop. Wash them down with the house classic, the Capri C'est Fini, a surprising blend of rum, lemon, balsamic vinegar, cherry tomatoes and basil.
3 rue Oberkampf, 75011. Tel: 01 58 30 88 59.
Go here for the food as much as for the cocktails. The oysters at 2 or 3 euros a piece pique the interest (when they're in season), but Mads Christensen's small plate "bar snacks" change daily and give stale chips and oily peanuts a run for their money. Brought to you by the people behind Candelaria and Glass—so you can expect perfect cocktails and home-crafted ingredients.
1 Rue Commines, 75003.
Short for Death by Burrito, DBB is a Mexican-fusion taqueria cocktail bar that does a lot of things well, including the exclusively tequila and mescal-based cocktails that change with the seasons. Chef-owner and London transplant Shay Ola takes a creative approach to tacos, sharing plates and burritos, using selected ingredients from Mexico and fresh local produce to craft surprising twists on French cuisine. Some of the best DJs from London and Paris turn the Very Happy Hour into a rocking house party on evenings and weekends.
4 Rue de la Fontaine au Roi, 75011. Tel: 01 43 55 14 40
You won't have to battle your way to the bar or shout over anyone at this Danish-retro inflected lounge in the 2nd: the sitting-room-only policy keeps things blessedly civilized. The menu also offers a change of pace in a city where whisky seems to be top of everyone's list: rum is the vedette at Mabel, with a menu of 106 varieties to chose from. Try the Sombre Detune made with Rhum Santa Teresa 1796, Yellow Chartreuse, Carpano Antica Formula and Dandelion & Burdock Bitters.
58 Rue d'Aboukir, 75002. Tel: 01 42 33 24 33
Lead photo credit : courtesy of Experimental Cocktail Club
Leave a reply
Your email address will not be published. Required fields are marked *