Top Spots to Buy or Drink Craft Beer in Paris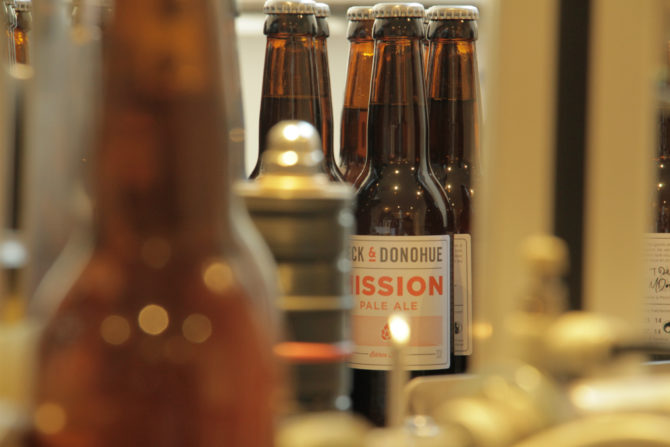 Paris is firmly on the craft beer map after years of languishing in sub-par suds. These now-classic addresses are some of the best places to discover what's brewing in Paris.
La Fine Mousse Bar & Restaurant
Since pouring its first pint in fall of 2012, Paris's original craft beer bar has gone on to open a casually elegant restaurant across the street, where artfully arranged small plates can be paired with beers from around the world. While French breweries play the starring roles on La Fine Mousse's 30 taps– 20 at the bar, 10 at the restaurant– international guests such as Siren, Mikkeler, Cantillon and Brew Fist make regular appearances. Live music and meet-the-brewer nights are regular affairs worth dropping by for if you can take the crowds.
6 Avenue Jean Aicard, 75011. Tel: 0 1 48 06 40 94. Restaurant is open Tuesday-Saturday evenings.
Named for the three shifts worked on the factory floor, this pint-sized bar in the gritty Menilmontant neighborhood is workingman's casual meets West Coast cool. Eight taps serve a rotating selection of craft beer, and enormous plates of cheese and charcuterie accompanied by a neighborhood baguette and homemade jam will sate even the hungriest in your group; vegetarians will be thrilled to find a selection of meat-free spreads to curb the evening munchies. A robust natural wine menu, an impressive range of traditional French spirits– from Gentiane to Poire William– and organic juices and nectars means there's something for everyone, not just the beer geeks. Be sure to take a peek at the bathroom decor.
11 Rue Victor Letalle, 75020. Tel: 01 40 33 47 70. Open every day of the week at 5 pm.
This beer shop tucked away on a narrow stretch of cobblestone in the 5th arrondissement recently opened a restaurant of the same name across the street, where simple bistro fare accompanies a selection of 24 beers from around the world. This is the place to go for brews from beyond the Hexagon: travel the world with a tasting flight, or have fun finding something to wash down the Burning Pig burger and sweet potato fries.
11/18 Rue du Pot de Fer, 75005. Tel: 01 43 36 53 92. Closed Mondays.
A la Bière is that cool record store you used to hang out at in college, only with beer instead of vinyls. Settle in the back room with a freshly-poured pint or a cold one from the fridges that line the front of the shop, and dig into some terrine or tapas as you kick back to whatever the barman is spinning. With over 350 beers and a newly-opened growler station in their second location, you'll have no problem taking the party home.
20 Rue Custine, 75018. Tel: 09 52 80 59 14. Open every day.
Perched on the north side of the Butte de Montmartre, this eclectic bar wears its name–Naked Lunch in English– well. Psychedelic funk music, a enormous rambling graffiti orgie, film screenings, craft beer and cocktails, and insect tapas collude in this comfortably grungy neighborhood bar. Closed Mondays.
10 Rue de la Fontaine du But, 75018. Tel: 01 42 58 60 64.
This pioneering craft beer bar in the 18th stocks only French brews, from locals Les Brasseurs du Grand Paris to the godfather of French craft beer, Brasserie Thiriez. Neighborly service and killer DJ nights keep this place packed. If you get hungry, have pizza delivered from across the street.
3 Rue Baudelique, 75018. Tel: 09 50 07 04 90. Closed Mondays.
This Franco-American brewery opened in Montreuil in March 2014 and hasn't had a quiet day since. Their beer can be found in a number of restaurants and bottle shops throughout the city, but the best place to buy it is straight from the source. The brewery is open Saturday mornings and tasting is encouraged. Bring your growler.
71 Rue de la Fraternité, 93100 Montreuil. Tel: 09 67 31 15 96
This former PMU is indistinguishable from the other brasseries on the busy street that leads to the Gare de Lyon– until you approach the bar. Where Heineken and 1664 usually dominate, local favorites Deck & Donohue share taps next to English imports Brew Dog or Danish gypsy brewer Mikkeler. A nice mix of locals, beer geeks and travelers keep this bar lively late into the night.
1 Rue de Lyon, 75012. Tel: 01 43 43 21 32.
Opened nearly a decade ago and now a fixture of the Paris craft beer scene, CAB was the first bottle shop to focus almost exclusively on French beer. Simon, the spirited and loquacious owner, also stocks home-brewing equipment, so it's common to walk in on a debate about residual sugar or New Zealand hop varieties. Don't be shy; Simon speaks English and can tell you the history of each and every one of the beers that line his shop near Châtelet.
45 Rue Quincampoix, 75004. Tel: 01 40 29 03 69
With four Bières Cultes locations in Paris, you're never far from a bottle shop. Initially specializing in Belgian beers, Bières Cultes has since broadened its range to include breweries from San Francisco to Singapore. The rue Legendre and Cardinal Lemoine locations regularly host tastings and all the shops propose a range of stemware for the serious drinker.
This gastropub opened in 2014, breaking the tired mold that defines so many of Paris' Irish pubs. With the full range of O'Hara's on tap and several pages of bottled beer to choose from, you won't even miss the Guinness. Forget soggy fish and chips; classic pub food like Scotch egg is prepared with as much loving attention as the friendly staff bestows on customers. A great spot for Sunday brunch–don't miss the scones–that can also accommodate a crowd.
19 Rue des Boulets, 75011. Tel: 09 82 37 73 41.
Owner Guillaume's friendly enthusiasm quickly made this bottle shop near Bastille a Paris favorite. Despite it's small stature, "The White Moustache" stocks a solid selection of local breweries and international heavy hitters, including Brooklyn Brewery, Green Flash Brewing, Nøgne and Toccalmatto.
16 Rue des Tournelles, 75004. Tel: 01 75 57 15 06
Bierrissme's location in the Marché Saint Quentin makes it the perfect place to grab a few bottles for rounding out a market-fresh picnic. Home delivery is available if your shopping bag is too full of cheese and fresh veggies to fit a bottle of the latest from French favorite Craig Allen or Canadian brewery Dieux du Ciel.
85 bis Boulevard de Magenta, 75010. Tel: 01 44 79 02 97.
Kate Robinson is a freelance writer and editor in Paris. When she's not drinking craft beer, she can be found planning her next outdoor adventure. Read more of her work here: katerobinson.contently.com
Want to be inspired by more French foodie experiences and enjoy classic French food, wine and recipes? Head to our sister website, Taste of France, here.
Lead photo credit : Deck & Donohue/ by Benjamin Delaroche
---
---
Comments