Paris Vignettes, Volume 9, by William O'Such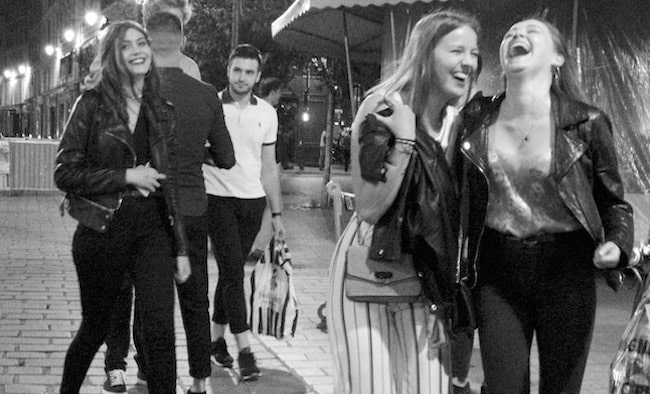 Editor's note: This is the ninth installment in the "Paris Vignettes" series by photographer William O'Such. William was introduced to silver halide photography by his father, Chester J. O'Such, via the family's Ansco reflex camera and home darkroom. After college, William worked as a photographic engineer at Eastman Kodak, where he began to learn the art of photography. With his first SLR, a Canon AE-1, he photographed his inaugural voyage to Paris in 1982. This early spark turned into full passion when William became a Kodak expatriate in Paris from 1995-99. Before returning to the USA, William and his future wife Ineke bought an apartment in the Marais district. William continues to visit Paris at least twice a year to wander the streets, camera in hand, looking for the next vignette.
His photos are available for sale by contacting him at [email protected]. To see the entirety of his collection, visit http://myviewsofparis.shutterfly.com
In the spirit of the season, I went through the last 10 years of my photos to find "summer" photos from our annual visits to our Paris apartment. Summer is a magical time compared to the Bay Area; the days are quite long and opportunity for street photography starts around 9 pm. Hopefully you will enjoy this 9th edition of "Paris Vignettes."
Soirées Heureuses
It is a summer evening and you are hanging around the Saint Paul metro. Everyone is enjoying a wonderful evening on a warm summer night. Not a worry in the world.
Robert et Louise
Robert et Louise is a "resto" in our quarter. My wife is a vegetarian so usually once during a trip I have a dinner of "canard" by myself at Robert et Louise on the "zinc". It gives me a chance to chat with the owner over dinner.
Resposez-vous bien
Summer offers the perfect time to relax. This moment was in the Tuileries near l'Orangerie. A warm evening with an ideal time to snooze after a long day of shopping.
Reflets dans La Seine
If there is one summer activity that everyone does, it's hanging out along the Seine enjoying the sunshine and tranquilité.
Les Artisans perdues
This photo was taken many years ago. As the Marais district gentrified, several boutiques changed from artisans like this to other stores (a little like Saint Germain where I lived when I first was in Paris).
Les Oiseaux
Sometimes when you wander around Paris you stumble across images like this: A young girl with an entourage of birds waiting for food. Simple but beautiful.
 Les Enfants
One of my favorite areas to flâner is Belleville. Inside Parc de Belleville there is an overpass where you can watch life go by. This group of happy children were thoroughly enjoying themselves.
Le Long de la Seine
Reflections along the Seine are not rare but somedays you catch people relaxing and adding to a "moment" that quickly passes.
Le Jam de la Fête de la Musique
At the beginning of summer, the "Fête de la Musique" is the perfect moment to enjoy all Paris has to offer. I'm looking forward to 2021 to capture the pent-up joy of this event.
L'Etoile Manquante
In our neighborhood, this café is at the right location and has the perfect ambiance to enjoy a beautiful summer evening.
Fête de la Musique
At the Fête de la Musique, everyone lets their hair down to enjoy une soirée absolutely wonderful.
Danse de la Salsa
Simple but elegant. During the summer month, couples enjoy evenings of dancing along the Seine.
If you enjoyed these…
You can visit these other links for Vignettes 001, Vignettes 002, Vignettes 003, Vignettes 004, Vignettes 005, Vignettes 006, Vignettes 007 and Vignettes 008.  You can see the full albums from this trip at this link and purchase them at Pictorem.
Lead photo credit : Photo credit : Soirées Heureuses. Photo: William O'Such
More in Paris photography, Paris photos, Paris Vignettes, street photography
---
---