Paris Vignettes, Volume 2, by Photographer William O'Such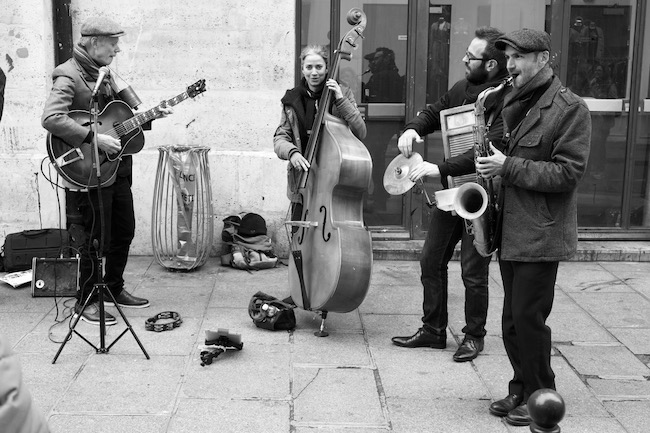 Editor's note: This is the second installment in the "Paris Vignettes" series by photographer William O'Such. William was introduced to silver halide photography by his father, Chester J. O'Such, via the family's Ansco reflex camera and home darkroom. After college, William worked as a photographic engineer at Eastman Kodak, where he began to learn the art of photography. With his first SLR, a Canon AE-1, he photographed his inaugural voyage to Paris in 1982.
This early spark turned into full passion when William became a Kodak expatriate in Paris from 1995-99. Before returning to the USA, William and his future wife Ineke bought an apartment in the Marais district. William continues to visit Paris at least twice a year to wander the streets, camera in hand, looking for the next vignette.
His photos are available for sale by contacting him at [email protected]. To see the entirety of his collection, visit http://myviewsofparis.shutterfly.com
Says William: "Given the positive interest in my "Paris Vignettes" series, I'll be working back through my street photos trying to pick the best 10-12 from each session. It'll be hard as every photo tells a story that I'd love to share with Bonjour Paris readers. This session is from March 2019."
Best Dressed
Walking along the Seine there is always a wide diversity of people. This couple captured my interest as stylish, captivating and perfectly at home in Paris.
Buttes aux Cailles
There is so much to share about Buttes aux Cailles. On this trip, I took a free guided walk via Paris Greeters. It isn't necessarily with a tour guide but rather a local person who loves to share their experiences and what they find interesting. Beyond the people, Buttes aux Cailles is famous for its street art.
Débat devant Saint Eustache
After the multi-year renovation of Les Halles, this is the first time I had a chance to check out the new garden area. It was a warm Saturday and there were people everywhere. These two were having a great discussion just in front of the Saint Eustache church. Nearby there were people doing a variation of Parkour.
J'adore la couleur rose
During my Sunday walk, the Jardin des Plantes was bustling with color. I was glancing around and there was this combination of pink that caught my eye. These snapshots happen in a split-second in street photography so I was lucky to catch this one.
Le printemps est partout
After meeting with my good friend Kerstin in the 5eme, I was wandering (flâner) back to Le Marais and saw this scene along rue Jacob in the 6eme. Just seeing it made me smile at the time and looking at it later, it captures so much about Paris.
Mon premier Calder
The Picasso Museum was renovated several years ago and somehow I hadn't had a chance to visit it even though we know this area by heart. On a Friday, I decided it would be museum day and started with the Picasso Museum and one of my favorite artists – Calder. A fantastic exhibit showing the synergy between Picasso and Calder. The lighting was excellent and caught this picture of someone learning about their first Calder.
Musique le Dimanche
On Sunday, the streets of heart of Le Marais are closed to traffic and it becomes full of people walking around and enjoying the attractions in our favorite quartier. Just in front of the local cultural center on rue vieille-du-Temple there was this band thoroughly enjoying themselves. Sun, music, food and happy people. A perfect combination.
Printemps le long de la Seine
I think this must have been the first really warm Sunday as the Seine was full of people relaxing, enjoying, snoozing and eating. With the closure of the highway along the Seine, this has becoming one of the biggest attractions for relaxing after a long week of work.
Repos Parc André-Citroën
On every trip I try to take a French walking tour in a neighborhood that I don't know. Even after 20+ years of visiting Paris I always find something new. This time I took a tour with Avec Les Yeux de Julie in the 15eme (Julie is the tour guide). During the tour we entered the Parc André-Citroën which I haven't visited in years (earlier that day I made my first visit to Musée Marmottan Monet – more photos at myviewsofparis.shutterfly.com). This park has multiple different little gardens with different styles. If you are in the area, definitely spend a couple hours relaxing there.
Salsa de la Seine
This has to be one of most compelling things to see along the Seine. On weekends, there is salsa dancing by couples who have been doing this for years (or decades!). Very romantic, artistic and beautiful. On a previous photo workshop with Valerie Jardin, we spent several hours here and got some great pix. Watch for more salsa photos in a later vignette.
Spring along Canal Saint Martin
Something about the spring, gives you great, happy backlighting. As I ambled along the Canal Saint Martin and looked up, there was the combination of trees and Paris lamp posts that I couldn't resist.
Une mission près de les Halles
This gentlemen was clearly on a stylish mission headed rapidly towards rue Montorgueil.
Lead photo credit : "Musique le Dimanche" by William O'Such
More in Paris Vignettes, street photography
---
---