Paris Vignettes by Photographer William O'Such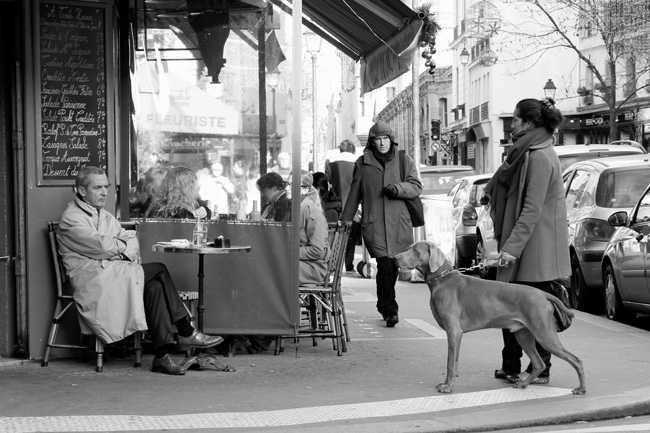 "Capturing the essential nature of Paris is the driving force of my work. From shimmering reflections on the Seine to the long shadows cast upon the hills of Belleville, these street photos reveal Paris through my lens. Probing the intersection of geometry, light and unique subjects, I take unconventional views and turn them into photographic stories."
William O'Such will be sharing his photos on a regular basis with the Bonjour Paris community. Here are some of his perspectives of Paris.
Street Life in Le Marais
This was captured across the street at a brasserie on rue des Archives very close to where we lived for two years. The visual interaction among the residents, including the dog, is compelling. This moment occurred for a split second before it disappeared never to be created again.
Jeune Artiste
The majority of the time street photos occur without any planning. As I walked out of the Marché des Enfants Rouges one day there was a little girl painting this beautiful art out of water on the ground.
Lucio Uturbia, Anarchist
During a photographic workshop, Jean-Paul Lefret and I stumbled across an "atelier" in the 20eme at 42, ter rue des Cascase. Here this Spanish anarchist provides training on old school expropriative anarchism. Think of him as Robin Hood of the 1960s and 1970s. We spent 30 minutes there snapping photos and capturing the essence of this workshop.
La Grande Roue
The big ferris wheel at the Tuileries hasn't been in this position for awhile. In this picture, I love the faces on each of the chairs with the Eiffel Tower behind it.
Beware of Words
As one wanders through Belleville, it is also good to look up as there are installation art pieces everywhere. Although this does look like two people actually hanging a sign, this piece by Benjamin Vautier has been at the corner of rue Julien-Lacroix and rue de Belleville since 1993.
Refuge from the Rain
One of our annual pilgrimages is to Café de Flore in the 6eme where we both lived prior to moving to Le Marais. One day while sitting there, the rain started pouring and Café de Flore's umbrellas framed one of our favorite photos.
Brasserie les Buttes Chaumont
Belleville is one my favorite areas for street photography. Everything that happens there seems to be both reminiscent of a simpler Paris while capturing the liveliness of a very diverse area. The combination of street lights and a Paris brasserie drew me to this night photo.
Brocante dans Le Marais
Every six months there is an antiques / garage sale near the Mairie de 3eme very close to where we stay in Le Marais. It lasts the full weekend and is full of interesting people and objects. This couple spent almost a half hour debating and discussing this frame.
Alignement d'arbres
Palais Royale is forever full of photos. Each time I visit, somehow the images always look different even though it seems to be the same. The light, the trees, the patterns are always appealing. Recently I did some spring photos there that you'll see during the next series.
The French Paradox
The passages in Paris are a must visit especially on inclement days. You can walk for hours under the glass roofs. Imagine that these passages were more or less abandoned for decades until they had a renaissance. Wandering through the Passage des Panoramas in the 2eme there is a restaurant that serves nothing but different preparations of duck.
Window Shopping
This is one of my older photos. Just after visiting La Monnaie de Paris, I started wandering around the 6eme where I lived in the late 90s (rue Guenegaud). At the museum I saw my first exhibit of Willy Ronis who catalyzed my shift to street photography and inspired me for this photo.
About the photographer
William was introduced to silver halide photography by his father, Chester J. O'Such, via the family's Ansco reflex camera and home darkroom. After college, William worked as a photographic engineer at Eastman Kodak, where he began to learn the art of photography. With his first SLR, a Canon AE-1, he photographed his inaugural voyage to Paris in 1982.
This early spark turned into full passion when William became a Kodak expatriate in Paris from 1995-99. Before returning to the USA, William and his future wife Ineke bought an apartment in the Marais district. William continues to visit Paris at least twice a year to wander the streets, camera in hand, looking for the next vignette.
His photos are available for sale by contacting him at [email protected]. To see the entirety of his collection, visit http://myviewsofparis.shutterfly.com
Lead photo credit : Street Life in Le Marais. © William O'Such
More in Paris Vignettes, street photography
---
---
Comments