Le Marché des Enfants Rouges
In the northern part of the Marais is a lovely little market tucked away with two main entrances via small passageways. It is called le Marché des Enfants Rouges and it is the oldest of the many city marchés having been constructed in 1628. If you don't know to look for it, you just may pass it by. There have been several names for this market. The first was le Petit Marche du Marais followed by the Marais de Temple. The derivation of the name, le Marché des Enfants Rouges, is in memory of the enfants housed in a hospital created by Marguerite de Valois in 1536 on rue du Grand Chantier. These children wore red uniforms, since red (at that time) was the color that symbolized Christian. The orphanage closed its doors in 1772 and transferred the children to the Enfants Trouvés de l'Ile de la Cité. In memory of the children and their red clothes, the residents of the neighborhood changed the name of the market to le Marché des Enfants Rouges. In the early seventeenth century the Marais was a newly built and developed district with an increasing demand for consumer products. (I know that it is hard to believe that it was ever new.) Under the direction of Louis XIII, Richard and Jean Sulfice Duflos were commissioned to created a small market. This was followed by the construction of a large wooden hall, a stable and a well. The market was a grand success and it continued to expand. The philanthropist and Freemason, Geoffroy d'Assy, bought the market as the city of Paris continued to grow in size thus needing to increase the food supply. Geoffroy d'Assy was a visionary who understood the value of the market and undertook its renovation and further expansion. One of his modifications was to install a streetlight and a fountain at the center which were badly needed by the butchers, fishmongers and local vegetable producers. As popular as Geoffroy d'Assy was with the merchants, this did not save him from the guillotine. Despite this loss, his heirs continued the management of the market until 1912 when the market was transferred to the City of Paris. This transfer did not ensure its safety and the City of Paris began planning for its destruction in favor of a car park, nursery and library in the 1990's. Thanks to the strong will of the residents and the support of the municipality, le Marché des Enfants Rouges continues to delight tourists and locals. It is now inscribed as one of the important historical landmarks of Paris. There is a nice diversity of fresh products and prepared foods with many ethnic choices. I noticed an Afro-Antille coffee shop, crepes from Bretagne along with Portuguese and Moroccan choices. There are butchers, fresh bread, pastries, vegetables and flowers. In summary, a bit of everything plus an atmosphere that is lively, warm and inviting. One thing that I particularly like is that there are areas to sit and eat unlike most marchés. If you are concerned about the cold or wet weather here in Paris, don't worry, they have protection and heaters to make sure that you can enjoy your meal. The surrounding neighborhood hosts a plethora of great specialty shops so no need to limit your visit to le Marché des Enfants Rouges. In fact, le Marché des Enfants Rouges is a great place to begin looking for that perfect Christmas gift. The address is 39 rue de Bretagne, 75003. The closest metro stops are Filles du Calvaire, Temple and Oberkampf. The market is open Tuesday, Wednesday and Thursday from 8:30am to 1:00pm and from 4:00pm to 7:30pm. On Friday and Saturday it is open from 8:30am to 1:00pm and from 4:00pm to 8:00pm and on Sunday it is open from 8:30am to 2:00pm.   Loui Franke is author of
Parisian Postcards: Snapshots of Life in Paris
.
SUBSCRIBE
ALREADY SUBSCRIBED?
BECOME A BONJOUR PARIS MEMBER

Gain full access to our collection of over 5,000 articles and bring the City of Light into your life. Just 60 USD per year.

Find out why you should become a member here.

Sign in

Fill in your credentials below.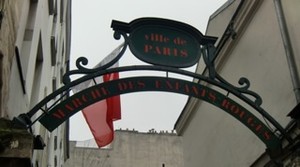 In the northern part of the Marais is a lovely little market tucked away with two main entrances via small passageways. It is called le Marché des Enfants Rouges and it is the oldest of the many city marchés having been constructed in 1628. If you don't know to look for it, you just may pass it by.
There have been several names for this market. The first was le Petit Marche du Marais followed by the Marais de Temple. The derivation of the name, le Marché des Enfants Rouges, is in memory of the enfants housed in a hospital created by Marguerite de Valois in 1536 on rue du Grand Chantier. These children wore red uniforms, since red (at that time) was the color that symbolized Christian. The orphanage closed its doors in 1772 and transferred the children to the Enfants Trouvés de l'Ile de la Cité. In memory of the children and their red clothes, the residents of the neighborhood changed the name of the market to le Marché des Enfants Rouges.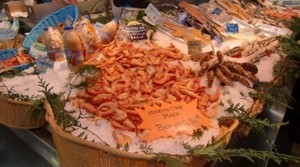 In the early seventeenth century the Marais was a newly built and developed district with an increasing demand for consumer products. (I know that it is hard to believe that it was ever new.) Under the direction of Louis XIII, Richard and Jean Sulfice Duflos were commissioned to created a small market. This was followed by the construction of a large wooden hall, a stable and a well. The market was a grand success and it continued to expand.
The philanthropist and Freemason, Geoffroy d'Assy, bought the market as the city of Paris continued to grow in size thus needing to increase the food supply. Geoffroy d'Assy was a visionary who understood the value of the market and undertook its renovation and further expansion. One of his modifications was to install a streetlight and a fountain at the center which were badly needed by the butchers, fishmongers and local vegetable producers.
As popular as Geoffroy d'Assy was with the merchants, this did not save him from the guillotine. Despite this loss, his heirs continued the management of the market until 1912 when the market was transferred to the City of Paris.
This transfer did not ensure its safety and the City of Paris began planning for its destruction in favor of a car park, nursery and library in the 1990's. Thanks to the strong will of the residents and the support of the municipality, le Marché des Enfants Rouges continues to delight tourists and locals. It is now inscribed as one of the important historical landmarks of Paris.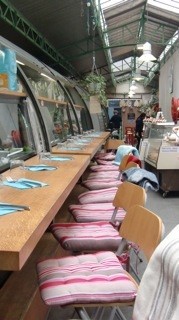 There is a nice diversity of fresh products and prepared foods with many ethnic choices. I noticed an Afro-Antille coffee shop, crepes from Bretagne along with Portuguese and Moroccan choices. There are butchers, fresh bread, pastries, vegetables and flowers. In summary, a bit of everything plus an atmosphere that is lively, warm and inviting.
One thing that I particularly like is that there are areas to sit and eat unlike most marchés. If you are concerned about the cold or wet weather here in Paris, don't worry, they have protection and heaters to make sure that you can enjoy your meal.
The surrounding neighborhood hosts a plethora of great specialty shops so no need to limit your visit to le Marché des Enfants Rouges. In fact, le Marché des Enfants Rouges is a great place to begin looking for that perfect Christmas gift.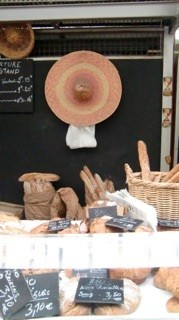 The address is 39 rue de Bretagne, 75003. The closest metro stops are Filles du Calvaire, Temple and Oberkampf. The market is open Tuesday, Wednesday and Thursday from 8:30am to 1:00pm and from 4:00pm to 7:30pm. On Friday and Saturday it is open from 8:30am to 1:00pm and from 4:00pm to 8:00pm and on Sunday it is open from 8:30am to 2:00pm.
Loui Franke is author of Parisian Postcards: Snapshots of Life in Paris.
More in food markets, marche, market
---
---