Brasserie Thoumieux, Le Dali, Au Petit Tonneau, Atelier de L'Eclair, Michelin Chicago 2013 & Ducasse's Louis XV Celebrates 25 Years Buzz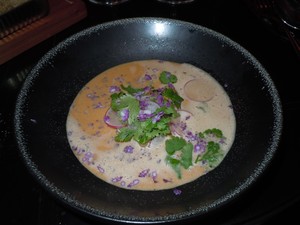 Take a look here, it'll turn you on to Jean-Franҫois Piège a unique talent.
After Les Ambassadeurs at L'Hotel du Crillon, where Piège notched up 2 Michelins for his fantastic spin on, say, Escalope Milanese, he launched Brasserie Thoumieux with Thierry Costes. Then, above the Brasserie, the eponymous India Mahdavi decorated dining-room. The concept's simple, you're chez lui, the menu market-driven, you choose how many dishes you want and JFP cooks them for your palate only.
Not only is this a sublime eating experience, you can stay for a few days. Hôtel Thoumieux, with decor by Mahdavi, has 15 seriously romantic rooms and suites heady with the fragrance of "Un air de Thoumieux" candles created by Ramdane Touhami.  Breakfast arrives on a designer plateau with warming drawers for the hot cakes, buns, sablés, croissants and eggs.  Now's a great time to book Brasserie Thoumieux if you love game, cèpes, and soups such as Piège's take on Bouillon de Crustacés. Auvergne cèpes are infused, sautéd, grated, added to chou-fleur as "Graffity", coriander and ginger. Mmmm so fragrant (see photo).
Lièvre de Beauce à la Royale is a triumph matched with chestnut chips and purée de celeri. Wash down with red Burgundy Pinot Noir Nicolas Rossignol (37€). Prefer fish? Slow cooked cabillaud, cèpes confit, hazlenuts. Or, Saint-Pierre, grilled tomates-aubergines-courgettes poudréés (powder) de tomates, jus à l'olive with white Burgundy 2010 from Bruno Clair (35€).  Desserts are by JFP bien sür, but the main man is talented, ex-Table d'Hediard, chef pâtissier, as in Mille-Feuille minute selon, "Jeffrey Cagnes" . Or, go to the classic menu "Since 2009". Remember the first time you tasted Pizza Soufflé, Goujonettes de sôle, Big Burger and the Churros'n Rolls? Wild, yes?
Do yourself a favour: reserve now. Because you're worth it and Piège is on his way to 3-Michelins and you heard it here first darling.
Brasserie Thoumieux,
79 rue Saint-Dominique, 7th
Metro: Ecole Militaire
Lunch Formula : 29-34€
A La Carte about 50-65€
Open: 7/7 from dawn to midnight
T: 01 47 05 49 75
And: Restaurant Jean-Franҫois Piège & Hôtel Thoumieux
T: 01 47 05 79 00
Le Dali,
Le Meurice, where Salvador Dali (1920-1980) once stayed, and played, for months at a time, named their Brasserie in hommage to the wacky Spanish surrealist who got off dangling live lobsters from the window of his suite, much to the amazement of passers-by.
Very timely, and to tie in with the Dali retrospective at the Centre Georges Pompidou through 25 March, 2013. Le Meurice suggests a special Dali package (lobsters not included!).
Three nights include breakfast, lunch at Le Dali with two cocktails, Gala & Dali, at Bar 228 where the artist was introduced to the hotel by the Count of Barcelona. Also expect tickets to the Centre Pompidou exhibition, a book on Salvador Dali and his and hers Dali-inspired fragrances.
Dali's spirit, still omnipresent, lives on in the shape of Philippe Starck's surrealist-style lobby and Le Dali brasserie, with giant canvas painted by Starck's daughter Ara. References to the artist's work, include mis-matching chairs with feet shaped like women's shoes and a replica of the signature lobster telephone.
Dali's favourite rooms (from 1960-1980) were those on the first floor, overlooking the Tuileries gardens, now part of the five Presidential suites, revised and corrected by designer Charles Jouffre, with some pieces from the original "Dali Room".
The Dali deal – 2,820€ for two – until 25 March 2013.
Le Meurice, 228 rue de Rivoli, 1st
Le Dali Open 7/7 Breakfast Lunch, Afternoon Tea & Dinner
T: 01 44 5810 10;
Au Petit Tonneau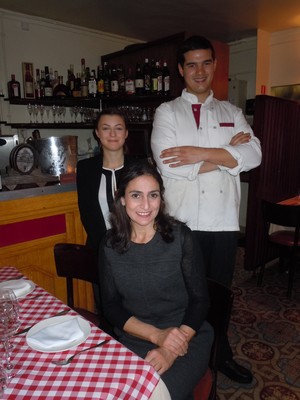 The backstory of Au Petit Tonneau should be a movie. Set in the heart of the 7th arrondissement in a tiny street, the regular clientèle of locals have come to eat chez Ginette Boyer, with their families, for thirty years. They arrived in their droves, the only publicity, bouche a l'oreille (word of mouth).
But, after thirty years Ginette (Karin Viard) is ill and tired, her knees no longer able to support her frail body. Before going to that great restaurant in the sky Ginette assures the continuation of her maison as a "cuisine du femme et du terroir franҫais".
Au Petit Tonneau is now in the capable hands of chef, friend and neighbour of Ginette:.
Meet Arlette Iga (Christiana Reali).
Arlette spent a lot of time in the kitchen with Ginette learning the secrets of French classics such as Boeuf de Salers, un bon blanquette de veau and ratatouille maison. Rognons de veau sauce Madère, les lentilles aux écrivisses, la côte de veau or canette sauce miel etc.
Now although Arlette's a talented chef who's worked with the greats, she has a life, decides a chef is needed. Enter Jaĭs Mimoun (Robert Pattinson) The boy's been trained at Au Repaire de Cartouche and Au Bristol with Eric Frechon (Daniel Auteuil). He does a great job, is making the best Foie Gras chutney (freebie starter) and Macaronis aux truffes gratinées aux Parmesan. Not forgetting the best gratin dauphinoise in the 7th and, as well as Chateaubriand au poivre.
Desserts are set out "comme à la maison" posed on a red-check tablecloth. The zinc is covered in great wines. The locals still come in droves, each one plants a kiss on Arlette's cheek, or her husband's (Romain Duris) or even Rebecca (Lou Doillon) the student server. "I've been here two weeks and each service is an amazing, satisfying and emotional moment", she sighs.
Could someone please tell that guy who directed Auberge Espagnole, I think his name is Cédric Klapisch!
Au Petit Tonneau,
20 rue Surcouf, 7th
M: Ecole Militaire/Invalides
Shut Monday: Note, open Sunday!
T: 01 47 05 09 01
e:mail
Lunch formula from 22€
Dinner Formula 37€
A La Carte average spend about 45€
Atelier de l'Eclair,
If you feel like nibbling on a totally new concept, Atelier de l'Eclair ticks the boxes. A huge space, created in a former schmutter showroom, in the heart of the Sentier, has been transformed into Eclair Heaven. Eat there, in the industrial style brasserie, take away, or order for your wedding, barmitzvah, divorce, The cute chefs in their open kitchen will realise your wildest sweet and savoury eclair-fantasies.
16 rue Bachaumont 2nd
Metro: Sentier
T: 01 42 36 40 54/
Michelin Guide Chicago 2013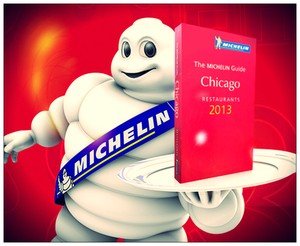 This is the third edition guide to the windy city. 433 restaurants, 44 different cuisines are included, taking in Chicago's downtown neighbourhoods and suburbs. Grant Achatz's "Eccentric, Intense, Extraordinary Alinea" keeps 3-stars.
Addys in the 2-star category are L20 and Graham Elliot "There is great humility to the entire cycle that ends with the cuisine on the plate and the impression it has on my guests", says the talented chef/musician.
Three restaurants climb into the one-star galaxy: Acadia, Goosefoot and Mexique with Sixteen re-instated after deletion last year. There's now 16 0ne-stars in skyscraper city.
Available at Publicis Drugstore, Champs Elysées, Smith's rue de Rivoli etc.
18.50€
Facebook
Twitter – @Michelin GuidesCH
Website
Generation Ducasse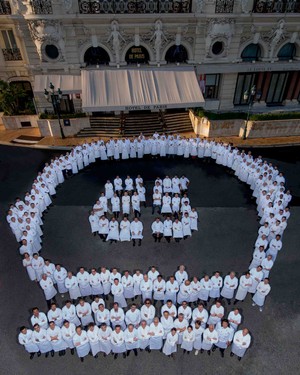 Does it seem like 25 years since Alain Ducasse launched Le Louis XV? At the request of the late Prince Rainier Ducasse agreed to give Monaco 3 stars. He did within 3 years: the rest is history.
This week 240 chefs from 25 countrys arrived in Monaco for a weekend bash. 300 Michelins and counting.
Respect, Monsieur Ducasse, from bonjourparis. Here's to the next 25 years at the best restaurant in the world.

Subscribe for
FREE

weekly newsletters.
BonjourParis has been a leading France travel and French lifestyle site since 1995.
Readers' Favorites: Top 100 Books, imports & more at our Amazon store
We update our daily selections, including the newest available with an Amazon.com pre-release discount of 30% or more. Find them by starting here at the back of the Travel section, then work backwards page by page in sections that interest you.
Current favorites, including bestselling Roger&Gallet unisex fragrance Extra Vieielle Jean-Marie Farina….please click on an image for details.
Click on this banner to link to Amazon.com & your purchases support our site….merci!
Leave a reply
Your email address will not be published. Required fields are marked *