Paris Launches New City Bus Network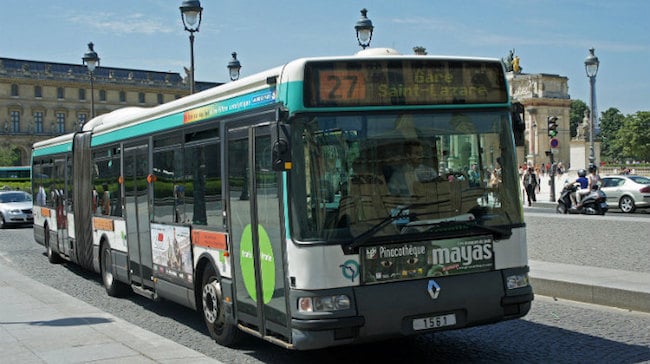 Attention, all bus fans! The RATP, the Paris metro authority, just relaunched the city's bus routes— meaning a big change to your familiar bus network. The goal of this project, which was years in the works, was to reorganize the lines to better serve underrepresented areas, to better connect suburbs to central Paris, and to make public transport easier, faster, and more efficient. A total of 50 lines were modified, representing two-thirds of the network, and 4000 bus stops are concerned.
RATP called it "a historic event," and our editor's sister-in-law, who worked on this RATP project, wholeheartedly agrees. Le Monde reported it as the "big bang des bus à Paris." Indeed, it's been 70 years without much change to the bus lines. And the reorganization of the network (including the creation of new bus lanes and other roadwork) represents a huge investment numbering tens of millions of euros.
Three bus lines have been erased from the map: lines 53, 65 and 81. And five new lines have been created, like the new line 25, which goes from the Bibliothèque François-Mitterrand to the suburb of Vitry-sur-Seine. The line 45 now connects Concorde (8th) to Aubervilliers/Saint-Denis, while line 59 connects place d'Italie to Clamart (SW suburbs) and line 71 connects porte de la Villette (19th) to the François-Mitterrand library. Last but not least: the line 77 travels from Joinville-le-Pont to Gare de Lyon.
Here are a few more examples of the changes:
— Line 21, which previously served Porte de Gentilly to Gare Saint-Lazare, has been extended to the Porte de Saint-Ouen.
— Line 38, which previously connected Porte d'Orléans and Gare du Nord, now travels all the way to Porte de La Chapelle.
— Line 91 now connects five train stations: Montparnasse, Austerlitz, Gare de Lyon, Gare de l'Est, and Gare du Nord
The system change, which took place the evening of Friday, April 19th and the morning of Saturday, April 20th, went off without a hitch. New maps were affixed to each bus stop, where computer screens indicate the waiting time. 700 additional drivers were recruited and trained.
For more information and to see the new bus route map, go to https://www.ratp.fr/en/plans-lignes/plan-des-bus
Lead photo credit : Paris bus near the Louvre by Mariordo/Wikipedia
Leave a reply
Your email address will not be published. Required fields are marked *