Paris Vignettes, Volume 7, by Photographer William O'Such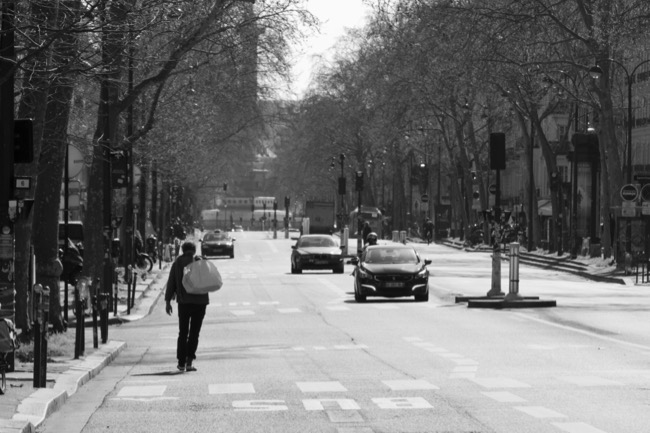 Editor's note: This is the seventh installment in the "Paris Vignettes" series by photographer William O'Such. William was introduced to silver halide photography by his father, Chester J. O'Such, via the family's Ansco reflex camera and home darkroom. After college, William worked as a photographic engineer at Eastman Kodak, where he began to learn the art of photography. With his first SLR, a Canon AE-1, he photographed his inaugural voyage to Paris in 1982. This early spark turned into full passion when William became a Kodak expatriate in Paris from 1995-99. Before returning to the USA, William and his future wife Ineke bought an apartment in the Marais district. William continues to visit Paris at least twice a year to wander the streets, camera in hand, looking for the next vignette.
His photos are available for sale by contacting him at [email protected]. To see the entirety of his collection, visit http://myviewsofparis.shutterfly.com
Our March trip started out normal at the beginning of March but rapidly the mandatory closing of bars, cafes, stores, etc. as part of the lockdown changed Paris dramatically. On a positive note, I never heard so many birds chirping in Paris during my "déplacements brefs" including walking down the middle of rue de Rivoli. I think in 5-10 years when we "prendre du recul" these and the rest of the photos will be more interesting. Today, they show how a virus can change life in major cities.
Boulevard Beaumarchais
Just outside our neighborhood is Boulevard Beaumarchais. Usually jammed with cars zooming from République to the Bastille, this day you could almost walk down the street.
Brasserie Fermé
Usually you only see this view of a brasserie window late at night after it's closed. Now, the various chair stacking approaches are in full view during these sunny, warm days. This was at the intersection of rue des France Bourgeois and rue de Turenne.
Café de Flore
When we venture out into the Saint Germain area, Café de Flore is one of our typical stops. Again, seeing this in broad daylight is so abnormal that it captures your eye.
Café George V
The Sunday after the government announcement was a beautiful sunny day and we took the metro to the Arc de Triomphe and walked back to Le Marais. I have some other pictures showing that the French didn't really follow the guidance this first full day (i.e. parks were quite busy as was the Champs-Elysées) but once again the stacking of the chairs was unusual to see during the day.
Déplacements brefs
As part of the lockdown you were allowed to leave home for five reasons: 1) going to work because remotely working is not possible, 2) shopping for essentials (food stores, boulangeries, drug stores and tobacco stores), 3) seeing a doctor, 4) visiting family / child care and 5) walking your dog, jogging, bicycling or other outdoor exercise. The quai became a center for #5 though I've heard recently that the quai and all parks are now closed.
Distance Sociale
Social distancing was a new term for everyone in the world and it took time for people to adapt to the guidance. This person did find a nice spot to relax and enjoy the Sunday beauty along the Seine.
Faire la Queue
I have many photos of people queuing and maintaining their social distance. This is in front of Maison Plisson in our neighborhood to buy groceries and pastries. On the sidewalk they put little "Maison Plisson" dots to help people maintain their distance.
Jardin Fermé
Parks and gardens were all closed. This is very close to our apartment and usually half-full of people reading and relaxing.
La Perle trop Tranquille
La Perle is a neighborhood bar that is always full of young people socializing and drinking, spilling out onto rue Vieille du Temple. This corner is always buzzy with lots of conversation. Today, "que dalle".
Personne dans le Café
More stacked chairs and blankets waiting for the lockdown to be lifted at La Terasse des Archives.
Place de la République
Place de la République is always a buzz with people, skateboarders, people leaving the metro, etc. That day, one person was quietly reading a book while birds chirped away.
Place des Vosges
One of my favorite stops during my "déplacement". Even though the gates were closed someone had their windows open and was playing some beautiful old French music. Walking around the garden, it was quite meditative and relaxing even for a moment.
All you need is love
Just down the street is a wall across from La Perle that is owned by the brasserie. Every six months or so they repaint it with a new mural. The latest inspires me that during this crisis, we can all help each other to cope and we can all look forward to the light at the end of the tunnel.
Lead photo credit : Boulevard Beaumarchais. Photo: William O'Such
More in Paris photos, Paris Vignettes, photography in Paris, street photography
---
---
Comments