Dispatch from Paris: Return to the Marais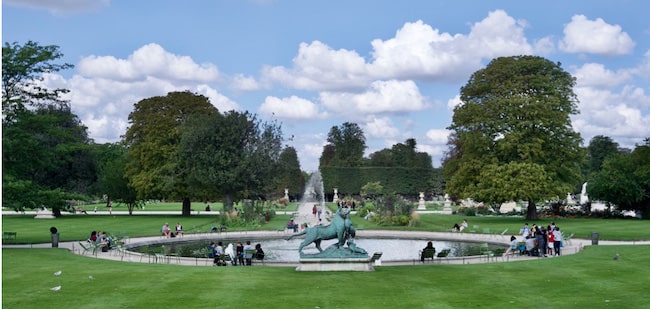 After a year and a half we finally made it back to Paris, and it was like we opened a positive new chapter during this pandemic. Paris was alive with flâneurs in the parks and plenty of café tables outside. Given that Paris is approaching a 90% vaccination level, we could sense the optimism among our neighbors and friends.

Before leaving the U.S., we were able to obtain the passe sanitaire (health pass) that made it easier to get into museums, stores and restaurants, though when we checked with a number of places, they said they would have accepted the CDC card from the U.S. If you'd prefer to obtain the passe sanitaire before traveling, you can submit your info to this website.

All stores, museums and other indoor spaces require you to show your health pass/CDC card and wear a mask. From our observations, everyone was very mask-compliant in these places, on the metros and in the buses. Once you are seated in a restaurant, the waiters wear masks but the patrons do not. We only ate indoors at one location that had good ventilation (Malro). Everywhere else we managed to eat outdoors.
For restaurants, we revisited our Marais neighborhood favorites including Chez Julien, Le Petit Place, Le Petit Italian, Le Petit Marché, Des Gars dans la Cuisine and early in our trip Au Top, which is on the rooftop of the building diagonal from La Perle (3rd arrondissement). The entrance is tricky to find as you need to walk through a common area courtyard, take the elevator to the 5th floor then stairs to the rooftop. A bit pricey but definitely great ambiance, good food and fantastic view.

Wandering around the neighborhood, we discovered the Anne Franck garden via the Impasse Berthaud. For over 20 years we didn't know about it as it is quite hidden, but we saw it on one of the various walking tour videos during the pandemic. Closer to a friend's apartment in Cour Damoye, we saw the makeover of the Bastille with one side completely pedestrianized along with elaborate bike lanes, much like Amsterdam. Nearer to home, many places were refreshed, including a new awning and décor at Camille, with the children of the owners having taken over the place. They also bought Le Sevigné around the corner and are currently redoing it.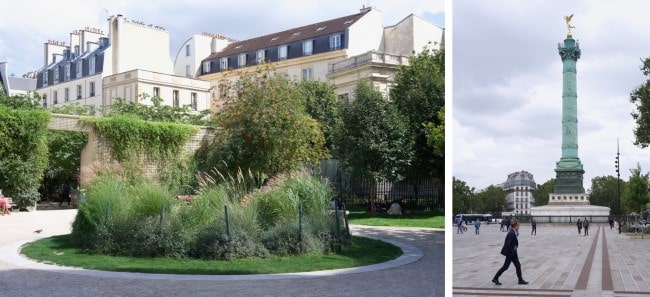 One major change in Paris was the dramatic increase in bike lanes all across the city. We already mentioned those at the Bastille, but the biggest change was rue de Rivoli, which is now largely bike lanes with just one lane for delivery trucks, buses and taxis. An impressive number of Parisians are now biking everywhere. Like in Amsterdam, you now need to pay attention to the bike traffic as you cross the road.

Museum-wise, we visited the newly renovated Musée Carnavalet in our neighborhood, which was gorgeous and now includes a lovely café in the beautifully designed courtyard garden. It's the museum to visit to learn about the history of Paris.

Also, we visited the new Pinault Museum with a wide range of modern art in a very light, open and dramatic setting. Our favorite work of art was the mouse who broke through a wall and talks, followed by an ethereal smoke installation that reacts to motion and voices in the room. In the center of the museum's atrium was a very dramatic, very slowly, melting wax statue that has lost various parts to the floor over the previous months.

We checked out the newly renovated Samaritaine, which is finally finished after at least five years of renovations. The bar and restaurant on the roof now belong to the Cheval Blanc hotel at the front of the building overlooking the Seine. Their grand opening party was just the day before we left, so a fancy drink at the hotel bar will have to wait until our next visit. La Samaritaine was celebrating its 151st birthday when we were there, and we stumbled across a fun little song-and-dance parade that was winding its way through the store.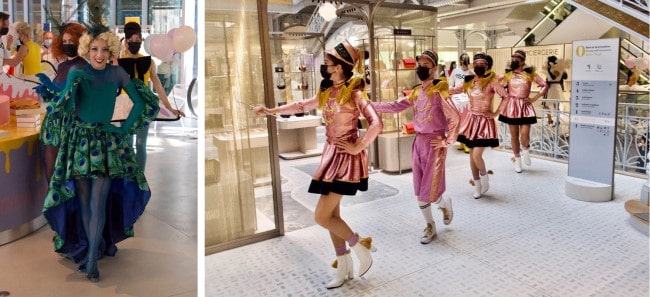 I had a chance to take a Paris Greeters tour in Batignolles, a neighborhood we've never before visited. (This experience was documented here for Bonjour Paris.) There are definitely no tourists, with all locals and some cool restaurants. I only had a morning there but we plan to return to Batignolles in the future for lunch or dinner. During the walk, the guide pointed out a high-end culinary school where lunch is prepared and served by the students.

In the latest travel requirements, you need to be vaccinated to enter France from the U.S., and otherwise you would need to quarantine. To return to the U.S., you just need to take an easy and fast antigen test (PCR test not required) which is readily available at kiosks in every neighborhood in Paris, though we did the eMed home test that uses a video meeting to supervise the test. The latest information can be found here.
We felt as Covid-safe in Paris as we do in San Francisco, and plan to head back again around December 20th. It was an uplifting visit, and we want more!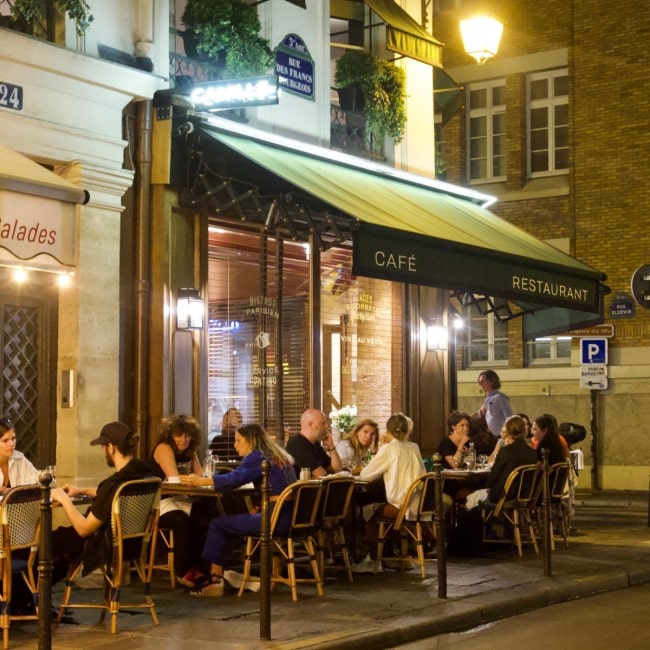 Lead photo credit : Paris (C) Bill O'Such
More in expat, Life in france, Living, Marais, News, Paris, Update
---
---
Comments