Paris Restaurants: What's Open in August 2022?
Paris in August is super-cool, a private club for inquisitive people. Pigalle, Bastille, the Eiffel Tower, Paris Plage, Montmartre, Canal Saint Martin, still hustle and bustle. It's not difficult to find excellent spots to eat, inside, out, or up on the rooftops. The weather's perfect, what are you waiting for? Here are some recommendations of restaurants that stay open in August. See you there.
On the panoramic terrace high above the museum dedicated to Jacques Chirac, there's party attitude chez Les Ombres. It must be the extraordinary effect dining in the shadow of the Eiffel Tower has on guests. "Ce n'est pas mal," says Chef Alexandre Semperé with a cheeky grin.
Chef Semperé honed his craft with Romain Meder at the Plaza Athénée, Christian Constant at Le Violon d'Ingres and chez Ladurée. Since his recent arrival at Les Ombres, with Alain Ducasse, his contemporary menus include "Jardin Suspendu" (€128), inspired by botanist Patrick Blanc's Mur Végetal that dramatically wraps the glass exterior of the museum; and "Ombre and Lumiere" (€88), inspired by the light and shade of the chic space.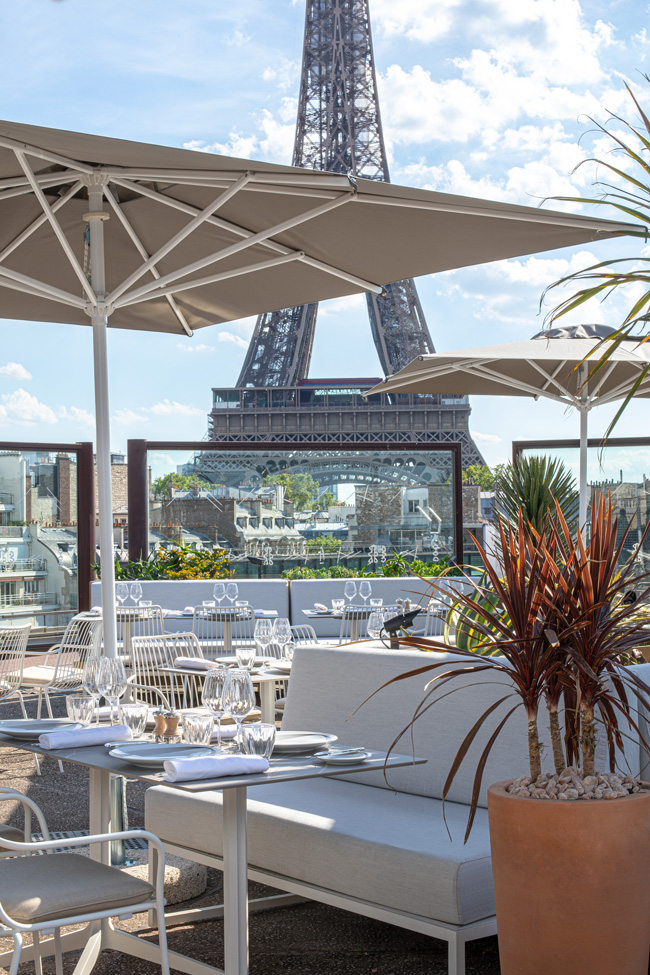 Stand-out dishes include marinated Brittany Mackerel with romaine and black olive purée; delicately grilled seabass, artichokes, algues and flowers; oyster tartare, wakame, ginger, grilled cucumber. Pair with Sacha Lichine's Whispering Angel Château d'Esclans rosé, and to finish, try the rhubarb tart or chocolate desserts made with Le Chocolat Alain Ducasse. "It's all about La Naturalité," explains Semperé. "And the view, bien sûr."
Further information
27, Quai Branly, 7th
Metro: Bir Hakeim
Tel: +33 (0)1 47 53 68 00
Lunch formula €58
Closed Monday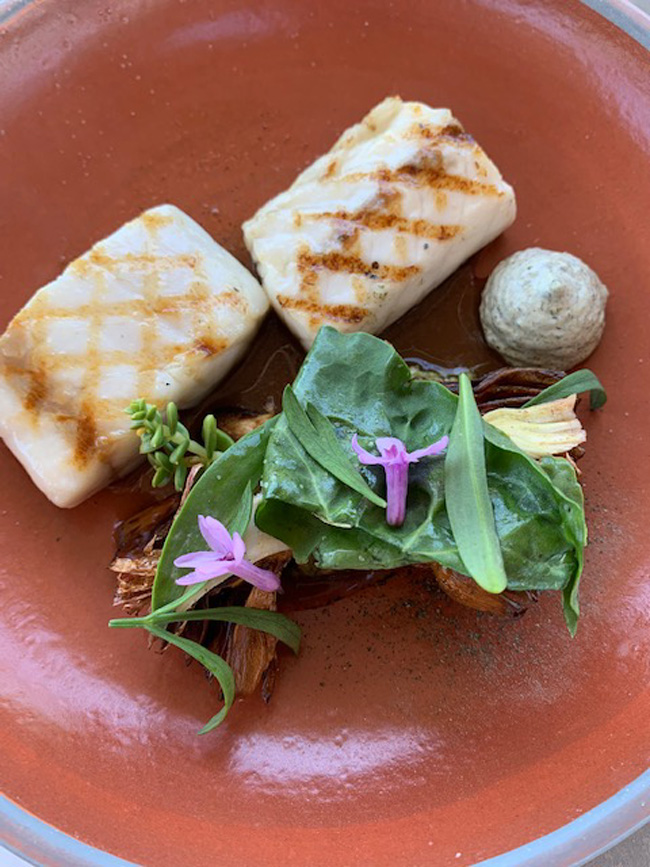 In the cool of the space designed by Philippe and Ara Starck at Le Meurice, Dali's spirit of adventure is alive and well. "At the age of six I wanted to be a cook. At seven I wanted to be Napoleon. And my ambition has been growing steadily ever since," Dali declared. Chef Amaury Bouhours, Pastry Wiz Cédric Grolet, and the brigade present farm-to-fork dishes to please every palate. Families gather for lunch or dinner to share/or not: Sardine tartelettes; Christophe Latour's juicy tomatoes, yogurt and veggie chilli condiment; tempura of courgette flowers; cookpot of Camargue rice; "Culoiselle" chicken breast; sea bass with salad and lemon balm. Enjoy your meal with fresh juices, cocktails, or Provence rosé from Château Barbeyrolles. And don't miss the strawberry, or, raspberry pie for two. Then, cross the rue to the Tuileries Gardens or Musée de L'Orangerie to ogle Monet's water lilies.
Further information
228 rue de Rivoli, 1st
Metro: Tuileries
Tel: 01 44 58 10 44
"As a physical exercise trainer, people always ask me why they don't succeed in losing weight, gaining weight, sleeping properly, so I decided to share my healthy lifestyle and launched the AVA concept," explains Amandine Vanille Angles (AVA). "The idea is: you can work out here at the studio, shower, eat and take home a bag of healthy, balanced, nutritious food. Quantity, it's all about the quantity!"
It's located in Beaupassage at the quirky Champion Spirit Club, where you work out, box and beautify 7/7 under the guidance of hunky trainers including head honcho Abdouaye Fadiga – 9 x times Thai Boxing (French & World) champion and the founder of Champion Spirit Academy and a snazzy line of hip merch, training clothing, and accessories.
Eat on the shady terrace or inside the airy, glass space that houses an impressive basement Boxing Ring, cool contemporary artwork (Richard Orlinsky & Co.), multicolored SMEG fridges, comfortable sofas, chess sets… Read: a playroom for sophisticated grown-ups.
Go for the Bowl of the Day, a sublime mix of grains, salad, nuts and organic salmon (€15). Or try the Jack burger (€16) ,Avocado Toast (€15) with Smoked Salmon (+€4), and lovely desserts such as Tulum Acai (€12). Match with shots and juices (see below).
And pre- or post-lunch, check out FIGUE, Amandine's organic juice bar at 24 Boulevard Raspail. The cold pressed juices are crafted to protect (carrot, apple, ginger); to slim (cucumber, spinach, green spirulina); and to care (white melon, coconut butter and blue spirulina). There are also Golden Apple smoothies, the Tropic Trip, Avomatcha, The Champion – (all available at AVA Kitchen).
Further information
Beaupassage, 14 Boulevard Raspail, 7th
Metro: rue du Bac
Tel: 07 62 19 19 85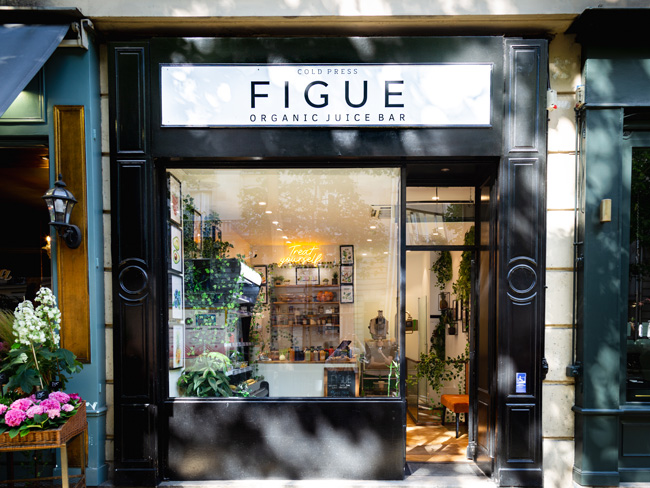 This spot showcases delicious variations on the theme of everyone's favorite fruit/vegetable from sustainably sourced avocados.
"Do you know the best way to ripen avocados?" asks Antoine Duarte, co-founder with Nicolas Necker, of the hip n'happening franchise of The Avocado Show, Paris. "Place them in a brown paper bag, with a bunch of bananas! It may seem bananas, but it works!," he insists. "Ripe bananas contain ethylene, a natural plant hormone, which triggers ripening. The paper bag traps the ethylene gas that's produced by the fruit, speeding up the process."
Avocado Show pioneered (2017) in Amsterdam by two foodies, Ron Simpson and Julien Zaal, and stars avocados as snacks, starters, mains and desserts. "These green gems are packed with B vitamins including thiamine (B1), riboflavin (B2), and niacin (B3). They're an all-round wonder helping your body convert the food you eat into energy. Avocados are especially rich in niacin, which can fight inflammation, protect your arteries by improving cholesterol and triglyceride levels," explains Necker. I tell him that for me a day without avocado is a day without sunshine! He likes that, says he'll put it on a T-shirt.
The Paris Avocado Show had just opened when I visited, already buzzing with tourists, influencers, hip and happening gastronomads who adore the idea of AS's organic/vegan/vegetarian/flexitarian menu and mission statement "Pretty Healthy Food."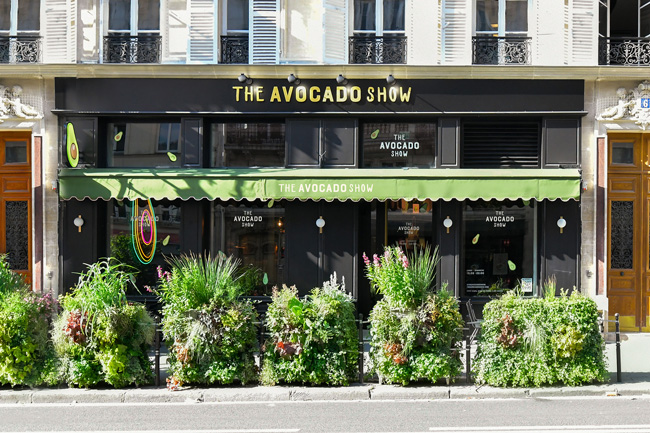 The light, bright, plant-filled pink and green décor dissolves all traces of daily stress as will a cocktail / mocktail (Avo Bellini, Prosecco + Avo marmalade + coconut flakes (€13.95) with a dish of panko-crusted avocado fries dipped in truffle mayo (€6.95) while you decide on your delicious lunch or dinner (different menus).
At lunch I choose the Fun Burger (€17.95), the creamy avocado topped with beetroot, no bread, a side of nachos. And, talking bread: "We're delighted to have The French Bastards baking our breads and croissants," says Necker.
Necker orders the "Salad Julio Caesar" (€17.95) and Antoine "French Florentine", made with two perfectly poached eggs, spinach, mixed greens, edible flowers (€15.50). He says he also loves the Viva Las Veggies salad (€17.95), the Mango Tango Toast (€12.50), on a bed of curry hummus, and Truffle Treasure Toast (€13.50) with Cajun chicken. We finish with Oreo Cheesecake Heaven (€9.50), Very Berry Waffle (€8.95), and Peanut Butter Avocado Ice Cream (€6.95). I'll be back soon for Sweet Stack Pancakes (€13.95), vitamin rich with spirulina, avocado ice cream, peanut butter, slices of avocado, raspberries, milk jam and maple syrup.
Further information
6 rue Etienne Marcel, 2nd
Metro: Etienne Marcel
Tel: +33 (0)9 82 47 32 10
Terrace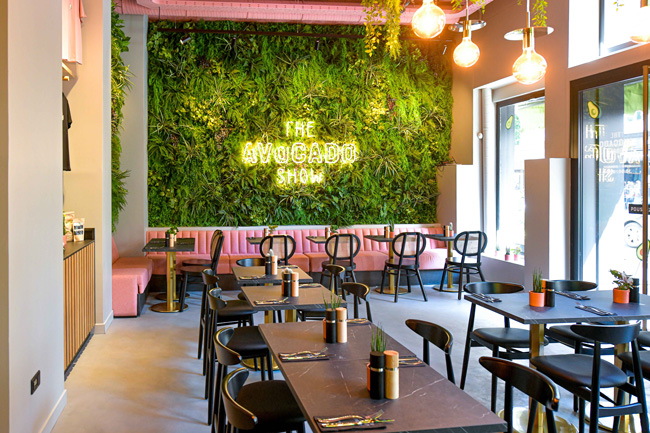 Facing the scaffold-clad Notre-Dame, La Tour d'Argent (since 1582) is hidden by scaffolding, closed until 2023, due to an important reconstruction project.
All is not lost, however. La Tour d'Argent has a restaurant, bakery and épicerie on the quay. And, for the first summer ever, dine under parasols on the Quai de la Tournelle, Seine-side terrace of La Rôtisserie d'A.
The French, traditional cuisine includes the "must order," delicious 2022 Best Egg Mayo in the World, accompanied by the champagne-based Royal Spritz Tournelle (€13).
On the menu, starters include the iconic egg (€9); Shredded crab, smashed avocado, raspberry coulis (€21); and Mini "la perle des dieux" sardines, lemon infused butter, toast (€15). "La bonne cuisine est honnête, sincere et simple," vows the menu.
And it's true, the service is immaculate; the staff have to cross the busy quay to reach their tables, which they do with grace and style.
Mains include perfectly seasoned Beef tartare & French fries (€25); Roast seabass, drizzled with olive oil, on a whisper of fragrant fennel and dried tomatoes (€32); Rare on menus these days, Veal kidneys, wholegrain mustard sauce, mashed potatoes (€27). And, for the ladies who do, Traditional Caesar salad, parmesan, either roast chicken (€23) or sautéed shrimp (€36). There's also cheese from La Tour's Île de France farm (€13). And don't miss the Grand Cru Tour d'Argent chocolate tart (€13).
Follow La Tour en Balade here.
Further information
19 Quai de la Tournelle, 5th
Metro: Pont Marie
Tel: +33 (0)1 43 54 23 31
Open 7/7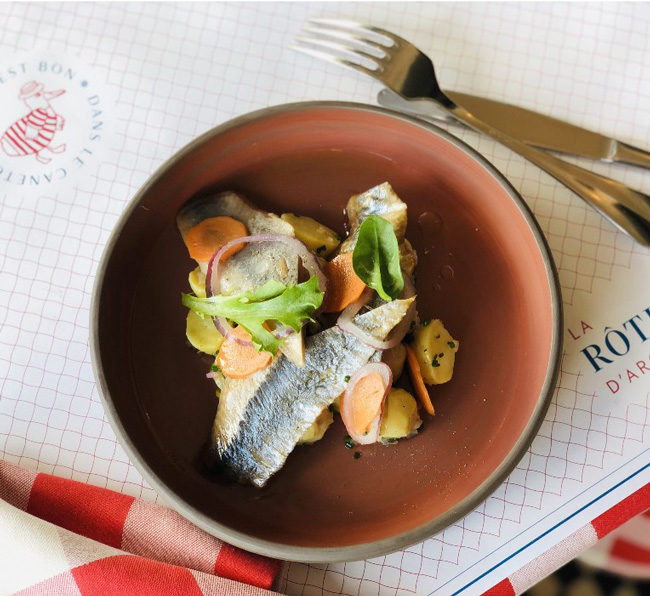 The Montmartre canteen chic created in 2012 by superchef Antoine Westermann, (formerly of Michelin *** Buerehiesel Restaurant, Alsace) is rebranded Le Coq & Fils PoultryHouse. The culinary concept of Le Coq & Fils pays tribute to various varieties and breeds of French poultry (Le Cou Nu du Forez, La Fleche, etc.) sourced direct from the poultrymen/women. The chef loves hamburgers! So, with a nod to his USA years (Coq Rico, NYC), he just added the 100% végétal Z'oeuf Burger (€14) using eggs from free-range chickens, making "egg steak" with candied shallots & mint, tomato chutney, grilled zucchini with lemon, goat cheese with olive oil. Poujauran buns. Just add French Fries! Delicious! "Total Umami," says Westermann.
Further information
98 rue Lepic, 18th
Terrace open 7/7
Metro: Anvers
Tel: +33 (0)1 42 59 82 89
We salute this honest, community-centric, French neo-brasserie, by the creators of Brasseries Bellanger and Dubillot, which ticks all the boxes. On the edge of the green and pleasant Square Maurice Gardette, it's the perfect neighborhood address, although definitely worth crossing town for. And the Egg Mayo (€2) is epic. As is the classic poireaux vinaigrette (€6) and macedoine of smoked herring (€7).
The signature dish is the golden rôtisserie chicken served with jus de cuisson and frites maison (€15). The vegé du moment is a delightful mix of aubergines, courgettes, potatoes, tomato sauce maison, olives and a nudge of Ossau-Iraty cheese (€16). The fish of the day costs €17 and there's also a sausage purée for €13. The Brillat-Savarin is from Fromagerie Juchy, Ile-de-France (€10). Desserts include Paris-Brest (€8) and Pavlova d'Éte (€8) Exciting wines, cocktails, and nectar includes Pic Poul de Pinet (Bio) from Les Equilibristes (€34).
Further information
24 rue Saint Ambroise, 11th
Metro: rue Saint Maur
Tel: +33 (0)1 48 05 10 64
Open 7/7 Terrace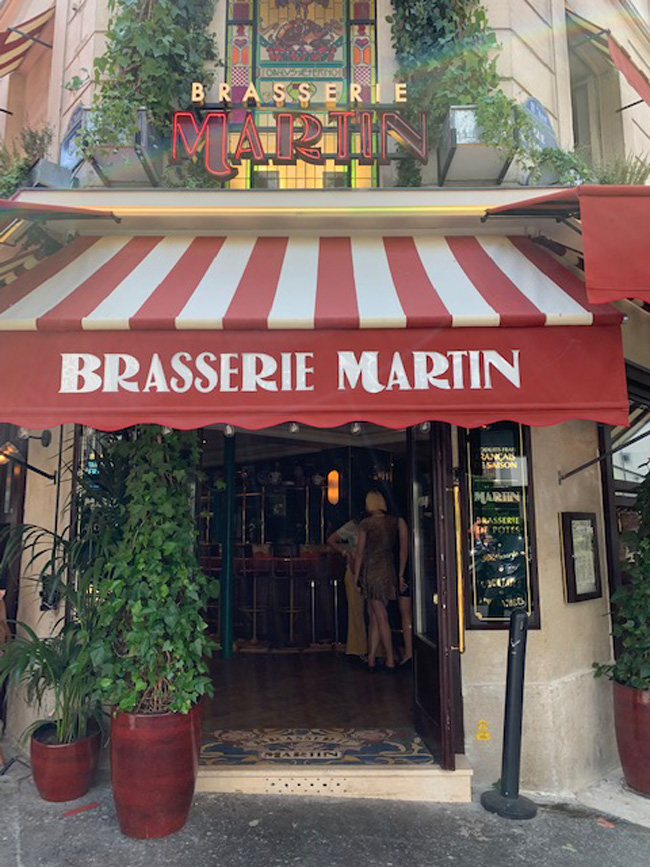 And also:
"Our Parisian restaurants are open tout l'été," says Cyril Lignac (who recently became a dad, to Léo, for the first time.) Nice one, Cyril!
Diary Date:
September 1-4 2022 – 5th Edition Village International de la Gastronomie
Jardin du Trocadéro, 16th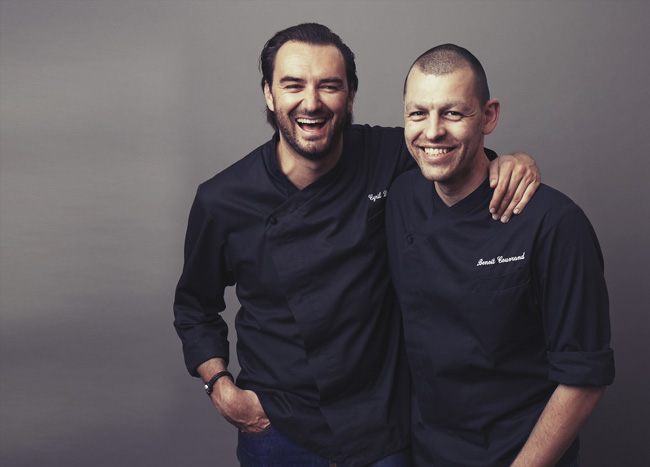 Lead photo credit : Coq & Fils Antoine and Mathis, courtesy of Coq & Fils
More in Alain Ducasse, Cyril Lignac, Healthy Eating, Neo-Brasserie, Paris Food News, Paris restaurants
---
---