Top 5 Galette des Rois – Epiphany Cakes in Paris 2017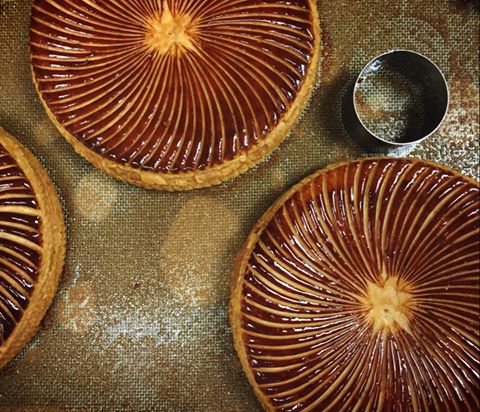 Happy New Year. You made it through a Parisian Christmas, even if your waistband didn't. You're not quite yet on speaking terms with your liver, but that's OK because it's time to give your body a detox, a full radiator flush. Break out the quinoa and goji berries, for there is yoga to do.
Wait a minute, this is Paris we're talking about, and the festive season isn't over yet.
You can always count on the French to roll out a delicious delicacy on annual occasions, and Epiphany is no different. The arduous hike taken by three wise kings, confirming the baby Jesus as the son of God, is celebrated with a cake. But this is no ordinary cake; it is The King of Cakes no less. The Galette des Rois.
This is a dessert steeped in 300 years of French tradition, with practices surrounding the making and serving of the cake differing from family to family. Historically, a bean or fève is placed inside the galette, bestowing upon the finder the title of King or Queen for the day. But as France is a republic after all there is stringent bureaucracy surrounding the cutting of the cake, ensuring democracy is properly enacted. The youngest member of the family sits under the table and calls out the order of people to step up and select their slice, like an edible ballot paper.
Soft almond Frangipane inside a flaky puff pastry case, glazed to golden brown perfection, is the blueprint for a Galette des Rois, but every year the finest Pâtissiers of Paris add their own creative genius. In modern times this dessert has become an exciting calendar date for foodies, tourists and locals alike– a chance to taste the tradition of Paris, with a modern touch.
Here's a selection of Paris's top 5 Galettes des Rois in 2017:
Le Meurice is one of the finest palace hotels in Paris, complete with a 2 Michelin-starred restaurant under Alain Ducasse. Here, Pâtissier Cédric Grolet has created a classic masterpiece with a hazelnut frangipane and deeply glazed pastry. The hidden treasure is a wearable gold-brushed hazelnut!
€16 per slice or €80 for the galette which serves 6.
Le Meurice, 228 Rue de Rivoli, 75001 Paris
Yann Couvreur is an artisan Pâtissier of the 10th arrondissement who applies the techniques of haute pastry cooking in a more relaxed, coffeeshop style. His patisserie is located near Belleville, République and the Canal Saint-Martin on the buzzing avenue de Parmentier. This year his Galette des Rois is a celebration of noisettes with the delicious taste of hazelnuts rising through the frangipane. Hidden inside is a chic fox statuette.
€24, serves 4-5.
Yann Couvrier, 137 Avenue Parmentier, 75010 Paris
This year, the award-winning boulanger-pâtissier Dominique Saibron of the 14th arrondissement has no less than three Galettes des Rois: an aux amande, aux pistaches and an aux amandes et praliné aux noix de pécan. Personally I would go for the pistachios! The fèves this year are handmade ceramic icons showing the seven deadly sins, although just "Glutton" would've been adequate…
€43.50, serves 10-12
Dominique Saibron, 77 Avenue du Général Leclerc, 75014 Paris
The famous master Pâtissier and TV chef Christophe Michalak also has three Galettes des Rois year: Marmelade de mandarine corse, Vanille tonka and Caramel beurre salé. The delicious cakes are perfect for fans of superheroes, with a mask replacing the traditional paper crown.
€38, serves 6-10.
Michalak Marais, 16 rue de la Verrerie, 75004 Paris. Michalak Poissonnière, 60 rue du Faubourg Poissonnière, 75010 Paris. Michalak St Germain, 8 Rue du Vieux Colombier, 75006 Paris.
Pierre Hermé's interpretations of the Galette des Rois have been extremely popular over the years and for good reason. This new creation, the Galette Azur is a showstopper with almond cream with yuzu, chocolate and yuzu ganache, candied yuzu peel. Wow.
€58, serves 6-8
Pierre Hermé, 72 Rue Bonaparte, 75006 Paris
Want to be inspired by more French foodie experiences and enjoy classic French food, wine and recipes? Head to our sister website, Taste of France, here.
Lead photo credit : Photo by Le Meurice
---
---