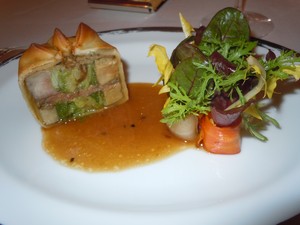 Alain Ducasse needs no introduction, a super success within the Dorchester Collection with 3-stars at The Dorchester, London. With the Plaza Athénée (also 3-stars, part of The Dorchester Collection) closing for transformations and, at the invitation of Le Meurice directors Franka Holtman and François Delahaye it's the ideal evolution.
Indeed, Monsieur Ducasse, accepting the Meurice challenge, said « it's not a revolution, it's an evolution ».
To understand the man go to this site.
So, the teams from the Plaza and Le Meurice have blended as smoothly as a Ducasse sauce.
Wearing the whites Christophe Saintagne, former Plaza A head chef. Cédric Grolet, who joined Le Meurice from Fauchon in 2011 as sous-chef, is Chef Patissier. And Estelle Touzet (ex-Cordeillan Bages, Guy Savoy, Le Bristol, Tom Aikens, London) stays on as Head Sommelier and, it's worth noting Ms Touzet's wine-tasting evenings « Nocturnes du 228 ».
Frédéric Rouen leads a young and enthusiastic team in the magnificent Philippe Starck decorated dining room overlooking the Tuileries Gardens : a mini Hall of Mirrors, Versailles.
« The Meurice opened on rue de Rivoli in 1835 and has undergone constant tender loving care,  the Commedia dell'arte style frescoes by Théophile Poilpot still decorate the walls »,  Monsieur Rouen points out. Of Alain Ducasse he says, « the man is exceptional, he heads more than 20 restaurants world-wide, has perfect focus and unending curiosity inspiring everyone who meets him »
Additions to the restaurant include the magnificent silver-bronze Bruno Wiskermann trolley hunted down by Monsieur Ducasse, nine compartments keep food hot and, check out the incorporated duck/langoustine press.
Each table is decorated with either a shiny copper charlotte, savarin or jelly mould or a seasonal vegetable. Crystal glass ware by MD : plates by Bernardaud : lots of interesting pieces to copy, the table's the theatre, the products star.
The freebie starter is a casserole of tiny shiny seasonal vegetables, sitting on a croque of sea salt, dip into sorrel sauce with Paolo Vale's long titanium forks. Different breads, butters, a few warm flaky pastry wrapped cèpes, a glass of champagne.
Sip Coteaux du Languedoc, Domaine de Montcalmès 2008 to match a choice of four starters : Foie Gras : Legumes et Fruits : Saint-Jacques, Alba truffles and the must- taste gamey Paté chaud de perdreau au chou :
Middle courses are flagged : Homard : Turbot, olives : Bar, fenouil, citron : Saint-Pierre, navets, raisins. Perhaps the Pinot Noir Chambolle-Musigny – Clos Du Village 2008 A Guyon.
And mains of Ris de Veau, salsifi for Ashton (sweetbreads, opened out, stuffed with preserved tomatoes, breaded, cooked on the breaded side so the heat slowly penetrates the flesh, preserves its tenderness). Agneau épicé, artichauts : Venison, pepper sauce or  soothing chicken Albufera : Alba truffles. The grenache-syrah Rasteau Domaine de Beaurenard 2009 an excellent match.
Cheese by Monsieur Antony and desserts include :
Chocolat de notre Manufacture (at the Bastille) :
Vacherin Exotique : Baba au Rhum (created at the Louis XV, Monte Carlo) Agrumes, to cleanse the palate : Hazlenuts : Poire :  finish with fresh fruit sorbets and tisanes infused with bucolic herbs cut to order.
« There's no secret that Monsieur Ducasse intends to keep the 3- Micheln stars won by Yannick Alleno », says Frédéric Rouen. Well, if Figaroscope's « four hearts » are a barometer there shouldn't be anything to worry about. « Genius in the cooking » they say. A remarkable experience. Book well ahead.
228 rue de Rivoli, 75001
T: 01 44 58 10 10
Lunch 130€ : Dinner 250-300€ : Menu Collection 380€
Shut Sat-Sun
New on the left-bank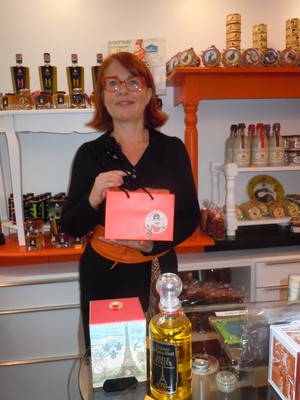 Stylist Valérie Bloch's bright orange jewel-box boutique is inspired by her love of fashion and gastronomy.  The mini-concept store is located just across from Agapé Substance and next-door to Epure, their buzzing wine bar. Pop in for unique gifts "Made in Paris". That's a book? Look inside, its packed with goodies, honey, jam from Jardins de Marie, a pot of caviar Sturia, a bottle of Chateau d'Estoublon's amazing olive oil. Add designer chocolate lollipops and Eiffel Towers, charm bracelets. Beautiful ideas for family and friends saying, "J'Aime La France!" From 2€.
Ma Collection, Marchande de Saveurs,
33 rue Mazarine, 6th
M: Odeon
T: 01 46 34 76 82
No site yet
But I'm on the right-bank!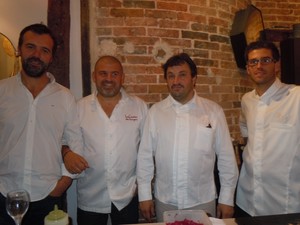 Ask chefs Yves Camdeborde, Christian Constant and Christain Echtebest where they shop for artisan smoked salmon, foie gras, caviar, tarama, smoked fish, jars of confit de canard or even gift packs. "J. Barthouil", they'll tell you. Until recently a best kept secret as Barthouil's based in south-west France at Peyrehorade, have been since 1929, so everyone ordered on line. The good news is they just opened a "petite maison Landaise" in the Marais, just round the corner from the Marché des Enfants Rouge, the oldest covered market in Paris (1628). Pop in for tastes, a glass of wine, the products are exceptional.
J. Barthouil
41 rue Charlot, 4th
M: Filles de Calvaire