Virtual Tour of Paris: 10th arrondissement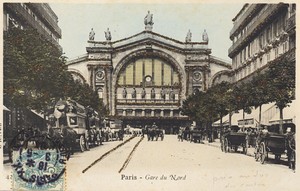 For me, the 10th . . . is a neighborhood of poets and locomotives . . . propped up by two railway stations.
—Léon-Paul Fargue from his 1939 book Le piéton de Paris
10ème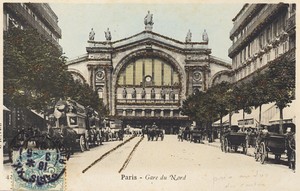 Home to two train stations—Gare de l'Est and Gare du Nord (where the Eurostar will whisk you to London in 2 1/2 hours)—this is a working-class neighborhood of immigrants. The tradition goes back to the end of the Franco-Prussian war in 1870 when train loads of refugees left Alsace-Lorraine and made the 10th their home. In his book L'Assommoir, (a tale of 19th-century working-class Paris) Emile Zola described the area thus: ". . . and the chests were hollow merely from inhaling this air, where even gnats could not live, for lack of food." Still, Jewish refugees arrived from Eastern Europe in the early twentieth century (some, unfortunately were shipped back east from the Gare de l'Est during Nazi occupation, never to return). Today the population includes many North Africans, Turks, Chinese and Indians.
The area around the Canal St Martin (which was slated to be paved over with an eight-lane highway in the 1960s), is described as "up-and-coming." Artists are moving in, quirky cafés are springing up and even a quirky museum, the Musée de l'Éventail (decorative fans) can be found here.


Christopher Measom combines his love of history, art, and travel to create books like "Paris, Wish You Were Here!" and "The Little Big Book of Ireland." He spends most of his time in New York (an artsy historic place) working on all kinds of books for Night & Day Design.
Leave a reply
Your email address will not be published. Required fields are marked *