Angelina's 110th Birthday : Le Tournesol : Cantina Di Luca : Thoumieux News & Lignac's Bakery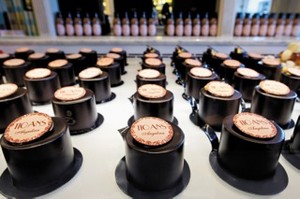 After 110 years Angelina still shines with the handsome belle-epoque décor created by architect Edouard-Jean Niermans.  Proust, Coco Chanel (who only sat at Table 10), Cocteau & Co., came to sip velvety hot chocolate, share gossip, eclairs, lemon tarts and Angelina's signature Mont Blancs.
Owned since 2005 by Groupe Bertrand, expanding in France and abroad, Angelina is now found in luxurious locations such as: Château de Versailles, the Louvre, Musée du Luxembourg, Jardin d'Acclimatation, Palais des Congrès,  Galeries Lafayette Haussmann and recently, the left bank at 108 rue du Bac.
Ask anyone patiently waiting in the line on rue de Rivoli what they'll order, "the Mont Blanc" they'll shrug, it translates into every language.
Someone tell Obama, Putin, Cameron and Co. all the world's problems could be solved here over a hot chocolate guys.
226 rue de Rivoli, 1st
M: Tuileries
Open: 7/7
T: 01 42 60 80 00
Le Tournesol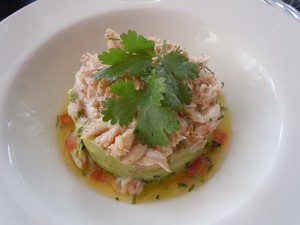 Entirely renovated in the spirit of the 1920's Le Tournesol is near La Maison de Radio France, below Passy and minutes from Balzac's romantic maison, which you can visit after lunch.
Inspired by the young owner Amélie Vidalenc, who's family are respected hôteliers, the stunning Klimt inspired décor shines like golden tournesols (sunflowers) interesting neo-brasserie features are created with flair by set designers Laurence and Frédéric Cerato, for whom this is their first restaurant.
The menu, which changes each week, is interpreted by young talent Julien Durosier, ex-L' Hôtel Costes. Starters include Gâteau de tomates confites et chévre fondant: Pumpkin soup with ginger: Avocado/crab. Costes-style dishes that please the chic local clientéle. Salads, for the ladies who do. As well as their beloved tartares, traditional and aller/retour. Bacon cheeseburger and chips for Ashton: Linguini aux cépes: Cocotte de poulet aux morilles: Tender steak de thon laqué balsamique or with roquette and olive oil au citron. Follow with Saint Marcellin cheese and finish en douceur with Lemon Meringue Tart: Red fruit Pavlova:  ice cream and sorbets by Pédone.
From the wine card, a glass of Côte-du-Rhône Parallèle 45 Paul Jaboulet aîné 2010 (5€). Bordeaux de Maucaillou 2010 (22€) or Sancerre P. Jolivet 2011 (25€).
2 avenue de Lamballe, 16th
M: Passy
T: 01 45 25 95 94
Open 7/7 from 11hr
Valet parking from Mon-Sat
Average Spend: 45€
Heated Terrace overlooking the Seine

Cantina di Luca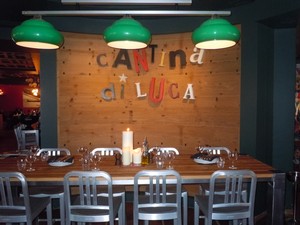 Remember Cantina di Luca, next door to the Crazy Horse? So successful that owner Nicolas Richard and Italian chef Ciro Polge have launched another, just off the Champs Elysées, in the former Cou de Giraffe.
It's Little Italy, no passport required just a healthy appetite. Décor's bright and beautiful, the golden Morello Forni pizza oven reigns supreme and produces, say, Ancelotti, Monica Bellucci ("I want her", sighed Ashton) Dino Zoff, Cesare e Paolo Maldini pizzas made with four- day fermented dough, crisp and delicious.
Tender pastas, creamy risotti alla Milanese/with scampi and lemon: Carni includes Scaloppina alla Milanese, Osso Buco. Wines by the glass from 5€ include Bianco di Puglia white and Montepulciano red, or go for a bottle at 28€.
"Du bon, du gai, du savoureux, qui ne ruine pas" says gastronaut Gilles Pudlowski. He's right on the money, honey. See you there.
7 rue Paul Baudry, 8th
M: Miromesnil,
T: 01 56 88 29 55
Shut Sunday
Average Spend A La Carte 45€
Menu Bambino 15€

Thoumieux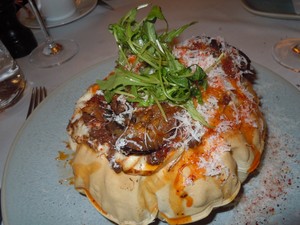 In Marseille this week Jean-Francois Piége was elected to the prestigious Les Grandes Tables Du Monde for his Michelin 2-star restaurant above the brasserie on rue Saint Dominique.
With a pâtisserie opening opposite Thoumieux, a new book (in English) and as President of the jury of "De L'Ecole aux Etoiles" which encourages young talent, JF says it's all going well.
Noticed a few chefs eating chez lui, at Thoumieux, including the Duke of Fish, Jacques le Divellec, who just sold his iconic restaurant Le Divelllec to Jean-Claude Costes. Last service is October 31st.
Påtisserie Lignac Trocadero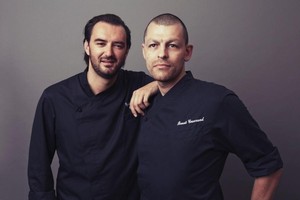 The new Lignac's located in a former neighbourhood boulangerie, the owners having retired, so, Cyril and pastry wiz Benoit Couvrand have launched the second pastry shop/bakery following the sweet success of Lignac in the 11th on rue Paul Bert.
Taste the multitude of beautiful breads displayed on le mur á pains". Tarte myrtilles/cassis: baba au rhum, eclairs, jams, cookies, chouquettes, L'Opera, vanilla Chantilly cream, Flan å la vanilla Bourbon, and marvel at the Boule de Noël XXL, a red chocolate ball covered in edible velvet, available in limited edition from 13-31 December (95€).
Delicious fresh salads and sandwiches to take out are the lunchtime formula from 8.90-11.50. Delicious. All the goodies are made in the below stairs bakery.
Lignac's the high-energy chef, with three restaurants: Le Quinzieme: Le Chardenoux bistro and the left-bank bistro, Chardenoux des Prés. Add his state-of-the-art cookery school Cuisine Attitude and he's coach to contestants on M6's Top Chef, plus there's several cookery books under his belt and magazine titles. Phew!
Lignac says he can't live without his Laguiole knives, "emblems of my region". And a Microplane grater: look on this site, "I'm using lots of zestes d'agrumes: citron: pamplemousse: cedrat at present", he says.
Chef keeps fit horse-riding in the Bois de Boulogne, jogging and swimming (when does he find the time?).  Says he multi-tasks easily because, "I'm so impatient, excessive!"
In Paris Lignac recommends buying cheese from Michel Foucherau, fruits from Harry Cover, 208 rue de Grenelle, 7th his butcher is Hugo Desnoyer and charcuterie comes from Da Rosa.
Cyril recommends Le Dictionaire Amoureaux de la Cuisine by Alain Ducasse as a must-have for any wannabe chef. Inspiration comes from listening to music by Sinatra, Otis Redding, Coldplay, or studying designers such as YSL: Alaia: Lagerfeld: Marc Jacobs: Christian Louboutin.
La Påtisserie by Lignac,
2 rue de Chaillot, 16th
T: 01 47 20 64 51
M: Iena/Alma Marceau
Shut Tuesday – Open from 7hrs-20hrs
Leave a reply
Your email address will not be published. Required fields are marked *