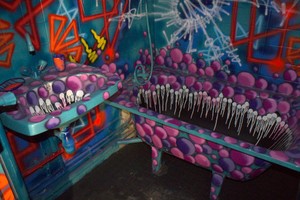 Lined up on a derelict residential block, hundreds of art lovers are waiting desperately to get inside before it's reduced to rubble in just a few weeks. But far from a wasteland, the humble high-rise building in the 13th arrondissement, has been temporarily transformed into a temple of urban art – the 'Paris Tour 13'. The bright-orange building is playing host to about 80 of the world's finest street artists, who have been let loose on the 36 apartments of the former social housing site. Inspired by gallery director Mehdi Ben Cheikh, and with the support of local council, the hugely popular public art project is being ticketed as the biggest collective exhibition of its kind. But just weeks remain before the site is again transformed, this time into pieces, with its scheduled demolition at the start of November. Entering its doors, the smell of fresh paint and an explosion of colour and shapes surrounds the senses. Here, nothing is spared from the spray-can to create a fascinating array of urban art, which explores themes from the eccentric, to playful, political and more. Some rooms house almost nightmarish realities, with dark, frightening creatures stretching the length of the walls and ceiling. While in another, doors, windows and cupboards are arranged in diagonal symmetry in an slopping, Alice in Wonderland-style room. Others make a statement – as a spiral of empty spray cans drop from the ceiling like missiles, carrying the message "From Syria, with Love." For safety reasons, only about 50 people at a time are allowed inside the building so expect lines at least three times longer than the Louvre. In some cases, there is more than a six-hour wait. But once (finally) inside, it will not disappoint and likely inspire you to take a closer look for art through Parisian streets on the walk home. Following the demolition, pictures of the building will go online for just 10 days for viewers to click and save their favourites. For more, visit this
site
. Paris Tour 13 5 Rue Fulton, 75013 Metro: Quai de la Gare Open: Tuesday – Sunday, 12pm – 8pm Free
SUBSCRIBE
ALREADY SUBSCRIBED?
BECOME A BONJOUR PARIS MEMBER

Gain full access to our collection of over 5,000 articles and bring the City of Light into your life. Just 60 USD per year.

Find out why you should become a member here.

Sign in

Fill in your credentials below.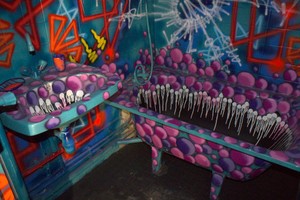 Lined up on a derelict residential block, hundreds of art lovers are waiting desperately to get inside before it's reduced to rubble in just a few weeks.
But far from a wasteland, the humble high-rise building in the 13th arrondissement, has been temporarily transformed into a temple of urban art – the 'Paris Tour 13'.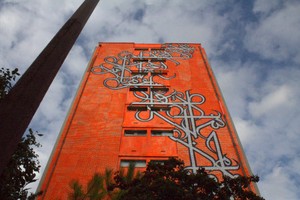 The bright-orange building is playing host to about 80 of the world's finest street artists, who have been let loose on the 36 apartments of the former social housing site.
Inspired by gallery director Mehdi Ben Cheikh, and with the support of local council, the hugely popular public art project is being ticketed as the biggest collective exhibition of its kind.
But just weeks remain before the site is again transformed, this time into pieces, with its scheduled demolition at the start of November.
Entering its doors, the smell of fresh paint and an explosion of colour and shapes surrounds the senses.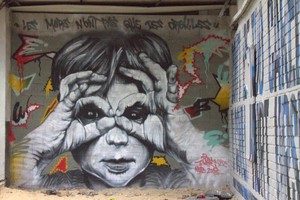 Here, nothing is spared from the spray-can to create a fascinating array of urban art, which explores themes from the eccentric, to playful, political and more.
Some rooms house almost nightmarish realities, with dark, frightening creatures stretching the length of the walls and ceiling.
While in another, doors, windows and cupboards are arranged in diagonal symmetry in an slopping, Alice in Wonderland-style room.
Others make a statement – as a spiral of empty spray cans drop from the ceiling like missiles, carrying the message "From Syria, with Love."
For safety reasons, only about 50 people at a time are allowed inside the building so expect lines at least three times longer than the Louvre.
In some cases, there is more than a six-hour wait.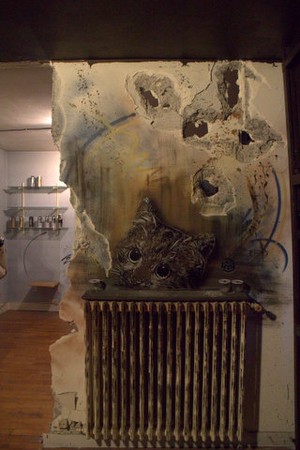 But once (finally) inside, it will not disappoint and likely inspire you to take a closer look for art through Parisian streets on the walk home.
Following the demolition, pictures of the building will go online for just 10 days for viewers to click and save their favourites. For more, visit this site.
Paris Tour 13
5 Rue Fulton, 75013
Metro: Quai de la Gare
Open: Tuesday – Sunday, 12pm – 8pm
Free
More in 13th arrondissement, exhibition, Paris Tour 13, street art
---
---