Lazy Afternoons at Canal Saint-Martin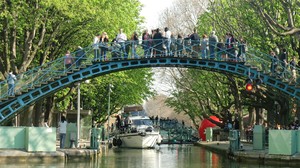 The Canal Saint-Martin is another of those lovely treasurers in Paris often not known about by the average traveler. It is a long canal within Paris that connects the Canal de l'Ourcq to the Seine, running underground between Bastille and Republic. When the canal reaches Bassin de la Villette, it widens into what is the largest artificial lake in Paris. The Bassin de la Villette is in the 19th arrondissement and it was filled with water on the 2nd of December 1808 well in advance of the termination of the construction of the canals.
This network of canals and the artificial lake were part of a public-works project ordered by Napoleon 1 in 1802, in order to create a waterway to supply Paris with fresh water. The need for potable water was indicated for the ever growing population of Paris in addition to being necessary to help curb diseases as dysentery and cholera. An added bonus was to keep the Seine free of boat traffic while enabling a supply of all basic needs from building materials to food to easily pass into the city.
In 1802 digging began for Canal Saint-Martin and continued until 1825 with funding for its construction from a tax on wine.
There are four locks along the canal which enable travel from one section and elevation to another. Today, one can take a barge tour along the canal to experience passing through these locks and along the canal. The tours last about two and a half hours and the one with Canauxrama departs from Port de plaisance Paris-Arsenal at 9:45 a.m. and 2:30 p.m. This is near to Bastille. There is also a boarding point at Number 1 Jean Jaurès Avenue in the 19th arrondissement in front of the Jaurès Cafe. Departure times are at 9:45 a.m. and 2:45 p.m.
The neighborhoods around Saint-Martin have become very popular. On Sundays the quais between Valmy and Jemmapes are closed to traffic from 8:00 am to 10:00 pm in the summer (10:00 am to 6:00 pm in the winter). On sunny days the waterways are crowded with pedestrians and bikers flock to the canal-side bike path starting at Rèpublique.
The area has been featured in a variety of songs and movies. Les mômes de la cloche is one of the better known songs about the canal made popular by Edith Piaf in 1936. The film most often associated with Canal Saint-Matin is Hotel du Nord produced in 1938. The Hotel du Nord is no longer an hotel, but it is still there and is now a lovely bar and restaurant that often features live music.
Of particular interest are the two ponts tournants. There is the pont de la rue Dieu and the pont de la Grange-aux-Belles. A pont tournant is swing or moveable bridge. A swing bridge has as its primary structural support a vertical fulcrum from which the bridge can pivot horizontally thus opening like a gate. When the bridge is closed it functions as a road (and sometimes a railway). At the pont tournant due Dieu one can stand along the arched bridge while the swing bridge opens and closes.
The barge tour and a visit to Canal Saint-Martin offer a unique, entertaining and relaxing excursion while in Paris. If the weather is sunny, the barge trip is absolutely magical. This is the perfect Sunday afternoon experience while in Paris.
photos by Loui Franke
Loui Franke is author of Parisian Postcards: Snapshots of Life in Paris.

Subscribe for
FREE

weekly newsletters.
BonjourParis has been a leading France travel and French lifestyle site since 1995.
Readers' Favorites: Top 100 Books, imports & more at our Amazon store
We update our daily selections, including the newest available with an Amazon.com pre-release discount of 30% or more. Find them by starting here at the back of the Travel section, then work backwards page by page in sections that interest you.
Current favorites, including bestselling Roger&Gallet unisex fragrance Extra Vieielle Jean-Marie Farina….please click on an image for details.
Click on this banner to link to Amazon.com & your purchases support our site….merci!
Leave a reply
Your email address will not be published. Required fields are marked *