Film Review: The Great Gatsby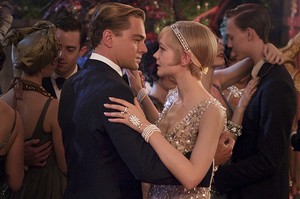 Honorary Parisian and Pere Lachaise resident, Oscar Wilde, said:  "Moderation is a fatal thing. Nothing succeeds like excess."
This is a sentiment Jay Gatsby shared.
***Warning: This review contains plot spoilers***
Baz Luhrmann explores the world of excess and beyond in his new film, The Great Gatsby, based on the novel written by former Paris resident, F. Scott Fitzgerald. Luhrmann also directed Moulin Rouge, set in 1900s Paris.
In 1925, F. Scott lived at 14 Rue de Tilsitt in Paris, and was famous for his Gatsby-like antics, including drunken parties and debauchery. F. Scott and Zelda's lives in Paris, like Gatsby's in West Egg, were a cautionary tale of alcohol and excess.
F. Scott Fitzgerald arrived in Paris in 1924 as a celebrated literary star for his book This Side of Paradise. He and his wife Zelda spent the next seven years in Europe. It was in France that he wrote The Great Gatsby, spending a summer in Saint-Raphaël in Southern France to complete the novel.
Nearly a century later, the story remains not only popular, but a major box office draw.
The film opens with Nick Carraway (Tobey Maguire) recounting his summer with Gatsby to a doctor in an insane asylum (a Luhrmann invention and one of the many spots where the filmmaker takes liberties with the beloved classic). Nick arrives in West Egg a poor, sometimes-bond seller, sometimes-writer, always-fish out of water. It is through his eyes we experience his next door neighbor, Jay Gatsby.
Jay Gatsby (Leonardo DiCaprio) is a rarely-seen man of legend whose parties are the talk of the town, whose reputation precedes him and whose life is one big lie.
DiCaprio excels as Gatsby. His affected WASP accent, which reflects Gatsby's social-climbing aspirations ("Fine, Old Sport") is one of many subtle performance choices. Luhrmann and DiCaprio previously worked together on Romeo + Juliet when DiCaprio was a teenager. The star's real life could be compared to that of Gatsby: a man of mystery from humble beginnings, who forged his way to the top. Perhaps he doesn't have to play the role too hard.  DiCaprio remains an immensely talented (and private) actor, who is oft overlooked by the Academy. If this role doesn't garner a nomination, perhaps it will bring him closer to a win.
Gatsby engages Nick, takes him under his wing and invites him to his lavish parties. Nick is the cousin of Daisy Buchanan, who is "The One That Got Away". She is Gatsby's true love. Everything he does is for Daisy: the money, the mansion, the parties – it's all for her. The parties go on in the futile hope she may show up one night. Daisy and her brute husband Tom live across the bay in East Egg.
Nick becomes a pawn in Gatsby's quest to win Daisy, and falls under Gatsby's manipulative spell. Nick, who stays in a cottage, is impressed by Gatsby's life of glitz, tall tales and decadence. And luckly for Gatsby, so is Daisy.
All-American Daisy Buchanan, played by British Carey Mulligan, delivers a powerhouse performance. In one fell swoop, she is the the victim, the victimizer and the Golden Girl. She entwines with Gatsby again, leaving her philandering husband, Tom, to put the pieces of the puzzle together. Tom's mistress (Isla Fisher) has a brilliant, albeit brief, performance.
Daisy, torn between Tom and Gatsby, is reminiscent of F. Scott's Zelda: an erratic, emotional character who seems to leave wreckage from her path. The love triangle spirals downward at lightning speed, and culminates in a denouement that leaves DiCaprio's character with the same fate as his last Luhrmann film.
But perhaps the real star of the film is Luhrmann himself.
Behind the directorial lens, he breathes life to Fitzgerald's words, in a more grandiose way than Robert Redford did when he played Gatsby in 1974.  Luhrmann brings the tale to life: the mist, the ominous green light, the dazzling parties, and the emotion, via a melange of visual amuse-bouches.
Like his other films, music plays a large role, with a soundtrack that includes Jay-Z, Lana Del Rey and more. The emphasis on score, color and set, is evidence of Luhrmann's extensive theater background. The film is an experience from top to bottom; from the long, wide shots of New York, to the decadent party scenes, to the tight close-ups – so intimate, we can see Tom Buchanan's contact lenses.
Luhrmann's film is just like the book: it is the anatomy of a downfall. It is as thrilling as it is cautionary.
For Gatsby, the green light across the bay symbolized Daisy – the ungettable "get."
The viewer is left wondering: what happens after we get the one thing we want?