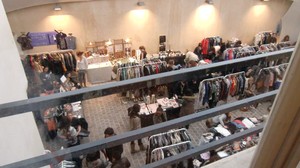 Are you a fashion victim? Do you sometimes want to buy something that "simply everyone will be wearing"? An ever changing kaleidoscope of looks, accessories, colors, shapes and bling assault us everyday and for every season. How can we not be a fashionista once in awhile?
Keeping up with fashion can be very expensive and so when that fashionista urge strikes it is good to know where to find some bargains.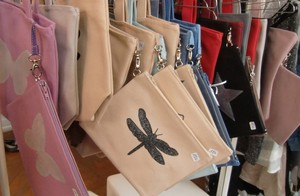 This weekend I came upon a haven for all the Fashion Victims at La Cour du Marais, 81 rue des Archives in the third arrondissement at an event called Vide Dressing Violette Sauvage. They had three floors chock full of amazing clothes, shoes, jewelry, furs, handbags and every other fashion accessory that you might imagine. Interspersed were artisans making and displaying handmade jewelry, handbags and gift items. One young woman was knitting with a very thick wool from which she made fun and festive purses and glass cases.
If you were looking for designer or vintage there was a plethora of choices. I had seen a lovely Christian Lacroix jacket in a magazine and what good fortune to find it there for just 40 euros. My friend, Alice who accompanied me, is a magnet for bargains and she left with two bags full of clothes and jewelry at an average price of 10 euros a piece. It was an amazing experience just to watch her in action as she maneuvered through the piles of clothes and bling-bling.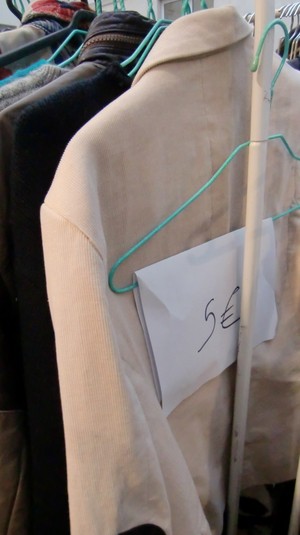 This event is offered at the end of each month and if you can not wait for the end of the month, there is another Vide Dressing at 5 rue d'Aboukir in the second arrondissement.
So, there you have it. If you too are a fashionista or just interested in a bargain check out Vide Dressing Violette Sauvage.
La Cour du Marais, 81 rue des Archives, Paris 3eme, métro: Arts & Métiers, Temple and Rambuteau. (Look for this to be open the last weekend of the month.)
5 rue d'Aboukir, Paris 2eme, métro: Etienne Marcel and Palais Royal (Look for this to be open Tuesday through Saturday from noon to 7:00 pm.
Note: Fashionista is a term supposedly coined by Oscar de la Renta for that irresistible urge to have the latest fad in fashion.
photos by Loui Franke
Loui Franke is author of Parisian Postcards: Snapshots of Life in Paris.

Subscribe for
FREE

weekly newsletters.
BonjourParis has been a leading France travel and French lifestyle site since 1995.
Readers' Favorites: Top 100 Books, imports & more at our Amazon store
We update our daily selections, including the newest available with an Amazon.com pre-release discount of 30% or more. Find them by starting here at the back of the Travel section, then work backwards page by page in sections that interest you.
Current favorites, including bestselling Roger&Gallet unisex fragrance Extra Vieielle Jean-Marie Farina….please click on an image for details.
Click on this banner to link to Amazon.com & your purchases support our site….merci!