Taillevent Celebrates the 10th Fête de la Gastronomie
Le Taillevent— created in 1946 by André Vrinat and subsequently directed by his son Jean-Claude (who went to the great restaurant in the sky in 2008)– is located on a quiet street near the Arc de Triomphe in the former hôtel particulier of the Duc de Morny. In 2011 the legendary maison was acquired by the Gardinier family – owners of Les Crayères, Reims, the Château Phélan Ségur and acres of Florida orange groves.
The handsome mansion boasts Louis XVI woodwork, limited edition pieces by Cristal Saint Louis, designer Ora Ito's candelabra "Arborescence", Bernardaud porcelain and Christofle tableware. To celebrate the upcoming Fête de la Gastronomie (September 23-25), Taillevent's "Table d'Exception" is set in beauty in the restaurant's Salle Lamennais.
The discreet and talented Alain Solivérès (2-Michelin stars) heads the kitchens and team of 15 cooks and 5 pastry chefs. Taillevent is the reference to perfection of food and wine "à la française". Here you'll discover the elegance and art of decanting, flambage, carving and dressage en salle, orchestrated under the watchful eye of Director Jean-Marie Ancher and 17 head waiters. (Lunch 88€ Dinner from €155-295 + wine)
Taillevent's the restaurant that inspired the 2007 film Ratatouille; Pixar's scriptwriters reproduced the restaurant in all its details, going as far to ask Jean-Marie Ancher – Taillevent's charismatic director since 1975 – to lend his voice; wiz ze French accent, bien sûr!
The maison's excellence is recognized by the French government who awarded it Living Heritage (EPV), the brand recognition created by the state to reward French artisans showing unique craft skills.
Workshops:
For the Gardinier brothers, the Fête de La Gastronomie is about sharing and transmitting knowledge of the French touch and this will take place via the workshops available to the public and organized with the help of the prestigious Ecole Hôtellerie de Paris – CFA Médéric. Expect to learn the art of flambage, as in Crepes Suzette; carving; plus there will be pastry demonstrations and the history of cutlery making explained by the Conservateur of the Musée Christofle.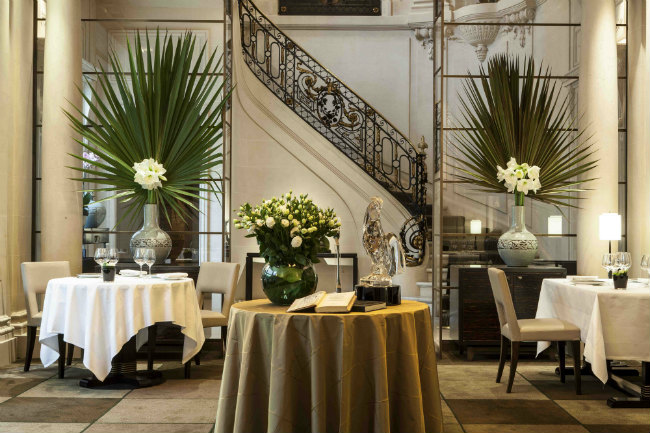 Need to Know :
Fête de La Gastronomie – September 23-25th
Exceptional Table & Workshops –
Le Taillevent Saturday, September 24th, 2016
15, rue Lamennais 8th
From 2pm-6pm
Free Entry
Workshops every 30 minutes – from 14:30 to 17:30.
Tel: +33 (0)1-44-95-15-01
Lead photo credit : Le Taillevent
More in French chefs, French food, gourmet food, Le Taillevent, Michelin, Michelin stars, Paris pastry
---
---