Restaurant Tips for First-Time Visitors to Paris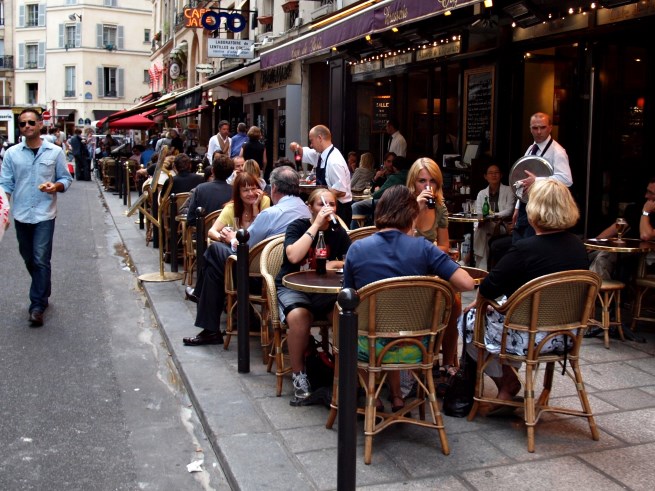 Editor's note: A British expat who spent time living on the Rue Monge in the Latin Quarter shares his insights for first-time visits to Paris. Note that Nick's lamentations are directed at the eateries targeting tourists, and not the neighborhood bistrots and neo-bistrots which are today undergoing a real culinary renaissance.
"Eating out" is one of the great joys of Paris, but after six weeks you can have too much of a good thing! Moreover, eating out in Paris on a limited expense budget requires great skill and judgement if you want to avoid the "tourist menu" offerings.
I first visited Paris in 1973 when English cuisine was at a particularly low point. Everything in Paris tasted better, even frites were better than chips. French cuisine was undoubtable the best in the world, but in the last forty years, the rest of the world has moved on while the French, and Parisians in particular, rested on their laurels. First the Italians learned to cook, then the Spanish, and ultimately, quelle horreur, even some English learned to cook! In Paris, the fine dining remains superb, but the tourist food has declined significantly. Originally produced in restaurants' own kitchens by trained and qualified French chefs, traditional cooking has become too expensive and hampered by a shortage of French chefs who can earn more money in London, New York or Shanghai. As a result, the food is sometimes produced in cook chill factories located in the "banlieues" (suburbs). It is then reheated in microwaves and arrives at your table with no Gallic French input whatsoever. Of course similar situations exist in most European capitals, but the others do not claim global culinary superiority! To find good but affordable French food in Paris, there are a number of essential rules that need to be followed; mine are as follows:
Never eat at a restaurant that employs a hustler to stand outside and drag people in
Never eat at a restaurant that has international flags outside – this rule is even more important than rule 1 if said flags are plastic!
Never eat at a restaurant with menus displayed outside in international languages
Never eat at a restaurant with a good view – the worst duck I have ever eaten was accompanied by an enchanting view of the Panthéon
Don't eat in St Michel – a culinary depression comparable to Earls Court in the 1980s – just walk on a few blocks and the food improves immeasurably.
Try to eat where the French eat – look for places with people smoking outside.
Choose restaurants with addresses in double digit arrondissements – ordinary Parisians have been priced out of arrondissements 1 – 9, so if you want to eat where they eat, you need to choose a restaurant in arrondissements 10 – 20. For example, the restaurants in the 11eme, 12eme & 13eme are invariably better value than those in the 4eme, 5eme & 6eme.
Look for restaurants displaying the black and white "fait maison" (home-made) logo in the shape of a casserole with a roof as a lid featured beside individual dishes on the menu to indicate that they were prepared and cooked in-house.
To find the best restaurant in any French town or city, hang around outside the Hotel de Ville, Poste de Police, or Maison Tribunal just before lunchtime, wait for the fat middle aged men with expense accounts to come out, follow them into their chosen restaurant and book a table for the evening.
Three examples of good French restaurants of varying cost are:
€ Cheap – L'Ecurie, 2 Rue Laplace, 75005
A delightful little restaurant in a former stable, with the original hayracks still on the walls, hence the name. It is completely unchanged since the mid-70s with candle lit tables, green salad with blue cheese dressing, and steak & chips washed down with a pichet of vin rouge. For added authenticity, they have a WC traditionnel and do not take credit cards! Upstairs has views of the side steps of Saint-Étienne-du-Mont, 51 Rue de la Montagne Sainte Geneviève, as featured in Woody Allen's "Midnight in Paris", the downstairs cave (basement) is ultra-atmospheric.
€€ Medium – Le Buisson Ardent, 25 Rue Jussieu, 75005
The Buisson Ardent has a view of the Pierre and Marie Curie University, which can best be described as "a monstrous carbuncle on the otherwise unblemished face of the 5eme". You would need to sit opposite the Montparnasse Tower to get a worse view of Paris! As soon as the amuse bouches arrived we knew that the rule 4 (listed above) worked! All the food was excellent, with the added bonus of professional and friendly service. We paid 50 euros a head including champagne cocktails and a good bottle of wine, so little more than bistro prices for a genuinely fine dining experience. Unless you can afford the Tour d'Argent, you are unlikely to get better French food in this part of Paris – although the Tour d'Argent does have a better view!
€€€ Expensive – Brasserie Bofinger, 5 Rue de la Bastille, 75004
This beautiful restaurant, just off Bastille, seems expensive when they give you the menu but if you turn to the back page you will find the menu fixe options – the champagne, oysters and Chateaubriand plus desert make an excellent combination and if you wash it down with a pichet de vin maison it's not too expensive!
Lead photo credit : The Bistros of Paris, photo by Zoetnet
Leave a reply
Your email address will not be published. Required fields are marked *
Comments