Paris Favorites: Meet Contributor Leah Walker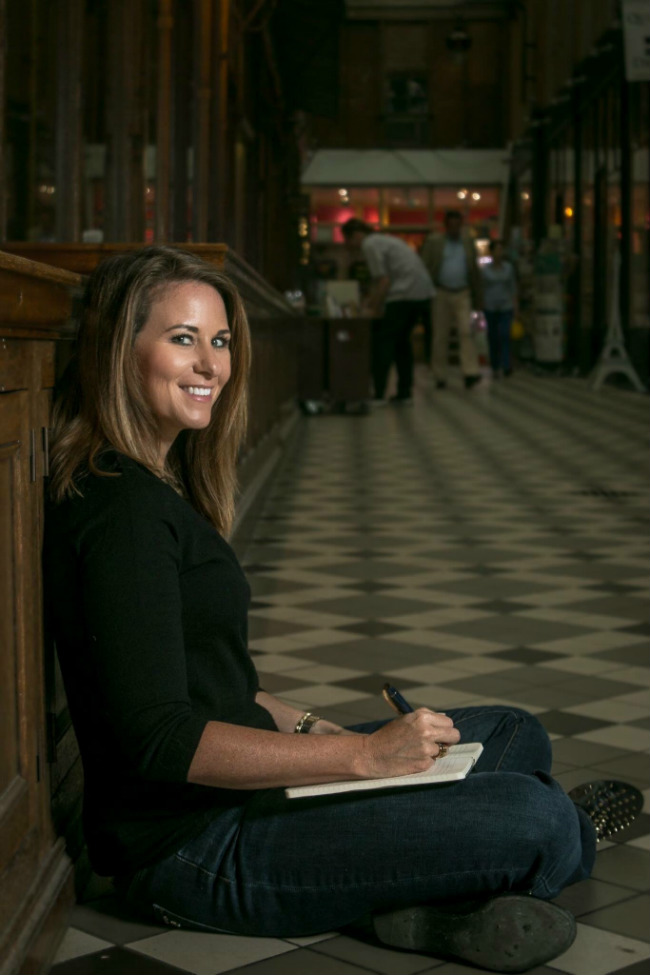 Have you seen the new France Today magazine? Now available on the newsstand, our sister publication has unveiled a new look! For the June-July 2016 issue, France Today showcases insider recommendations from some of the Paris-based journalists and bloggers who write for Bonjour Paris. These interviews will be published in full right here on Bonjour Paris, so that you can learn more about these fabulous writers. Enjoy! (Corey Frye's interview can be found here, Lisa Czarina Michaud's here, and Kasia Dietz's here.)
Leah Walker is a luxury travel and food writer who has as many stories as she does shoes. Along with her website, LeahTravels.com, Leah freelances and has contributor/editor roles with The Daily Meal, The Daily Basics, Luxe Beat Magazine, Forbes Travel Guide, and is a travel ambassador for Atout France USA. Leah's thrilled to call Paris home after being awarded the coveted three-year Compétences & Talents visa from France, though her talents don't extend to speaking French. Yet.
Favorite restaurant or wine bar in Paris? As the Michelin two-star chef and owner of Akrame, Akrame Benallal knows great food. However, it's his more casual restaurant, Atelier Vivanda, that makes me swoon. Located on rue Lauriston in the 16th, Atelier Vivanda only has a few tables, which are made from thick butcher blocks with giant steak knives stored in the tables. Specializing in meat and potatoes a million different ways, there's no pretense. There's also no reason to wear your best clothes, because you're sure to leave smelling like a Texas BBQ joint. I love Atelier Vivanda because it's a taste of home, with French flair.
Favorite dish or gourmet food item in Paris? Brillat-Savarin infused with black truffles. This triple cream soft cheese was created in the 1930s by Henri Androuët, and named after Jean Anthelme Brillat-Savarin, a 19th century writer and epicure. It is the ultimate indulgence.
The perfect day in Paris? Begins early and with blue skies. I set out on foot before the city awakens. I might have a specific destination in mind, but don't have a specific path or time to arrive there. I allow my nose to sniff out hot croissants and my eyes to find the previously undiscovered. My camera captures the details and characters that create the ambiance of Paris. I stop when I want to stop, and I go where I want to go. There's no objective, but to be enveloped by Paris.
Favorite walk? The essence of Paris is along the Seine, and my favourite walk is from Pont Alexandre III to Notre Dame. So many of Paris's treasures are seen on this path: Place de la Concorde, Les Invalides, Tuileries, Assemblée Nationale, Musée d'Orsay, Louvre, and Pont des Arts. Day or night, this stretch is magical.
Boutique for unique, unusual finds? Salons du Palais Royal by Serge Lutens is amazing if you love perfume. This shop in the Palais Royal is full of delicious, unique scents and is beautiful, to boot.
The best way to spend a Sunday in Paris? Pack a picnic and pick a park. Paris is essentially closed on Sunday, and parks are the backyards of Parisians. Parks are perfect for people watching, even on overcast days.
Photo credit : Leah Walker. Photo: Arnaud Moreau
Leave a reply
Your email address will not be published. Required fields are marked *
Comments