How to Enjoy a Perfect Parisian Picnic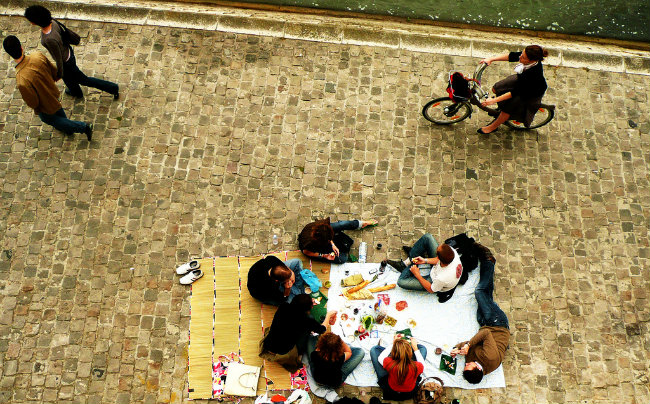 Springtime in Paris calls for picnics. Weather permitting, you'll need the perfect combination of supplies, friends, and location to enjoy some leisurely alfresco dining. Into the summer, with the sun setting late into the evening, you can easily spend the better part of a day lounging outside – so be sure to have a bit of SPF in addition to following these tips.
Location
Spreading your blanket out in the right spot should be the first point to address. You want to be sure you're in the right spot for the event. You don't want to be sitting along the cement banks of the river if your friends are prone to complain about slight discomfort.
The waterfront – both the Seine and the Canal Saint Martin – are perfect for picnics, but not for sensitive bottoms. Cement banks and cobblestones aren't the most comfortable, so generally you'll find a younger crowd in these areas.
While there are some green spaces that are OK to picnic, the more manicured gardens, like the Tuileries and the Luxembourg Gardens, are generally not the best spots to picnic as many lawns are off limits.
Parks, however, are more pleasant for stretching out in comfort. Parc des Buttes Chaumont and Parc Monceau are two excellent options for green lawns and pretty scenery. Families will want to go for parks and gardens instead of waterfronts – there's less worry for the little ones teetering along dangerous edges.
Supplies
There are a few basics to remember to pack into your bag for any Parisian picnic. A blanket, sheet, or towel is always a sure bet to spread on the ground. Cushions would be nice, but most picnics succeed without them.
From the kitchen, always grab a wine opener because, well, this is France. You'll inevitably need it. Plastic or reusable cups are also mandatory. I don't generally mess with plates and plastic cutlery, but that all depends on the fare that you'll pack. A good knife, however, always comes in handy to cut that aged cheese or to hack through a dried sausage.
I always find that a packet of wet wipes comes in handy, as well, since there won't always be a place to wash up before and after a picnic. I'm not a germaphobe, but the city can get pretty dirty sometimes.
Food and drink
Most importantly, you need to prepare the feast. No picnic is complete without food and beverages. Where does one even begin?
Think practically. You don't want to be sitting outside in the sun with food that should be refrigerated (ice cream, yogurt, mayonnaise). Go for a mix of items, both fresh and packaged. A selection of a few simple cheeses and dried meats is a good place to start. Think of solid cheeses – like Comté and Beaufort – to make sharing easier. In terms of charcuterie, great options are dried sausages, slices of ham, or even rillettes.
Hummus, tapenade, and other dips are also solid choices, especially since they don't become unattractive outside of the fridge. Pair them with fresh veggies like baby carrots or cucumber slices as well as crisps or tortilla chips. And of course a few baguettes are the cheap and easy way to round off the whole affair.
When it comes to sweets, macarons or any other bakery sweet will do – but again, nothing too creamy. I love the choux pastries at Popelini, but I learned the hard way that the cream can get quite messy after sitting out for a while.
Be sure to pack a bottle or two of something to drink. If you can keep it cold, white and rosé are always refreshing on a warm afternoon or evening, but a light red from the Loire also works well. You'll see Parisians drinking beer as well, but warm beer is far from the ideal drink.
Oh, and I suppose you should have some water or other soft drinks. I always tend to forget that part!
Bring all of the supplies and food together at the right spot, and all you need to do is invite a good group of friends – we can't help you with that one – to enjoy the perfect Parisian picnic!
Photo credits: Picnic by the Seine by Gideon/ Flickr; Picnic by the Eiffel Tower by Ryan Baumann/ Flickr; Picnic on the Seine by Karen Corby/ Flickr; Picnickers in the Park by Pascal Terjan/ Flickr
Lead photo credit : Picnic by the Seine. Photo: Gideon/Flickr
Leave a reply
Your email address will not be published. Required fields are marked *
Comments