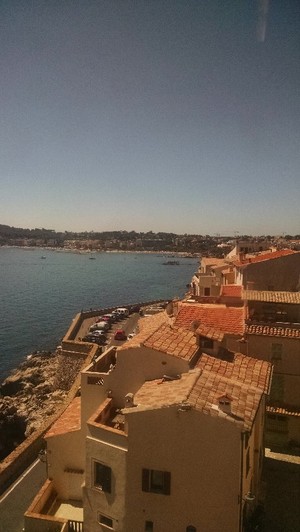 I met Pablo Picasso last week at the Chateau Grimaldi in Antibes – and it was an emotional experience.
The Chateau is a roman fort rebuilt in the 14th century, purchased by France, until 1924 occupied by military engineers, then abandoned – now owned by the city of Antibes and converted in the 1940s into an art museum.  It is an ancient stone structure situated on the ramparts of the historic and most ancient part of Antibes – a town on the Cote D'Azure between Cannes and Nice, reachable in 5 hours via tgv from Paris – where it overlooks the brilliant blues of the Mediterranean Sea under a shining expanse of sky.
Its first curator, Romuald Dor de la Souchere, through a connection with Picasso's good friend Michel Smajewski (known as Michael Sima, who was a student of Zadkine and a Paris artist first  introduced to Picasso by Gertrude Stein in 1934, and was visiting la Souchere at the time) cut a deal with Picasso in 1945– he could use an entire floor of the museum and its clean white walls as an atelier in exchange for a donation of some of his works to the museum
Picasso, who spent much time in that part of France,  had been looking for a place with large expanses of walls on which to paint  (he had complained that the State would not give him a large surface to decorate), and had even explored the purchase of the Chateau before Antibes beat him to the punch.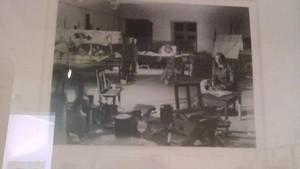 The deal was made – and in 1946, he was given the premiere etage, along with easels, tables, mattresses for resting, paint and brushes, a key to the room that he tied to his belt, two enormous projectors to light the place at night – and Sima available to take care of his every need (and to take photos of the sojourn using the projectors for light contrast). .
He worked here for several months – accompanied by his young paramour , the artist Francoise Gilot– and left behind 22 paintings and 44 drawings.   Over the years, he came back to work, and he also donated many more pieces – including  many ceramics.  As his donations increased, de la Souchere allocated more and more rooms to the display of Picasso works.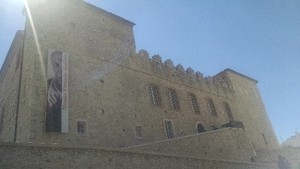 Finally, by municipal council vote in December of 1966, the Chateau Grimaldi was renamed the Musee Picasso.
I entered the museum under a Cote d"Azur sky after walking up a narrow cobblestone pedestrian rue, w through the marche', climbing the stone steps at the farthest edges of the old town and walking down a narrow pathway through equally old stone structures. Before seeing the works, I spent time exploring the Sima photos hanging on their own on the walls of a small room – the photos of the great man surrounded by the disorder of the room where he worked, as he painted and rested and greeted de la Souchere and others.
The feeling of having been there at the time – or at least knowing what it must have been like – is overwhelming.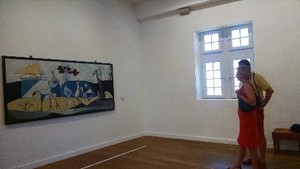 I explored the works on display – drawings and paintings and sculptures and ceramics – room after room – a feast of color and form.
Understand that my most loved works have always been those tethered rather more closely to reality but with a romantic fuzzing of the direct connection so that the image is created more by the use of colors and brush strokes and light than by a too close attachment to the original – and by this I mean of course the impressionism of a Monet where too close a regard changes the image from a depiction to a rush of color but, nevertheless, reality is intended.
In recent years, I have also developed a love for those works that intentionally are removed from the reality of what they depict and permit/require more personal  involvement from the viewer.  They, too, can be exciting and hold my attention.  Pablo Picasso is of course a master of that genre.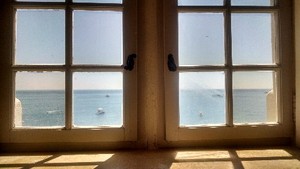 But not until I was able to look into his life and eyes through the photography of Sima, see his works on the white walls of the Chateau that had drawn him there, and also look out the windows of his atelier to see the city and the sea as he must have  – not until then did I find myself holding my breath and clasping my hands in such enjoyment.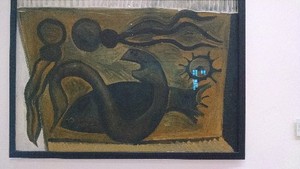 I passed by a room where his faun series was grouped; another, with his sea urchin and other still life paintings; still another with the cubist nudes that require some time to interpret – or can just be enjoyed for their colors and shapes; a wall of his brilliantly colored ceramic dishes; a case with his sculptures; and on and on; and  I ended in the large white room that was once his atelier and saw  the shining blue of the sea out one window, and the orange roofs of the ancient city out another; the evocative  Joie de Vivre painting  on a large expanse of wall,  Nature Mort au Possoins Noir across the room, the simple Les Clefs d'Antibes (the only work actually a mural on an existing wall – rather than being done on fibracement or plywood- because of the fragility of the wall surfaces); and a glass case of sculptures.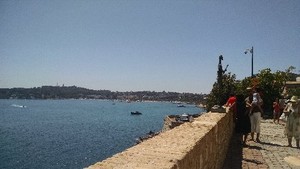 Finally, the back terrace – now a sculpture garden – where he must have stood and gazed out to sea.
I stood there and breathed deeply and though out loud how wonderful to have such a place in which to be creative. The man standing next to me, a French priest, agreed and we smiled at each other as we took in the view.  Art and beauty and nature – common denominators.
There was also a De Stael exposition at the Musee, and some other lesser artists on display.
I needed to come back two days in a row to take it all in.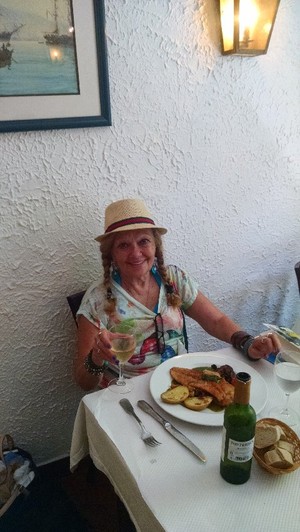 After the museum, I asked a worker in the gift shop where to eat some good seafood (having developed a taste for same after viewing so many depictions of sea life) and was directed to a small place on a side street – La Marmite – where the fish was fresh and beautifully cooked and served with some potatoes and ratatouille, the wine was chilled and perfect, and the service was personal, and the price reasonable.
Antibes is contiguous to the town of Juan les Pins, a vacation town with fabulous beaches and restaurants, which holds its famous jazz festival in July of each year.
Musee Picasso: Château Grimaldi, Place Mariejol
06600 Antibes ; Tél. : +33 (0)4 92 90 54 20 / 26 ; Fax : + 33 (0)4 92 90 54 21; open every day but Monday; closed Jan. 1, May 1, Nov 1 and Dec 25; from Sept 15-June 15 open 10-12 and 2-6 : June 15 to Sept 15 10-6 (til 8 on Wed and Fri during July and August)
La Marmite : 20 rue James Close; tel. +33493345679