Chalet des Iles : Saint-James Club Bar À Rosés : La Petite Cour : Terrace of the Week Buzz
No man is an island: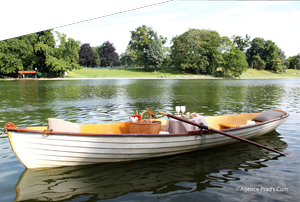 Alert readers know that Rafael de Montremy's picture postcard Chalet des Iles, is a firm favorite with BUZZ. Park easily alongside the lake, take the ferry across and it's instant holiday. For the summer season during the week, lunch, dinner, drinks, they'll happily prepare you a picnic, rent-a-punt.
Sunday Brunch, beloved weekly ritual in the Us of A, so often an awful experience in Paris, is worth the trip. Gunila Karlsen, the charming Swedish Guest Relations Manager, offers a chilled glass of champagne, you do the rest.
The buffet's perfect from fresh chilled juices, scrambled eggs, hot dishes, cold dishes, warm croissants, home-made jams, sweet and savory muffins, salads, cheesecake etc. And note Mediterranean style salads made with Salakis, the 100% low-fat delicious sheep's milk cheese. As well as a tour de France of seasonal cheeses.
Post lunch, discover the island, schluff under a centuries old oak tree, feed the ducks, play petanque, make a list of the 8 discs you'd take to your desert island. The wild flowers and herbs are fragrant and profuse, David Toutain would make a Michelin meal scavenging here. Personally I prefer Chalet des Iles' chef Claude Poncet's perfect Brunch interpretation.
Le Chalet des Iles, lac inférieur du Bois de Bologne,
Restaurant/Bar/Lounge
Porte de La Muette, 16th
T: 01 42 88 04 69
Sunday Brunch 50€ including flute of champagne
Live music
"Rosé Wine is bottled poetry"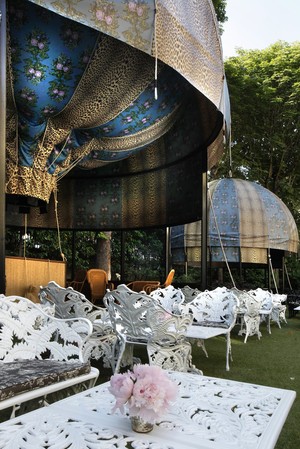 The Saint James Club, Paris, brings out the inner poet in everyone. The handsome restored Napoleon 111 château-hôtel, once home to the students of Fondation Thiers, is now an exclusive hôtel/ Michelin * restaurant/ Guerlain spa and private club.
Saint James opens to non-members at dinner, from 7pm, on reservation.
For summer, relax in the country garden, under a multi-coloured tonelle Montgolfière, designed by Bambi Sloane (see below) it was from this garden that the very first hot-air balloon flight took place, but no worries, it's well weighted down, you won't sail up, up, and away.
Sip fabulous cocktails, the accents on rosé, concocted by chef barman Judicaël Noel and, sommelier Micaël Morais, together with snacks by star chef Virginie Basselot (ex-Les Bristol, Paris). Stay for dinner, chill in the garden, or, if it's raining the neo-Dickensian Library Bar.
Can't bear to leave?
Get a Room:
There are 48 – décor, so British, by crazy chic Franco-American design fairy Bambi Sloane, who re-looked her father, Bill Sloane's NYC brownstone when she was just 13! Saint James' owners, the Bertrand Family, gave Ms Sloane carte-blanche to tell her stories in each room, think, John Steed and Emma Peel, The Avengers. You'll sleep like a baby, wake to the birds twittering, check out any time you like, but you may never leave !
Saint James Paris,
43 Avenue Bugeaud, 16th
M: Porte Dauphine,
18 rooms 340-690€ – 30 suites 630-1550€ + Breakfast 28-35€
Restaurant average spend from 58-75€
Shut Saturday noon Sunday evening
T: 01 44 05 81 81
La Petite Cour.
Just off Boulevard Saint-Germain, opposite Mabillon Market, the perfect summer address for lunch or dinner in a bucolic courtyard where, surely, Hemingway, Stein, Pound, Fitzgerald and James Joyce had their ronds de serviette.
Rue Mabillon is named for Dom Jean Mabillon (as is the metro station) the Benedictine Monk and history wiz, who lived at Abbaye de Saint-Germain-des-Prés, where he lies to rest, bless him. The Dom would be most impressed with the wines, and the food at La Petite Cour. Simple and good, French cuisine interpreted by the recently arrived Kampei Hisaoka, after world travels cheffing with the greats in Tokyo, NYC, Provence, South of France and now head chef in Paris.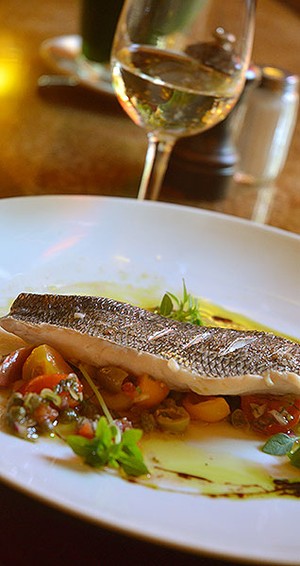 Chef's starters include: Gazpacho de melon, porto rouge, sorbet basilica: Carpaccio de dorade et roquette : For the ladies who do: Salade mélangée d'herbes folles, vinaigrette citron : For Ashton: Haché menu de tête de veau sur son toast à l'arôme de truffes blanches avec a glass of Viré-Clessé A Bichot. And note the collection of Romanée Conti, of which owner Jean François Larpin is very proud (2009 Richebourg 1630€ anyone?): Burratina, tomates « cœur de bœuf » 
Foie gras de canard au Château Chalon, pulpe de raisin : Tourteau décortiqué, mayonnaise à la vanilla: Salade de girolles, oeuf "onsen", a nod and a wink to Japan: magret de canard fume.
And then:
Tartare de saumon au citron vert, sauce fromage blanc ciboulette excellent with  rosé, Bertrand Bélieu, Côtes de Provence (38€). Steamed filet de dorade/sea bream  sauce vierge : Cochon noir cuit « basse température », jus épicé : Suprême de pintade, jus de volaille et tapenade : Tartare de boeuf Français : Foie de veau grillé, échalotes au vieux balsamique: Pièce de boeuf «Black Angus» et foie gras de canard : Seared Joues de raie poêlées, jus de volaille acidulé, estragon : Grilled king prawns……
Choose  your partners:
Riz Nial, pommes grenailles, purée de pomme de terre, Gnocchi, petits légumes, salade mâche.
It's too hot for cheese, but it's there if you want. And then: Home-made Sorbets:  Crème brûlée au sucre cassonade: 
Cheese cake pamplemousse :
Tarte du moment : Forêt noire choco-cerise : Or, Café gourmand.
The delightful La Petite Cour, with charming welcome from Director Bruno Boucheron, brings to mind Hemingway: 'If you are lucky enough to have lived in Paris as a young man, then wherever you go for the rest of your life, it stays with you, for Paris is a moveable feast".
10 rue Mabillon, 6th
M: Mabillon
T: 01 43 26 25 03
Open 7/7 Lunch & Dinner
Lunch 29€ – Dinner 39€ + A La Carte
Sunday 51€ – includes a glass of wine: water: coffee
Leave a reply
Your email address will not be published. Required fields are marked *