Paris Vignettes, Volume 3, by Photographer William O'Such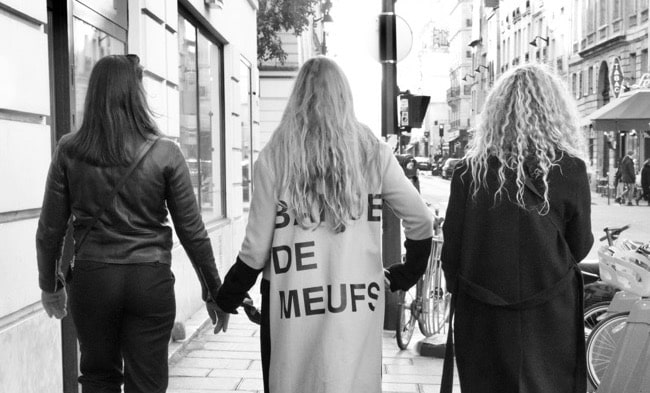 Editor's note: This is the third installment in the "Paris Vignettes" series by photographer William O'Such. William was introduced to silver halide photography by his father, Chester J. O'Such, via the family's Ansco reflex camera and home darkroom. After college, William worked as a photographic engineer at Eastman Kodak, where he began to learn the art of photography. With his first SLR, a Canon AE-1, he photographed his inaugural voyage to Paris in 1982. This early spark turned into full passion when William became a Kodak expatriate in Paris from 1995-99. Before returning to the USA, William and his future wife Ineke bought an apartment in the Marais district. William continues to visit Paris at least twice a year to wander the streets, camera in hand, looking for the next vignette.
His photos are available for sale by contacting him at [email protected]. To see the entirety of his collection, visit http://myviewsofparis.shutterfly.com
"I'm happy to share my next installment of "Paris Vignettes". This set of photos is from my November 2018 trip. I love the late fall as you have great shadows throughout the day so even though the days are shorter, you actually have more quality photographic time (as long as the sun is out!)."
Bande de Meufs
Meufs is verlan for femmes though it probably translates better as "chicks". Walking around in NOMA (North of Le Marais), I was right behind three "meufs" walking in step with one of them wearing the obvious title of this picture.
Bienvenue
In my Paris Vignettes 002 set of photos, I mentioned that I love the free guided walks orchestrated by www.greeters.paris. On this trip we met our guide Claude near Le Bastille at Ten Belles to talk about what could be fun to see. We then walked, in a meandering fashion, from Le Bastille up to Père-Lachaise. Near the end we stopped at a very local brasserie for coffee and I caught this fleeting moment of an older gentlemen being welcomed into the brasserie.
Les Oiseaux
Walking along the Seine there are always seagulls. This unusual group was hanging out near Saint Michel and seemed to want to welcome me to the bridge.
Marchés aux puces
Every four-five years we head up to the Clignancourt flea market with a mission. This time we were looking for cocktail glasses so we can make our favorite cocktail, Aviation, at the apartment. Along the way we saw this gentleman with his best friend waiting for clients at his stand. In the end, we never found our glasses and bought a set at a local store. In our apartment, you can find all the ingredients to make our house cocktail.
Musique dans le Metro
Prior to this trip I bought a Lens Baby lens that allows you to alter the plane of focus in different way. It is hard to explain and easier to show. Music in the metro always changes the environment and that Thursday was no different when I spotted this musician across the metro tracks. With my wacky lens I was able to center the focus around him.
Les Abbesses
Early one Tuesday, I ventured far out of Le Marais to the Montmartre area where, like every area, there is a different neighborhood feeling. In a later set you'll see several photos from this area that I took a few years ago. As I walked past "Le Relais de la Butte", this waiter struck a pose that I couldn't resist.
Revolte
It appears the idea of "manifs" starts very young where this group of students were passing around flyers entitled "youth in revolt".
Romance along the Seine
The Seine is the perfect setting for romantic discussions, lunches and balades. One can only imagine the discussion between this couple with Paris forever imprinted in their minds.
Rue Debelleyme
Just a few blocks away from our apartment is rue Debelleyme. What is unusual about this street is that it runs in a semi-circle. I always wondered why and one day I looked up its history and found that it was an incomplete royal square (i.e. like Place des Vosges, Place Dauphine). When it rains the cobblestones reflect the street lamps in a magical way and this evening was no different as we walked to a local restaurant for dinner.
Surprise
During a workshop in spring 2018 with Valerie Jardin, one of the approaches is finding and capturing leading lines. Typically, I try to think to spend a full day on one approach and this day it was "leading lines". In the Marais towards rue de Bretagne, I caught this photo of a "virtual" leading line pointing towards this couple.
Un velo à Belleville
As you'll see in future Vignettes, one of my favorite areas for photography is Belleville. There is so much variety, genuineness and fantastic angles you can always get several marvelous pictures. This is where Willy Ronis, one of my inspirations, lived. Several years ago I took a workshop with a local photographer and afterwards I was inspired to find those Willy Ronis moments like this one.
Winter Shadows at Buttes-Chaumont
This is my favorite of the trip. In Buttes Chaumont there is a bridge where you can glance down at people walking through the park. I love this photo because the shadows and the lines along with the few remaining leaves on the trees.
If you enjoyed these, you can click these links for Vignettes 001 and Vignettes 002.
Lead photo credit : Bande de Meufs. Photo: William O'Such
More in Paris photos, Paris Vignettes, photography in Paris
---
---
Comments