Flâneries in Paris: Explore the Trocadéro and Passy Cemetery
This is the 15th in a series of
walking tours
 highlighting the sites and stories of diverse districts of Paris. I love the Trocadéro. The exotic name is a lure, as is the chance for some of the best views of Paris, looking out over the gardens and perfectly lined up fountains which stretch away to the Eiffel Tower. But also in my mind is always
that photo
, the one with Hitler and Albert Speer doing a spot of gloaty "sightseeing" in June 1940, just a week after German troops had occupied the city. They posed in front of the view, just as the rest of us do. Chilling. This time, I came out of Exit 1 at the Trocadéro metro station and turned immediately left into the esplanade, looking out for the eight golden statues which line it, four on each side. But what I actually saw was a bride and groom, their huge bunch of pastel-colored balloons and their photographer, directing and clicking away, as they posed and beamed to capture the photos they would look back on for the rest of their lives. Palais de Chaillot. Photo credit: Omar David Sandoval Sida / Wikimedia Commons I've often looked out over the gardens, but today I decided to explore them and set off down the path sloping away to the right. I immediately found little twisting paths, leading past flower beds and planters, turning this way over a mini wooden bridge and that way to reveal a grotto or a bench hidden in a little clearing among the trees. The main central path, where the fountains grouped around the artificial lake half-way down, was busier, but as I crossed it to make my way back up the other side, I found more delightfully quiet little corners, and settled onto a perfect picnic bench tucked in by some huge, gnarled tree roots to enjoy a clear view of the Eiffel Tower. The Fountain of Warsaw, with the Palais de Chaillot in the background. Photo credit: Ricce / Wikimedia Commons The gardens were designed for the Exposition Universelle in 1937, and the Palais de Chaillot which sits at the top, arching over both sides of the esplanade, was created then too. (Note that the former
Palais du Trocadéro
, built for the Exposition Universelle of 1878, was partially demolished to make way for the new monument.) This is showpiece Paris, intended to impress, and it does just that. The two wings of the Palais are now home to some of the city's most erudite museums and the quotations printed in gold onto marble panels on the Musée de l'Homme lend it a weighty significance. Here, it is promised, you will see choses rares ou choses belles (rare or beautiful things) all curated savemment, (skillfully). I vowed – again! – to come back and visit this Museum of Humankind, or perhaps the nearby
Museum of Architecture and Heritage
where you can wander through life-size models of some of France's most impressive buildings.
SUBSCRIBE
ALREADY SUBSCRIBED?
BECOME A BONJOUR PARIS MEMBER

Gain full access to our collection of over 5,000 articles and bring the City of Light into your life. Just 60 USD per year.

Find out why you should become a member here.

Sign in

Fill in your credentials below.
This is the 15th in a series of walking tours highlighting the sites and stories of diverse districts of Paris.
I love the Trocadéro. The exotic name is a lure, as is the chance for some of the best views of Paris, looking out over the gardens and perfectly lined up fountains which stretch away to the Eiffel Tower. But also in my mind is always that photo, the one with Hitler and Albert Speer doing a spot of gloaty "sightseeing" in June 1940, just a week after German troops had occupied the city. They posed in front of the view, just as the rest of us do. Chilling.
This time, I came out of Exit 1 at the Trocadéro metro station and turned immediately left into the esplanade, looking out for the eight golden statues which line it, four on each side. But what I actually saw was a bride and groom, their huge bunch of pastel-colored balloons and their photographer, directing and clicking away, as they posed and beamed to capture the photos they would look back on for the rest of their lives.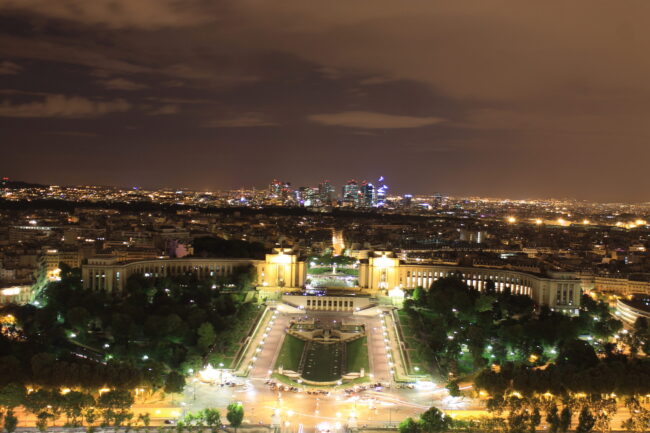 I've often looked out over the gardens, but today I decided to explore them and set off down the path sloping away to the right. I immediately found little twisting paths, leading past flower beds and planters, turning this way over a mini wooden bridge and that way to reveal a grotto or a bench hidden in a little clearing among the trees. The main central path, where the fountains grouped around the artificial lake half-way down, was busier, but as I crossed it to make my way back up the other side, I found more delightfully quiet little corners, and settled onto a perfect picnic bench tucked in by some huge, gnarled tree roots to enjoy a clear view of the Eiffel Tower.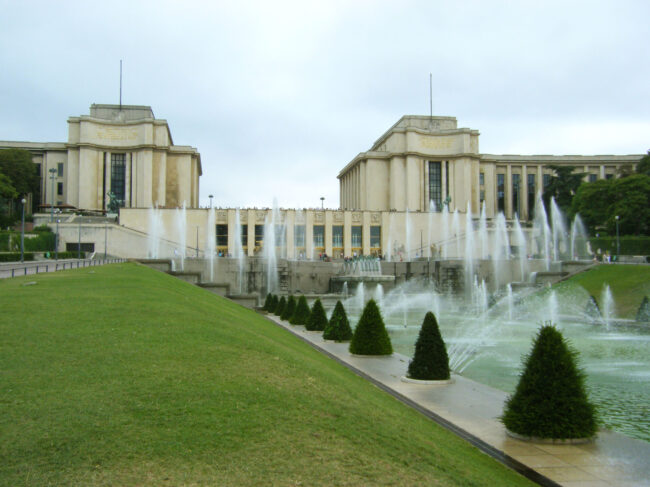 The gardens were designed for the Exposition Universelle in 1937, and the Palais de Chaillot which sits at the top, arching over both sides of the esplanade, was created then too. (Note that the former Palais du Trocadéro, built for the Exposition Universelle of 1878, was partially demolished to make way for the new monument.) This is showpiece Paris, intended to impress, and it does just that. The two wings of the Palais are now home to some of the city's most erudite museums and the quotations printed in gold onto marble panels on the Musée de l'Homme lend it a weighty significance. Here, it is promised, you will see choses rares ou choses belles (rare or beautiful things) all curated savemment, (skillfully). I vowed – again! – to come back and visit this Museum of Humankind, or perhaps the nearby Museum of Architecture and Heritage where you can wander through life-size models of some of France's most impressive buildings.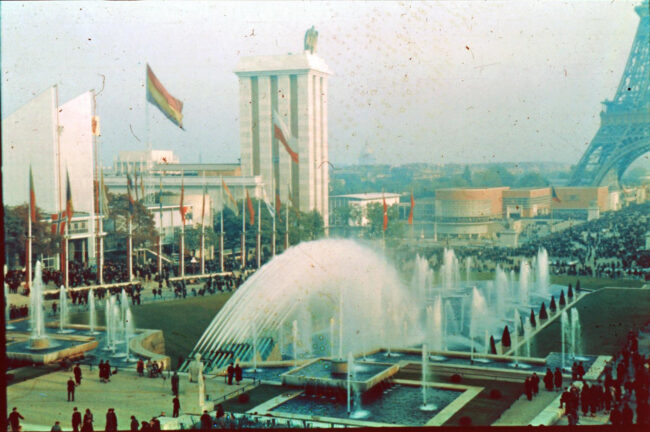 The Place du Trocadéro – named after a French battle victory in Spain in 1823 – curves round in a horseshoe shape behind the Trocadéro Esplanade and is lined with brasseries and restaurants. I wandered round, noting pretty terraces I might choose on a future occasion and musing that from some of the restaurants it must be possible to book a table with a stunning Eiffel Tower view. But on this occasion, I was keen to explore another interesting little corner which backs on to this road: the Cimitière de Passy.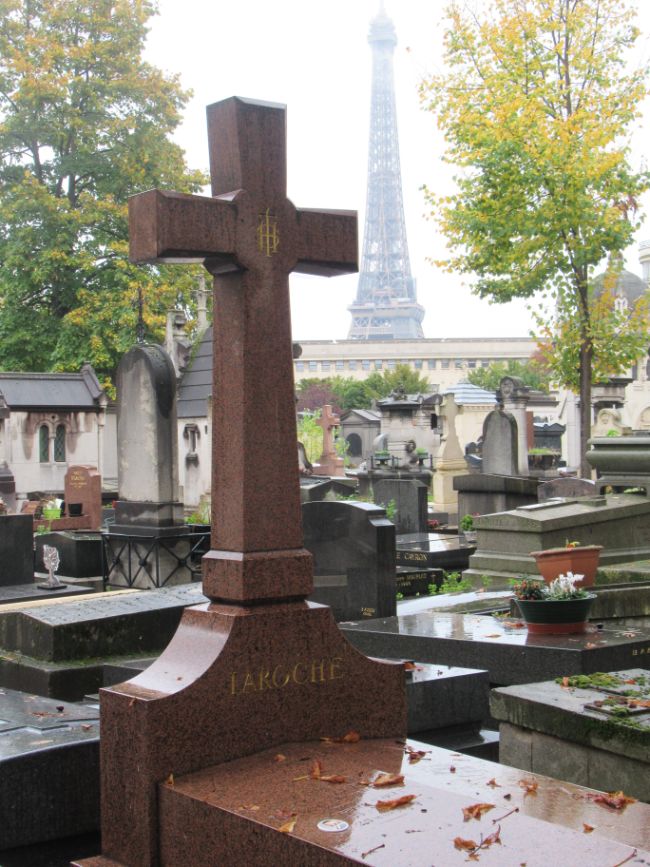 Close though it is, I kept missing it, so I'll pass on the instructions which would have been helpful! From the Place du Trocadéro, take the Avenue Paul Daumier – it's off to your left if you stand with your back to the Palais de Chaillot – and, just as it opens out into a little square, the Place José Marti, look out for a flower shop on your right. Just past that, and before the modern block of flats, you'll find a gateway in the wall which is the entrance to the cemetery. This oasis of calm was created in 1820 and gradually became a sought-after burial place for the city's aristocracy.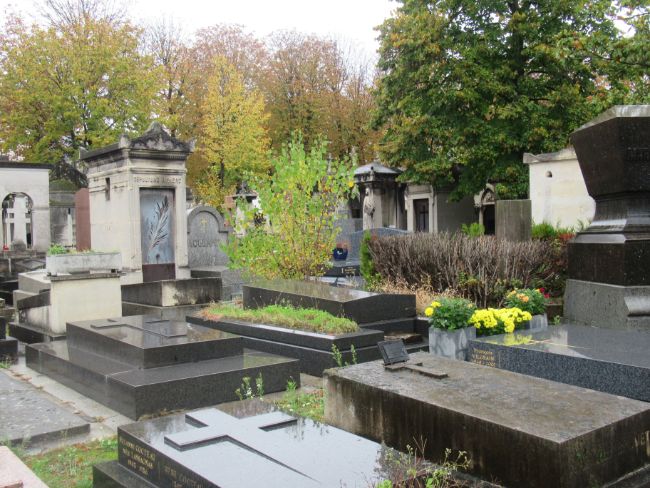 Chestnut trees towered over a maze of little paths, above a jumble of graves, some with simple tombstones, others with imposing monuments. There are about 2,600 burial plots in total, each unique, a random accumulation of black, white and occasionally pink marble, of grey stone and golden lettering. Above me, branches and patches of blue sky, at my feet dry leaves, conkers and, on the graves, an assortment of flowers, candles and photographs. Some inscriptions told of a Légion d'Honneur or a Croix de Guerre, others gave glimpses of family history. Eleven members of the Lantz family lay together, the first born in 1852 and the youngest a century later. And unexpectedly, every now and then, came a glimpse of the Eiffel Tower over the Seine in the distance.
I passed a grey marble column topped with a bust of Edouard Manet and the unassuming grave of Claude Débussy, where someone had left a pretty pink flowering plant. An engraving of a music stave, an accordion and the inscription "Merci," marked the grave of Fernandel, that is Fernand Contandin, the actor and singer who started his career in music halls and then enjoyed a 40-year film career as France's best-known comic actor. Other  names spoke of well-known French companies, the perfumers Givenchy and Guerlain, the Renault family and Ernest Cognacq-Jay, the founder of La Samaritaine, perhaps better known today for the museum he founded in the Marais to house the treasures his wealth had enabled him to collect.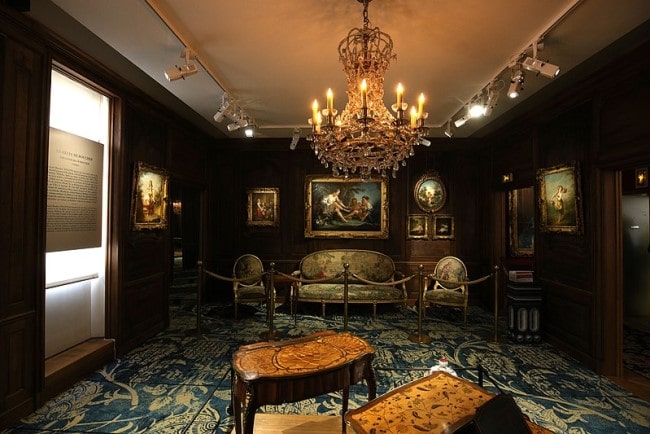 A number of foreign dignitaries found their last resting place here. Sa Majesté Bao Dai, Empereur de Vietnam, for instance, who had been partly educated in France before succeeding to the throne of Vietnam, aged 13, in 1926. He was the last reigning emperor, beset early in his reign by difficulties with French colonial rulers, then later by conflict with the revolutionary Ho Chi Minh who became President in 1945. Bao Dai abdicated and spent the last four decades of his life in France, where he married his French wife, who is buried next to him: Sa majesté Tay Phuong, née Monique Baudot. Much younger than her husband, she remained in Paris for quarter of a century after his death and organized an annual mass in his memory at the Cathédrale St-Louis des Invalides. She died in 2021.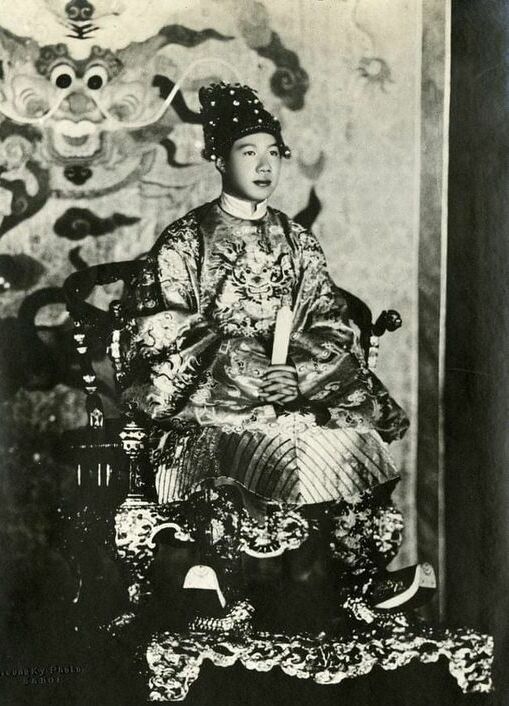 Another reminder of France's connections with far-distant lands is the poignant grave of Princess Leila Pahlavi who died in 2001, aged only 31. She was the youngest daughter of Mohammad Reza Pahlavi, the Shah of Iran who was forced into exile after the Revolution in 1979. Despite the family's trauma, Leila, who recalled later that "we came out of Iran with nothing," went on to study in America and to model for Valentino, living in New York, London and Paris, where some of the family settled. But she was beset by health problems and in June 2001 she was found dead in a London hotel room, surrounded by empty bottles of sleeping pills. She was buried in Passy Cemetery, near her grandmother. Her mother, the Empress Farah, came to the funeral and so did members of the former French royal family, along with Frédéric Mitterrand, nephew of the former President of France.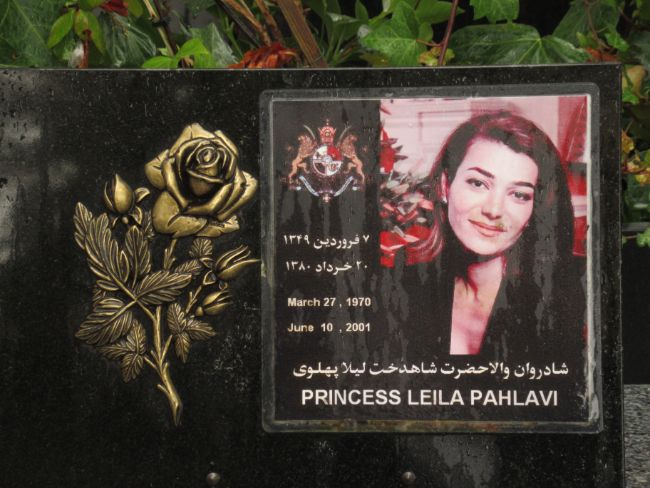 At no point on my walk had I strayed more than 10 minutes from the metro station, yet what variety I had seen. From the click of cameras on the esplanade, I had wandered first through gardens designed to delight and past a showpiece palace, then on to a quiet little corner, chosen by some of the city's most illustrious residents as their last resting place, somewhere to lie for eternity beneath the chestnut trees, watched over by the Eiffel Tower.
Lead photo credit : The park fountains and Eiffel Tower seen from the Place du Trocadéro. Photo credit: Nick Loyless / Wikimedia commons
More in cemetary, Flaneries, Flâneries in Paris, passy, trocadero
---
---