Yoga at the Cité de l'architecture et du patrimoine in Paris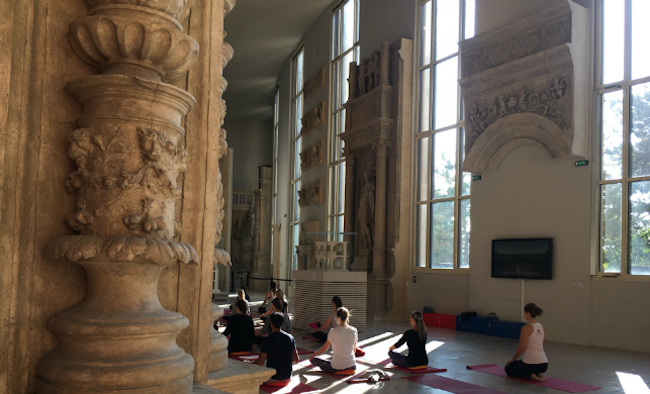 You'd be hard-pressed to find a cooler, more inspirational setting for a yoga session. The Cité de l'architecture et du patrimoine, perched high on the Trocadéro in the 16th arrondissement, is the city's architecture museum— a grand homage to centuries of heritage with plaster casts of monuments, cathedral gargoyles, scale models, stained glass, and even a replica of a Le Corbusier apartment from the Cité radieuse in Marseille. Housed inside the eastern wing of the Palais de Chaillot, the light-filled museum showcases Eiffel Tower views from its large windows.
The museum has a packed program of events— from seminars and debates to film screenings and even— newly launched— yoga on select Sundays. To quote the website: "Parce que l'architecture se vit et se ressent par le corps, la Cité a décidé de se mettre au yoga et d'ouvrir largement ses portes à tous les amateurs." (Because architecture is lived and felt by the body, la Cité has decided to take to yoga, opening its doors to all amateurs.)
Led by professor Aurélie Delarue, the yoga sessions take place in the Galerie des Moulages (the Gallery of Casts). The one-hour classes cost 12 €; purchase your tickets directly on the museum's website. Upcoming sessions will take place on December 16, February 24 (2019), April 14 (2019) and June 21 (2019).
While you're there, don't miss the current temporary exhibition (until January 14, 2019) devoted to the legendary Crac des Chevaliers— the large fortress in present day Syria built by the Knights of the Order of Malta during the Crusades.
And added bonus: the Cité de l'architecture has recently unveiled a new contemporary restaurant with stunning views of the Eiffel Tower. Girafe is the latest project from Gilles Malafosse and Laurent Gourcuff, the team behind Monsieur Bleu and Loulou.
Cité de l'architecture et du patrimoine, 1 Place du Trocadéro et du 11 Novembre, 16th arrondissement. Tel: +33 1 58 51 52 00. Open every day (except weekly closures on Tuesdays) from 11 am to 7 pm. Late closures on Thursdays at 9 pm.
Lead photo credit : Yoga at the Cité de l'architecture et du patrimoine. Photo: Bonjour Paris
More in yoga, yoga in Paris
---
---