This is the second article in a series on famous residents of Paris It's said that Jane Birkin ⁠— the long-legged, waif-like beauty of the 1960s ⁠— was so unsure of her looks, despite being the epitome of everything young girls aspired to be, that she hid an eyeliner pencil under her pillow. She was teased at school for her androgynous body, but it was her intense love affair with
Serge Gainsbourg
, who claimed that he was afraid of breasts, that finally made Birkin realize that she was loved and beautiful. There was never a love affair for Birkin that ever matched the one she had with Gainsbourg. After Gainsbourg died, Birkin's 11-year partnership with Jacques Doillon ended. Doillon famously said that he could not compete with Birkin's grief for Gainsbourg. Birkin embraced France and Paris with a passion that never abated. The love affair was reciprocated. Jane Birkin is as much a French icon as a British one. View this post on Instagram
A post shared by Jane Birkin Daily (@janebirkindaily)
She was born in London in 1946; Birkin's mother was the acclaimed stage actress Judy Campbell, Noel Coward's muse. Campbell's beauty eclipsed Birkin who felt "diluted" by her. Birkin recalls people asking if she was Judy Cambell's daughter, and when she said yes, to be told with obvious disappointment that she didn't really look like her. Birkin's first film part was in the Graham Greene play, "Carving a Statue." With Birkin's customary dry self-deprecation, she recalled that she'd admitted that she had forgotten all the text and was told it didn't matter as she was to "play a deaf and dumb girl."  Birkin remarked, "So what good luck. I got my first part by making a fool of myself." Birkin with her second daughter Charlotte Gainsbourg in 2010 (C) Olivier Pacteau, CC BY 2.0
SUBSCRIBE
ALREADY SUBSCRIBED?
BECOME A BONJOUR PARIS MEMBER

Gain full access to our collection of over 5,000 articles and bring the City of Light into your life. Just 60 USD per year.

Find out why you should become a member here.

Sign in

Fill in your credentials below.
This is the second article in a series on famous residents of Paris
It's said that Jane Birkin ⁠— the long-legged, waif-like beauty of the 1960s ⁠— was so unsure of her looks, despite being the epitome of everything young girls aspired to be, that she hid an eyeliner pencil under her pillow. She was teased at school for her androgynous body, but it was her intense love affair with Serge Gainsbourg, who claimed that he was afraid of breasts, that finally made Birkin realize that she was loved and beautiful.
There was never a love affair for Birkin that ever matched the one she had with Gainsbourg. After Gainsbourg died, Birkin's 11-year partnership with Jacques Doillon ended. Doillon famously said that he could not compete with Birkin's grief for Gainsbourg.
Birkin embraced France and Paris with a passion that never abated. The love affair was reciprocated. Jane Birkin is as much a French icon as a British one.
View this post on Instagram
She was born in London in 1946; Birkin's mother was the acclaimed stage actress Judy Campbell, Noel Coward's muse. Campbell's beauty eclipsed Birkin who felt "diluted" by her. Birkin recalls people asking if she was Judy Cambell's daughter, and when she said yes, to be told with obvious disappointment that she didn't really look like her. Birkin's first film part was in the Graham Greene play, "Carving a Statue." With Birkin's customary dry self-deprecation, she recalled that she'd admitted that she had forgotten all the text and was told it didn't matter as she was to "play a deaf and dumb girl."  Birkin remarked, "So what good luck. I got my first part by making a fool of myself."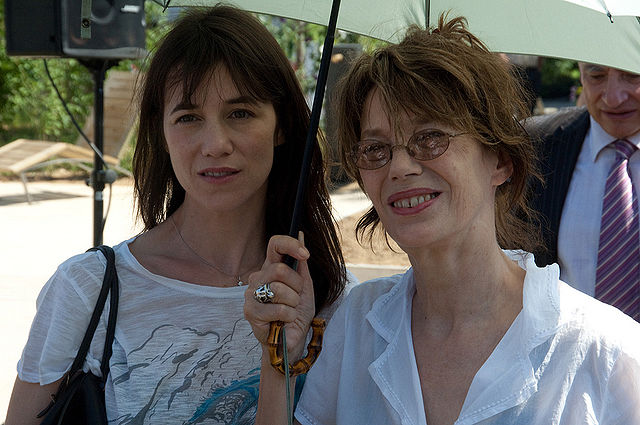 Her father David Birkin was an extraordinary man whom Birkin adored unreservedly. He was a Royal Navy lieutenant commander during WWII and despite the obvious drawbacks of being blind in one eye and prone to violent seasickness, he was responsible for taking British spies across the channel to Brittany and picking up stranded airmen and escaped POWs from Bonaparte beach near Plouha.
(David Birkin's exploits as a member of the 15th Motor Gun Boat Flotilla, the most highly decorated Royal Navy unit of WWII and commanded directly by the Secret Intelligence Service, are revealed in a recently published book by Tim Spicer called A Dangerous Enterprise.)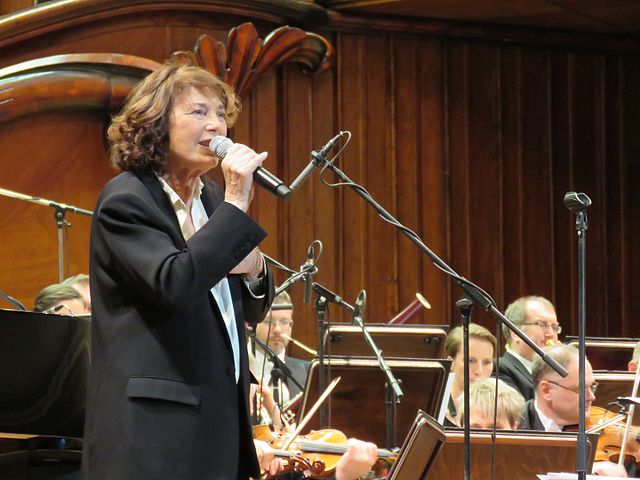 Her father's love of France and undying admiration for the French Resistance transmitted to his daughter who still has a home in a small village near Bonaparte Beach.
Educated in a private school on the Isle of Wight, Birkin's childhood was idyllic. Her cut glass accent belied a hidden rebel just waiting to be given the keys to let loose from a protected childhood and such illustrious parents.
View this post on Instagram
She didn't wait long. When she was 17, she appeared in the composer John Barry's musical, "Passion Flower Hotel," singing the appropriately, but now decidedly "unwoke" song, "I must, I must, I must increase my bust." (John Barry OBE composed the scores for 11 of the James Bond films between 1963 and 1987.) But Birkin's marriage to John Barry, 13 years her senior in 1965, did not have the success of his film scores. Apart from their daughter Kate, it turned out to be a failure, plunging Birkin into depression and damaging her already low self-esteem. Barry already had another lover and coldly told Birkin that their marriage was over. Much later, in retrospect, Birkin excused some of Barry's actions saying that she had still been a child, jealous and prone to tantrums and must have been tiresome to come home to. Little wonder then, that on meeting Gainsbourg, who was fascinated by her, listened to her and loved her, that Birkin blossomed like a wild flower finally being exposed to sunlight.
Before meeting Gainsbourg, Birkin had appeared nude in Antonioni's iconic film Blow Up. With a total lack of regard for her very proper public school upbringing, and obscurely never having appeared naked in front of her husband John Barry, Birkin's flash of pubic hair was the first seen on screen in England and caused an uproar.
It was in 1968 that Birkin, with her small daughter Kate, fled the unhappiness of her failed marriage in England to Paris to appear in the film Slogan with Serge Gainsbourg.
View this post on Instagram
Gainsbourg, 18 years Birkin's senior and fresh out of an affair with Brigitte Bardot, was not, at first glance, the most promising of prospects. Supremely talented, beloved by hordes of fans, Gainsbourg was the original one-off. Not remotely handsome in the accepted way, he was utterly charismatic, captivating, bohemian, unexpected and unique. He was also a heavy drinker and chain smoker, unpredictable, complicated, mercurial and almost twice Birkin's age. How could she not fall in love with him?
Their first night together is well documented. Dinner at the legendary club Regine's followed by dancing (although Gainsbourg was not a natural dancer) at Rasputine night club where Gainsbourg paid the musicians to play Sibelius's "Valse Triste" as they left. From there Birkin was taken to Madame Arthur's drag club, a food market where the butchers were given champagne, and finally to the Hilton Hotel where, what perhaps would have proved disconcerting for the faint hearted, the receptionist had asked: "Your usual room, Monsieur Gainsbourg?" Birkin was not faint hearted; she was already in love, which was just as well as Gainsbourg promptly passed out on the bed.
View this post on Instagram
Gainsbourg and Birkin were uniquely suited. Both were jealous, prone to dramatic gestures, memorable scenes, eccentric habits, and if there were boundaries, they were highly elastic.
And both of them were madly, passionately in love with each other.
Beauty and the Beast, Taylor and Burton – their love affair fascinated the world but it was France who adopted them with love and without reservation. And above all in Paris which was to remain Birkin's home forever.
The release of "Je t'aime…moi non plus" in February 1969 was to propel the couple into another stratosphere. Originally written for Brigitte Bardot who recorded it and then begged Gainsbourg not to release it, its explicit words and heavy breathing caused a worldwide sensation. Birkin was quite happy to record it with Gainsbourg, jealous that he might record it with a pretty girl who "might get close to him."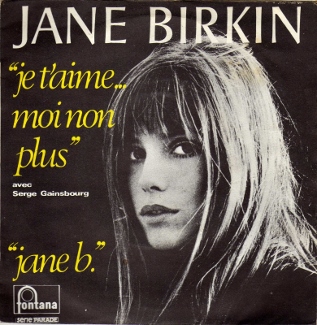 Difficult to imagine nowadays, in a world when the unacceptable is often commonplace, that a pop record could cause such outrage and condemnation. The BBC refused to play it, the Pope condemned it – all ensuring that it sold millions of (sometimes clandestine) copies worldwide.
Birkin and Gainsbourg were huge; their photographs appeared everywhere in every magazine. Birkin was the face, the body, the fashion icon of youth the world over. The endless legs, long straight hair, tiny mini skirts, bra-less tops, and doe eyes were captivating. Gainsbourg next to her, with the ever present cigarette and slightly debauched but fascinating face, was the perfect foil to Birkin's innocent beauty. Their unbridled exploits just added to press and public interest. They exemplified in-your-face bohemian living, in full view of the world, and they didn't give a damn.
View this post on Instagram
Birkin had found her equal. Gainsbourg was unshockable; Birkin could just let loose, behave badly, cause a scene, justified or not, and Gainsbourg would still be there, not judgemental and usually appreciative, the more dramatic the better. Both of them drank to excess and partied the same way and after a particularly boozy night at the Castel night club on the Left Bank, Birkin threw a custard tart at Gainsbourg in retaliation for the upending of her faithful basket onto the floor. A furious Gainsbourg walked out and Birkin ran in front of him to the banks of the Seine. Satisfied that he was following, she threw herself into the water to be rescued by the patrol police. Gainsbourg and Birkin walked home, arm in arm, laughing like children. He had been delighted by the drama.
View this post on Instagram
They moved into 5, bis Rue de Verneuil in the Saint-Germain-des-Prés district in 1969. (After many years of trying to persuade the authorities to grant the house museum status, his daughter Charlotte's persistence finally succeeded this year.)
Gainsbourg loved Salvador Dali and the interior is an homage to him, with black astrakan walls and sumptuous, rich decoration. Gainsbourg even copied Dali's very low bath. (To the dismay of many local residents, the exterior is covered in graffiti by Gainsbourg fans, and is a tourist attraction in itself.)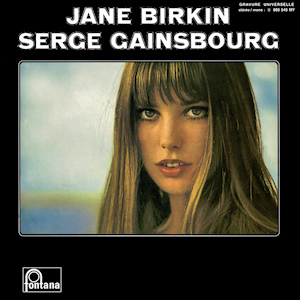 During and after their 11-year relationship, Birkin continued to work in films and record with Gainsbourg. Their debut album "Jane Birkin/Serge Gainsbourg" was released in 1969. Under Gainsbourg's direction she appeared in the predictably controversial film, "Je t'aime, moi non plus" in 1976. Later films include Agatha Christie's "Death on the Nile" in 1978 and in "Evil Under the Sun" in 1982, where she played the sweetly villainous anti heroine. Birkin was to eventually appear in over 70 films and record more than a dozen albums. Such was her iconic status that the French luxury fashion house designed what was to become known as the "Birkin bag" in 1981. The bag which can cost as much as 120,000 euros and still has a long waiting list 50 years later, even though Birkin asked for her name to be removed from the bag in 2015.
View this post on Instagram
Their daughter, the highly acclaimed actress Charlotte Gainsbourg, was born in 1971, a half sister to Kate, whom Gainsbourg treated as his own. The girls, however, did little to slow down Birkin's and Gainsbourg's hedonistic lifestyle, Birkin admitting being in nightclubs until five in the morning, waking up at two in the afternoon and then picking the children up from school. It was a lifestyle that proved to be ultimately unsustainable for Birkin. Leaving a man she had loved unreservedly for so long, a man addicted to alcohol and prone to harmful excesses, but also just as prone to impulsive acts of generosity, that he was known and loved throughout Paris, can not have been an easy decision. (He once gave a taxi driver 500 francs to get his teeth fixed, contributed to the Police Benevolent Fund and was often found in the local police station at five in the morning distributing champagne.) Birkin later confessed that Gainsbourg was the one man she should have married.
In 1981, Birkin was pregnant with her daughter Lou (by the film director Jacques Doillon) and she finally left Gainsbourg. But their wives were still so entwined that Gainsbourg became Lou's godfather.
Gainsbourg's death in 1991, followed by her beloved father's passing four days later, spiraled Birkin into a depression of grief that her relationship with Doillon could not withstand. In the meantime, her three daughters from three different men were trying to cope with their own grief and erratic life experiences. Kate, John Barry's daughter, had little contact with her father until she was 12 years old and was already affected by bouts of depression, uncertainty, and as a teenager was going off the rails in night clubs and experimenting with drugs. Later she became a talented photographer, who worked for Paris Match and Vogue, a compassionate, complex woman, both funny and melancholic. She set up a drug and alcoholic center outside of Paris to help others as she'd been helped in rehab in London. Kate was very close to her mother and to her sisters, and so her tragic, unexplained death in 2013 when she fell from her fourth floor apartment in the 16th arrondissement, a suspected suicide, shattered the family into very small pieces. Charlotte, who left Paris for New York soon afterwards, said that her mother "was gone for years…she didn't talk, not to my children or to anyone."
View this post on Instagram
Lou Doillon, Birkin's youngest daughter, who looks and sounds remarkably like her mother, is an award-winning musician in her own right. Multi-talented as an actor, artist, model and the face of Givenchy, Doillon has certainly not been dwarfed by the fame and success of her illustrious family but has trodden her own path using her own prodigious talents.
Charlotte Gainsbourg's career has been well documented from playing Catherine Deneuve's daughter at the age of 13 in her first film Paroles et Musique through to the present day with no shortage of awards, including the Cannes Film Festival Award in 2017. Multitalented like her half sister Lou, Gainsbourg released her debut album, "Charlotte Forever", which her father produced in 1986, and has not stopped both recording and acting since then.
View this post on Instagram
After a few years in New York trying to reconcile herself with Kate's death and both her physical and emotional distance from her mother, Charlotte returned to Paris, determined to make not only a film about her mother but also to reconnect and understand her on a much deeper level.
The film, soon to be released, is simply called Jane by Charlotte. Birkin has since recorded an album, her own attempt at catharticism in remembering Kate, entitled "Oh! Pardon tu dormais." (Sorry, you were sleeping.)
A recent minor stroke has temporarily confined Birkin to her Paris apartment near the Luxembourg Gardens that she shares with her ever faithful bulldog. Her daughters are nearby, the family closer than ever. Her memories of Serge Gainsbourg remain ever fresh and present, and soon she will see the beloved house in the Rue de Verneuil, unchanged since Gainsbourg died, where their tumultuous, abandoned love affair played out, transformed into a museum.
The house where Jane Birkin spent the best years of her life.
Lead photo credit : Jane Birkin (C) Roland Godefroy, Wikimedia commons
More in Actress, cinema, film, Icons, movies, Woman in Paris
---
---