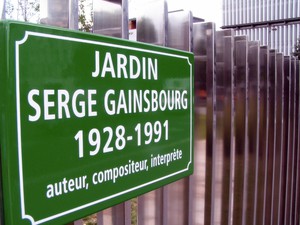 What monument would you mount to a man who made Brigitte Bardot purr on "Harley David Son of a Bitch," Jane Birkin moan in "I Love You, Me Neither" and tarted up his own daughter with "Lemon Incest"? The City of Paris, in a move as eccentric as Serge's '80s synth singles, decided that the Serge Gainsbourg Garden was a fitting tribute.
Paris's newest park perches atop the boulevard périphérique (ring road), literally straddling the eight lanes of traffic along the city's northeast edge at the Porte des Lilas. Like many public places, this space's namesake is a national treasure: the beneficiary of this specific honor is none other than the iconic singer/songwriter Serge Gainsbourg (1928-1991).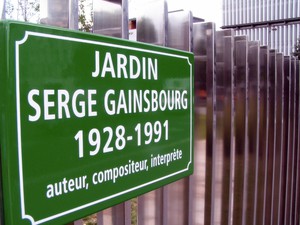 Like Pastis in the summer and the neighborhood tabac, Gainsbourg is a French institution. He is as well known for his drunken antics of burning a 500 franc bill on the news and propositioning Whitney Houston in her native tongue as he is for his musical hits ranging from a reggae version of the French National Anthem ("Aux Armes Et Cætera") to "Soixante-neuf, Année Erotique" ("Sixty-nine, the Erotic Year"). That the powers that be elected to erect as mundane a testament to his talent as the Serge Gainsbourg Garden is perhaps their way of getting revenge on him for flaunting their authority so blatantly and for so long.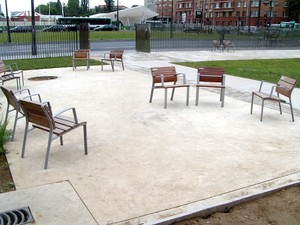 The first shortcoming you'll notice about this park is that it's no bigger than a metro ticket.  Entering the garden from the main gate, you'll find a random placement of sturdy chairs scattered over the walkway, special only because the seats are permanently attached to the cement. So if you choose to sit, you'd better hope you like the view, which will either be of a nondescript building across the street or the patch of dying grass that makes up the center of the "park." The sidewalk meanders to a small playground, whose simple existence makes it the most interesting aspect of Paris's most recent public garden because there's precious little else here.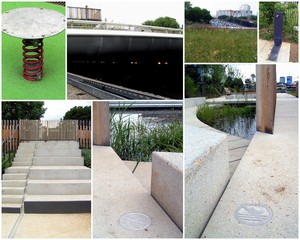 Sure, there's a short staircase leading to a fence and some admittedly comfortable chaises longues as attached to the cement as the chairs at the entrance. There are some paths that wind to nowhere, there's an overlook that looks over Paris's périphérique/beltway and the centerpiece of the desolation appears to be an artificial mini-bog. This tiny swamp has its own bridge which spans the sump, and inlaid in the stone are amusing admonitions against drinking whatever nature of liquid sits stagnating in the noxious pool. The disk reminding us that swimming is also forbidden never fails to bring a smile.
The most Serge-appropriate aspect of the park is the garden part of the Gainsbourg gardens. While the amount of space dedicated to the fauna is startlingly sparse, what plant life exists here is as untamed as the hair on the "Man With A Cabbage Head", as wild as his lifestyle and as natural as his love of beautiful women.
What, then, possessed the Parks Department to drop this septic swatch of Serge in this specific location? Simple: a song. The Porte des Lilas Metro station is nearby and "Le Poinçonneur des Lilas" ("The Ticket Taker at Lilac Station") was Gainsbourg's first hit tune. The ditty tells the story of a man who becomes obsessed with his job of punching Metro tickets. The routine of "making holes, little holes, all those little holes" eats away at him until he ultimately fantasizes about taking a revolver and making one last little hole in his head before his body is dumped in that final little hole. Considering the deficiencies of this memorial, Gainsbourg is certainly rolling over in his.
In short, if you're interested in celebrating the beautiful disaster that was Serge, the mad genius that was Gainsbourg, the elegant entropy of "Gainsbarre," you should avoid this negative space and instead leave a Metro ticket on his tomb at the Montparnasse Cemetery, or scrawl your name on the wall of his rue de Verneuil home.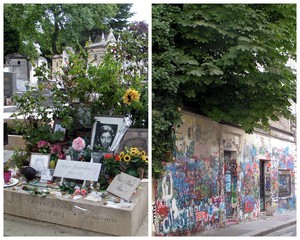 In 1990 Paul quit his job in the United States and sold everything he had in exchange for a one-way ticket to Europe and a train pass. After running with the bulls in Pamplona, he voyaged through most European capitals before marrying the first French girl he met and moving to Paris. One marriage, two kids and a divorce later, he's been on vacation in the City of Light for twenty years now. Currently he maintains a literary blog about Paris as well as a Paris photo blog. He lives beside the Buttes Chaumont Park but haunts Paris entirely.

Fat Tire Bike Tours are great for seeing Paris in a different light. You'll see more, have more fun, and not feel tired at the end of it. These are highly recommended and truly a great thing to do during your stay.
Leave a reply
Your email address will not be published. Required fields are marked *