La Première Fois, First Trip to the City: Sweet 16 à Paris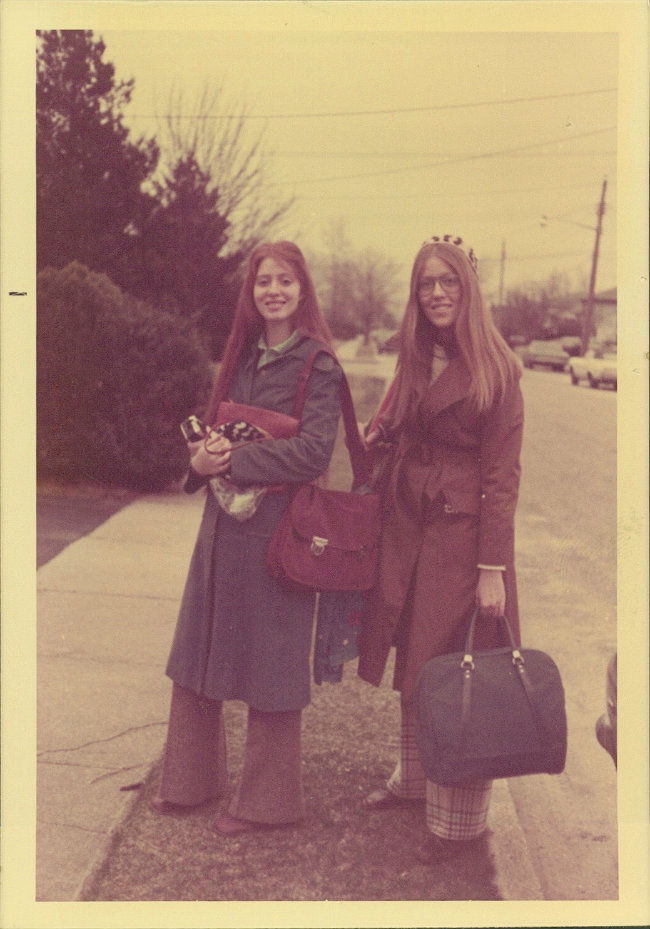 The Bonjour Paris editorial team requested reader submissions with memories from first trips to Paris. We were overwhelmed with wonderful responses, which we are publishing in a special series. (Read other installments here.) Here Alise Kreditor shares some fun anecdotes starting with a sisters trip, as juniors in high school, in 1971. 
The year was 1971… I was a junior in high school, my sister was in her first year of college, and we were all set to go to Paris, our first European trip. To this day we cannot believe our father, whom we considered very strict, agreed to let his two girls go to Paris for a week alone! It was a dream come true for me as I had started to study French in the first grade and never stopped during all my years of schooling, including a semester in Paris during college.
My love of Paris and all things French began at age six when I was chosen for an experimental language program offered by the Hicksville (NY) Public Schools. For 30 minutes each day we listened and repeated, and since all the teachers were European, I thank them every day for my great accent. At a time when it was difficult to immerse yourself in a foreign culture, I fed my French appetite through correspondence with my French pen pal; waiting hours in line to see the Mona Lisa when she came to NYC, and dining at "authentic" French restaurants like La Crêpe.
We set out in April during the Easter/Passover vacation, and I remember we paid $170 each for round trip airfare on KLM. Those were the days when different affinity groups bought seats on flights and sold them at a tremendous discount. We flew with the "Jewish Teachers Association" and were immediately adopted by several teachers on the flight, even though we were the ones who had all the great information about Paris to share.
When my sister and I arrived in Paris we boarded a bus to Les Invalides since cab rides were beyond our budget. (I think we each spent a total of $300 for the entire week.) We practically cried when we saw La Tour Eiffel and other recognizable landmarks. Our first stop was a girls dormitory on Boulevard Saint-Michel where we rented a room for the equivalent of $4 a night while the students who normally lived there were away for school holidays. There was a shared bathroom in the hallway, and we were smart enough to pack our own toilet paper to avoid the sandpaper quality toilet tissue that was provided.
And off we were to explore, walk, visit museums and eat very inexpensively for seven days. Since our parents had already traveled to Paris, we knew to make a dinner of soupe à l'onion at the bar at Au Pied de Cochon and to lunch on street vendor crêpes. We spent hours at L'Orangerie which housed all the Impressionist paintings that now live at Musée d'Orsay. We both remember clearly the old lady in the wheelchair who fed the birds everyday in Jardin du Luxembourg, and I made a point of visiting her often when I lived in Paris in 1975.
There was no question that I would major in French in college and coupled it with Art History which made Paris the only place to study abroad. This was another hurdle to overcome with my dad, and he finally agreed to let me study in Paris based on where I chose to live. I shared an apartment in the 20th arrondisement, when Belleville was truly a working class neighborhood, with an elderly woman who was in charge of foreign housing for the Sorbonne. Truthfully I could have lived in the metro I was so excited to be there for six months! The apartment was relatively new and non-descript, but had a perfect view of Sacré-Cœur, and I could judge the weather by how clearly I could see the Basilica each morning. I chuckle every time I read about Belleville and all it has to offer today!
Since I was living in an apartment and not a dorm, I received a monthly stipend of about $100 to cover food and local transportation. I spent virtually nothing on food and used most of the money to travel to different countries each weekend. It was during this stay that I began to keep a diary, something I still do whenever I travel so I can remember every detail. My six months in Paris were truly transformative, and I still speak about my semester abroad with such detail and enthusiasm that one would believe nothing else has happened in the past 40 years! I returned to Paris in 1976 for a week during my first year working in NYC and was able to visit with my elderly "landlord" who had become a great friend.
For my honeymoon in 1981 I just knew I had to show my new husband the city I adored. But little did I realize that our stay would overlap with "prêt-à-porter" (fashion week) so we ended up staying in a small off-the-beaten path hotel, St. Thomas D'Aquin, where we returned for a second stay years later.  Since we were cutting short our honeymoon for my husband to run the NYC Marathon, he had to run the half marathon that took place in Paris that week. We decided to meet at the Eiffel Tower where the race finished, which is like saying "meet me in Times Square." Needless to say we never met, and I returned to the hotel to find him soaking in the bath. I asked him how he got there, and he said he jumped the metro turnstyle (great opportunity to teach him the word "tricher"). As efficient as the metro continues to be, I still have difficulty referring to the metro lines with numbers – to me they will always be known by the names of the two end points.
In 2000 we had the great opportunity to introduce our three chldren to Paris during a business trip I had to France. They thoroughly enjoyed it, especially the BN cookies that smile at you with each bite. The following year our eldest spent the summer in Paris studying photography and history, another great reason for us to return. Five years later I was in Paris again for business when I shared my "Paris Notes" with the entire sales force so they, too, could enjoy the city as I do. We have had many trips in between, including our first trip traveling with friends. I was in charge of showing them Paris, while the other gentleman guided us through Prague where he was born.
I truly cannot calculate how many times we have visited Paris, but our most recent trip was this past January, a month I had never experienced in Paris. It was cold, rainy, snowy and all together nasty, but this didn't change the itinerary one iota. We still hit the flea market at Porte de Vanves in a snowstorm and wandered through the Marais in the rain. During a brief moment of brilliant sunshine when my husband had to get the perfect shot of sky framed between two buildings, we were blocking a local resident who waited patiently for him to finish as she totally understood his fascination with the Paris skyline.
I do not remember how long ago I discovered Bonjour Paris, but I am so glad I did as it transports me to Paris each time I click on the link.
Alise Kreditor is a public relations consultant in the New York area and has been a dedicated Francophile for longer than she can remember. She has no idea how many times she had traveled to France and has been known to go to Paris with her husband for a long weekend.
Photo credit : Alise Kreditor and her sister leaving for Paris in April 1971
Leave a reply
Your email address will not be published. Required fields are marked *
Comments