Afternoon Tea in Paris: Thé a la Française at the Ritz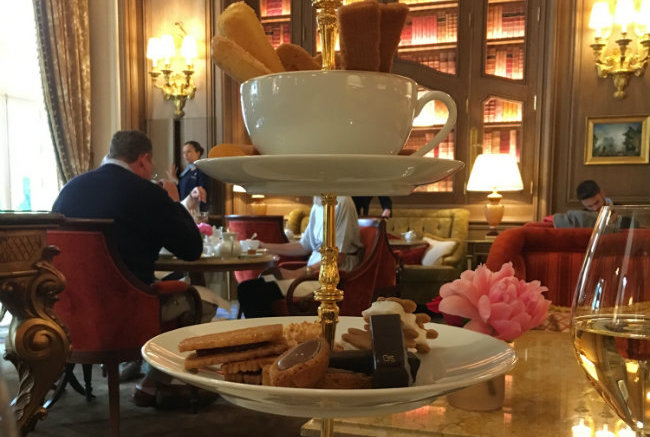 When a friend comes to town, then sometimes only the best will do. In this case, she only had one afternoon, and where better to spend an afternoon than at the Hôtel Ritz Paris? We were booked for Afternoon Tea at Salon Proust, an open room decorated as a library, shelves filled with countless editions of Proust's work. Red velvet armchairs, golden sofas, and an enormous bouquet of peonies and roses in the center of the salon made for a comfortable setting.
Instead of stuffy staff, we had the two friendly and unassuming waitresses who took us through the afternoon. After we had chosen from the extensive tea menu, Earl Grey for me, and Darjeeling for my friend, and opted for the Champagne option, it all started with an amuse bouche of a tiny Madeleine (remember, Salon Proust!) with some creamy milk poured over.
The tea came and, as with a good wine, we were invited to taste it. It was perfectly brewed, and the pot without leaves left in, so it would not get any stronger. The Champagne was Barons de Rothschild Réserve Ritz, the hotel's own label. Another treat arrived: a scoop of ice cream with three toppings. We were beginning to wonder if this was a tasting menu rather than your usual tea, when the cake tier-stand was placed in front of us.
Fourteen different sweet treats for each of us, and not small ones either. Not a single savory treat, not your usual cucumber sandwiches or smoked salmon nibbles, but anything and everything from almond tarts, meringues, Florentines, and chocolate cake, and, and, and. It was a truly Thé a la Française, not your average English Afternoon Tea.
Chatting while constantly savoring more of the sweet delicacies, we eventually looked up and realized the half the stand was still full. We started to panic. Having already canceled any dinner thoughts in anticipation, we still could not see us managing any more. Luckily, we were not alone in our predicament. As the afternoon had whiled away, we had spotted that fellow partakers had been given a little doggy-box to take home any left-overs.
The day, and our stomachs, were saved– and after we had paid the bill, which came hidden in a Proust book, we parted, each carrying a gorgeous little white box with The Ritz in gold letters printed on it. I held it quite proudly on my lap on the way home in the metro, and then ate cake for another two days. Oh, the struggle.
Le Thé à la Française (65€), and the Le Thé Royal à la Française with a glass of champagne (85€) is served every day in Salon Proust between 2:30 pm and 6 pm. An extra glass of champagne sets you back 28€. Ritz Paris, 15 Place Vendôme, 75001 Paris. Tel: + 33 (0)1-43-16-30-30. Website: www.ritzparis.com/en-GB
Lead photo credit : Afternoon Tea at the Ritz Paris. Photo: Ulrike Lemmin-Woolfrey
---
---
Comments