Cocktails, Classes and Grand Crus: The Tea Trend in Paris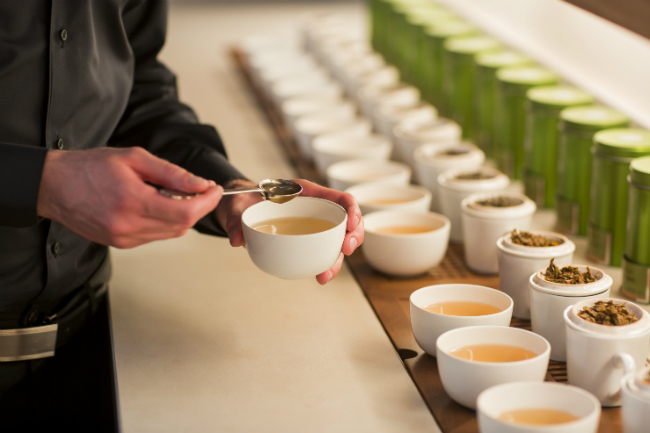 Stroll through St Germain, the Marais, and other popular Paris districts and you'll likely stumble upon a tea boutique, stocked with colorful tins as beautifully displayed as haute couture. One of the most popular is the Palais des Thés boutique on Rue Vieille du Temple in the Marais, where passers-by are welcomed by friendly staff with piping hot tea samples. (The store at 61 Rue du Cherche-Midi is another firm favorite.)
Tea salons are also having a moment in Paris, serving high-quality teas and pastries with a side of chic Parisian ambiance.
Indeed the BBC News has reported on "France's silent tea revolution." To quote: "Hard to believe for a country supposedly devoted to the cult of coffee, but today French blends are the toast of tea cognoscenti from Nanjing to New York."
What the French bring to tea-drinking is a refined palate and gourmet sensibility—in much the same way they approach wine, seeking to understand the complexities of the beverage, celebrating its terroir.
Nobody displays this passion for tea more than François-Xavier Delmas, founder of Palais des Thés. I recently had the pleasure of attending a tea tasting class at his atelier in Paris, and I'll never sip my favorite thé vert in the same way again. Delmas travels all over the world to source the finest teas, and he shares anecdotes with wit and humor. (Check out this globe-trotter's blog here: http://www.chercheurdethe.com.) "I started 30 years ago and there's always something new to learn," he told me.
In a blind tasting, the "Introduction to Grand Cru Teas" class showcases four different, limited edition, rare brews. Attendees are invited to use three senses (smell, taste, touch) during the dégustation. I was astounded by the knowledge and discernment of the other tea-tasters, who could sniff out subtle flavors and aromas (milk, cooked vegetables, smoked wood, licorice, cassis…) while I was struggling to define them. For each grand cru tea—Anxi Tie Guan Yin, cultivated in the Chinese province facing Taiwan; Gui Fei Oolong, from a pocket of northern Thailand near Burma; and two aged teas from China: Rui Guang Pu Erh and Menghai Li Ming Pu Erh XO 2007—Delmas told stories about its cultivation and consumption.
Delmas also shares interesting facts about tea-growing regions (did you know that there are a handful of high-altitude plantations in Kenya producing magnificent orthodox teas?), and insights into tea preparation and pairings with food, like old Comté and Beaufort cheese. Did you know that you can cook with tea, too?
[Note to American readers: This cool class used to be offered at the brand's SoHo flagship in New York City. Though Palais des Thés' American stores are now closed, you can order the teas online here.]
As the sunshine ushers in the spring season, Palais des Thés is bringing ice tea to Paris. The French are firm believers in the health benefits of tisanes and infusions, but ice tea is a new concept. This new line of thé glacé is made with gourmet fruits, flowers, and delicate spices. "Jardin bohème" is a mélange of rose, apple and elderflower, while "Jardin romantique" combines peach and lemon myrtle, and the aromatic "Jardin de paradis" is made with pineapple and blackberry leaves. Caffeine free, these herbal infusions can be drunk without moderation. Tastes like sunshine in a glass!
The best part of all? These infusions can be used to make terrific cocktails. As recently described in a Vogue magazine article, "5 Unexpected Cocktail Trends to Try Now," today's visionary mixologists are seeking out new ingredients and innovative pairings. "The addition of tea to a cocktail holds several functions: It adds subtle spice notes, as well as tannins, and, when infused into a spirit, can lend delicacy and aromatics." What's more: tea adds subtle flavor without being expensive or caloric.
I recently saw this in action at L'Alcazar, a trendy loft-style restaurant opened by sir Terence Conran in 1998 in St Germain. Philippe Carraz, Head Barman at L'Alcazar, teamed up with Palais des Thés to make three original creations using the renowned French brand's teas and infusions. The non-alcoholic "Un Brin d'Insolence" incorporated the "Jardin romantique" infusion with fresh ginger, thyme and agave syrup, while "La Nouvelle Bohème" mixed the "Jardin bohème" infusion with Cognac, maple syrup, grapefruit juice, cider and fleur de sel. My favorite? Le Frisson du Hammam, concocted with Thé du Hammam, Saint Germain liqueur, Chartreuse, agave syrup, cucumber and Piment d'Espelette.
Santé!
Photo credit : tea class, photo courtesy of Palais des Thés
Leave a reply
Your email address will not be published. Required fields are marked *