Summer on the Seine: Paris Right Bank to be Pedestrianized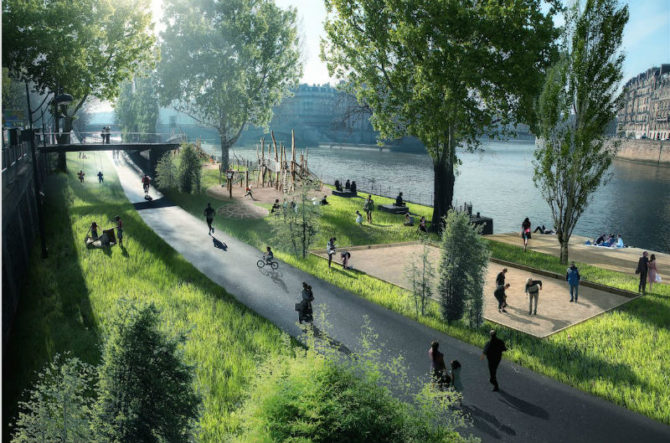 We're counting down the days until the summer, when Paris will unveil the newly pedestrianized promenade along the Right Bank of the Seine. Following the huge success of the Berges de Seine project—which transformed a riverside roadway on the Rive Gauche for pedestrian use—the Rive Droite will see a similar metamorphosis. More than 4.1 million visitors have enjoyed the Berges de Seine since they were unveiled in summer 2013: jogging along the riverbank, lunching at the restaurants and cafes, relaxing on lounge chairs on the floating gardens. There are children's activities (including teepees!), plus art exhibits are frequently staged there.
Last year mayor Anne Hidalgo invited Parisians to partake in the budget planning for the city, and an overwhelming percentage voted to pedestrianize the Right Bank in a similar fashion. Starting this summer, a 3.3 kilometer stretch will open from the tunnel des Tuileries in the 1st arrondissement to the bassin de l'Arsenal in the 4th arrondissement.
The quays of the Seine are classified as a UNESCO World Heritage site, and throughout the city's history, they have been a living part of the ville. With the continued "greening" of the city, maybe one day Parisians will be able to swim again in the Seine? Never say never!
Lead photo credit : Berges de Seine/ courtesy Anne Hidalgo- Facebook
Leave a reply
Your email address will not be published. Required fields are marked *