Running in Paris: Tips from a Local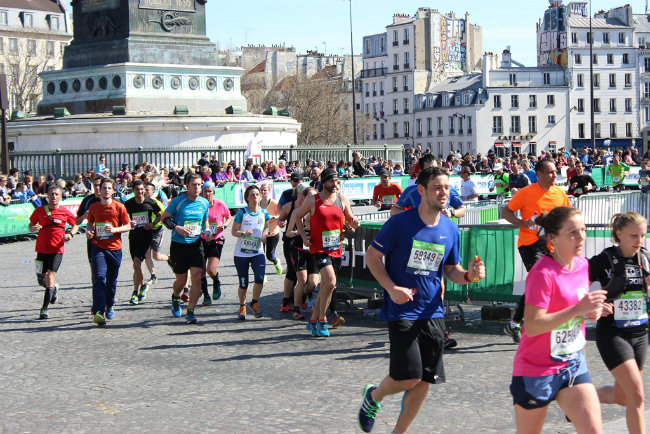 Over 43,000 runners met at the starting line on the Champs Elysées for the 40th Paris Marathon this April. While everyone always gushes about strolling the streets or taking a Vélib, let's not forget that running also proves a healthy and, believe it or not, enjoyable way to experience the city.
OK, so maybe we wouldn't call a marathon's 42 kilometers "enjoyable," but why not try a shorter distance? There are plenty of places to run in the city that you might not get to otherwise.
Les Berges
There are a few favorite places to run beyond the obvious central gardens and parks. For example, the Berges de Seine is a traffic-free stretch of riverbank that attracts runners on the weekends. It stretches from the Louvre to the Eiffel Tower and has water stops and a proper restroom.
During the week, it's a bit calmer but still perfect for running. It's only 2.3 kilometers, but you can easily extend your jog along the river or around the Champ de Mars to get in some more distance.
The Canal
When I need to do a long run, a favorite of mine is to follow the Canal Saint Martin to Parc de la Villette in the 19th arrondissement. There are a few traffic lights on the way, but once you hit Stalingrad and head up to La Villette, it becomes much easier, with either pavement or dirt underfoot.
On weekends, picnics and pétanque games make things a bit more difficult, but if you push north past the edge of the city, you can follow the water for miles with hardly any obstacles. It gets a little lonely, but that's what I like about it. No one will judge me if I break out in song or, worse, stop to walk a bit.
Les Buttes
For a real work-out, I'll head to Parc des Buttes Chaumont, also in the 19th arrondissement. It's all about hills here, which means it attracts the more serious runners. You can run laps around the central lake to warm up but then you head against gravity to reach the top of the hill before coasting back to the bottom. Repeat at will. Avoid on Sundays after 10AM.
Les Bois
More leisurely joggers may prefer either the Bois de Vincennes or the Bois de Boulogne, in the east and west of the city respectively. These giant green parks include both paved paths and dirt paths for trail running. Traffic and other people are hardly ever an issue at these parks because there is just so much space.
Coulée Verte
If you need a quick run but don't want to deal with leaving the center of the city, the Promenade Plantée/Coulée Verte which starts just behind the Opéra de la Bastille is a great choice. This renovated elevated train platform has a paved path down the middle that is free from too much foot traffic during the week. On a sunny Sunday though, forget about it.
What Day?
If you hate crowds, I stress yet again, Sunday seems to be the Parisian day to run, so choose your battles wisely. During the week most people are of course at work, and the weekends become their time to log some distance. Sunday also tends to be race day, which can happen in the streets or parks year-round.
Pollution
Paris is quaint and charming, but still a polluted city. Running along the boulevards on a warm afternoon is never a good idea. Instead, try run early in the morning, before 9AM if possible, to enjoy the cleanest air of the day. It's tempting to run on big streets because there is more room, but that's a huge no-no for your lungs. Go for green areas away from major motorways, like those described above.
During pollution spikes, when the particulate matter famously blocks out panoramas of the Eiffel Tower, it's best just to stay inside and do some strength training. [Check the website Airparif for the latest conditions.]
Hydration
If the air is fine, then run to your heart's content, but make sure your body stays hydrated. There are Wallace fountains all over Paris that flow with potable water from the spring to late fall.
But in the winter, if you can't bring your own water and you really need to hydrate, don't hesitate to ask a café for a glass, even if you don't buy anything. If you're too shy, then be smart and plan your route in advance, identifying fountains that will be available to you on your route. This map is a good start – and consider looking for the city's sparkling water fountains which stay open all year long.
Les Toilettes
If you drank too much water, there are plenty of public toilets around the city that usually function properly. They become way less gross when you're already sweaty, so check out this map for those on your route.
Know that during the summer, there are often outdoor urinals in high-traffic areas like along the Canal Saint Martin (well, for guys anyway – sorry girls!).
Style
Parisian runners have adopted the breathable fabrics, colorful shoes, and neon shirts that runners around the world sport regularly. It wasn't always that way – not 10 years ago as a student I remember watching older men run through the Luxembourg Gardens in jeans and Lacoste polos.
Wear whatever you want, that's the only rule. Shorts, tee shirts, GPS watches, tights, water belts – it's all fair game in the running world. Running is the grand fashion equalizer where Parisians, Italians, Americans, Brits, and all other nationalities look the same when they hit the pavement.
Now all that's left is to sign up for a race – check A.S.O. and TopChrono for upcoming events in the Paris region and score yourself a medal!
Photo credits: All running photos by Bryan Pirolli; The Canal St Martin and its footbridges by @lain G/Flickr; A Wallace Fountain on the Canal St Martin by Céline/ Flickr
Leave a reply
Your email address will not be published. Required fields are marked *
Comments