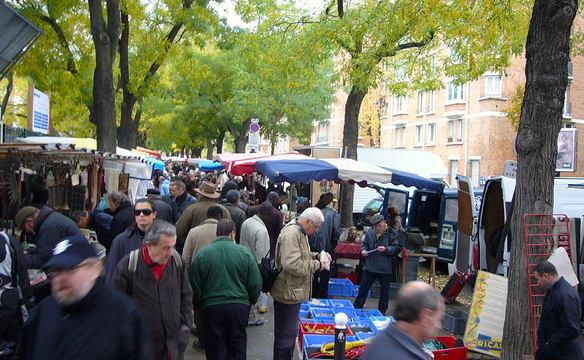 Whether you're a passionate collector or merely a lover of whimsical trinkets, a wander through one of Paris' flea markets will always seduce and enthral. The Paris flea markets originated in the 18th-century when chiffoniers or rag-and-bone men resold goods and clothing found in aristocrats' rubbish bins, setting up just outside the gates of Paris to avoid fees and taxes incurred within city walls. Consequently, the main flea markets sit on the rim of the city close to the Boulevard Peripherique (ring road). Most visitors to the city make a beeline for Puces de St-Ouen (Clignancourt), the largest flea market in the capital. Yet the intricate labyrinth of 2500 stalls and 17 kilometres of alleyways spread over 6 hectares can be overwhelming, not to mention the task of navigating the 70,000 bargain hunters that visit every week. A more relaxing alternative is to head straight to Vanves, the smallest and friendliest of the flea markets. Tucked in an out-of-the-way corner of the city, this weekend marché aux puces—which dates from the 1920s—is easily accessible by metro and still largely the haunt of locals. Prices are reasonable, the atmosphere intimate and its manageable size (there are around 200 traders) makes for a stimulating morning outing, leaving the rest of the day free. Another advantage for travelers is that most wares are small and decorative, fitting deftly into a suitcase. You're more likely to find a fanciful figurine or delicate eau de cologne bottle than an 18th-century armoire and heavy Napoleon bust. A trove of the unexpected, Vanves is not a market for fine antiques but rather general collectables, eccentric one-off pieces and curiosities. The market stretches over two avenues. After alighting le métro at Porte de Vanves in the depths of the 14th arrondissement, you first come to Avenue Marc Sangnier, shaded by a canopy of leafy trees. Plan to arrive around 9am, while the morning is still fresh, when the jovial stallholders are standing around dipping croissants in their coffee and flinging jokes across the alley. Stroll past groups of vendors playing cards to discover dinner plates with historical French scenes, glass cabinets filled with buttons and brooches and bijoux de fantaisie from the 1950s. Rummage through suitcases jam-packed with old French comic books and vintage postcards. Further on, sets of antique serviettes, crisply pressed, are stacked next to ornate fish knives and carving sets. Paintings (of varying quality) are propped against chairs. There is something for every taste. A couple are cooing over a press-agency photo of Marlon Brando. A coin enthusiast peers through a magnifying glass at an old French franc. Fans of Charles Trenet (the legendary French chanson star) fossick through a box of his vinyls while a Jacques Tati buff snaps up an original film poster of "Monsieur Hulot's Holiday." Most vendors take cash only, so if you intend to splurge on a pair of florid candlesticks or an ornate picture frame, be wary of pickpockets and be prepared to bargain (dealers generally drop their prices by 10-15 percent). Despite advertising that some stall run until 7:30pm, many stallholders pack up for a late lunch and don't return. Other stands are replaced in the afternoon by new rather than second-hand goods. Stop to order a piping hot a crepe drizzled with lemon and sugar at the crossroad of Ave Marc Saugnier and Ave Georges Lafenestre, where a man belts out tunes on his piano accordion and chestnuts roast in a tin drum. Continuing down Ave Georges Lafenstre there are more interesting buys. Lamps, hatpins and boxes of glass chandelier drops in a rainbow of jewel colours are scattered about. Trestles are cluttered with dusty antique books and piles of Le Petit Echo de la Mode French fashion magazines from the '20s and '30s. Racks of vintage clothing, sets of '50s kitchen canisters, Ricard ashtrays and old maps of Paris vie for attention. On Sunday morning, after picking up a treasure or two, drop in at the lively neighbourhood produce market a block away on Boulevard Brune. Here you'll encounter runny farmhouse cheeses, rustic fruit tarts and fresh regional produce, all of which will give you an appetite for lunch. And after you've savoured your plat du jour and glass of vin blanc on some sunny outdoor terrace, an afternoon in Paris still stretches before you … Puces Vanves Ave Marc Sangnier & Ave Georges Lafenstre, 14th Paris Metro Porte de Vanves Open Saturday & Sunday 7am to 1pm Marche Brune Between Impasse Vandal & Boulevard Brune, 14th Metro Porte de Vanves Thursday & Sunday 7am -2.30pm Photo credits: Vanves Market. Photo: Ted Drake; Vanves vintage sewing machines. Photo: sewingbytheseatofmypants; and Vanves market sales table. Photo: salvagedgrace. See more about
markets in Paris
.
SUBSCRIBE
ALREADY SUBSCRIBED?
BECOME A BONJOUR PARIS MEMBER

Gain full access to our collection of over 5,000 articles and bring the City of Light into your life. Just 60 USD per year.

Find out why you should become a member here.

Sign in

Fill in your credentials below.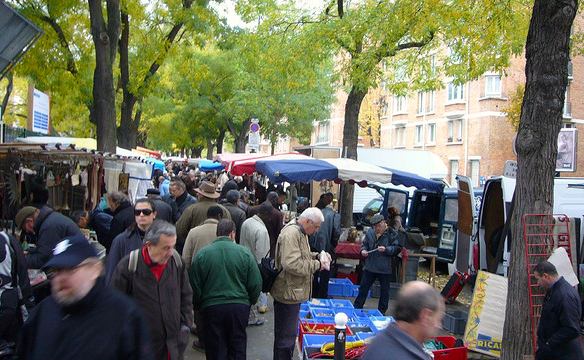 Whether you're a passionate collector or merely a lover of whimsical trinkets, a wander through one of Paris' flea markets will always seduce and enthral. The Paris flea markets originated in the 18th-century when chiffoniers or rag-and-bone men resold goods and clothing found in aristocrats' rubbish bins, setting up just outside the gates of Paris to avoid fees and taxes incurred within city walls. Consequently, the main flea markets sit on the rim of the city close to the Boulevard Peripherique (ring road).
Most visitors to the city make a beeline for Puces de St-Ouen (Clignancourt), the largest flea market in the capital. Yet the intricate labyrinth of 2500 stalls and 17 kilometres of alleyways spread over 6 hectares can be overwhelming, not to mention the task of navigating the 70,000 bargain hunters that visit every week.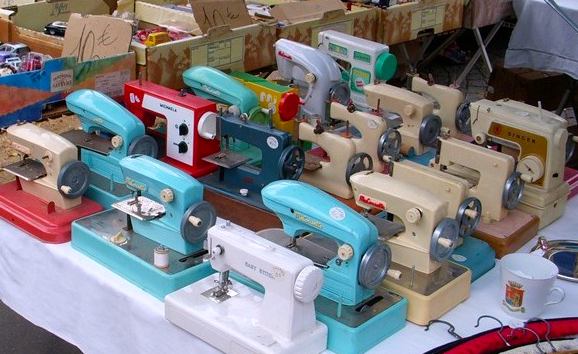 A more relaxing alternative is to head straight to Vanves, the smallest and friendliest of the flea markets. Tucked in an out-of-the-way corner of the city, this weekend marché aux puces—which dates from the 1920s—is easily accessible by metro and still largely the haunt of locals. Prices are reasonable, the atmosphere intimate and its manageable size (there are around 200 traders) makes for a stimulating morning outing, leaving the rest of the day free.
Another advantage for travelers is that most wares are small and decorative, fitting deftly into a suitcase. You're more likely to find a fanciful figurine or delicate eau de cologne bottle than an 18th-century armoire and heavy Napoleon bust. A trove of the unexpected, Vanves is not a market for fine antiques but rather general collectables, eccentric one-off pieces and curiosities.
The market stretches over two avenues. After alighting le métro at Porte de Vanves in the depths of the 14th arrondissement, you first come to Avenue Marc Sangnier, shaded by a canopy of leafy trees. Plan to arrive around 9am, while the morning is still fresh, when the jovial stallholders are standing around dipping croissants in their coffee and flinging jokes across the alley.
Stroll past groups of vendors playing cards to discover dinner plates with historical French scenes, glass cabinets filled with buttons and brooches and bijoux de fantaisie from the 1950s. Rummage through suitcases jam-packed with old French comic books and vintage postcards. Further on, sets of antique serviettes, crisply pressed, are stacked next to ornate fish knives and carving sets. Paintings (of varying quality) are propped against chairs. There is something for every taste. A couple are cooing over a press-agency photo of Marlon Brando. A coin enthusiast peers through a magnifying glass at an old French franc. Fans of Charles Trenet (the legendary French chanson star) fossick through a box of his vinyls while a Jacques Tati buff snaps up an original film poster of "Monsieur Hulot's Holiday."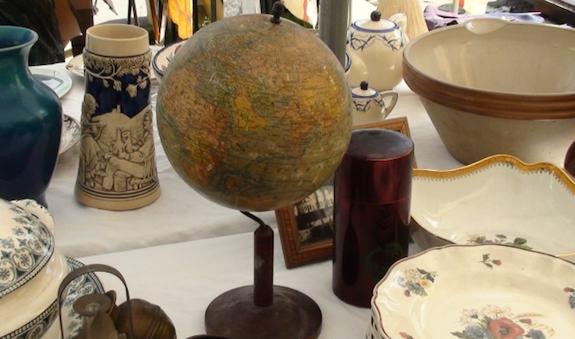 Most vendors take cash only, so if you intend to splurge on a pair of florid candlesticks or an ornate picture frame, be wary of pickpockets and be prepared to bargain (dealers generally drop their prices by 10-15 percent). Despite advertising that some stall run until 7:30pm, many stallholders pack up for a late lunch and don't return. Other stands are replaced in the afternoon by new rather than second-hand goods.
Stop to order a piping hot a crepe drizzled with lemon and sugar at the crossroad of Ave Marc Saugnier and Ave Georges Lafenestre, where a man belts out tunes on his piano accordion and chestnuts roast in a tin drum.
Continuing down Ave Georges Lafenstre there are more interesting buys. Lamps, hatpins and boxes of glass chandelier drops in a rainbow of jewel colours are scattered about. Trestles are cluttered with dusty antique books and piles of Le Petit Echo de la Mode French fashion magazines from the '20s and '30s. Racks of vintage clothing, sets of '50s kitchen canisters, Ricard ashtrays and old maps of Paris vie for attention.
On Sunday morning, after picking up a treasure or two, drop in at the lively neighbourhood produce market a block away on Boulevard Brune. Here you'll encounter runny farmhouse cheeses, rustic fruit tarts and fresh regional produce, all of which will give you an appetite for lunch. And after you've savoured your plat du jour and glass of vin blanc on some sunny outdoor terrace, an afternoon in Paris still stretches before you …
Puces Vanves
Ave Marc Sangnier & Ave Georges Lafenstre, 14th Paris
Metro Porte de Vanves
Open Saturday & Sunday 7am to 1pm
Marche Brune
Between Impasse Vandal & Boulevard Brune, 14th
Metro Porte de Vanves
Thursday & Sunday 7am -2.30pm
Photo credits: Vanves Market. Photo: Ted Drake; Vanves vintage sewing machines. Photo: sewingbytheseatofmypants; and Vanves market sales table. Photo: salvagedgrace.
See more about markets in Paris.
More in Bonjour Paris, Clignancourt, Flea markets France, food markets, marche, Paris, Paris book reviews, Paris books, Paris shopping, Paris sightseeing, Paris tourism, Paris tourist tips, Puces-St-Ouen, Shopping, souvenir, Vanves Flea Market, Vanves market
---
---
Comments