There have been many events to mark the bicentennial of
Napoleon Bonaparte
's death on the island of St Helena in May 1821, but perhaps the most recognizable and iconic is in the upcoming September auction in Sotheby's in Paris. Napoleon's bicorne hat is expected to sell at an estimate of between 400,000 – 600,000 euros. This hat, believed to be only one of 19 still in existence, is credited to have been worn by Napoleon not only during his army's triumphant defeat of Russia in 1807, but also when he signed the peace treaties of Tilsit that carved up continental Europe into various zones of French and Russian influence. Grand Admiral Alfred von Tirpitz wearing a bicorne (C) Unknown, Public Domain Most of the remaining 19 hats are in museum collections, although one is famously displayed in a glass cabinet in
Le Procope restaurant
in Rue de l'Ancienne Comédie in the Saint-Germain-des-Prés district. It was said to have been left in lieu of a bill. (When Napoleon fled the battlefield on June 18th, 1815, he was forced to abandon the carriage carrying his campaign baggage. After his defeat, the contents were seized upon by the allies. The Deutsches Historisches Museum in Berlin has his hat and since 1837, the Queen of England has owned the red, ankle-length, embroidered cloak worn by
Napoleon
on the eve of the battle.) The bicorne up for auction had been bought in 1814 by the Scottish politician and aristocrat Sir Michael Shaw-Stewart, then passed down through the generations from his estate in Ardgowan, Scotland. Stewart had been somewhat obsessed with Bonaparte. He had met him once and had considered him to be a brilliant strategist. Battlefield at Waterloo. Credit: William Sadler, Public Domain Another of Napoleon's bicorne hats that was believed to be have been dropped on the battlefield at Waterloo 205 years ago was bought at auction in Lyon in 2018 for 350,000 euros. Earlier in 2014, again at auction, a bicorne which had come from a collection of the Monaco royal family was bought by the South Korean founder and chairman of the Harim food conglomerate for a whopping $2 million –  five times the estimated guide price. This particular bicorne had a convincing provenance. The hat was said to have been picked up as a war trophy after the Battle of Waterloo and after changing hands was showcased in Brussels at the 1897 World's Fair. Other clues to its authenticity, apart from it being
Napoleon
's size (he was said to have a larger than average head!), were modifications he was known to request, such as reinforcements and the removal of the sheepskin band.
SUBSCRIBE
ALREADY SUBSCRIBED?
BECOME A BONJOUR PARIS MEMBER

Gain full access to our collection of over 5,000 articles and bring the City of Light into your life. Just 60 USD per year.

Find out why you should become a member here.

Sign in

Fill in your credentials below.
There have been many events to mark the bicentennial of Napoleon Bonaparte's death on the island of St Helena in May 1821, but perhaps the most recognizable and iconic is in the upcoming September auction in Sotheby's in Paris.
Napoleon's bicorne hat is expected to sell at an estimate of between 400,000 – 600,000 euros.
This hat, believed to be only one of 19 still in existence, is credited to have been worn by Napoleon not only during his army's triumphant defeat of Russia in 1807, but also when he signed the peace treaties of Tilsit that carved up continental Europe into various zones of French and Russian influence.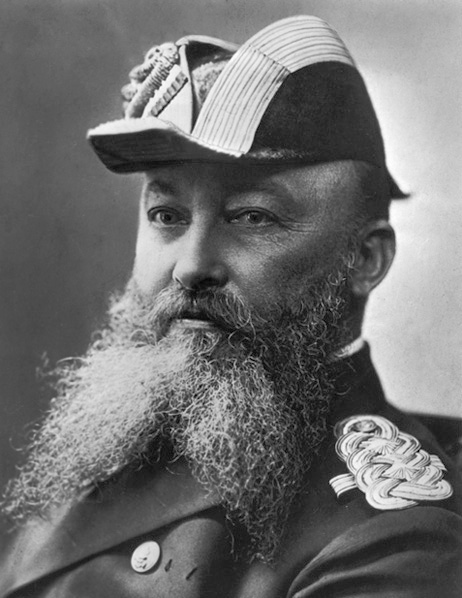 Most of the remaining 19 hats are in museum collections, although one is famously displayed in a glass cabinet in Le Procope restaurant in Rue de l'Ancienne Comédie in the Saint-Germain-des-Prés district. It was said to have been left in lieu of a bill. (When Napoleon fled the battlefield on June 18th, 1815, he was forced to abandon the carriage carrying his campaign baggage. After his defeat, the contents were seized upon by the allies. The Deutsches Historisches Museum in Berlin has his hat and since 1837, the Queen of England has owned the red, ankle-length, embroidered cloak worn by Napoleon on the eve of the battle.)
The bicorne up for auction had been bought in 1814 by the Scottish politician and aristocrat Sir Michael Shaw-Stewart, then passed down through the generations from his estate in Ardgowan, Scotland. Stewart had been somewhat obsessed with Bonaparte. He had met him once and had considered him to be a brilliant strategist.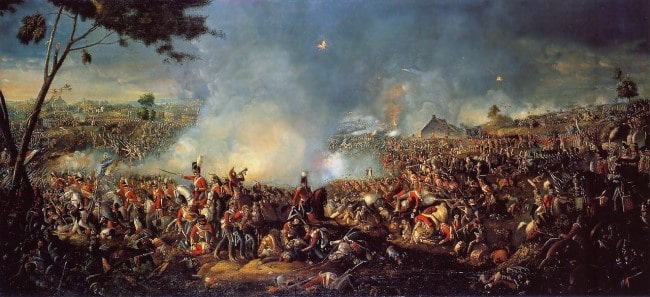 Another of Napoleon's bicorne hats that was believed to be have been dropped on the battlefield at Waterloo 205 years ago was bought at auction in Lyon in 2018 for 350,000 euros.
Earlier in 2014, again at auction, a bicorne which had come from a collection of the Monaco royal family was bought by the South Korean founder and chairman of the Harim food conglomerate for a whopping $2 million –  five times the estimated guide price.
This particular bicorne had a convincing provenance. The hat was said to have been picked up as a war trophy after the Battle of Waterloo and after changing hands was showcased in Brussels at the 1897 World's Fair. Other clues to its authenticity, apart from it being Napoleon's size (he was said to have a larger than average head!), were modifications he was known to request, such as reinforcements and the removal of the sheepskin band.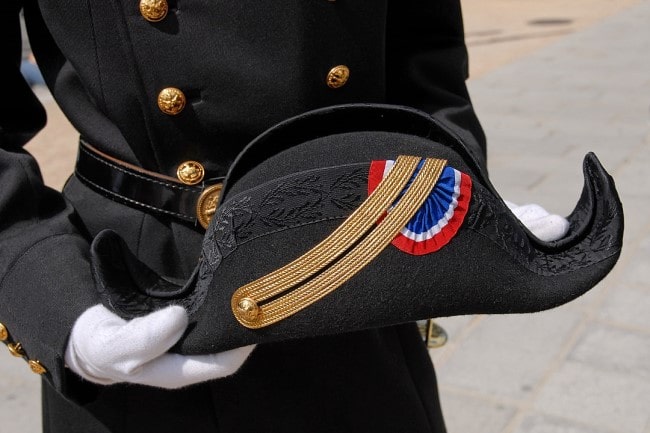 Napoleon's hats were made by Poupard. The shop was situated in the Palais du Tribunat (Palais-Royal), with a shop sign advertising "Temple du Gout" (Temple of Taste.) In 1808 the shop became Poupard et Cie and, later in 1811, Poupard et Delaunay. Napoleon always took 12 bicornes with him. It was estimated that Napoleon had around 120 bicornes made for him during his rule between 1799 and 1815. The hats cost 48 francs each. Napoleon had his valets break them in for him.
One suggestion as to why there are so few of Napoleon's bicornes left in existence was that Napoleon, in a bad temper, after a less than victorious battle perhaps, was prone to take it out on his hat…
While it would be perhaps a little far fetched to describe Napoleon as a fashionista, he was certainly astute about creating his image to suit the occasion. Made with black felt, with the red, white and blue cockade symbolizing the French Revolution, his bicorne was a modest affair, but vital to the image he wanted to portray to his soldiers of a down to earth leader, a man of the people. (Contrast this Napoleon, choosing to wear the uniform of a colonel in the Imperial Guard at the Battle of Waterloo, instead of far grander uniforms he was entitled to wear, to the Napoleon residing in the utter, golden, opulence of his palace apartments in the Louvre.)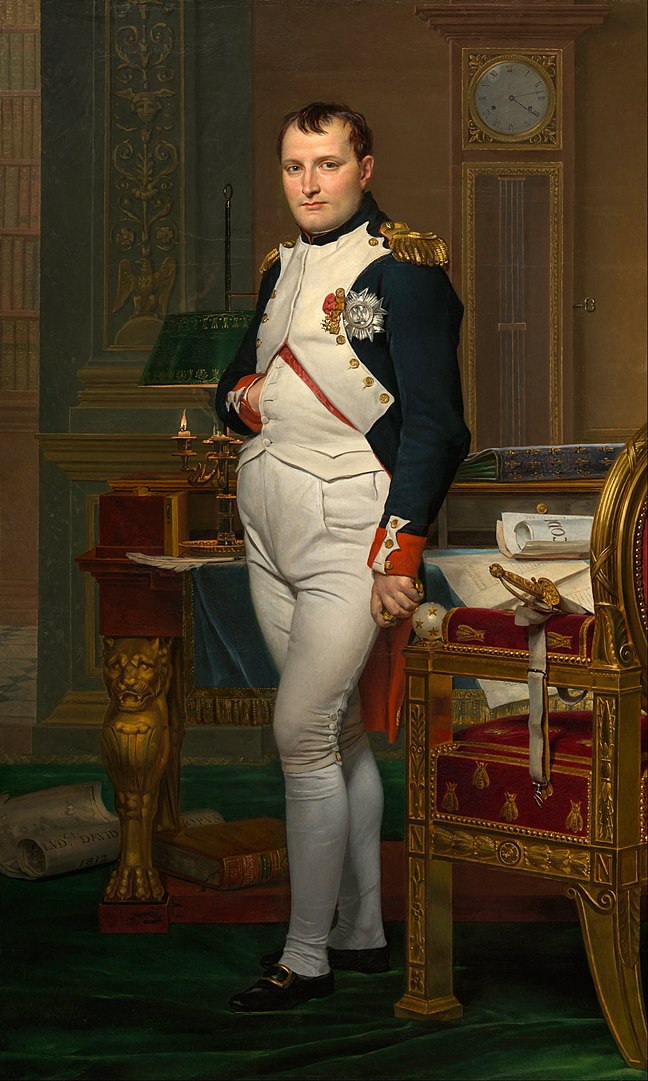 But Napoleon needed to be seen on the battlefield, needed to be seen as an iconic leader, and so he wore his bicorne side to side (en bataille) and not back to front (en colonne) like his soldiers. This simple change in the wearing of his hat was a stroke of genius, and today would be a marketing man's dream. Napoleon could be recognized anywhere.
Of course a simple hat could not inspire the kind of loyalty Napoleon required from his troops, and here was where Napoleon excelled in gaining and keeping his soldiers' trust. He memorized the names of hundreds of soldiers and could recognize them on the battlefield or on parades. He performed numerous acts of personal kindness, granting money and favors, and even adopted the children of soldiers killed during the battle of Austerlitz.
His hat, his underplayed uniform, the red, white and blue cockade on his hat that was worn by thousands of ordinary French people, further demonstrated that Napoleon was a man of the people, a revolutionary leader who cared.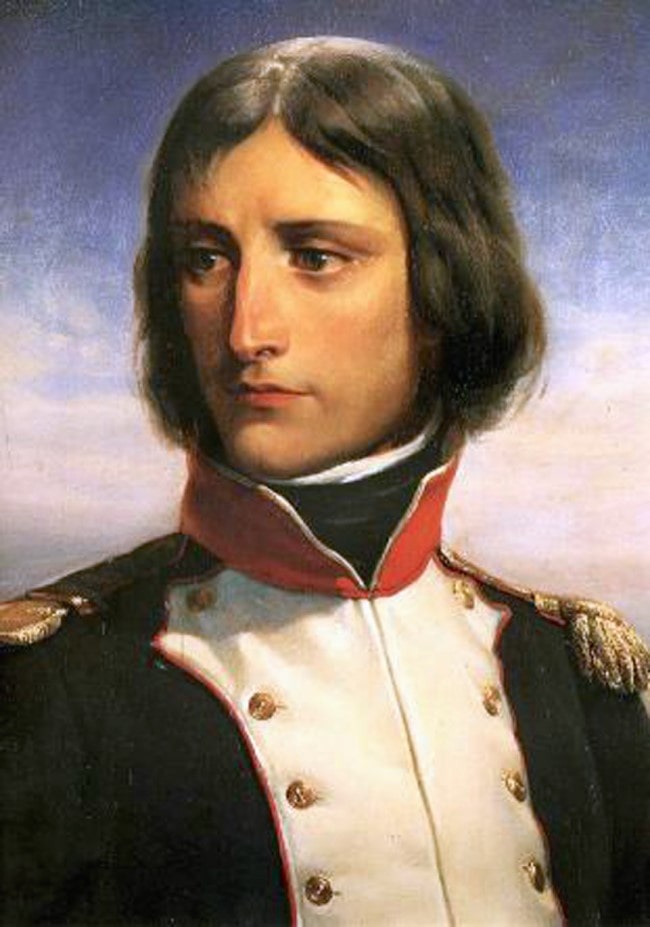 The bicorne was not even exclusively French. It was adopted in the 1790s as an item of uniform not only in Europe but also by American army and naval officers. Most generals and staff officers of the Napoleonic period wore bicornes, and the style survived as the full-dress uniform headdress until the 1910s. However long after this period, the bicorne in the cocked hat style was adopted by members of the Académie française, and students at the École Polytechnique wear a bicorne as part of their Grand Uniforme. The bicorne also formed part of the historic black and red full dress of cadets at the École de Santé des Armées until this uniform was withdrawn in 1971, and members of the Cadre Noir still sport the bicorne in full dress uniform.
The bicorne survives to this day throughout Europe: worn by the Spanish Riding School of Vienna; by ambassadors in the diplomatic services in Britain, France, Sweden, Belgium and Spain; and on state occasions, especially in the United Kingdom, including the annual Trooping of the Color in London. These bicorne hats are often much more elaborate than the modestly adorned hats worn by Napoleon on the battlefield with distinctive colored plumes, often with white swan feathers. The Italian Carabinieri, like Napoleon, wear their bicornes sideways with a large tricolor cockade on the front. Their popular name is La Lucerna, the lamp.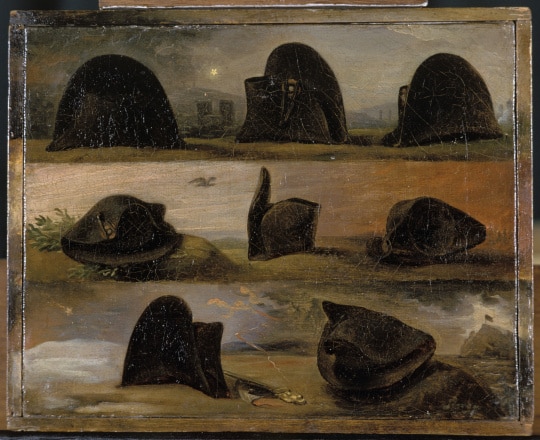 As much as Napoleon wished to be considered as a man of the people on the battlefield, he was as disposed to be painted for austerity as a symbol of statesman-like nobility. One of his distinctive poses was standing with his right hand tucked between the buttons of his shirt or waistcoat. This inevitably led to rumors, especially outside of France, that Napoleon had lost his hand in battle or it was deformed or badly injured. Another explanation bizarrely mooted was that Napoleon was constantly pressing on his stomach to alleviate chronic pain. (This theory grew legs, when Napoleon's death was believed to be the result of stomach cancer.) None of these conjectures were true, however. Napoleon was simply following the norms of portraiture in the 18th and 19th century: one hand tucked into a shirt or a cloak was said to depict "manly boldness, tempered with modesty." It was a pose copied with enthusiasm by the likes of Mozart and George Washington.
Napoleon never had any doubts of his greatness. During his resplendent coronation in Notre Dame Cathedral in 1804, he crowned himself… to signify that he had risen to be Emperor of France on his own merits. His pose said it all.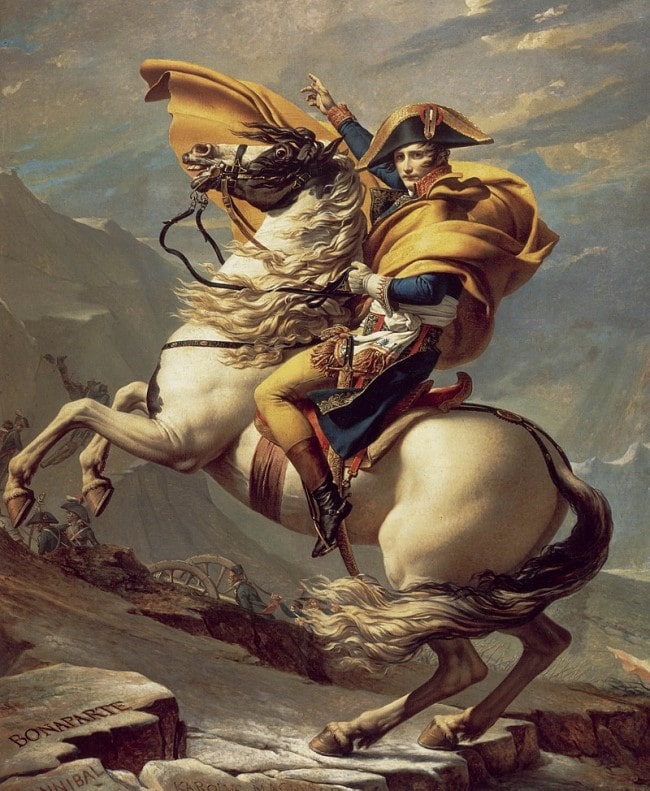 After Napoleon's defeat at the Battle of Waterloo and his exile in St Helena, four of his bicorne hats were exiled with him. All paintings of his deathbed portray Napoleon in his full uniform of a field marshall as he had requested. His boots and spurs were placed on the simple iron cot, his beloved bicorne on his head.
Napoleon died on May 5th, 1821, but it took almost 20 years before his remains were returned to Paris. His body was transferred on December 15th, 1840 to an enormous funeral carriage drawn by 16 black horses to Les Invalides, Napoleon's final resting place.
Among the different articles placed around his body, his simple black bicorne remained "singularly well preserved."
Lead photo credit : Early bicorne from France (C) Unknown, Public Domain
More in Art, auction, Battle, fashion, France, history, Napoleon, Paris
---
---