Louis Vuitton's LV Dream: A New Experience in Paris
"Those people who say money can't buy happiness obviously never owned a Louis Vuitton purse". — Anonymous
We've lined up patiently outside the chic Louis Vuitton flagship store on Avenue des Champs Elysées. Acquiring that limited edition purse, handbag, trunk, Speedy, Neverfull tote, Miss Vivienne… makes the wait well worthwhile. We've stood gazing in wonder at the monumental Fondation Louis Vuitton, designed by Frank Gehry.
Now, for the first time in Paris, for one year only, Louis Vuitton presents "LV Dream Space." This chic pop-up marks the welcome evolution of the Pont Neuf district, beautifully located on the banks of the River Seine, which began with the transformation of La Samaritaine department store (circa 1870) and the Cheval Blanc Hotel (also owned by parent company, the luxury conglomerate LVMH).
Open 7/7, LV Dream occupies a space located within the same building as Vuitton's corporate offices, formerly home to the Conforama furniture store. (A Louis Vuitton branded luxury hotel is planned for the premises in the future — see BP's recent "Letter from Paris.") LV Dream offers incredible interactive experiences throughout nine rooms, showcasing the collaboration and partnerships with artists, architects and avant garde designers such as Richard Prince, Jeff Koons, Takashi Murakami, Cindy Sherman and Yayoi Kusama. Look out for previously unseen portraits of Louis Vuitton by hip American figurative artist Alex Katz. Visits are free, but must be booked on the Vuitton website (see below).
Then, cherry on the gâteau, there's the unique café and chocolate factory experience. Located on the first floor above the exhibition, these two spaces strut an industrial style embellished with tropical plants. Maxime Frédéric, the creative and talented young pastry chef at Cheval Blanc Paris, translates Louis Vuitton's iconic motifs into entremets, éclairs and pastries, staged like works of art on a corrugated counter. Oh la la !
In the chocolate factory, a curvilinear counter in natural oak is surrounded with stacked trunks, interspersed with niches to present the boxes of chocolate. Playing once again with the codes of the House, Maxime Frédéric has developed bars in the shape of, say, a Damier bag, Vivienne chocolate marshmallows, Monogram candies among other confectionery. These treats are beautifully packaged in saffron-colored boxes sealed with the signature blue ribbon.
And then there's the irresistible gift shop, resolutely organic and curvaceous, intended to be a chill-out space where visitors can discover exclusive objects related to the exhibition, such as address holders, cards, shopping bags stamped with the LV DREAM logo. I covet every item in the collection of small leather goods, accessories, perfumes etc.
The Back Story:
Founder of the iconic, wishlist brand Louis Vuitton, the legendary French fashion designer and businessman (1821-1892) was originally a box-maker and packer. Vuitton left home in the Jura region, eastern France, at the age of 13, walking the 292 miles to reach Paris, taking odd jobs en route to earn a crust. He reached the capital two years later where he was taken on as apprentice in the workshop of box-maker Monsieur Romain Marechal. Within a few years LV's dedication and hard work gained him the reputation amongst Paris's elite and fashionable class as a first-class designer. His fortunes and reputation rose when he was appointed "trunk-maker to Empress Eugénie de Montijo," wife of Napoleon III. This position opened opportunities to a new class of a rich royal clientele and he opened his first boutique in 1854. The rest, as they say, is history.
Welcome to the wonderful world of Louis Vuitton. Attention: it will be habit forming.
From December 12th, 2022.
2, rue du Pont Neuf, 1st (formerly La Belle Jardinière department store)
Open: Monday to Sunday, 11 a.m.- 8 p.m.
Admission free
Reserve for the exhibition here: https://eu.louisvuitton.com/eng-e1/magazine/articles/lv-dream
Note: No reservations are needed for "Maxime Frédéric at Louis Vuitton" and the gift shop.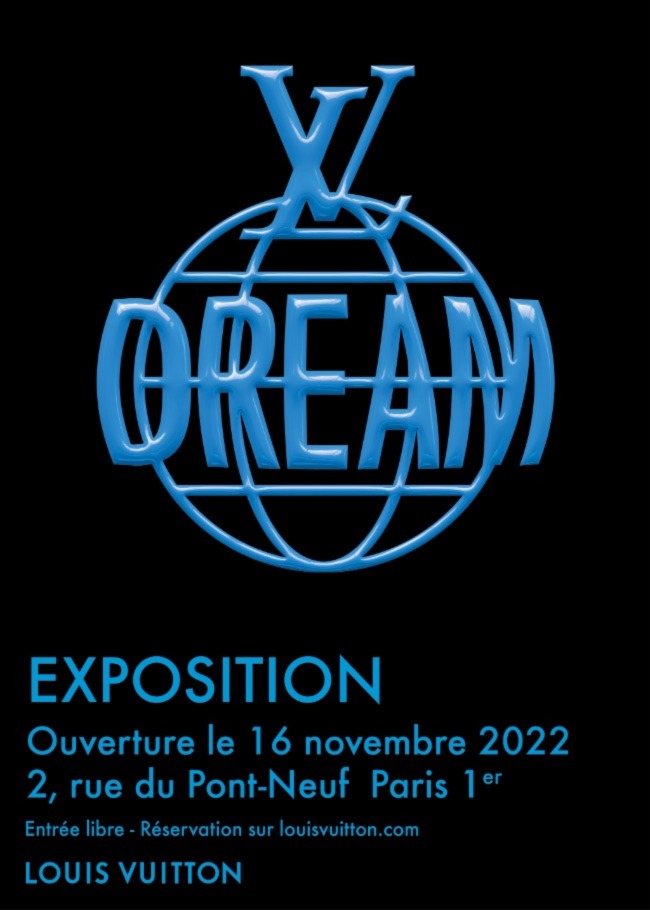 Lead photo credit : Courtesy of Louis Vuitton
More in chocolate, Chocolatier, designer, fashion, gift shop, Louis Vuitton, LV Dream
---
---