Poppy in Paris: City Tips from an Adventurous Au Pair
Inspired by France's rich heritage, I moved to Paris as an au pair in August 2022. Au pair programs are a wonderful way of immersing yourself in a new country and sharing everyday life with a local family. Having gained a degree in theology and religion with Arabic from the University of Exeter, I am passionate about learning languages and experiencing new cultures. When I'm not working, I love to explore everything that Paris has to offer, from exhibitions and museums to restaurants and second-hand clothing stores. Follow along in my new Bonjour Paris column as I uncover some hidden gems and provide city recommendations.
SUBSCRIBE
ALREADY SUBSCRIBED?
BECOME A BONJOUR PARIS MEMBER

Gain full access to our collection of over 5,000 articles and bring the City of Light into your life. Just 60 USD per year.

Find out why you should become a member here.

Sign in

Fill in your credentials below.
Inspired by France's rich heritage, I moved to Paris as an au pair in August 2022. Au pair programs are a wonderful way of immersing yourself in a new country and sharing everyday life with a local family. Having gained a degree in theology and religion with Arabic from the University of Exeter, I am passionate about learning languages and experiencing new cultures. When I'm not working, I love to explore everything that Paris has to offer, from exhibitions and museums to restaurants and second-hand clothing stores. Follow along in my new Bonjour Paris column as I uncover some hidden gems and provide city recommendations.
Restaurant of the Month
le Bistrot des Plantes, 34 Rue des Plantes, 14th
Nearest Metro: Alesia (Line 4)
On my first night in Paris (and after moving my belongings up and down the 147 steps to my sixth-floor chambre de bonne), I was in desperate need of some good food. My dad was staying in a hotel on Rue des Plantes in the 14th arrondissement and he had mentioned that he saw a wonderful-looking bistrot nearby.
Upon first glance at this bistrot, I knew that it would become a regular favorite: fairy lights and hanging plants frame the facade, contributing to the warm, laidback ambiance. On a small square opposite, colorful outdoor seating is situated under two large princess trees. Though I very much enjoyed this balmy August evening sitting outside, now that we have entered the chill of winter, one may prefer to sit inside. The interior is rustic yet sophisticated, with distressed wooden tables, leather bench seats, and deep teal walls. But be warned – there are not many tables inside, so time your visit well.
View this post on Instagram
The menu is excellent– I guarantee that you will want to order everything. On my first visit, I ordered the Tahitian swordfish tartare with coconut milk, ginger, and lime for my starter and the chicken supreme with date, olives, and sweet spices for the main. The flavors and ingredients are fresh and imaginative and provide a unique twist on traditional French cuisine. The waiters are attentive and more than happy to explain to you the intricate details of each dish.
View this post on Instagram
Not to mention the ideal portion sizes and beautiful presentation of the food– not dissimilar to dishes you would receive at double the price! If you decide to go for lunch, the formule midi is an excellent value, with a starter, main, and dessert for €24.
All in all, this is a restaurant that set the standard for subsequent Parisian eateries very high: charming setting, mouthwatering food, polite staff, and elegant wines.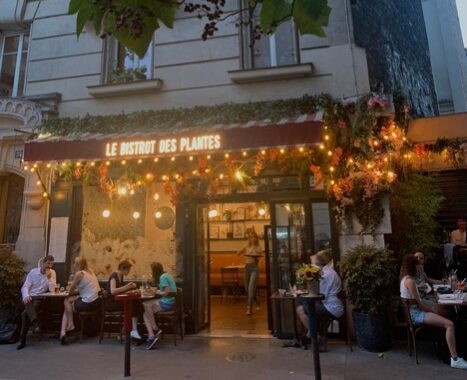 Café of the Month
La Recyclerie, 83 Boulevard Ornano, 18th
Nearest Metro: Porte de Clignancourt (Line 4)
La Recyclerie is a concept that I have never come across before. Located within a disused railway station next to Porte de Clignancourt metro, this project aims to raise public awareness about eco-responsibility through positive education.
La Recyclerie is home to not only a delicious café but also an urban farm, shared workshop, library, and space for seminars.
The urban farm consists of an indoor jungle, a roof meadow, a farmyard, two composting systems, and a collective vegetable garden of 400m2 alongside educational agricultural facilities of 150m2. Within these facilities, you will find four bee hives, three bird boxes, an insect hotel, 12 hens, two ducks, 170 varieties of plants, and 127 worms per m2. The farm hosts school groups, workshops for adults, and guided tours, and you are also invited to help with the gardening in return for coffee or tea. This urban forest promotes an invaluable ecosystem that can help reduce air pollution through carbon capture, prevent rainfall runoff, and protect vulnerable species.
The urban farm works in harmony with the café, which serves a delicious, garden-fresh menu emphasizing local and seasonal produce. Food waste gets immediately recycled, to be used again in the urban farm (as chicken feed and compost). The design is also cool: inside the old railway station, you'll find floor-to-ceiling windows, industrial-style details, and trailing plants. Outside, tables are situated along the grassy railway track – ideal to sit with friends while drinking a glass (or bottle!) of La Recyclerie's organic wine or craft beer. The café serves at all hours of the day: breakfast, brunch, lunch, tapas, and dinner.
Within the shared workshop, you can drop off and pick up repairs, borrow tools or work on your own project. La Recyclerie is also home to Radio Recyclerie, a nature podcast of ideas, debates, and ecologies. Sold on-site are jars of golden honey, which I can highly recommend. The shared library is home to many inspiring books about the natural world which you can browse in the cozy reading corner.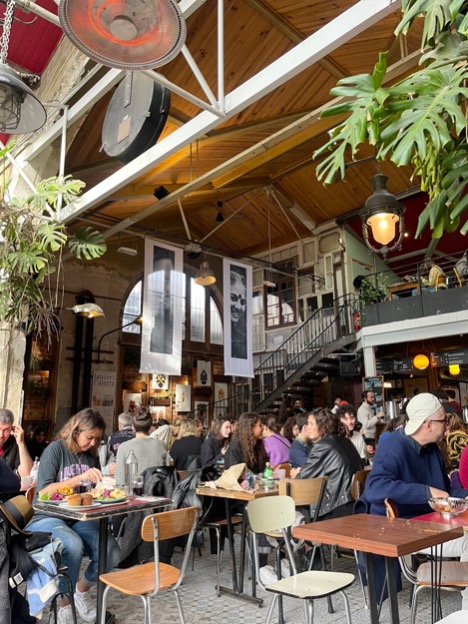 Exhibition of the Month
"Shocking! The surreal worlds of Elsa Schiaparelli" at Musée des Arts Decoratifs, 107 Rue de Rivoli, 1st
Nearest Metro: Palais Royal – Musée du Louvre (Lines 1 and 7)
Situated next to the Louvre is a lesser-known museum called Musée des Arts Decoratifs (MAD). This museum, situated on Rue de Rivoli, is beautiful inside and out and plays host to extraordinary exhibitions. This month I went with some friends to MAD's exhibition titled "Shocking! The surreal worlds of Elsa Schiaparelli", which focuses on the life and legacy of designer Elsa Schiaparelli. I was blown away by the exhibit's detail and beauty, and thus it claims the title of my "exhibition of the month."
Before I visited, I knew little about Madame Schiaparelli. My only prior knowledge was that the Italian fashion house had dressed Lady Gaga for her performance at President Joe Biden's inauguration ceremony in January 2021, and Bella Hadid for the 2021 Cannes Film Festival. However, there was so much more to discover about this woman and her accomplishments.
View this post on Instagram
Elsa Schiaparelli was a woman of firsts. The first fashion designer to set a catwalk to music, the first to design a jumpsuit, the first to design built-in bras into bathing suits and dresses, and the first female fashion designer to grace the cover of The Times magazine. In the early 20th century, she was an inventive, eccentric, and exhilarating figure in the world of fashion. The exhibition takes you through her impressive career – from escaping to the U.S. away from her well-to-do Italian family, to her fascinating friendship with Salvador Dali, to her influence within the current Schiaparelli fashion house.
Much of Schiaparelli's inspiration came from her connection to the Parisian avant-garde of the late 1920s. Paris played a big role in her fashion career, allowing her to form close relationships with famous surrealists such as Dali and Giacometti. It was in fact Schiaparelli who brought Dali into Parisian high society, allowing him to gain the donations that led to his success. This creative relationship can be seen with the influence of the legendary lobster; for Dali, his lobster telephone, for Schiaparelli, her lobster dinner dress.
577 artifacts can be found within the exhibition. Not only does this include 212 silhouettes, but also jewelry, perfumes, paintings, pictures, and sculptures – many of which were donated by Schiaparelli's close friends. These artifacts document the progression of Madame Schiaparelli's work all the way to 2022, in which Daniel Roseberry, artistic director of the House of Schiaparelli, designs his own costume inspired by the heritage of Schiaparelli. One can also view works in dedication to Schiaparelli by Yves Saint Laurent, John Galliano, and Christian Lacroix. Many major fashion houses have been inspired by the work of Elsa Schiaparelli, and as such, Schiaparelli's legacy lives on in the modern world of fashion.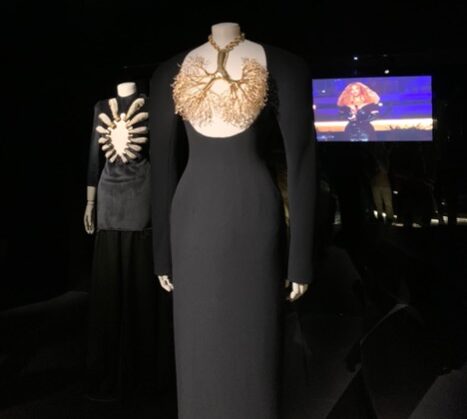 Fashion of the Month
(Re)Store, Galeries Lafayette Paris Haussmann, 9th
Nearest Metro: Chaussée d'Antin — La Fayette (Lines 7 and 9)
If you are anything like me, you'll love the opportunity to experience luxury for less.
Last week, I visited Galeries Lafayette Haussmann to enjoy one of my favorite hobbies: confidently swanning around the expensive designer stores pretending that I am indeed considering such eye-watering price tags. That was until I came across a section I had not yet seen, and one that I could actually afford … Galeries Lafayette's (Re)Store!
Luxury for less is what is provided by Galeries Lafayette's (Re)Store. Situated on the 3rd floor of the Boulevard Haussmann Cupola building, this large second-hand section pays tribute to the company's commitment to double down on sustainability and circular fashion. In February 2021, Paris Good Fashion organized an industry-wide consultation to outline the need for a complete transformation of the Parisian fashion industry to become more responsible. Galeries Lafayette is on target to meet its 2024 objectives set last year, and the (Re)Store fulfills the third objective: "To offer second-hand and rental services to encourage the circular economy".
View this post on Instagram
The space is now a permanent feature where clients are able to sell, buy and recycle their clothes, as well as to learn about garment care in an effort to make their clothes last longer. In 2019, 30% of French people bought second-hand clothing, and in the wake of the current climate crisis, this number is expected to rapidly increase. Thus, Galeries Lafayette are not only effectively promoting sustainable fashion but are also effectively keeping up with their clients' shopping habits. At last, sustainable fashion is being considered by large corporations as a productive business strategy, as more and more clients are becoming aware of fashion's devastating environmental impact.
There is a wide selection of unique garments, all varying in price and brand. As with the rest of the store, the prices can still get high, but I was able to find a gorgeous trench coat for €40! The store is light, bright and well laid out, and much more manageable than other second-hand clothing stores.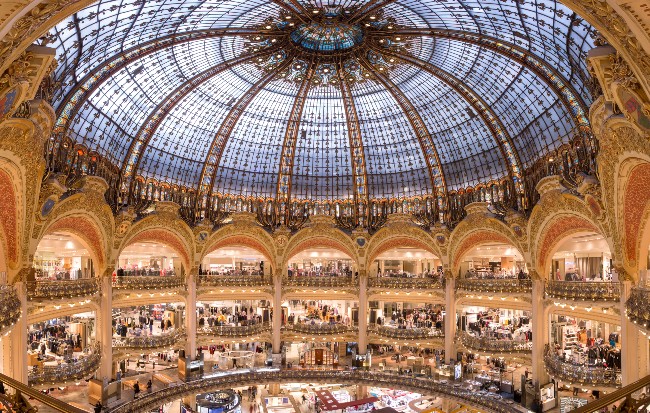 Day Trip of the Month
Les Folies Gruss, Carrefour des Cascades, 16th
Nearest Metro: Ranelagh (Line 9)
Earlier this month, my parents came to visit me in Paris for my mother's birthday. I had arranged the perfect weekend itinerary, planned to the most minute detail. On the day of her birthday, I booked three tickets to Les Folies Gruss in Bois de Boulogne as a surprise. Having both grown up around horses, my mother and I love all things equestrian. However, we are also both fierce proponents of animal welfare, so upon reading the inspirational and charitable history of the Gruss family, I knew that this would be the perfect day trip.
On the morning of my mum's birthday, and after lots of presents and cake, we took the metro to Trocadéro to admire the view of the Eiffel Tower. From there, we slowly walked towards Bois de Boulogne, passing through the boutique- and market-lined streets of the 16th arrondissement.
Upon reaching Bois de Boulogne, the big blue top of the circus tent started to emerge between the trees. Walking into the tent, the Alexis Gruss company stood with their beautiful horses welcoming you to the performance. We arrived an hour before the show to get a bite to eat; the bar and restaurant offer a wide range of nourishment– from oysters with champagne to donuts with fruit juice. The food was delicious, and brilliant acts and musical performances were being put on within the restaurant tent. Children were playing with their light-up toys and stroking the miniature ponies, and the whole scene was joyful.
We were then taken to our seats in the big top to start the show. The spectacular spectacle comprises many acts, including trapeze artists, horse whisperers, aerial performers, tightrope walkers, equestrian acrobats, humorous comedy sketches, and many more impressive displays. There is a talented live orchestra accompanying each act, and the music is a marvel in itself. As you watch, you can see the natural connection between horse and man, as this is a family that is deeply dedicated to compassionate equestrianism. Many of the performers appear in numerous different acts, showing just how multi-skilled and gifted the whole company is. It was impossible to turn your eyes away; we were in awe. After the show, the artists make their way into the crowd, where you are able to ask them questions, take photos, or simply exchange a smile.
If you are looking for an impressive and festive afternoon, then this is the day trip for you. The price of a ticket ranges from €20-79. It is also possible to purchase special packages for both Christmas Eve and New Year's Eve, starting from €95 and including a five-course meal and champagne before the show.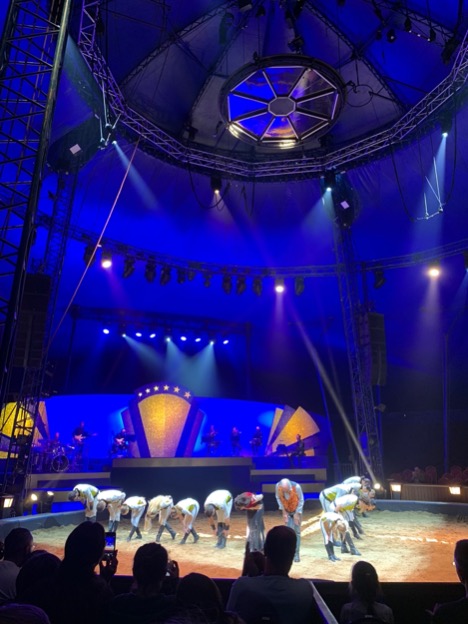 Hidden Gem of the Month
Beaupassage, 14 Boulevard Raspail, 83 Rue du Bac, 53 Rue de Grenelle, 7th
Nearest Metro: Rue du Bac (Line 12)
If you're in need of a break from the city's hustle and bustle, Beaupassage is a place of refuge. This unique open-air walkway is lined with gastronomical delights and provides a serene oasis in the heart of Paris. Award-winning restaurants and cafés surround the tree-lined 10,000 m² inner courtyard, offering shade in the summer and a warm ambiance in the winter.
Alongside the restaurants and cafés, there are also temporary concept stores, furniture stores, and sculptures situated along the passage. I combined my visit to Beaupassage with a trip to Musée Maillol which neighbors this beautiful space.
Wanting to explore this hidden gem? Head to a Beaupassage entrance on either Boulevard Raspail, Rue du Bac, or Rue de Grenelle to find the following fine establishments:
Restaurants inside Beaupassage:
MERSEA is a creative seafood restaurant brought to you by two-Michelin star chef Olivier Bellin. The menu consists of street food-style fish dishes served with a sophisticated flair. MERSEA is committed to sustainable fishing and as such always sources fresh and good-quality fish. The restaurant also has a fabulous selection of cocktails, wines, and beers that can be enjoyed on their terrace.
Père & Fils is a gourmet burger restaurant with elegant interiors, a magnificent roof terrace, and a well-stocked wine cellar. The renowned French chef Yannick Alléno, who has been awarded six Michelin stars throughout his career, opened this restaurant with his son Antoine in 2021 – hence the restaurant's name "Father and Son". However, earlier this year, Antoine was tragically killed in a hit-and-run, and a plaque dedicated to him sits outside the restaurant.
COYA Restaurant is a high-end Peruvian restaurant with nine locations around the world. Their Parisian location, within Beaupassage, does not disappoint. A meal at COYA is an immersive experience and one that makes you believe you have truly traveled to Latin America. The tribal beats of the background music coupled with the Latin American artwork and interiors take the guests on a multi-sensory journey.
If you are not looking for a full meal, then a coffee and a pastry in this quiet haven are what you need.
Cafés inside Beaupassage:
Le Café Pierre Hermé is home to exquisite pastries created by the most celebrated French pâtissier, Pierre Hermé- he was awarded the title of "World's Best Pastry Chef" in 2016 and his nickname is the "Picasso of pastry." The Beaupassage location has a particular air of luxury, perhaps considering it is tucked away from the usual well-trodden paths of Paris.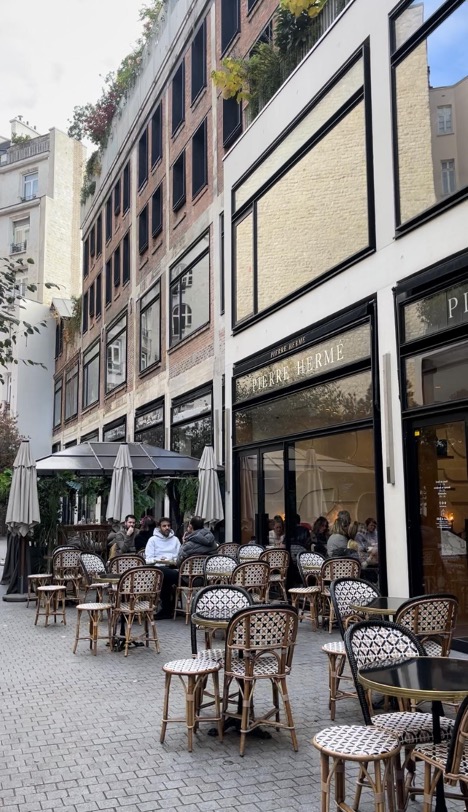 Beaupassage Café is a light and airy café with sleek, minimalist interiors. If you are a coffee connoisseur, this is the spot for you as Beaupassage Café has an excellent range of specialty coffees. This is also a comfortable spot to work from, with wide tables, free wifi, and charging points
Thierry Marx Bakery is a great bakery owned by Michelin-starred chef Thierry Marx. It has a wide range of breads, pastries, and sandwiches, and is a perfect spot for a light lunch. Thierry Marx is passionate about solidarity, and his bakeries employ many students from his school Cuisine Mode d'Emploi, which helps integrate those who are unemployed, undergoing a career change, or living in hard-pressed neighborhoods.
View this post on Instagram
Lead photo credit : La Seine. Photo credit: Rinat Abdullin/ Flickr
More in Poppy in Paris
---
---
Comments