A Shocking Good Time: An Ode to Elsa Schiaparelli
Put your lighters in the air if you're still over-the-moon blissed out after watching Adele set fire to the rain at the historic Griffith Observatory in Los Angeles. Then, get thee quickly to YouTube, and re-stream clips of the CBS network's "Adele: One Night Only" concert. Rolling in the chic, the singer-songwriter was all prinked up in a Schiaparelli by Daniel Roseberry ensemble: Saturn pendant earrings and a black faille gown. With its off-the-shoulders sleeves, moon rock embroidery and fishtail skirt, designer Elsa Schiaparelli would have definitely approved of the Rosenberg's "Celestial" theme, a nod to the Schiap's own 1938-39 Winter "Zodiac" collection. Not a dry eye in my house as Lady Gaga performed at President Biden's January 2021 inauguration ceremony, cloaked in a peace-themed Schiaparelli ensemble. Look for the dove and olive branch confection. (Photo credit: Maison Schiaparelli) Make you feel my love So in celebration of the release of Adele's "30" project and the fast-approaching holidays, I've created an inspirational post, cherry-picking my favorite quotes from Schiaparelli's 1954 autobiography, A Shocking Life. Whenever I need a little pick-me-up, I reach for this book. True grit, spit, and wit reign here. Before I know it "Brack" is back on track. I'll also share a few advertisements from my personal collection, along with a few snaps from Daniel Roseberry's debut Schiaparelli presentation at Place Vendôme — for your O.O.T.D. mood board. After all, who doesn't need a few accessories (and historical tidbits) so spanking cool that they'll set you off from the crowd as a peep who is as clever as stunning? On the 1st of January, in 1935, Schiap opened up shop at Place Vendôme. Shocking Fragrance, Harper's Bazaar, 1944. (Advertisement: Theadora Brack Collection) Here's the zip On January 1, 1935, "Schiap" moved her salon from the fourth floor at 4 rue de la Paix to 21 Place Vendôme (facing Napoleon's column and adjacent to the
Hôtel Ritz
), where she opened one of the first prêt-à-porter boutiques in Paris. One could easily pop by the shop and score "ready to be taken away immediately" dresses, evening sweaters, bathing suits, shorts, lingerie, lounge wear, dressing gowns, hats, jewelry, stockings, and handbags, along with "useful and amusing gadgets afire with youth." The mind squeals. Where's time travel when you need it? Window-shopping at Schiap's Boutique Fantastique, Place Vendôme, 1950. The mind squeals. Where's time travel when you need it? (Slide: Theadora Brack Collection) Making the scene Schiaparelli's perfumes were also available in the shop, displayed in a giant birdcage made of gold-painted bamboo. Created by décor guru Jean-Michel Frank, the design was inspired by Schiap's favorite
Picasso
painting, "Bird Cage and Playing Cards." Following French historic preservation guidelines, Frank also revamped the other rooms at 21 Place Vendôme (there were 98 in all!). It was the 1930s, so stark was making its mark. The walls and molding were painted white, while flattering lighting was made possible by concealing lights in abstract plaster columns.
SUBSCRIBE
ALREADY SUBSCRIBED?
BECOME A BONJOUR PARIS MEMBER

Gain full access to our collection of over 5,000 articles and bring the City of Light into your life. Just 60 USD per year.

Find out why you should become a member here.

Sign in

Fill in your credentials below.
Put your lighters in the air if you're still over-the-moon blissed out after watching Adele set fire to the rain at the historic Griffith Observatory in Los Angeles.
Then, get thee quickly to YouTube, and re-stream clips of the CBS network's "Adele: One Night Only" concert. Rolling in the chic, the singer-songwriter was all prinked up in a Schiaparelli by Daniel Roseberry ensemble: Saturn pendant earrings and a black faille gown. With its off-the-shoulders sleeves, moon rock embroidery and fishtail skirt, designer Elsa Schiaparelli would have definitely approved of the Rosenberg's "Celestial" theme, a nod to the Schiap's own 1938-39 Winter "Zodiac" collection.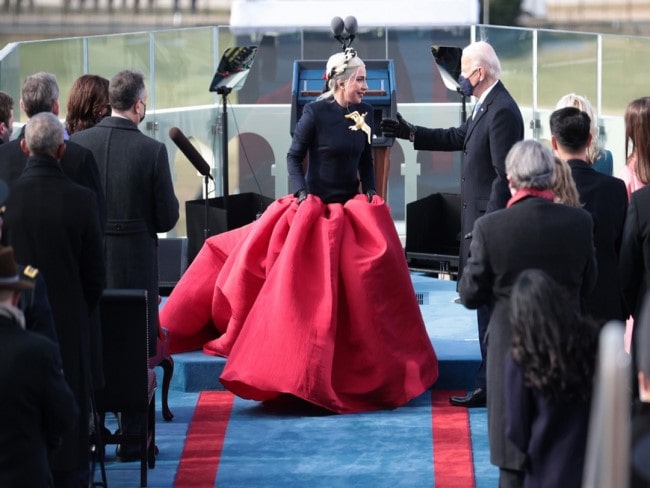 Make you feel my love
So in celebration of the release of Adele's "30" project and the fast-approaching holidays, I've created an inspirational post, cherry-picking my favorite quotes from Schiaparelli's 1954 autobiography, A Shocking Life. Whenever I need a little pick-me-up, I reach for this book. True grit, spit, and wit reign here. Before I know it "Brack" is back on track. I'll also share a few advertisements from my personal collection, along with a few snaps from Daniel Roseberry's debut Schiaparelli presentation at Place Vendôme — for your O.O.T.D. mood board.
After all, who doesn't need a few accessories (and historical tidbits) so spanking cool that they'll set you off from the crowd as a peep who is as clever as stunning?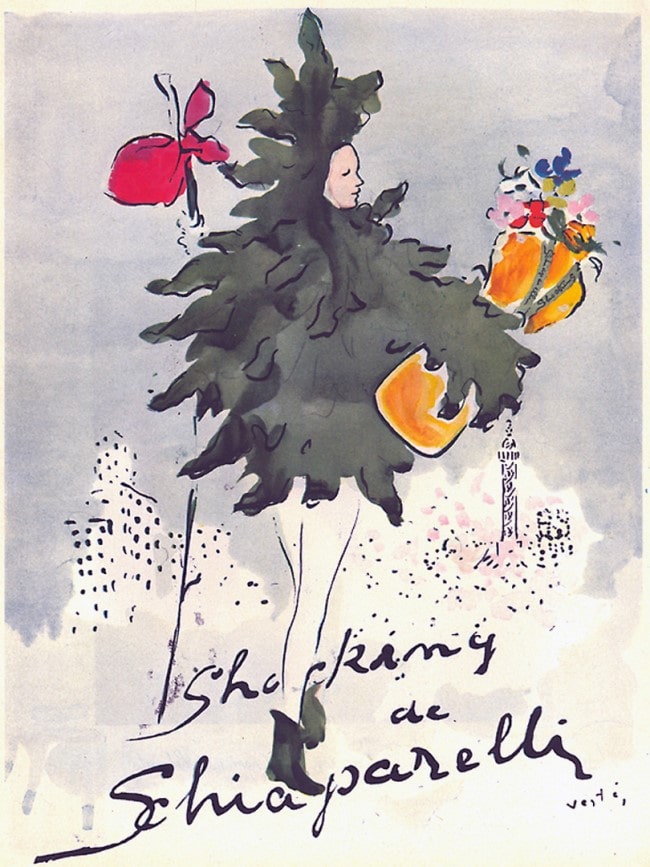 Here's the zip
On January 1, 1935, "Schiap" moved her salon from the fourth floor at 4 rue de la Paix to 21 Place Vendôme (facing Napoleon's column and adjacent to the Hôtel Ritz), where she opened one of the first prêt-à-porter boutiques in Paris.
One could easily pop by the shop and score "ready to be taken away immediately" dresses, evening sweaters, bathing suits, shorts, lingerie, lounge wear, dressing gowns, hats, jewelry, stockings, and handbags, along with "useful and amusing gadgets afire with youth." The mind squeals. Where's time travel when you need it?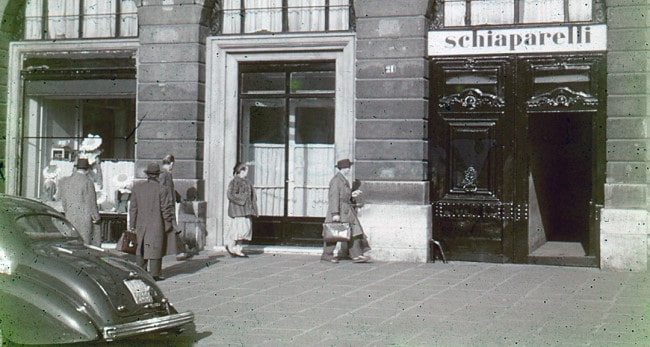 Making the scene
Schiaparelli's perfumes were also available in the shop, displayed in a giant birdcage made of gold-painted bamboo. Created by décor guru Jean-Michel Frank, the design was inspired by Schiap's favorite Picasso painting, "Bird Cage and Playing Cards."
Following French historic preservation guidelines, Frank also revamped the other rooms at 21 Place Vendôme (there were 98 in all!). It was the 1930s, so stark was making its mark. The walls and molding were painted white, while flattering lighting was made possible by concealing lights in abstract plaster columns.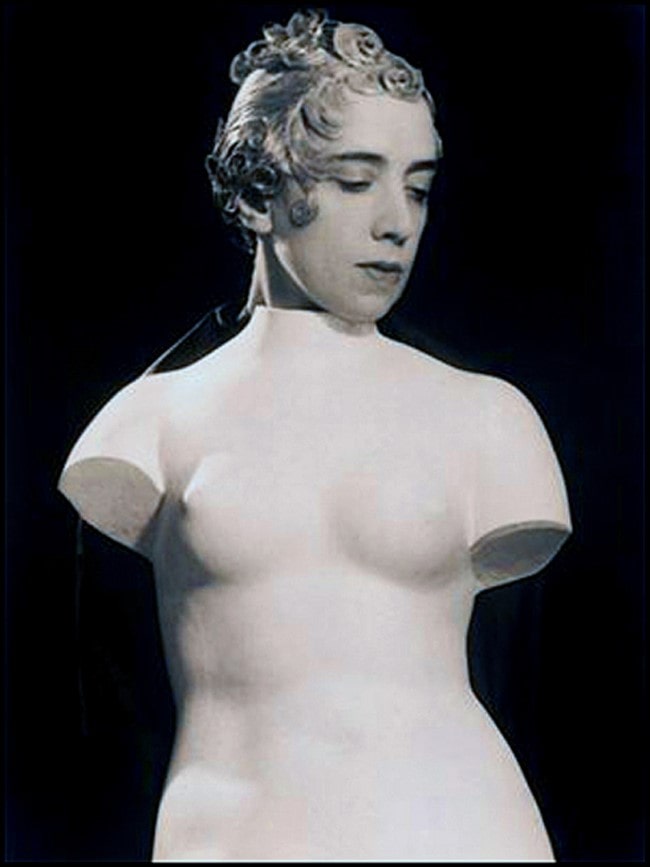 Going up
On the second floor is where Schiaparelli (garbed a white lab coat) coolly improvised with prints, color, and texture, overlaying fabrics, and adorning them with opulent handcrafted motifs, zippers, beads, and buttons shaped like insects, animals, chains, and lollipops — never missing one refined beat. Her eclectic repertoire was free-wheeling and whimsical but always sleek and elegant, too.
As she put it in her tell-all book, referring to herself in the third-person: "She sought only an absolute freedom of expression, and a daredevil approach, with no fear."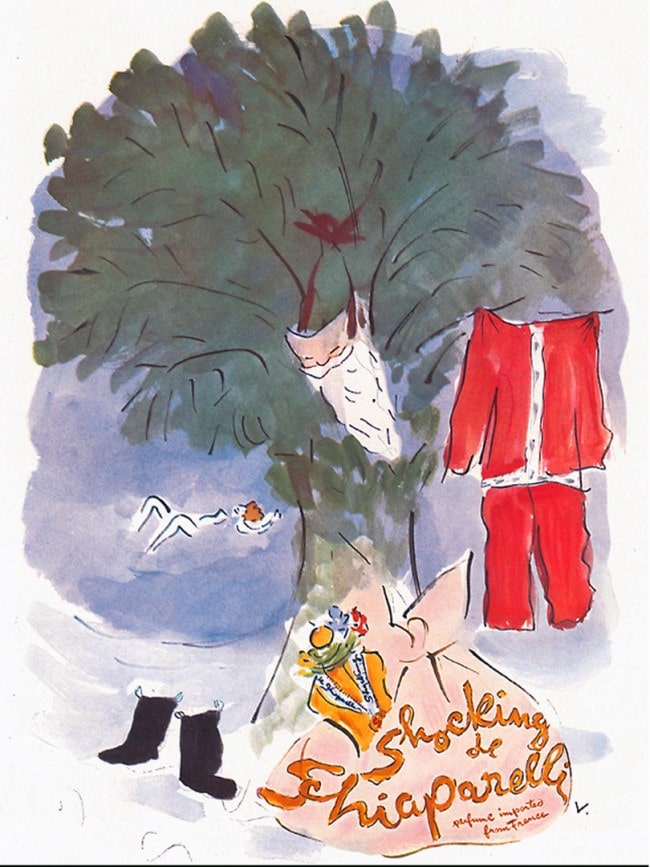 Star Power
This Lady Dada played hard with artists like Dali, Jean Cocteau, and Man Ray, along with Picasso, Méret Oppenheim, and "Bébé" Bérard. Like a Hollywood A-list, her client base also sparkled with the likes of Marlene Dietrich, Greta Garbo, Lauren Bacall, Wallis Simpson, and Katharine Hepburn – just to name a few.
Ahead of the curve when it came to modern fashion publicity, she often launched her thematic collections with witty vitrines and performances of Napoleonic proportions, complete with fireworks, elephants, and tightrope walkers out on the street in front of her salon. Word quickly spread. Her campaigns possessed irresistible real legs, see.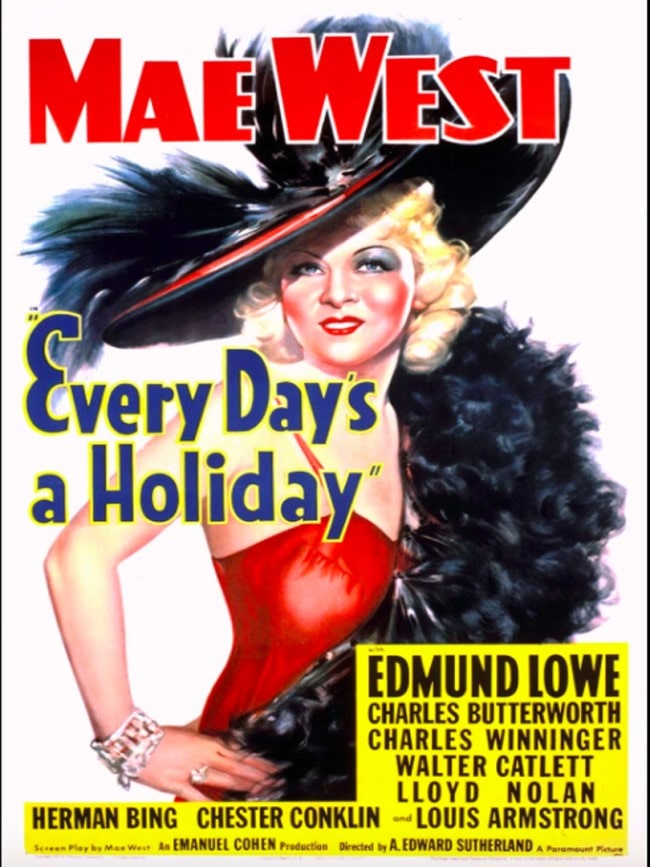 Even Mae West came to Paris
Well, almost. Instead, the famously saucy silver screen diva commissioned artist Gladys Lewis Bush to sculpt a mini-Mae statue and shipped it in her place. Once unpacked, Schiaparelli wrote, "She was stretched out on the operating-table of my work-room, and measured and probed with care and curiosity."
Schiaparelli had been commissioned to make a wardrobe for West's role as Mademoiselle Fifi in the 1937 Every Day's a Holiday movie. "She had sent me all the most intimate details of her famous figure and, for greater accuracy, a plaster statue of herself quite naked in the pose of Venus de Milo," wrote the designer.
Sadly, because of Mae West's busy schedule, she never did make it to Paris in person. The entire Schiaparelli team was understandably gutted.
However, after Elsa shipped the wardrobe to Hollywood, "All that remained was the plaster-cast statue." But it was this very statue and its bombshell hourglass silhouette that inspired the signature perfume bottle for Schiap's best-selling scent, "Shocking." Sometimes living (and creating) well is the best revenge.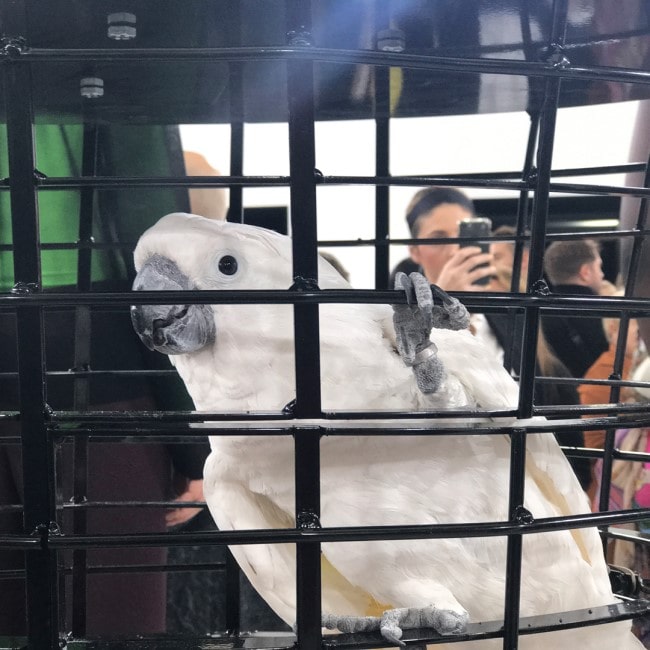 Moving forward
In 2012, Diego Della Valle (of the Tod's marque) bought the "Schiaparelli" name, and revived the Place Vendôme salon. In 2019, Texas-born Daniel Roseberry took the reins. Today Maison Schiaparelli dresses Amy Adams, Beyoncé, Cardi B., Demi Moore, Katy Perry, Lady Gaga, Lizzo, Jill Biden, Mary J. Blige, Michelle Obama, and Tracee Ellis Ross — just to name a few Schiaparelli fellow fans and super fans.
Days before the start of Paris Fashion Week in September 2019, Maison Schiaparelli invited me to the first prêt-à-porter collection by Daniel Roseberry at the 17th century Hôtel d'Évreux. From the marble floor to the plaster ceiling, the old covered courtyard was lit. Packed, too, from wing to wing.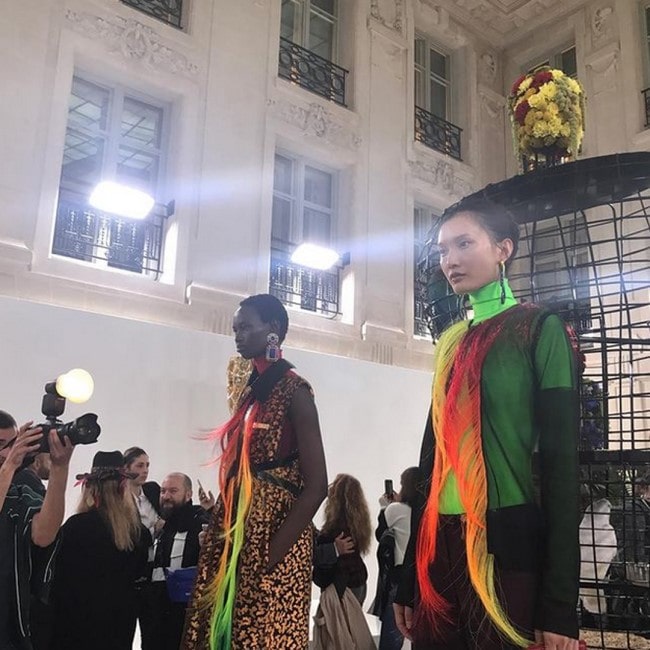 I'm not going to lie to you
Daniel's capsule collection was gorgeous. So many nods to Schiaparelli's surrealist archives: Insects, faux fur, pool-inspired confections, rhinestone tears, and snake-shaped earrings along with live parrots wrangled by armed and uniformed handlers. Birds were something of a recurring theme of the day: earlier, as I had raced to Place Vendôme in the pouring rain, a far more common Parisian street bird had let loose overhead and rained on my parade, so to squeak. Luckily, I was wearing my bright red vinyl rain slicker and bucket hat — and besides, they say it's good luck.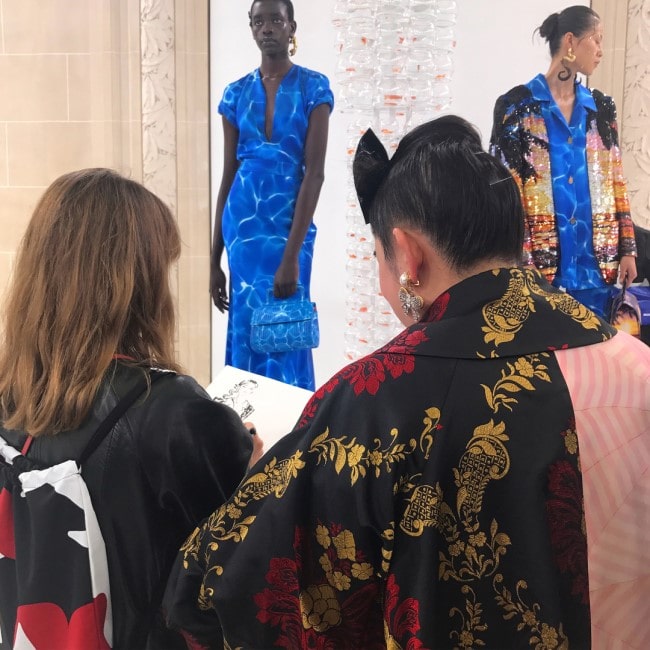 Did that stop me from prancing along the shocking pink-colored carpet like a superstar like everyone was watching? Nah. Instead, I embraced my new poo-splashed plastic ensemble as I hobnobbed in the Napoleonic-sized Hôtel d'Évreux. Had anyone asked, I would have said it was my own petite nod to the surreal.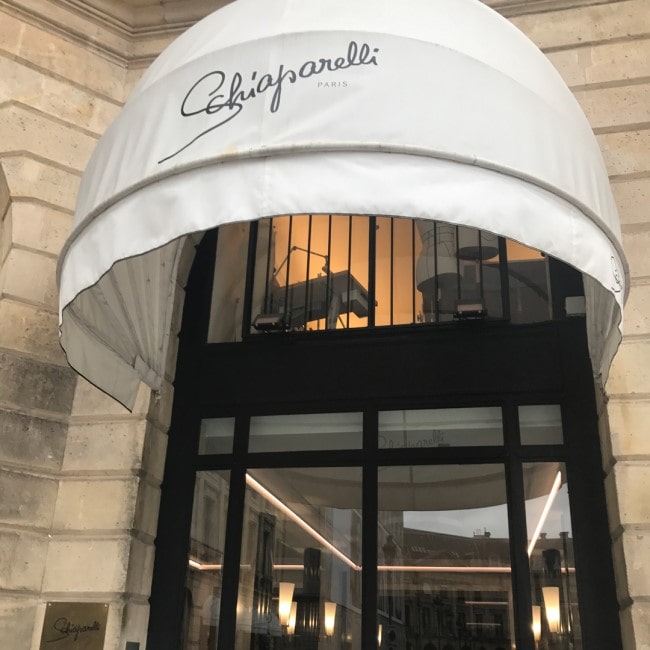 As Schiap herself used to say, "If the wind catches your hat and tantalizingly blows it farther and farther away, you must run quicker than the wind if you want to retrieve it."
Or as in my case, quicker than the Rock Pigeon poo! Happy Holidays!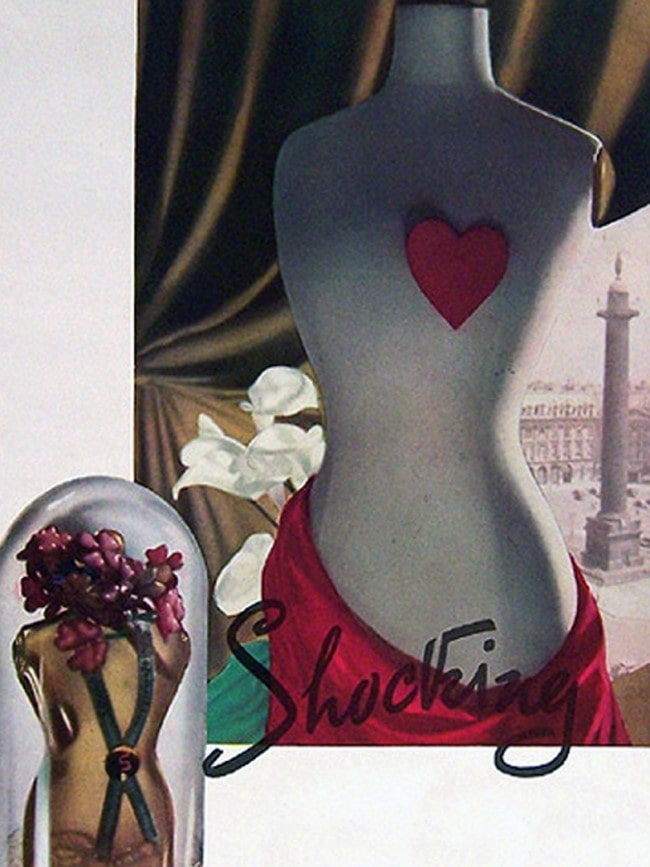 Lead photo credit : Rolling in the Chic: Adele was all prinked up in head-to-toe Schiaparelli by Daniel Roseberry at the historic Griffith Observatory in Los Angeles, November 2021. (Photo credit: Maison Schiaparelli)
More in adele, Elsa Schiaparelli, fashion, Griffith Observatory, Jewellery, music, Show
---
---